My baby sister got married this past May, and the whole wedding was an all-hands-on-deck type of DIY affair. I've been intending to get around to showing off some of the DIY elements of the wedding – maybe I will, someday – but the part that I personally put the most time and effort into was this macaron tower, so I had to show it off a bit ;-) Many thanks to the talented Lauren Fair Photography for all of the beautiful wedding photos!!
I am NOT a baker by any means, but "taught myself" how to make french macarons last year by taking this class on Craftsy (affiliate link) and quickly became obsessed. They're definitely a challenge to make, but oh my goodness are they yummy! (Note: these are macaRONS, not macaROONS. They are very different from each other.) Not only are they delicious, but they're super impressive and always a big crowd pleaser. I like to package them up in these little boxes and give them as gifts for teachers and neighbors.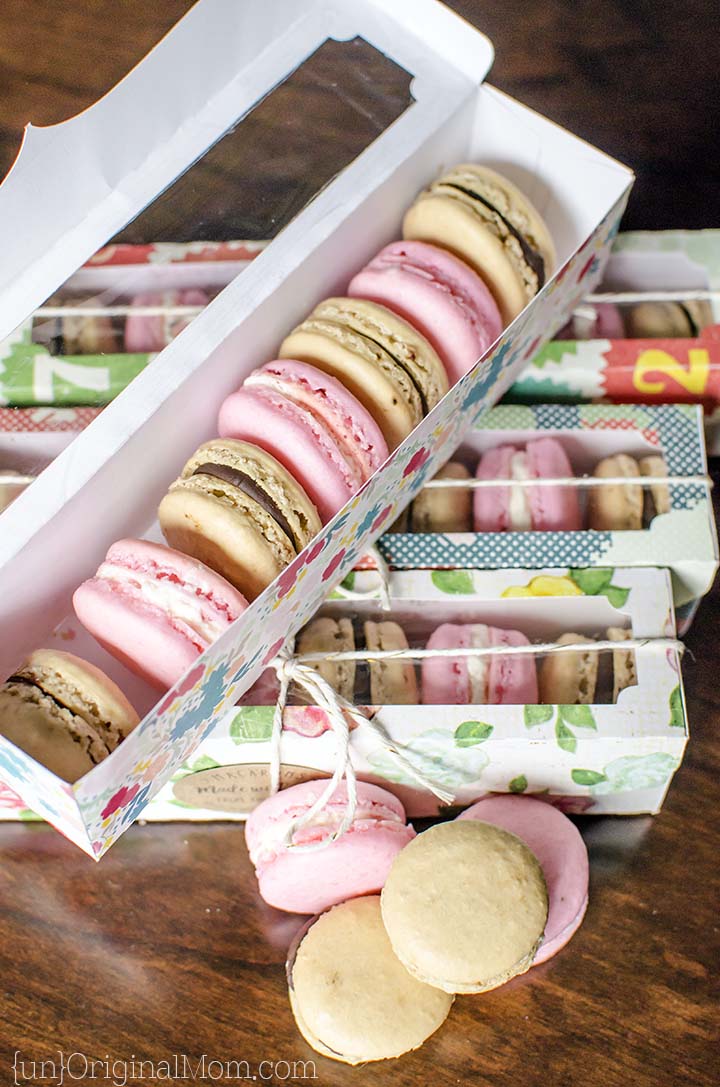 When my sister asked me if I thought I could make macarons for her wedding, I probably should have said something to the effect of "you're crazy." Hindsight and all that, right? I knew it would be a big job, but I also knew it would be a memorable and beautiful addition to the wedding (not to mention save them a lot of money on a wedding cake!), so I agreed. Luckily, macarons freeze beautifully, so I was able to start making them – one batch at a time – about 6 weeks before the wedding. My mom volunteered to help, so I helped her learn how to make them and she made a few batches on her own. Together, we made FOUR HUNDRED macarons for the wedding. Yup, 400. (I'll be honest, that was 6 months ago and I haven't baked or eaten a macaron since then. I think I'm just now ready to start thinking about making them again, haha.)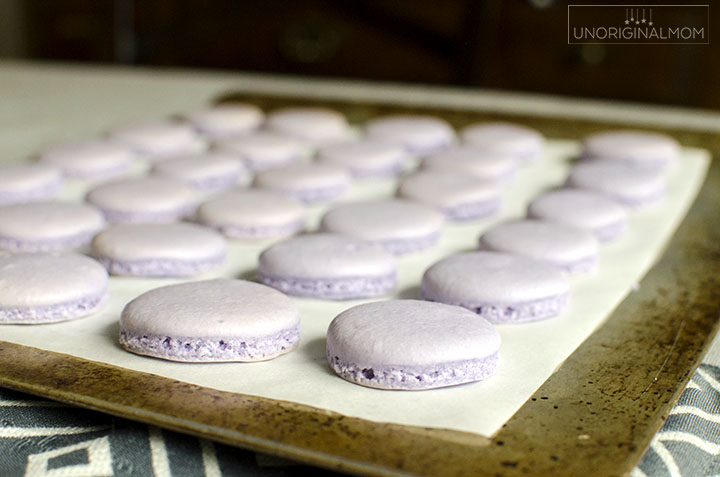 Changing up the flavors is one of my favorite things about macarons. And, of course, the colors! Since purple was one of the wedding colors, I knew we needed a purple macaron. I decided to go with lavender macarons, flavored with actual food-grade dried lavender buds. I just used my food processor to pulse the buds, then sifted about a teaspoon into my almond flour to flavor the shells. I paired it with a honey buttercream filling, and oh. my. goodness. The flavor combination was amazing!!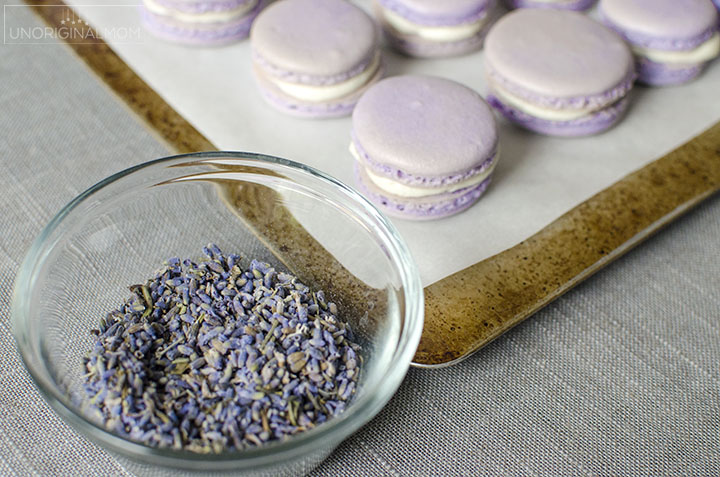 I wanted a dusty pink color, too, so I went with strawberries and cream. I used freeze dried strawberries and processed them into a powder to flavor the shells. They got filled with a vanilla bean swiss buttercream. The final flavor, by request of the bride, was tiramisu – coffee flavored shells with marscapone buttercream filling.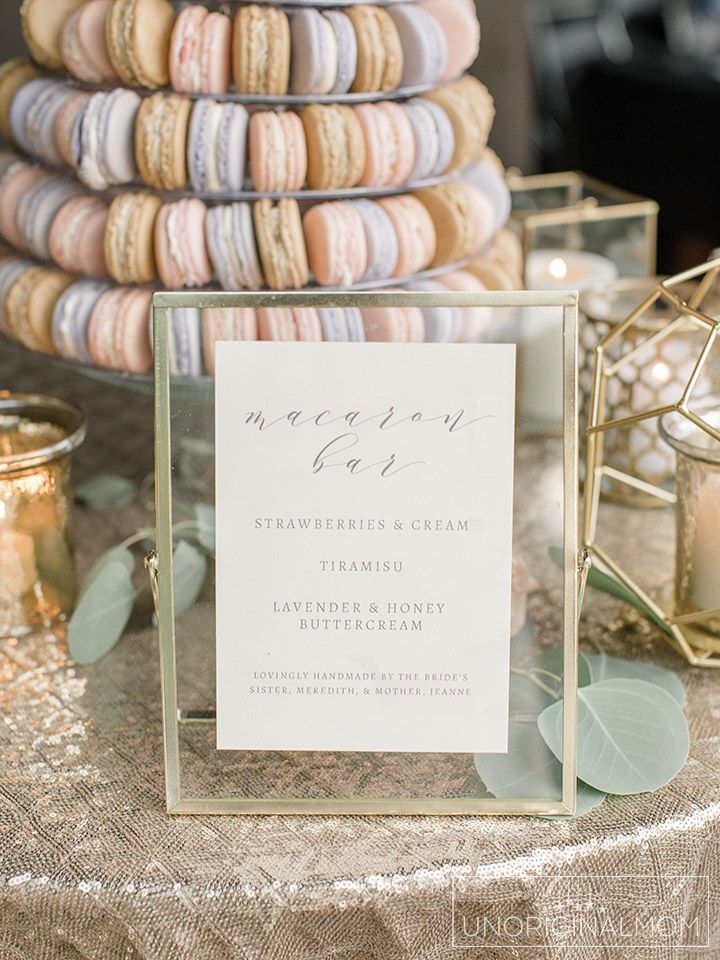 Don't they look pretty together?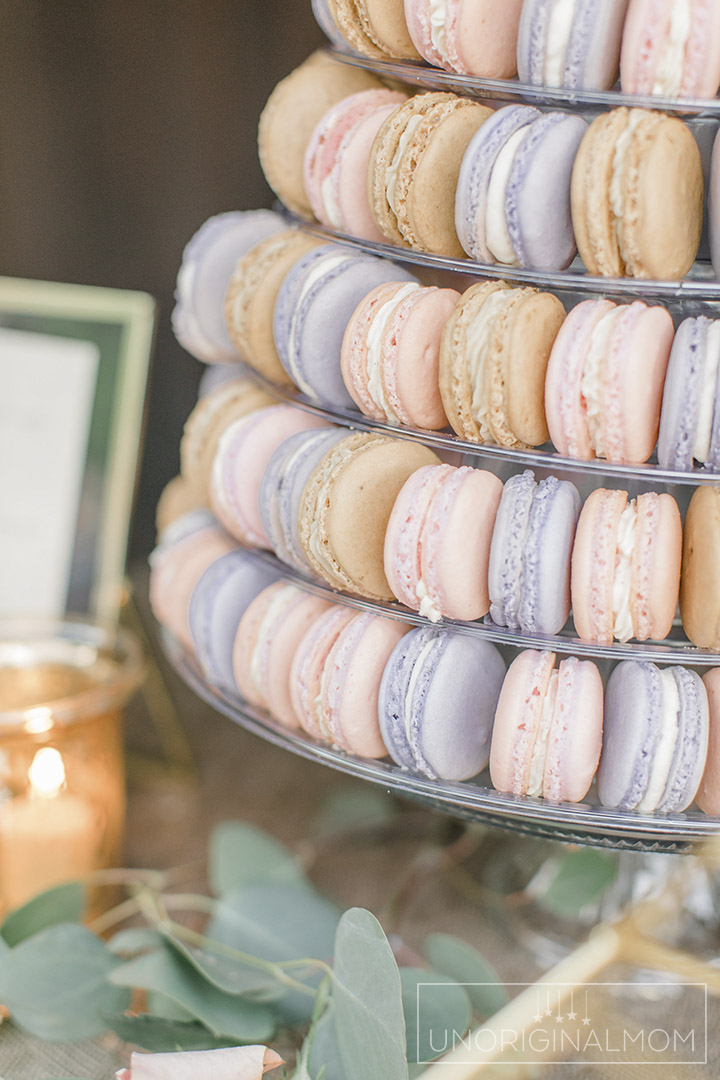 The tower itself was a conundrum. We needed enough space to display over a hundred macarons at a time (knowing we'd still have to refill) but all the macaron towers I could find were around $100. Yikes! I thought about trying to DIY it, but I wasn't even sure how we'd do it and our schedules were already filled to the max. I found a plastic 10 tier tower on Etsy for a reasonable price, and even though it didn't have a stand I figured I could just put it on a cake stand to make it look a little bit nicer. It worked perfectly! Plus you assemble it one layer at a time, so if I ever wanted to make a smaller tower for a party or shower, I could just use the top couple of levels. The stand I purchased is no longer available, but I've included links to several similar style stands at the bottom of this post!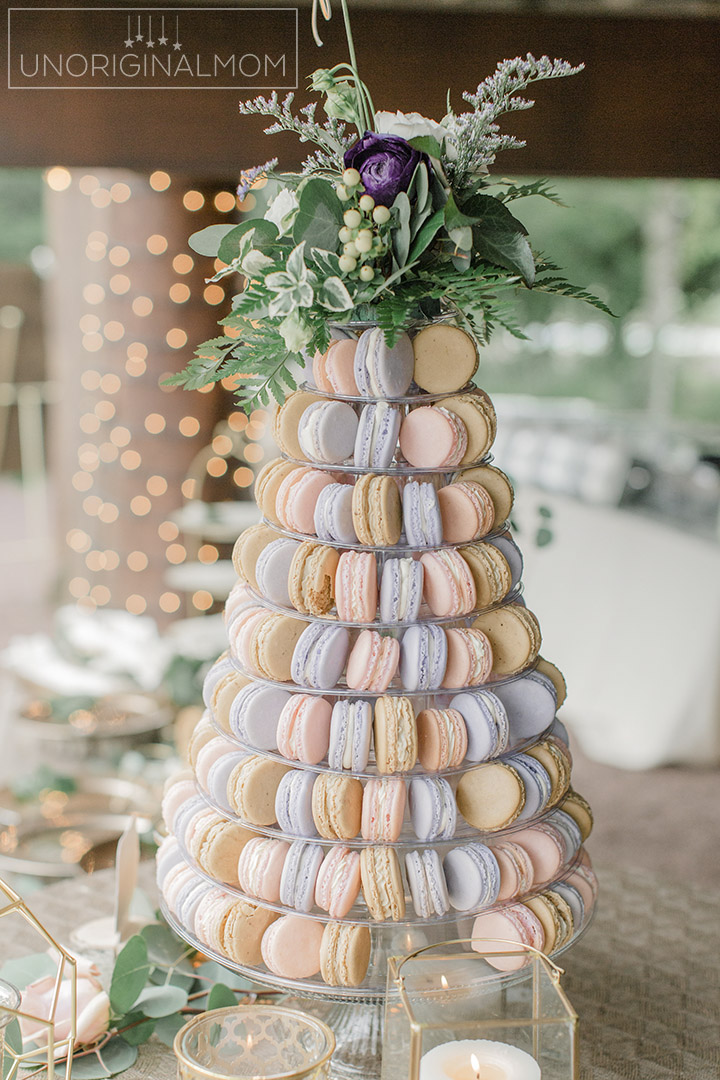 The last touch was a cake topper that I designed and cut with my Silhouette. There's a bit of a story there, but let's just say it took a while for the bride to decide she was ready to settle down. So "finally" was the perfect word ;-)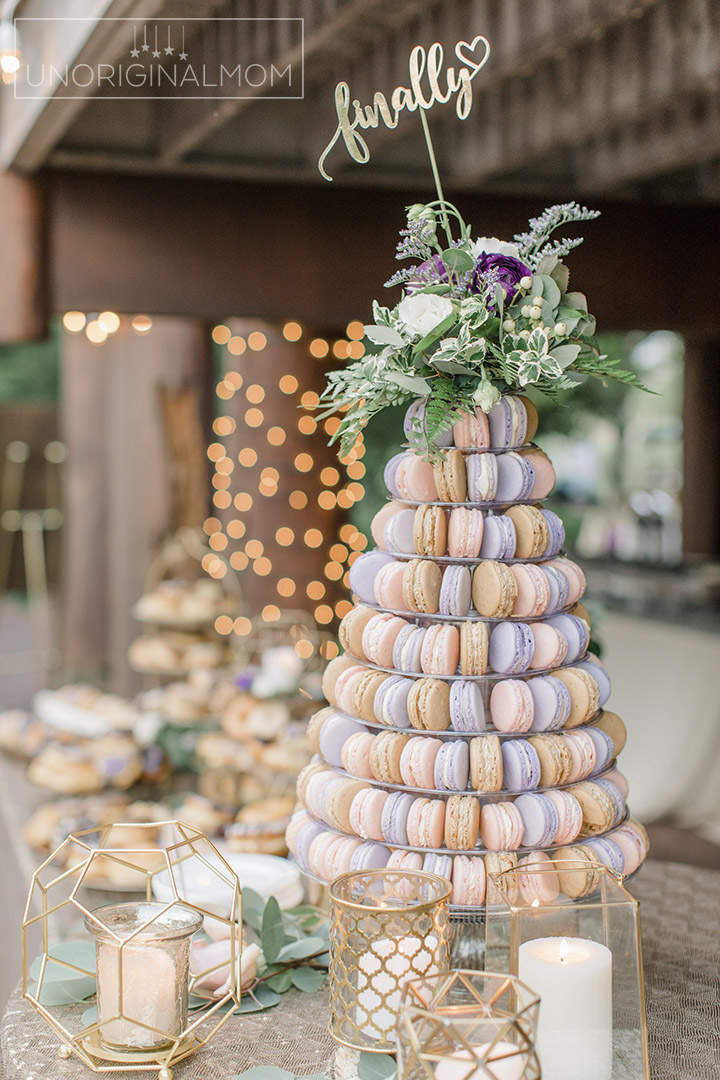 Another nice thing about macarons is that they're made with almond flour, so they're gluten free! No need to worry about a separate gluten free dessert for your guests with dietary restrictions.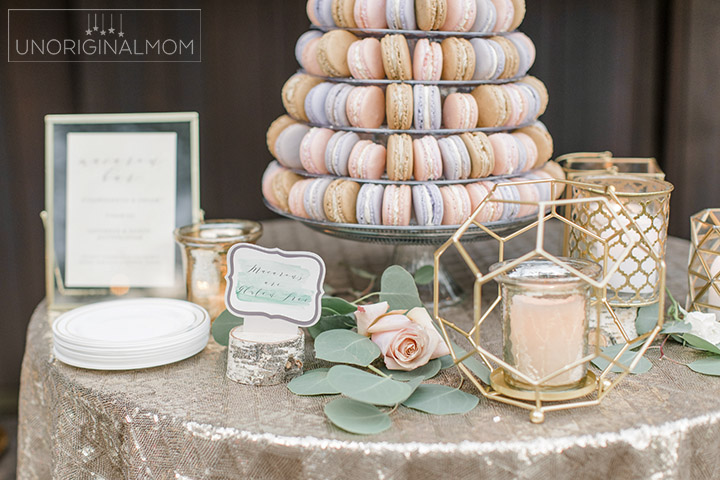 To supplement the macarons, the bride also wanted a donut bar – because who doesn't love donuts?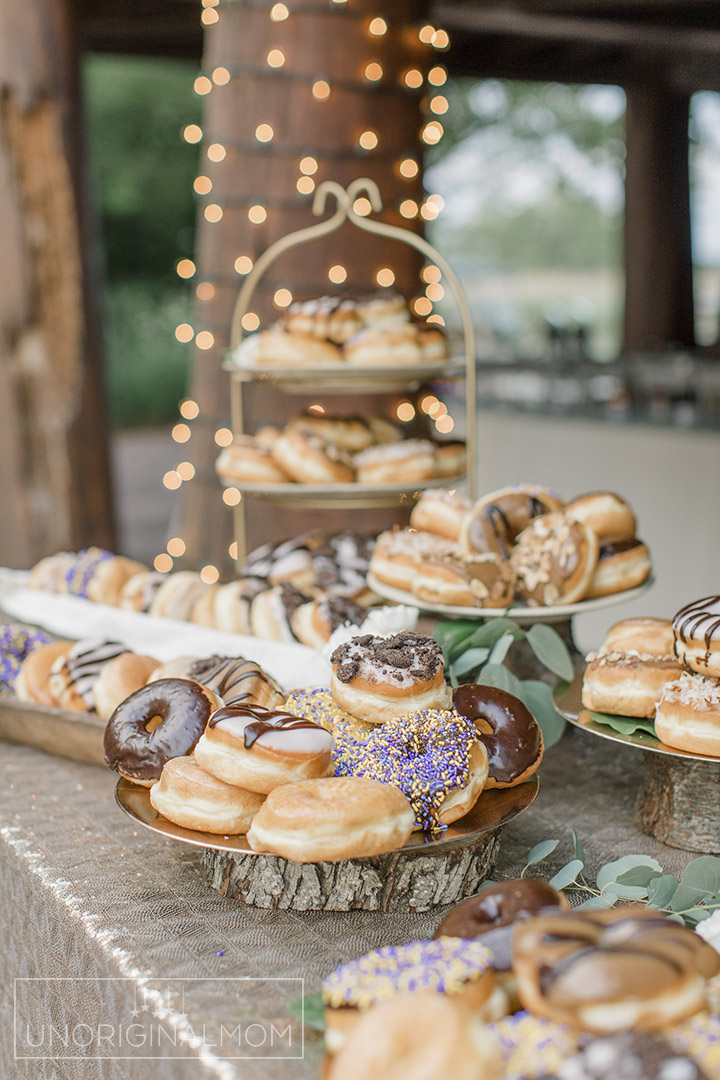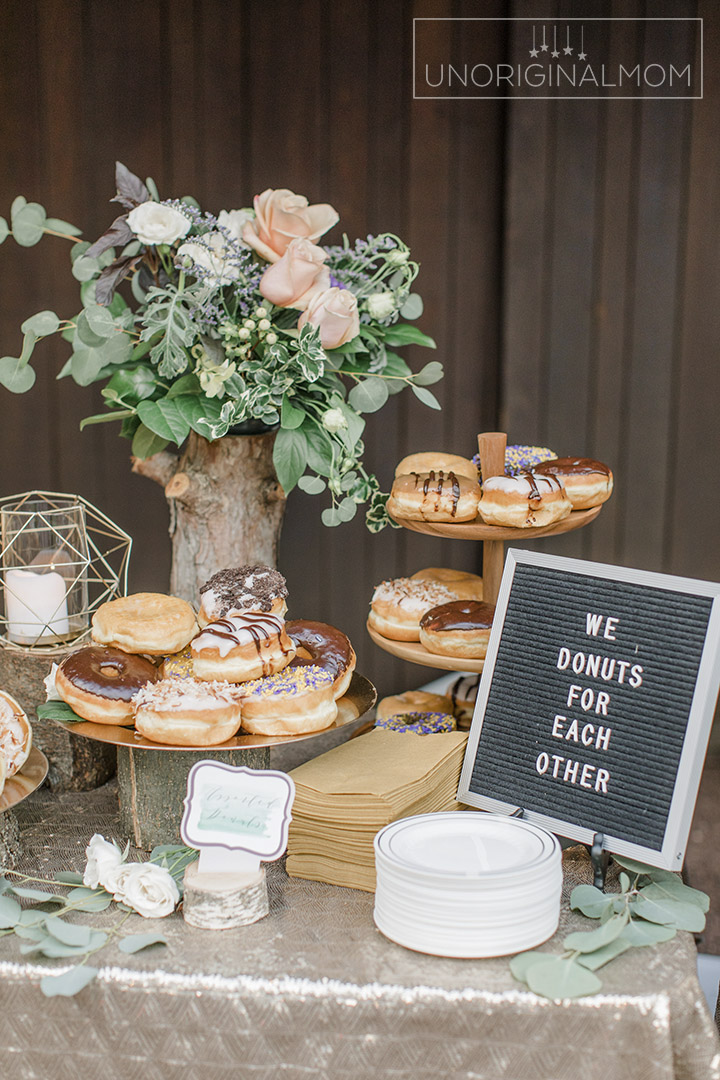 Whew. Honestly I still can't believe I made that many macarons. I hope I never have to do it again. But I am glad that I did it – the macaron tower was the perfect addition to a perfect day!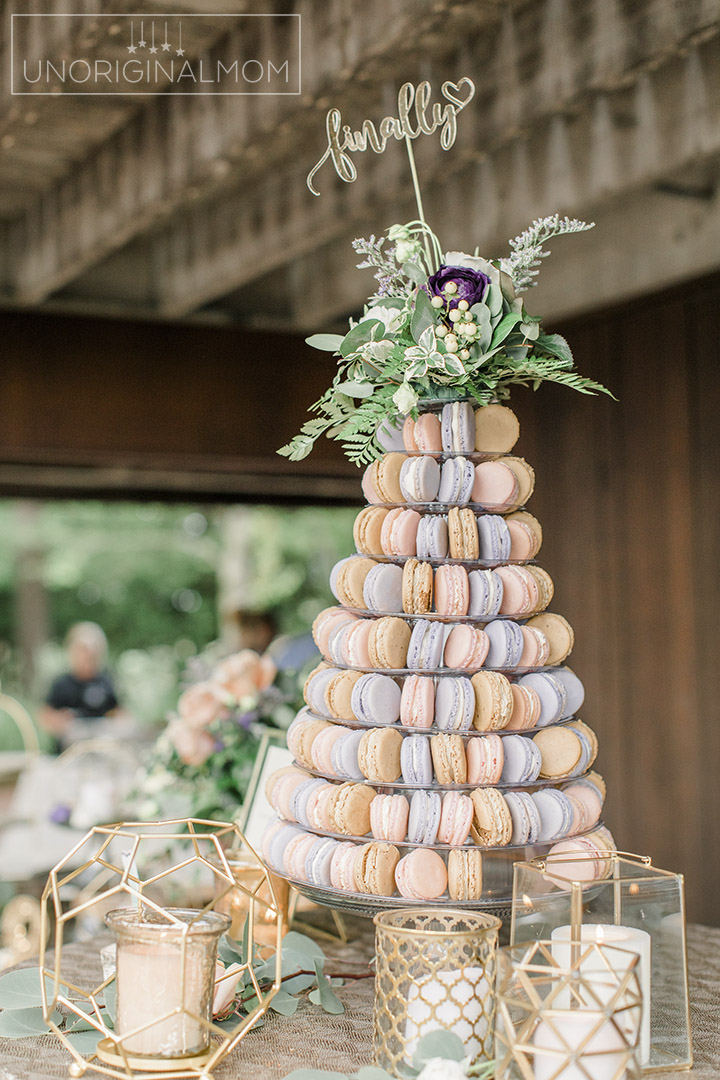 MACARON TOWER STANDS



Get your copy of my FREE meal planning binder!
Sign up to get a free copy of my meal planning system - an 11 page printable meal planning binder, complete with a pantry inventory, shopping list, and more to help get on top of your menu each week!