Looking for Free Thankful SVGs? Here's a list of great cut files for Thanksgiving, including this hand lettered "Thankful & Blessed But Kind of a Mess" design. Make a custom tee to wear on Thanksgiving, or anytime!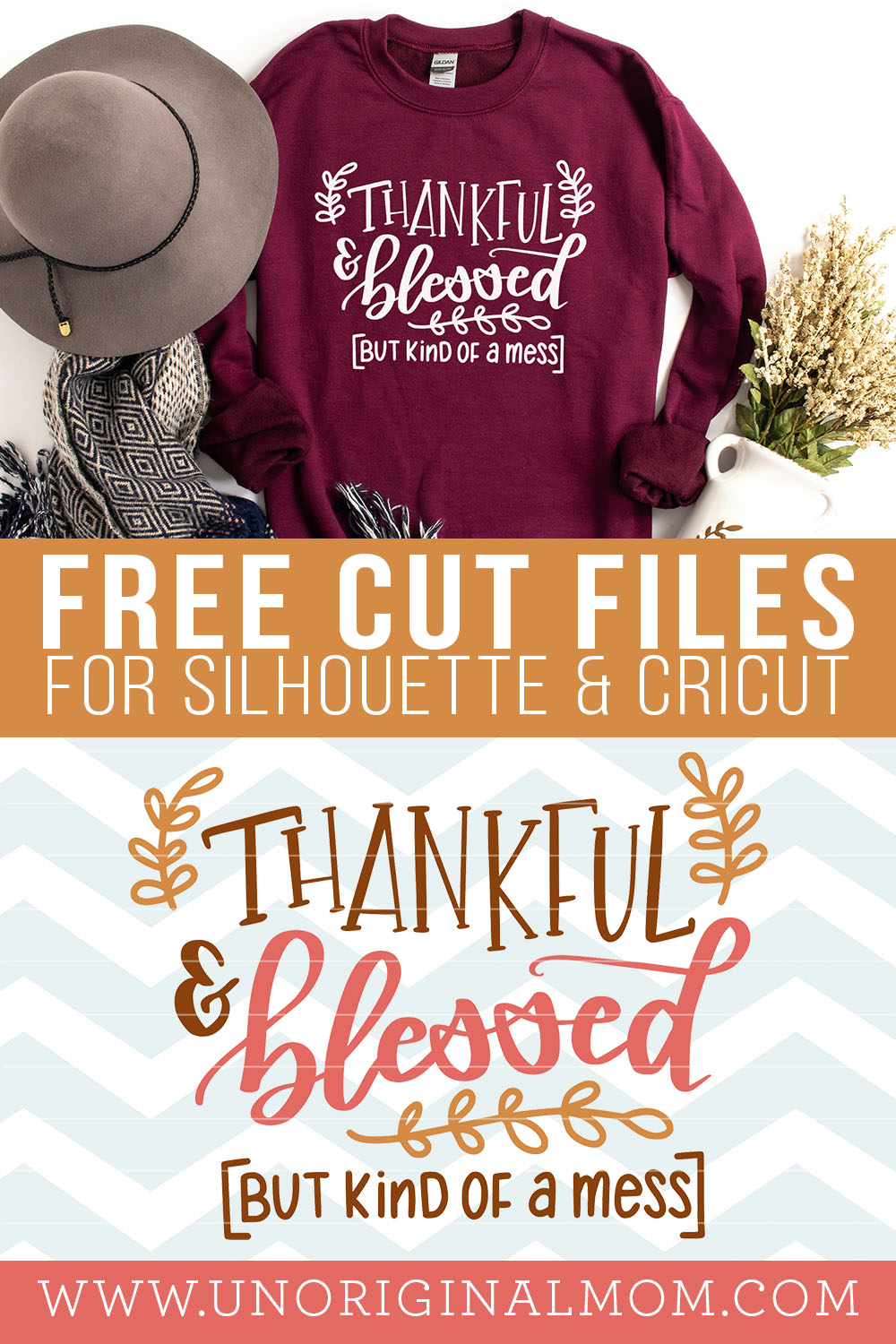 It's FREE SVG day, once again! I love this day of the month, when I partner up with some other blog friends to offer up free cut files around a specific theme. This month, we've got a great collection of free Thankful SVGs, just in time for you to get crafting for Thanksgiving.
I don't know about you, but I'm feeling like even more of a "mess" than I usually am this time of year. Homeschooling is going well for us, but between that and chasing after my 2 year old all day, plus cleaning up the house with everybody in it ALL the time, I feel like I'm getting by with the minimum each day!  Who else is ready for 2020 to be over???  In any case, through all the craziness of this very-not-normal year, I'm also seeing more to be thankful for in what used to be overlooked and taken for granted. Yes, despite the mess, I am thankful and blessed. (You can read more about what I believe the word "blessed" actually means in this post…spoiler alert, it has nothing to do with wealth, success, circumstances, or material prosperity.)
So, with all of that in mind, I designed this hand lettered "Thankful & Blessed, but kind of a mess" cut file to gift to you all. I think it would be great for putting on a t-shirt or sweatshirt to wear through the month of November…or really any time of year. This one is for all the busy mama's out there feeling stretched to the max in 2020!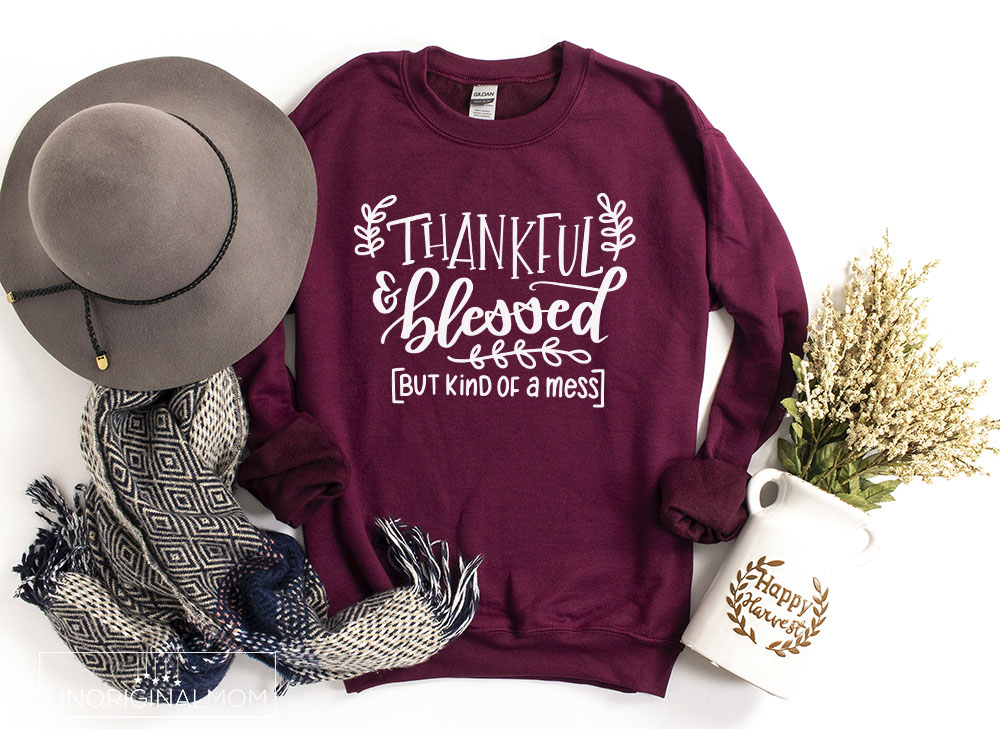 "THANKFUL & BLESSED BUT KIND OF A MESS" – FREE CUT FILE
I've added the .studio and SVG files of this hand lettered "Thankful & Blessed, but kind of a mess" design to my free Silhouette Library. Sign up in the box below to get instant access!
FREE THANKFUL SVGS
If you're looking for more free Thankful SVGs, you've come to the right place! 16 of my talented blogging friends have designed "thankful" themed cut files, and they're also sharing them on their blogs today – for FREE! Browse around the links below to download your favorites, and don't forget to say "thanks" for the freebie :-)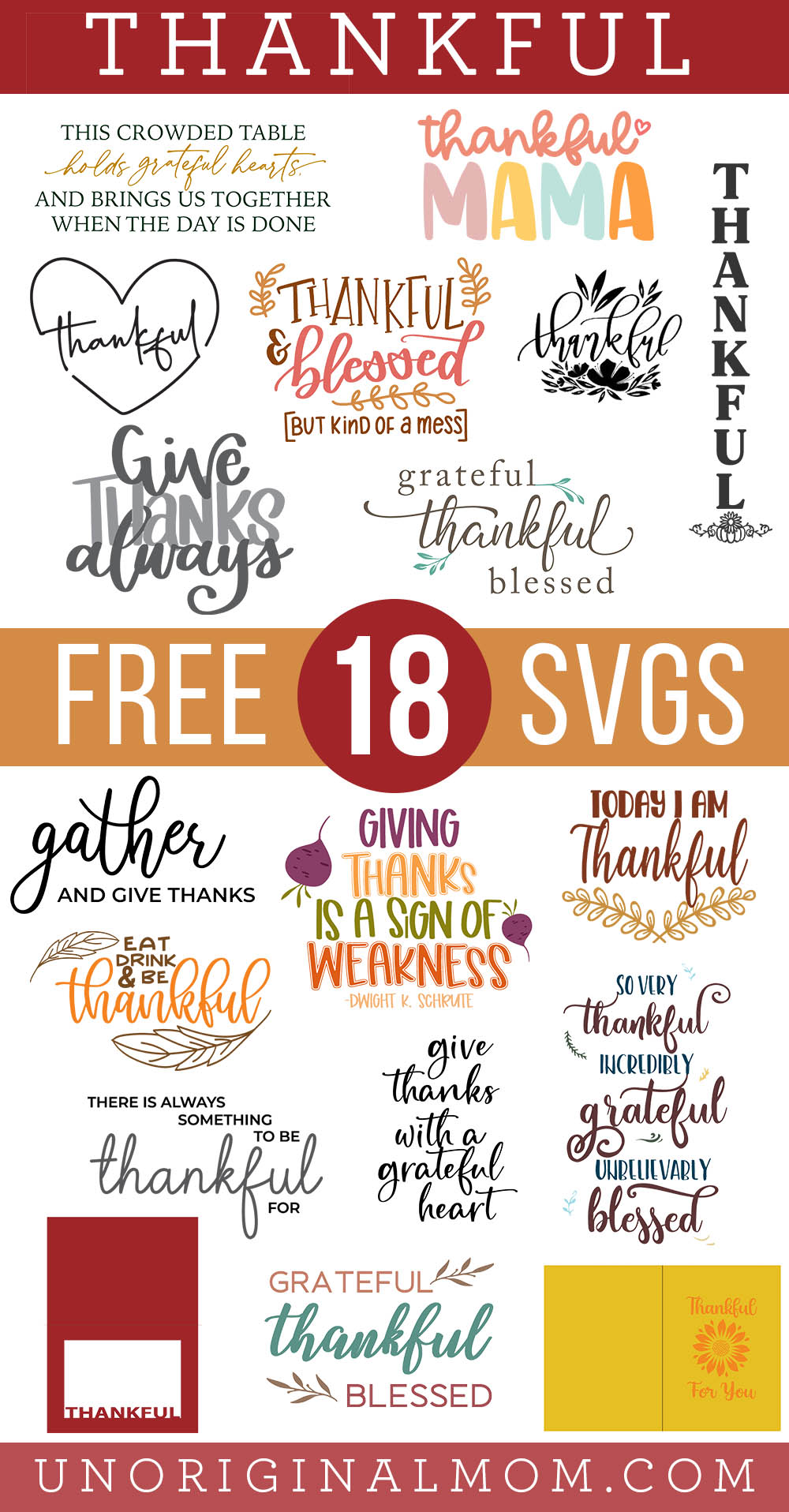 Thankful Mama – Hello Creative Family
Give Thanks with a Grateful Heart – Everyday Party Magazine
So Very Thankful, Incredibly Grateful, Unbelievably Blessed – Leap of Faith Crafting
Thankful Photo Card – Try it – Like it – Create it
Grateful, Thankful, Blessed – The Girl Creative
Crowded table sign – Fynes Designs
Thankful for you – Mom of 5 Trying to Survive
Today I am Thankful – Life Sew Savory
There is Always Something to be Thankful For – That's What Che Said
Thankful porch sign – Happy Go Lucky
Thankful heart – Artsy-Fartsy Mama
Grateful Thankful Blessed – We Can Make That!
Dwight Schrute Quote – seeLindsay
Gather and Give Thanks – Brooklyn Berry Designs
Thankful hand lettered design – Printable Crush
Eat Drink & Be Thankful – Kelly Leigh Creates
Give Thanks Always – Liz on Call
Happy crafting!



Subscribe to unOriginal Mom via email and get instant access to my library of FREE Silhouette Studio & SVG cut files - exclusively for email subscribers. Plus there's a new file added every month!