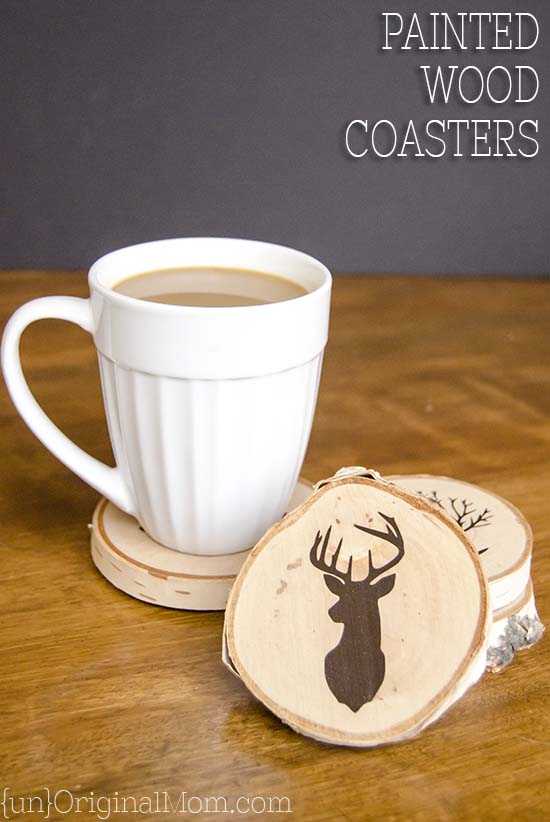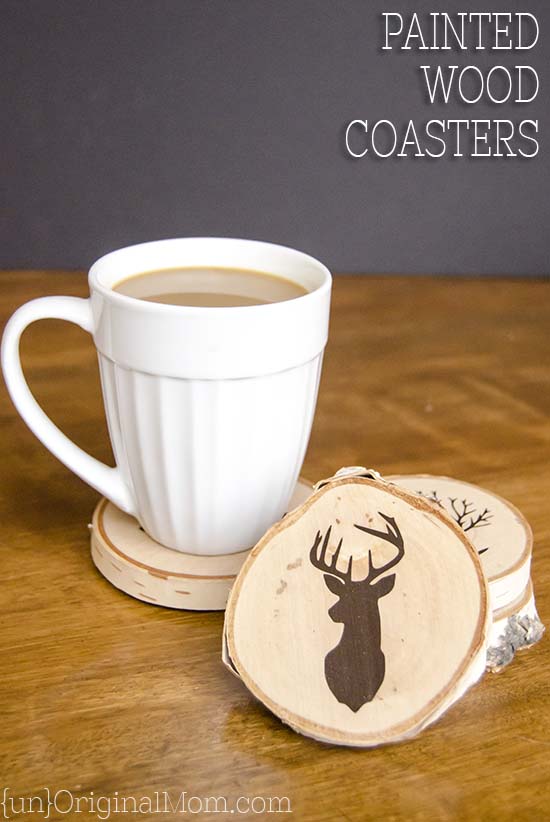 I had an epic goal of hand making one gift for everyone on our list this year…I didn't quite make it, but I did come pretty close!  These DIY Painted Wood Slice Coasters were one of my favorites, though.  I made a set for each of my not-quite-brother-in-laws (my two sisters' significant others), which worked out perfectly, since they are both into things like camping or hunting, and they really like rustic, earthy elements. They were so much fun to make! Here's what you'll need to make a set of your own:
SUPPLIES: (This post contains affiliate links – click here to read my full disclosure.)
Originally, I had wanted to make the wood slices myself (er, have hubby make them for me) and we did slice up a log that I'd hoped to be able to use…but alas, most of the slices cracked as the wood dried much too quickly.  (You can see what I did with the surviving slices in this post!)  So I just bought birch wood slices from Michael's – with a coupon of course – and went about stenciling them myself.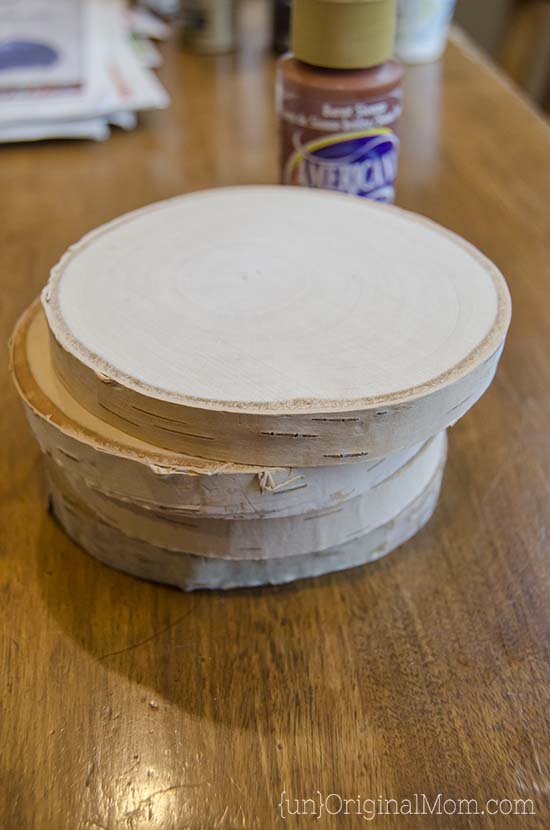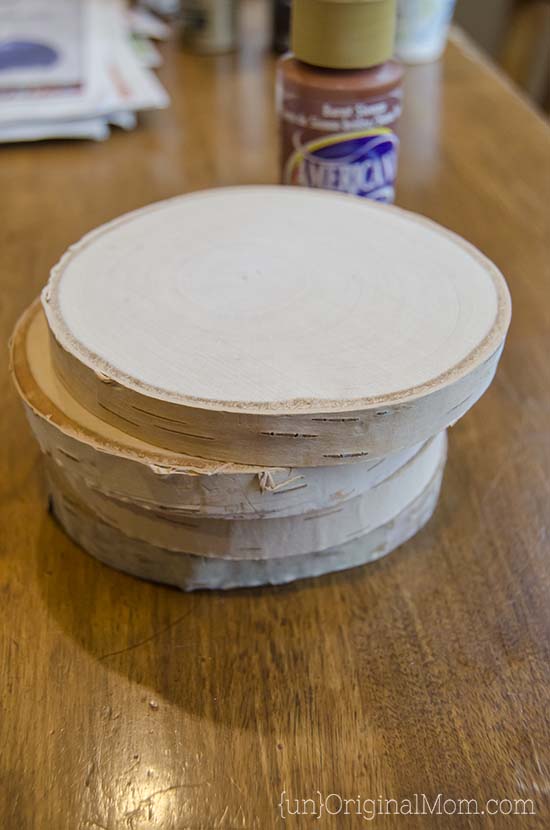 First, I decided I wanted to make monogrammed wood slice coasters for my middle sister's fiance.  I created the design in Silhouette studio, and then cut it out of vinyl.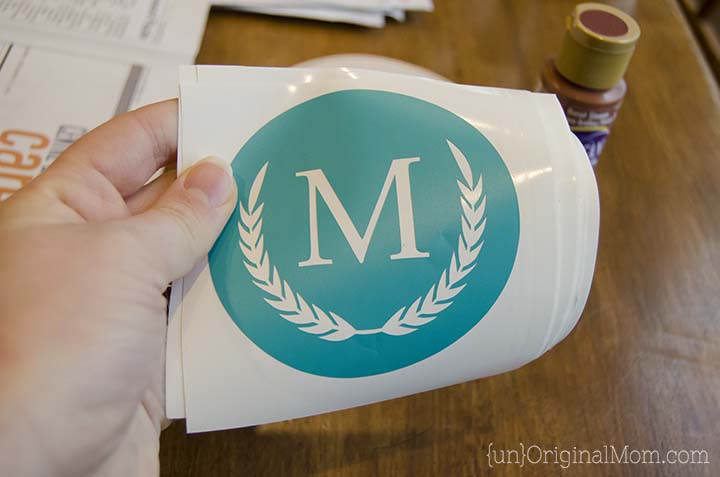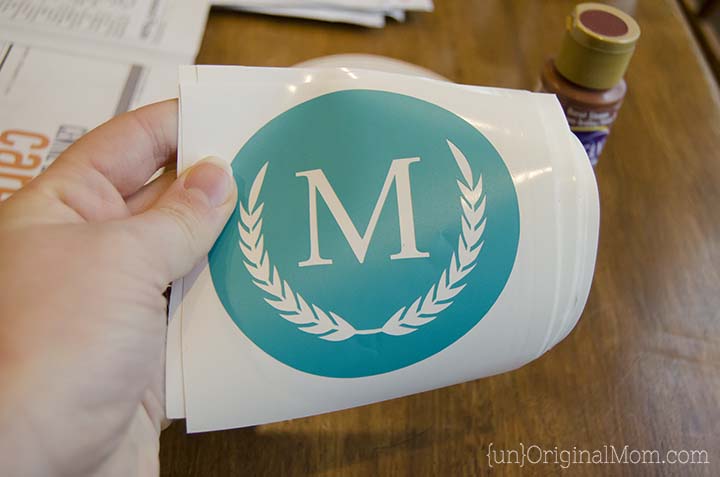 I used contact paper to transfer the vinyl design to the wood slice.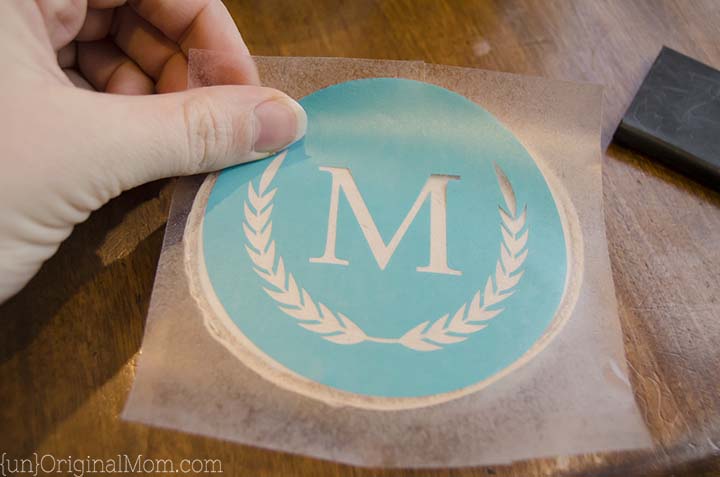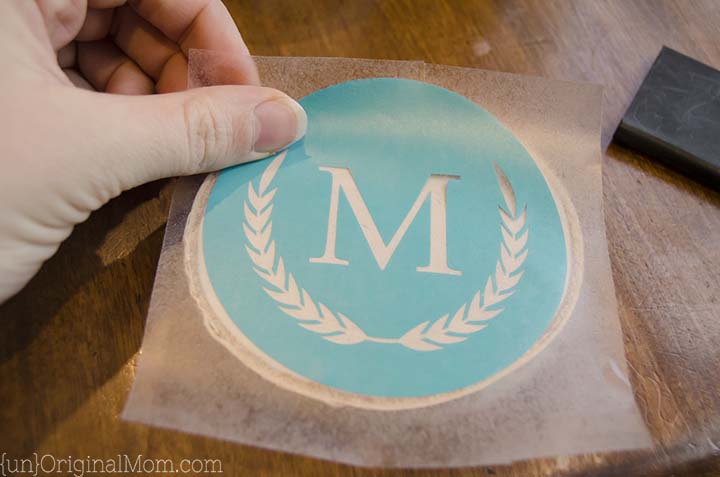 Then I dabbed on acrylic paint – two thin coats was enough.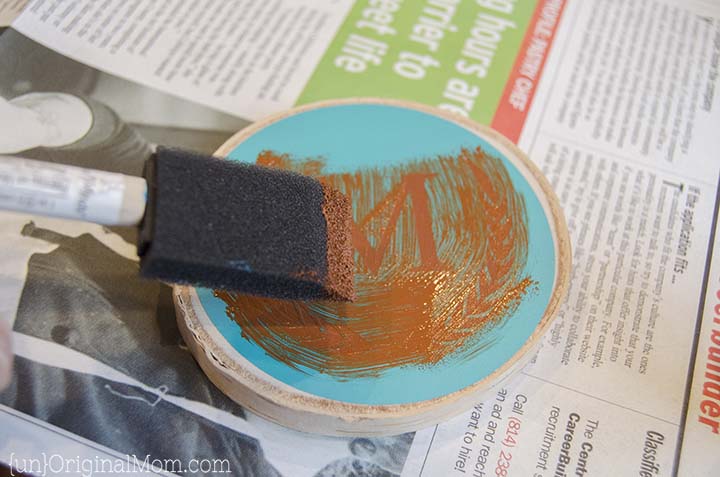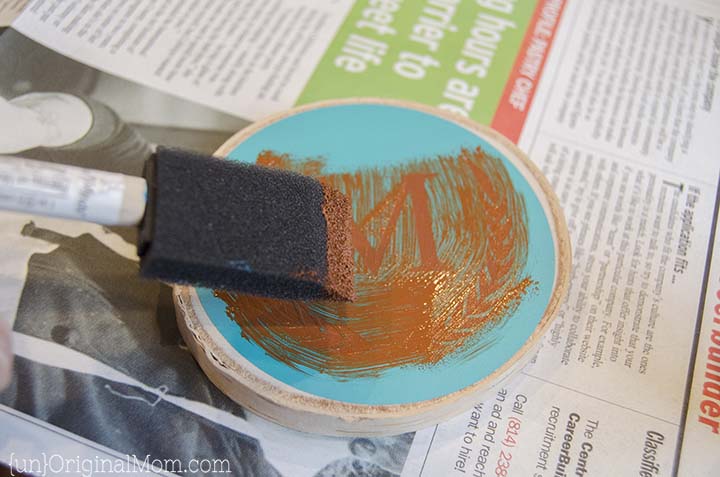 After letting them dry for about an hour, I applied two thin coats of this varnish to help preserve the design and repel water.  It gave them a little bit of a nice shine, too.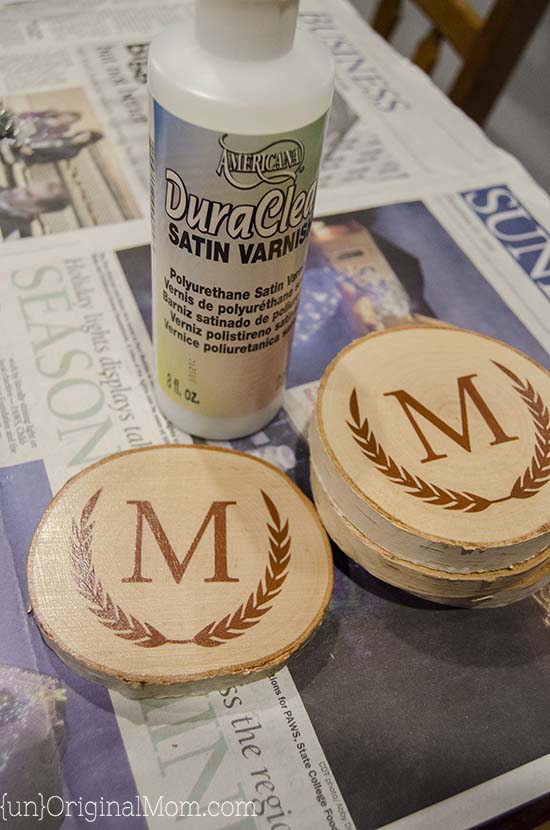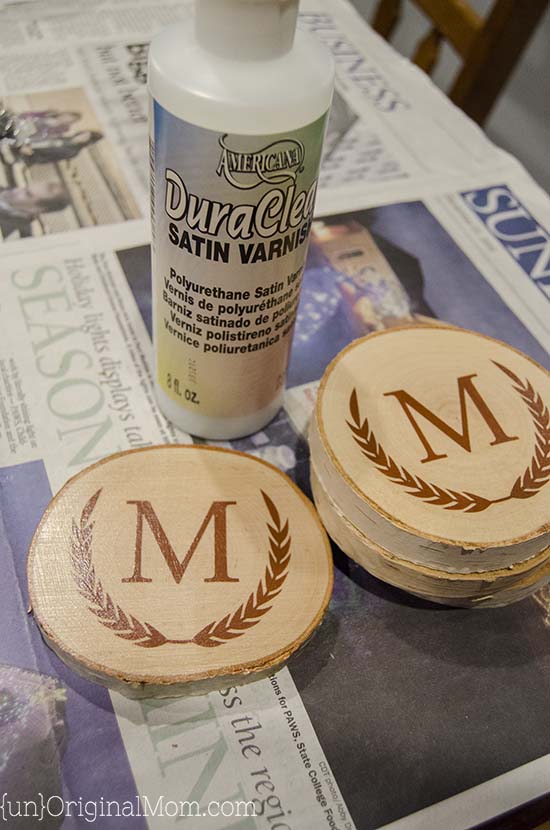 Then I used hot glue to add thin cork board to the bottom of each coaster that I had cut to the right size and shape.  You could also use a piece of felt, or even a few sticky felt or foam dots – just something to keep the bottom of the coasters from scratching up any furniture.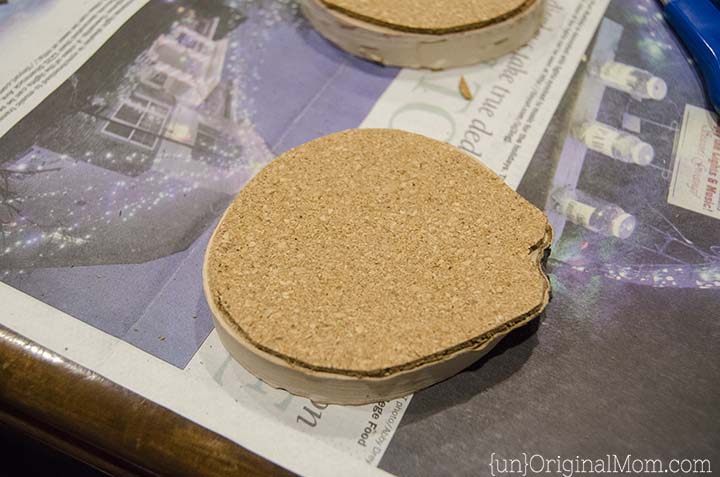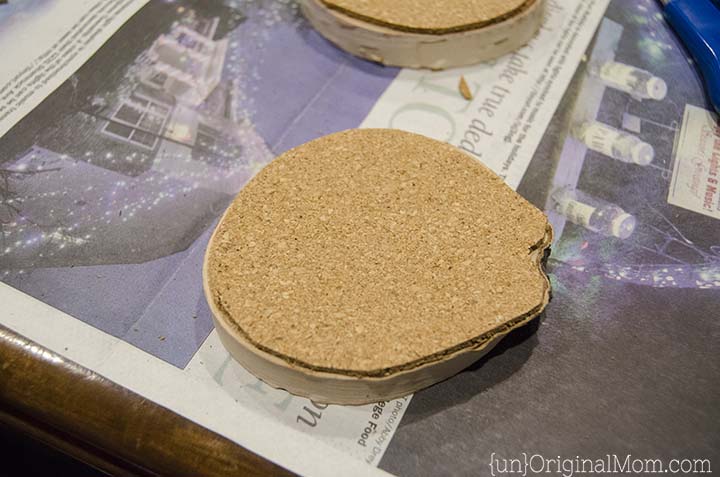 I made another set for my youngest sister's boyfriend, who is an avid hunter.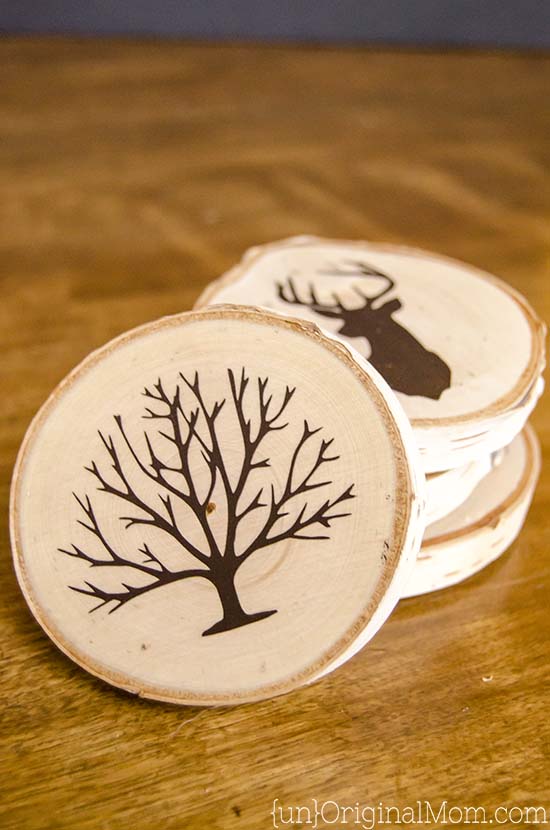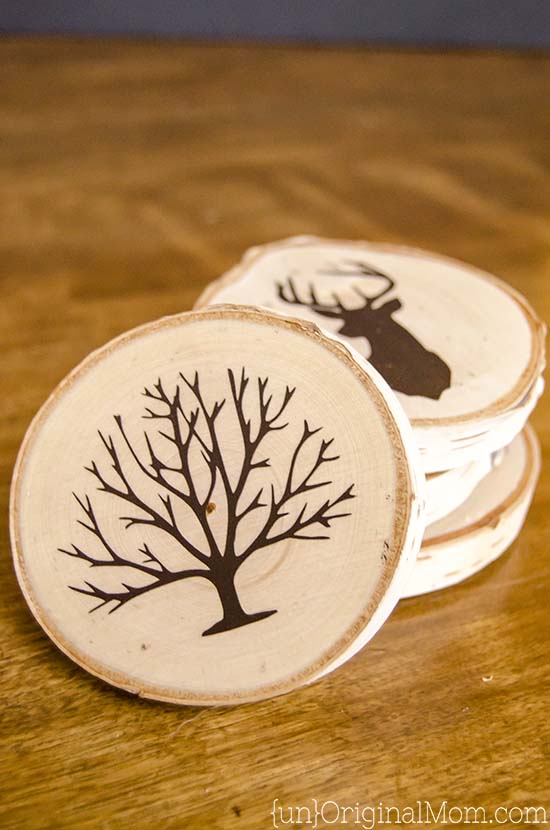 I even had my sister send me a photo of his dog, an enormous black lab named Huck – then I used photoshop to create a silhouette of his head and imported it to Silhouette Studio to make it into a stencil for a coaster!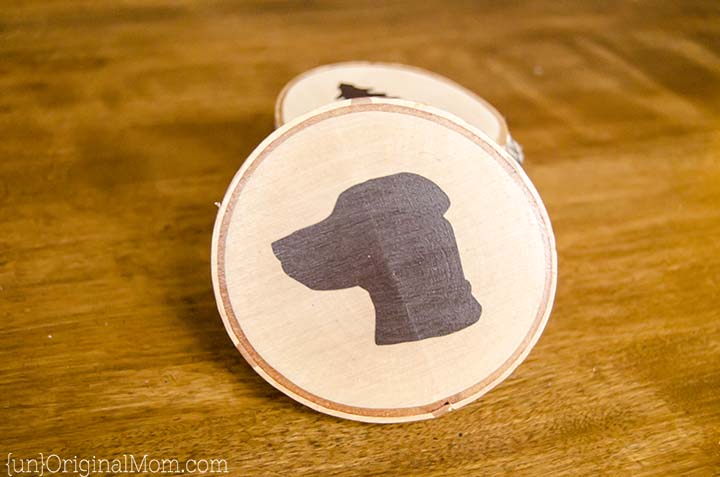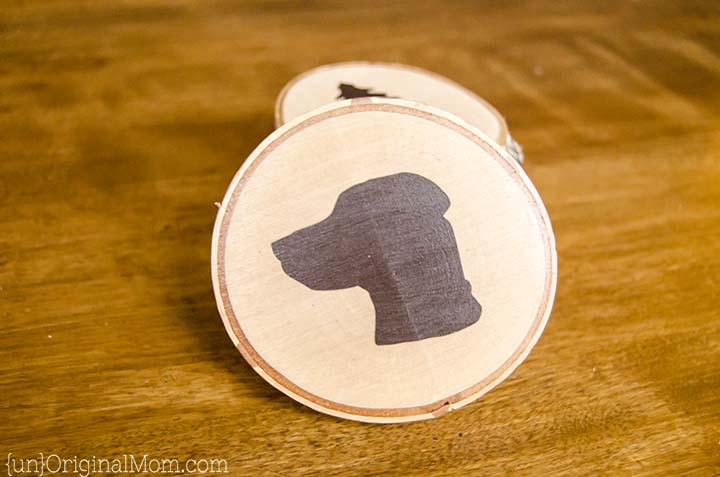 It is normally SO difficult to buy gifts for men, let alone make them a gift that they'll actually enjoy and use…but I think these are winners in that department!  And actually, I like them so much that I want to make a set for myself.  They'd make great gifts for anyone who likes more rustic elements…or even terrific wedding or shower favors!  The most time consuming part was designing and cutting the stencils – the painting and top coat was really quick and easy!  And even if you don't have a Silhouette to design and cut the stencils yourself, you could easily purchase a reusable monogram stencil from a craft store.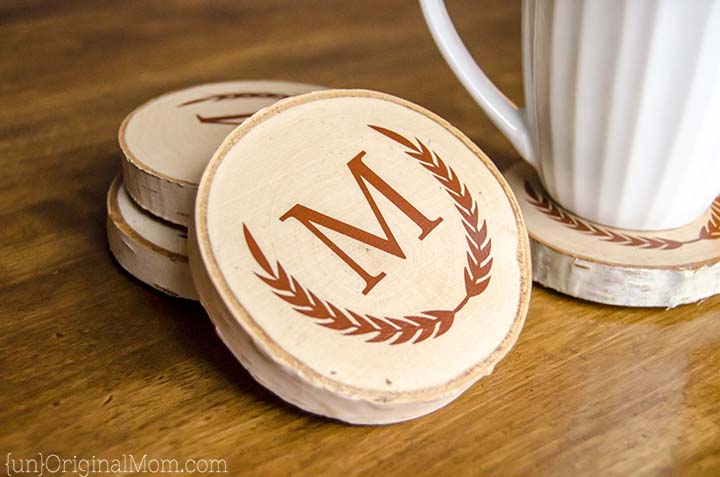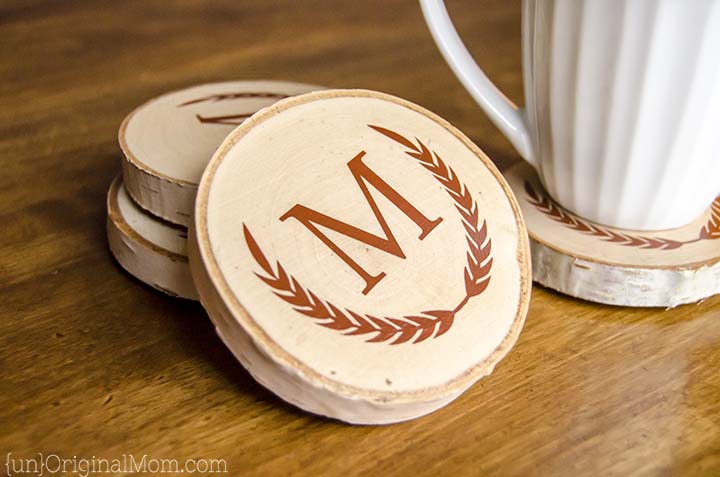 So, be sure to file away this idea until Father's Day, or even Christmas, for the men in your life!
If you've been thinking about hand making some Christmas gifts, you'll definitely want to grab my free gift recipient planning list – start planning those Christmas gifts NOW! (Even December 26th isn't too early to start planning for next year!)
Looking for more handmade gifts for men? Click here to see 25 great ideas!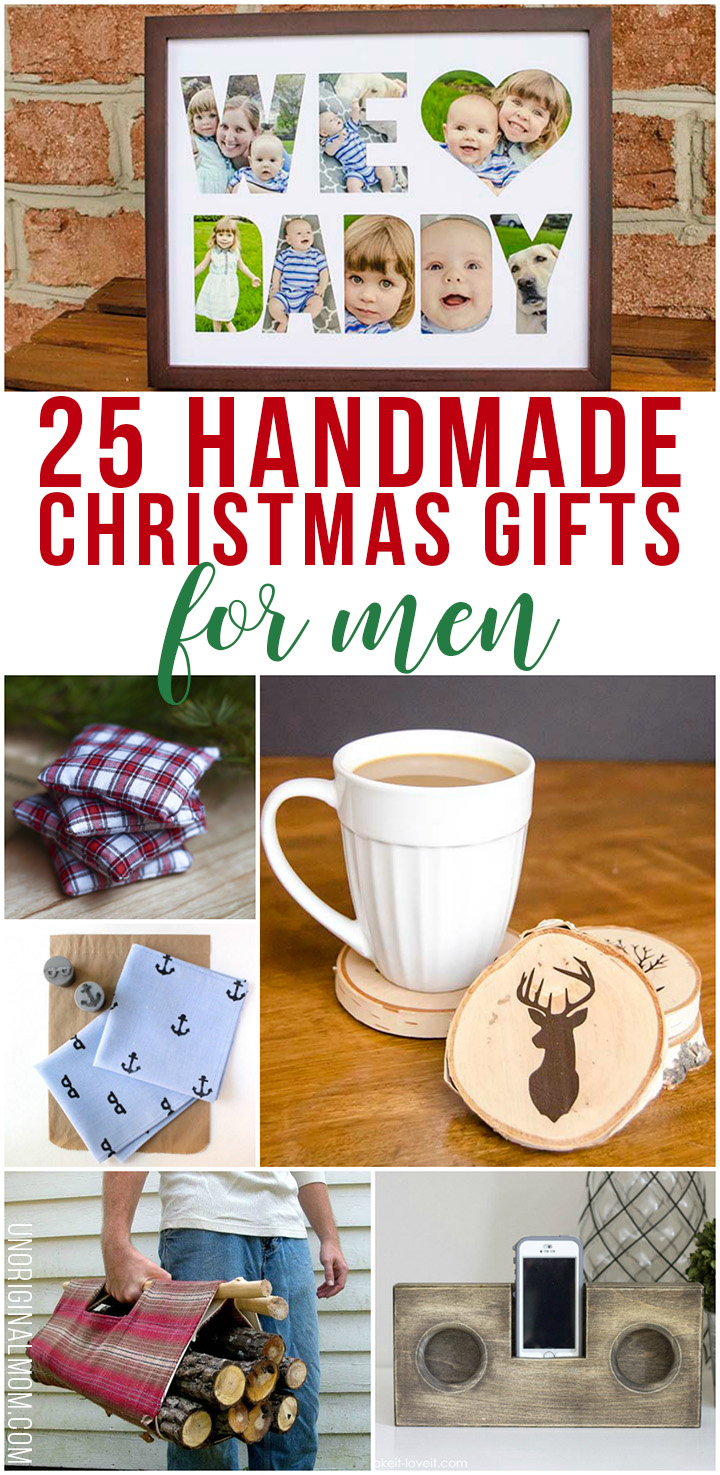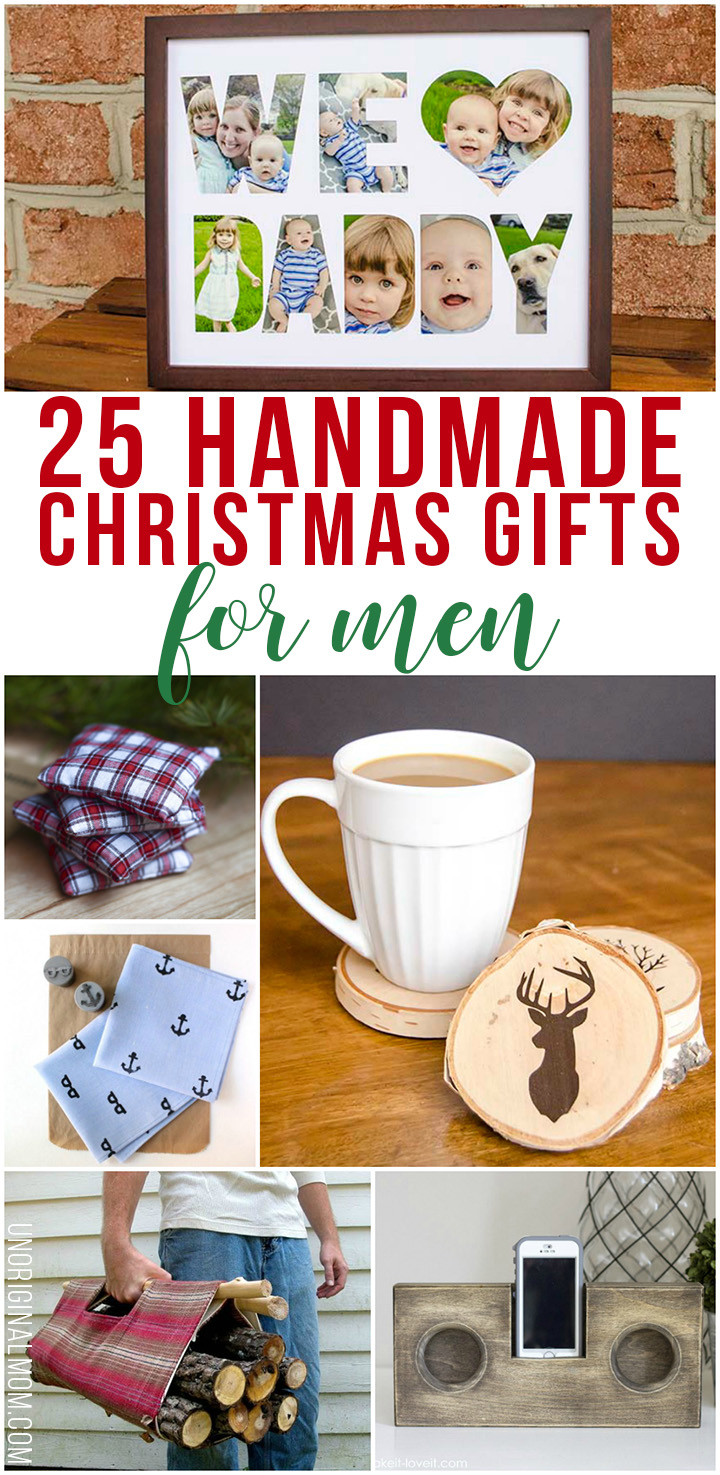 And if you're looking for more great store bought gift ideas for the men in your life (aren't they always SO hard to buy for??), you'll definitely want to check out this gift guide I put together for dads. Click here for the full list.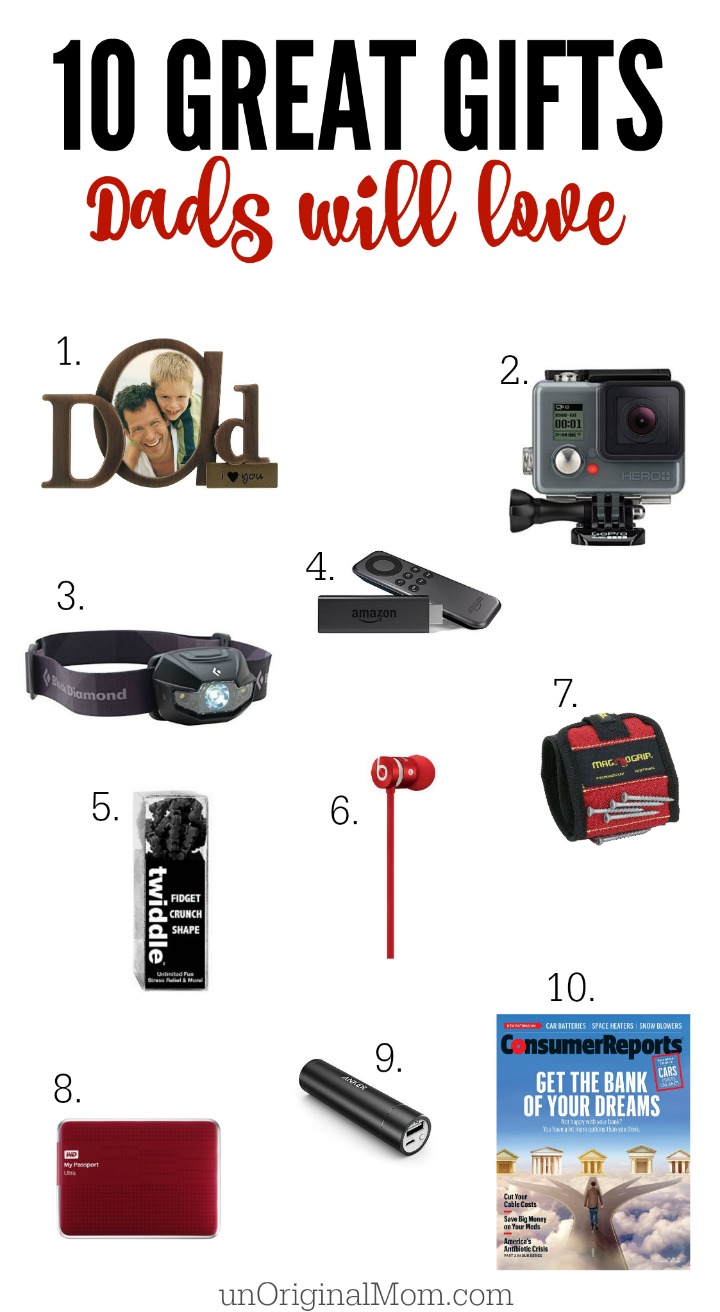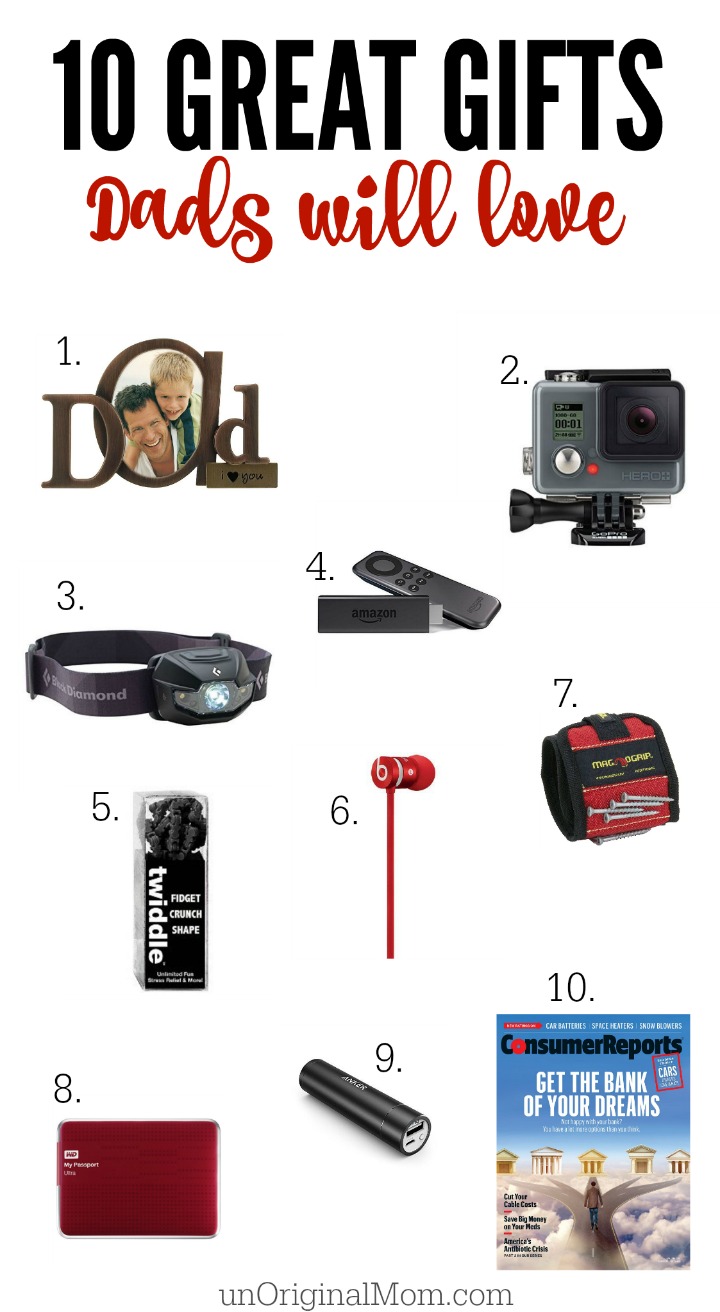 This post contains affiliate links – click here to read my full disclosure.