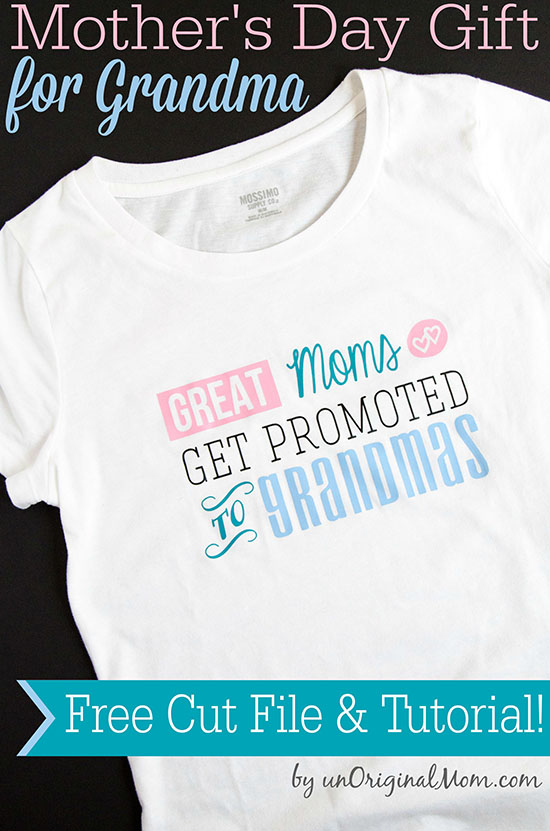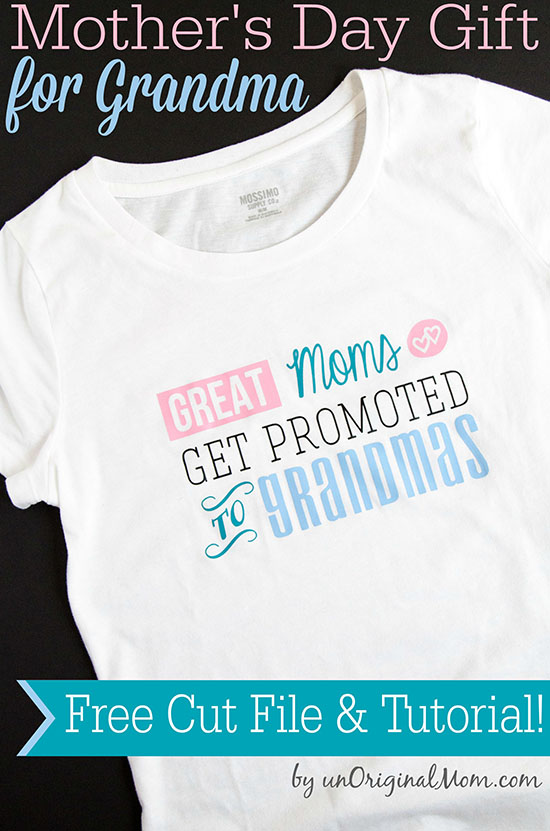 My mom's birthday was last week, and I couldn't resist getting a little bit crafty and making her a t-shirt for one of her gifts.  She's been a grandma for almost two years now, and has surprisingly little "Grandma Gear" to speak of, so it was high time to rectify that situation!
I've seen the phrase "Great moms get promoted to Grandmas" floating around Pinterest in a few different variations and thought it would be a fun gift for my mom.  It would make a perfect Mother's Day gift for a grandma, too!  I spent a bit of time getting the design just right, but of course, I am happy to share!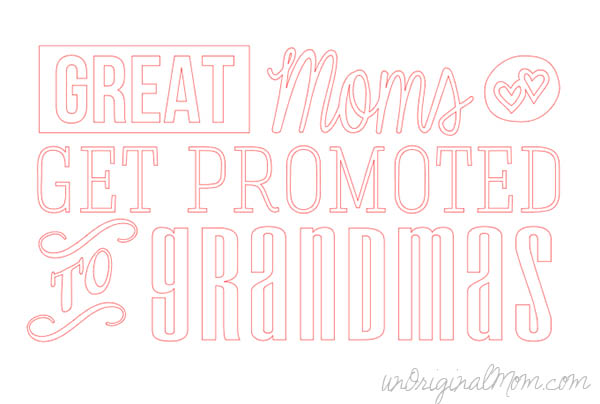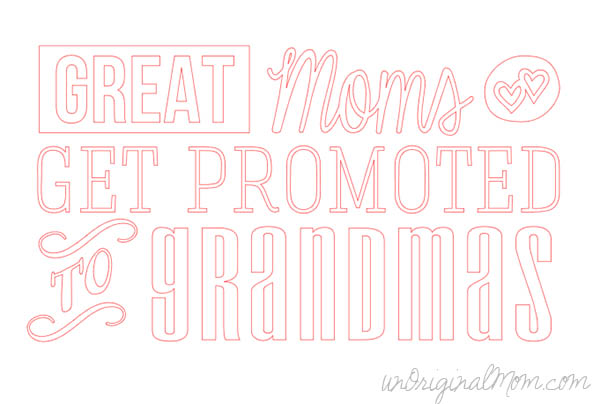 You can grab this cut file (and dozens more!) inside my Silhouette Library, which is 100% FREE! Just sign up below to get the link and password delivered to your inbox.
If you are a craft-cutter-user, have you ever tried using heat transfer vinyl before?  It is SO easy, and the end result is so professional!  The hardest part is selecting the design and colors – once that part is done, the rest is all downhill.  Allow me to share a quick tutorial with you.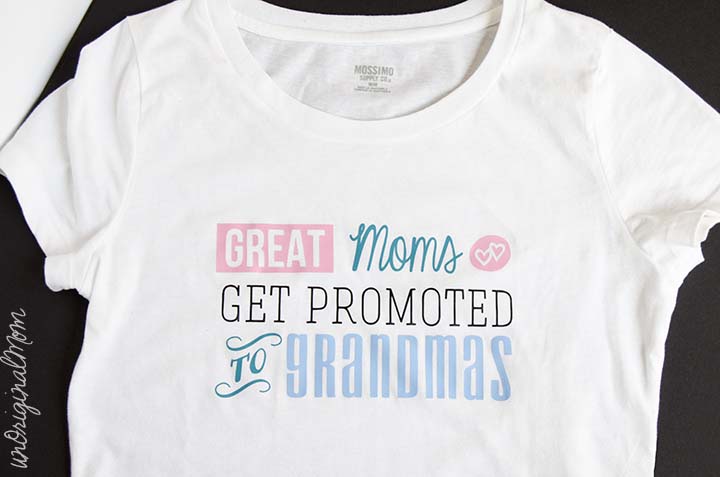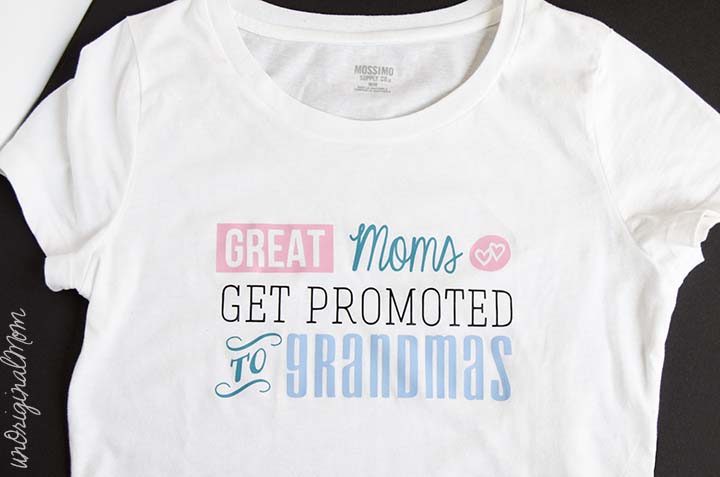 First of all, I strongly recommend that you pre-wash your shirt (or whatever material you're using) – then dry it WITHOUT a dryer sheet or any kind of fabric softener.  I've tried it both ways, and I've had much better results (that last longer) with pre-washed shirts.
Once you've decided on a design and colors, the most important step is to MIRROR YOUR DESIGN!  You will be cutting on the reverse side of the vinyl – the side that adheres to the shirt – so you need to horizontally flip the design before you cut it.  Once you've done that, load your vinyl into the machine SHINY SIDE DOWN (if it's on a roll, no need to even use a mat) and do a test cut.  Your cut should be a "kiss cut," meaning cut the vinyl but not the clear backing.  I've always used the Silhouette recommended settings for smooth heat transfer vinyl and never had a problem, but it will depend on the age of your blade, type and brand of vinyl, etc.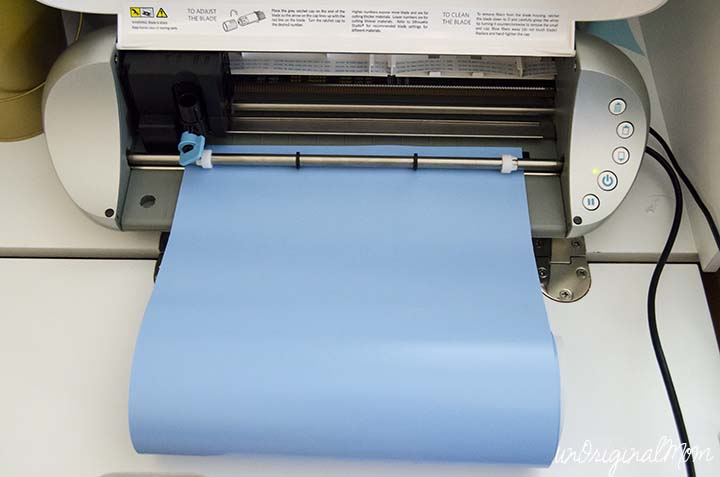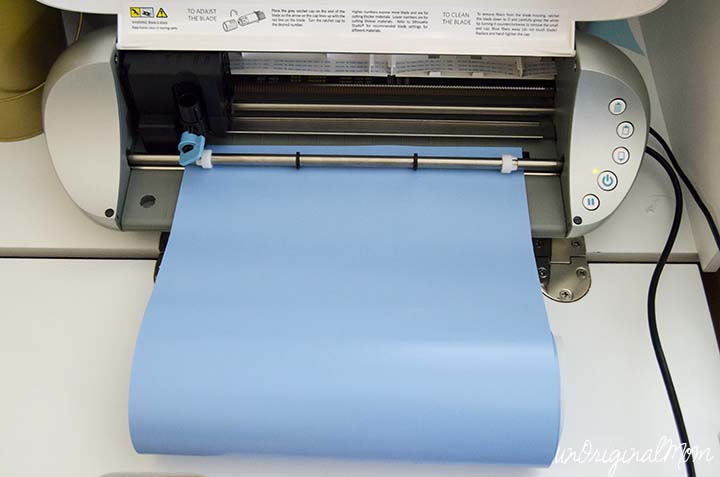 When you unload your vinyl, it will look like it hasn't cut a darn thing – don't freak out!  Hold it under a lamp at an angle and you'll be able to see the faint cut lines.  Using a hook tool (and a bit of patience), weed your design…that means, remove all the vinyl that's NOT part of your design.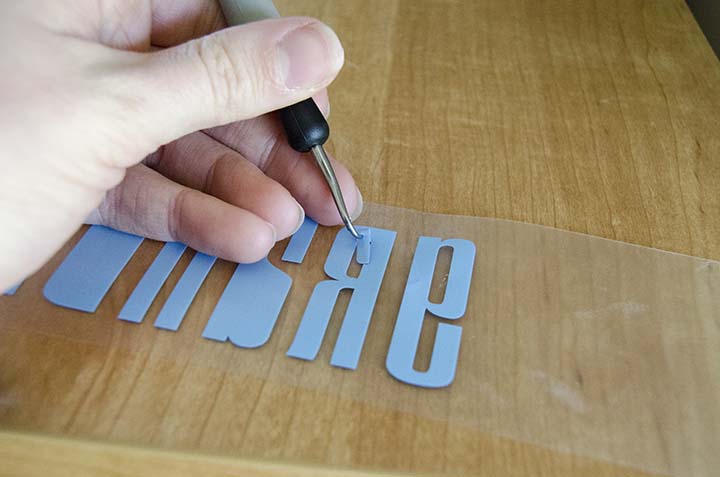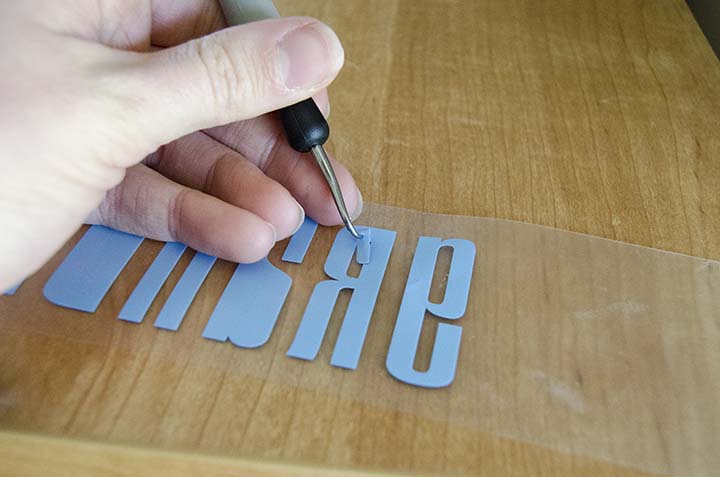 Heat transfer vinyl is even easier than regular vinyl, because there's no need for transfer tape!  Just stick your design on the shirt where you want it to go.  Since I was doing multiple pieces in different colors, I had a bit of lining up to do.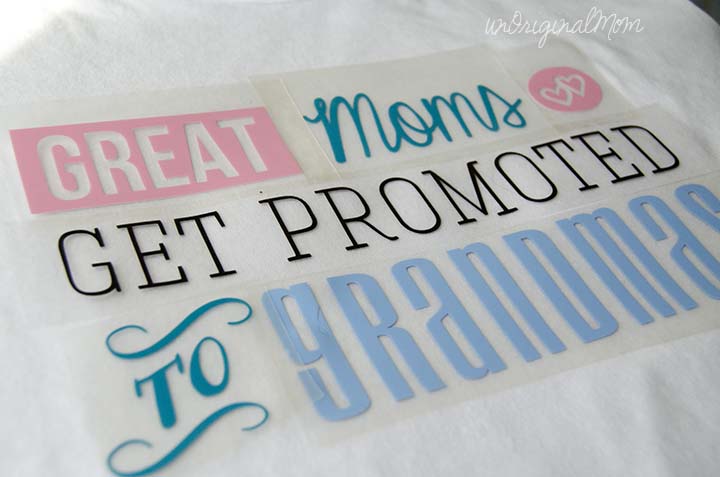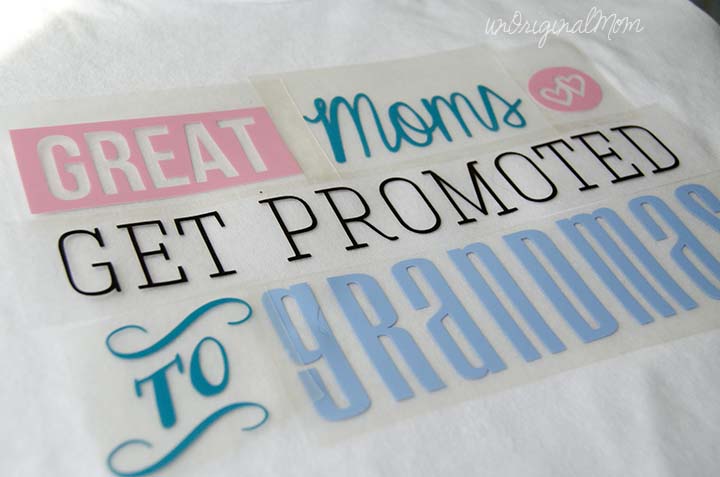 Once you're happy with your design, throw a thin cloth on top and start ironing!  This isn't like regular ironing…park your iron in one place and press down for a good 20 seconds or so on each part of your design.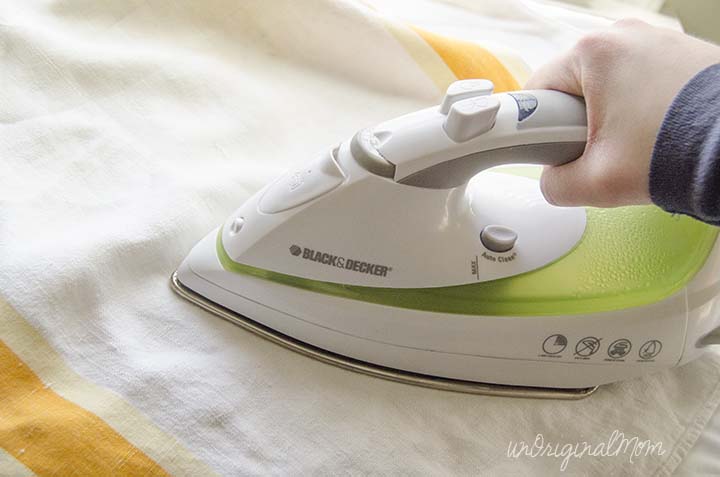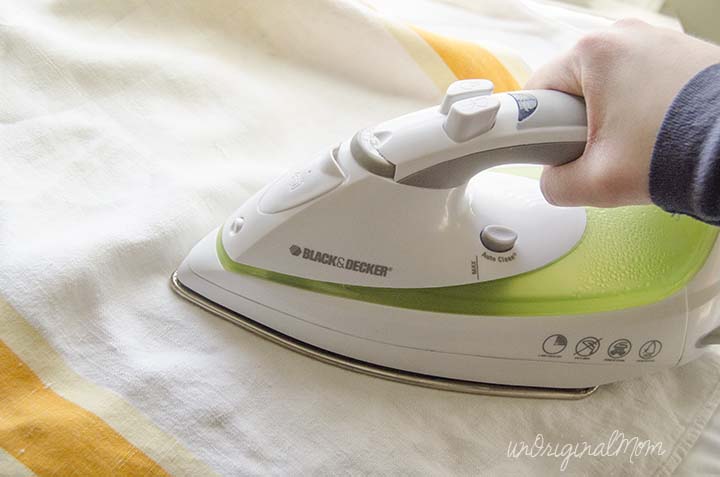 Let it cool for about 30 seconds, and repeat until the plastic film pulls away easily.  (Depending on the type and brand of vinyl, I've had to repeat that step as many as 5-6 times, so don't worry if it takes a while!)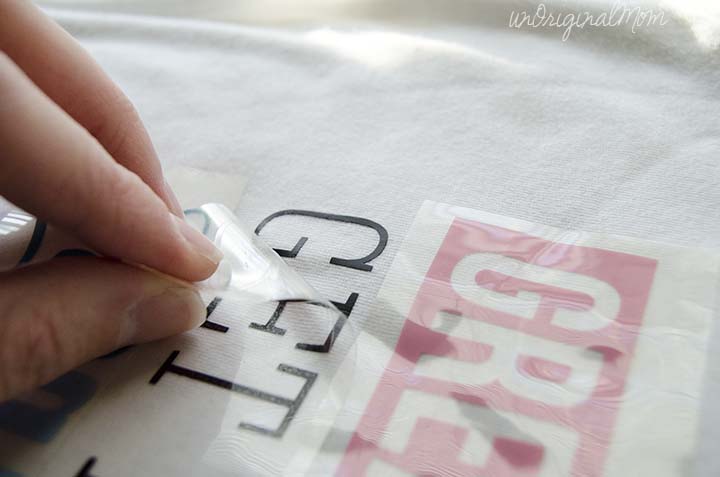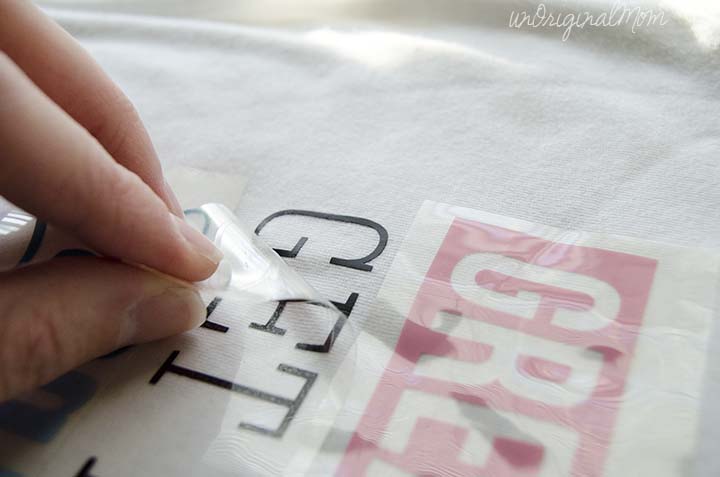 After you've peeled up the film, give it another quick press (you can even turn it inside-out and press from the back side) and you're good to go!  It's safe for the dryer, just be sure to use low heat and turn it inside out.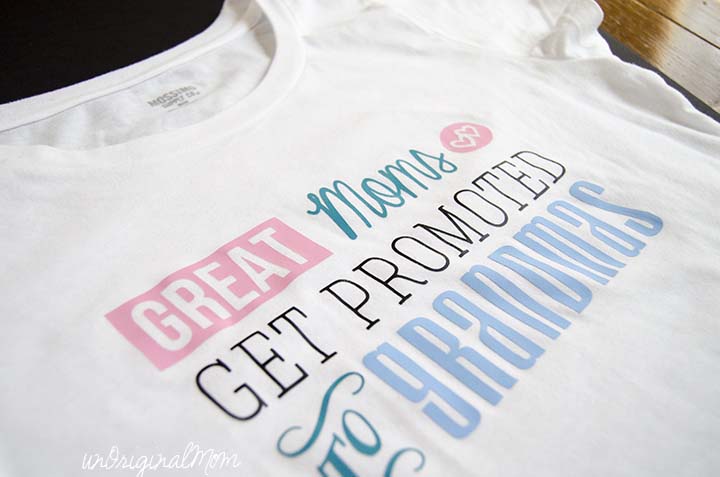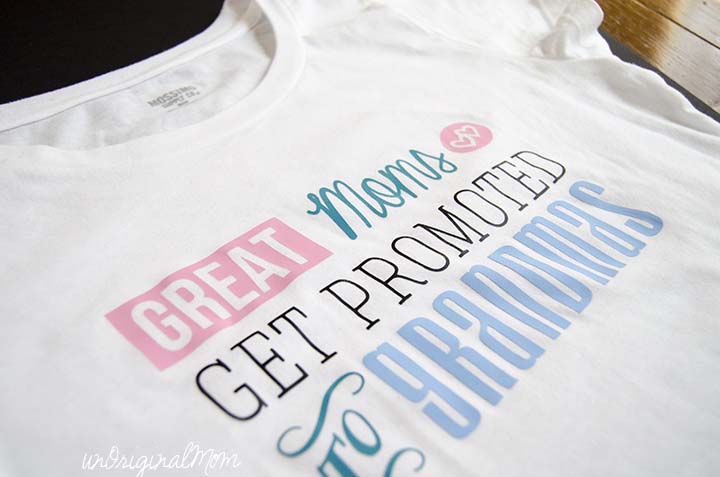 So, let me hear about your crafting to-do list – what is the next (or first!) heat transfer vinyl project on your list?
Disclosure:  I was provided product to use for this post, and there are affiliate links included above – that means if you click them and then make a purchase, I make a small commission that helps keep unOriginalMom up and running!   While I may get my inspiration all over the place, all thoughts and opinions are 100% my own…cause you know I LOVE my Silhouette!



Subscribe to unOriginal Mom via email and get instant access to my library of FREE Silhouette Studio & SVG cut files - exclusively for email subscribers. Plus there's a new file added every month!