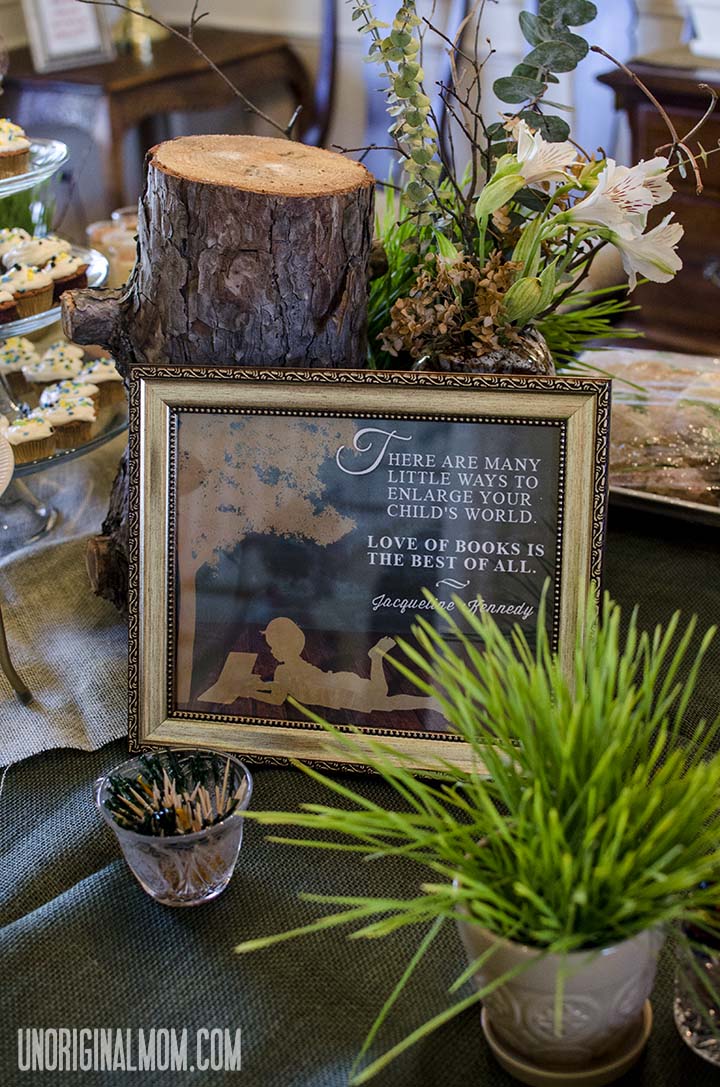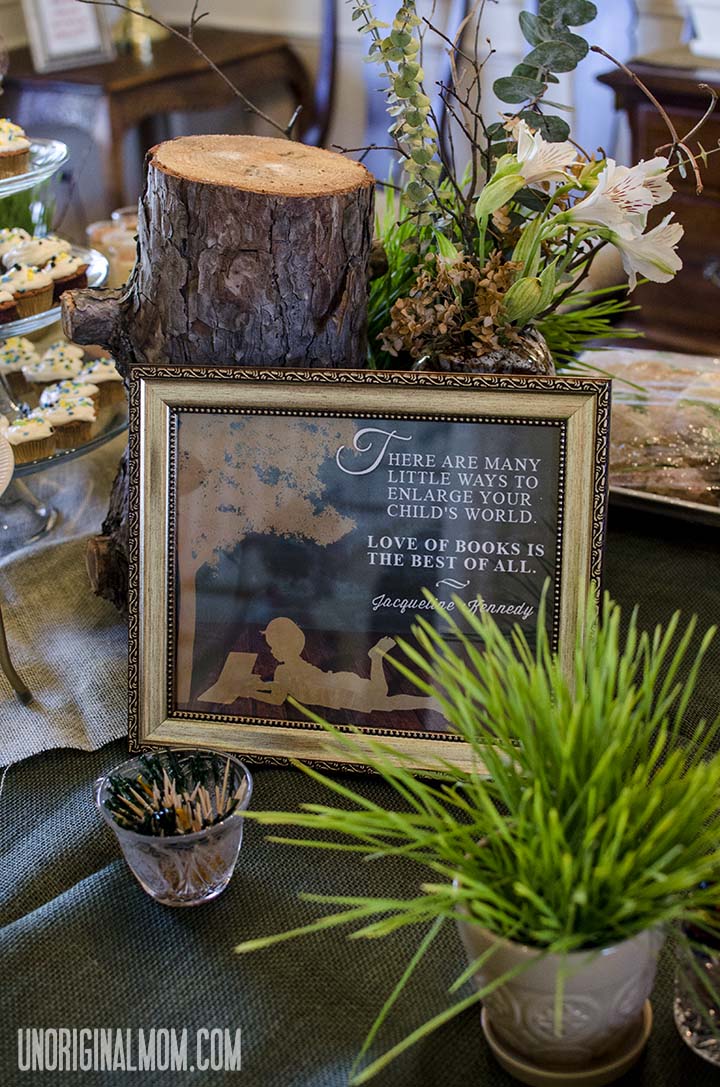 I recently attended (and helped a little bit with) a good friend's baby shower, planned by an extraordinarily talented family friend of ours, Lisa Hackman.  Lisa has an incredible gift for event decor and planning – she throws the most beautiful parties, showers, and weddings I have ever seen! She has such an eye for detail and makes sure that everything – down to the drink stirrers – is perfect!  I asked her if I could showcase this baby shower, because it was just too beautiful not to share with you!  Feast your eyes on this beautiful, woodsy, children's book themed baby shower!
Are you planning a baby shower?  Grab a FREE Baby Shower Planning Checklist to help you with each step along the way!


Instead of paying for helium to fill the balloons, they were taped to the ceiling.  The dangling strings got tissue paper leaves to create a forest effect!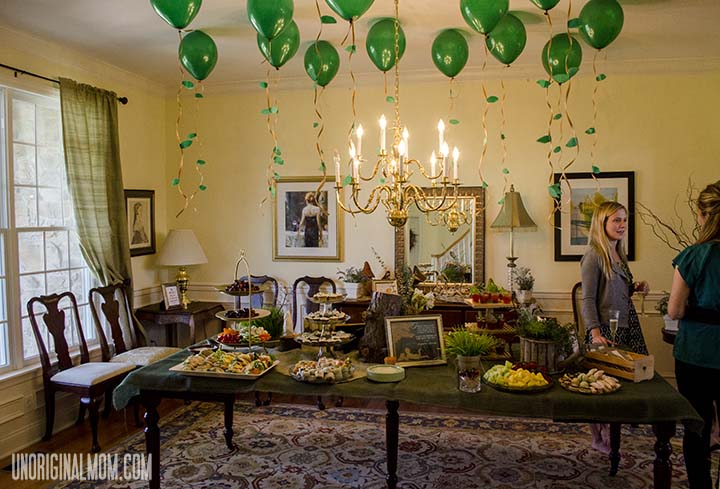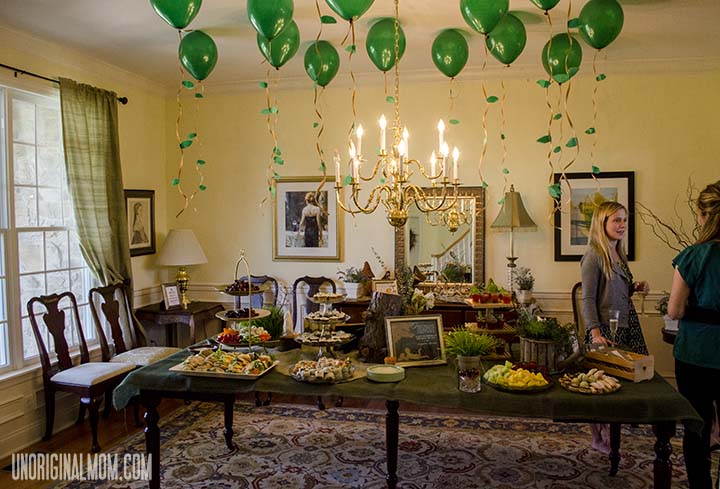 Lots of delicious finger foods, and earthy flower arrangements added much to the decor.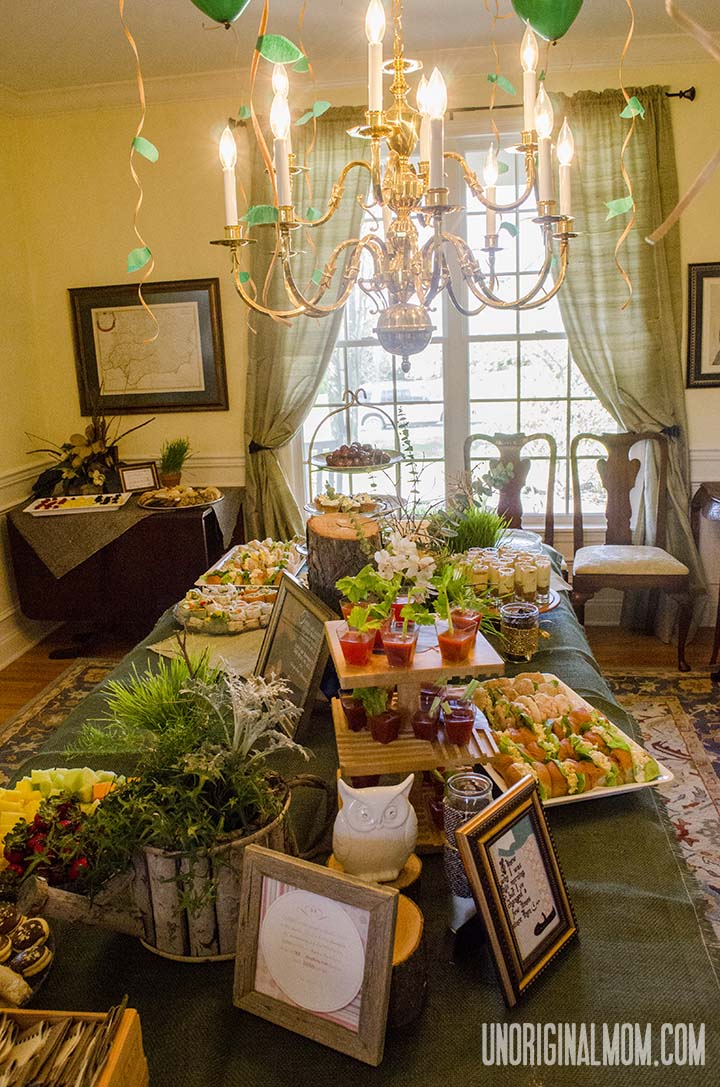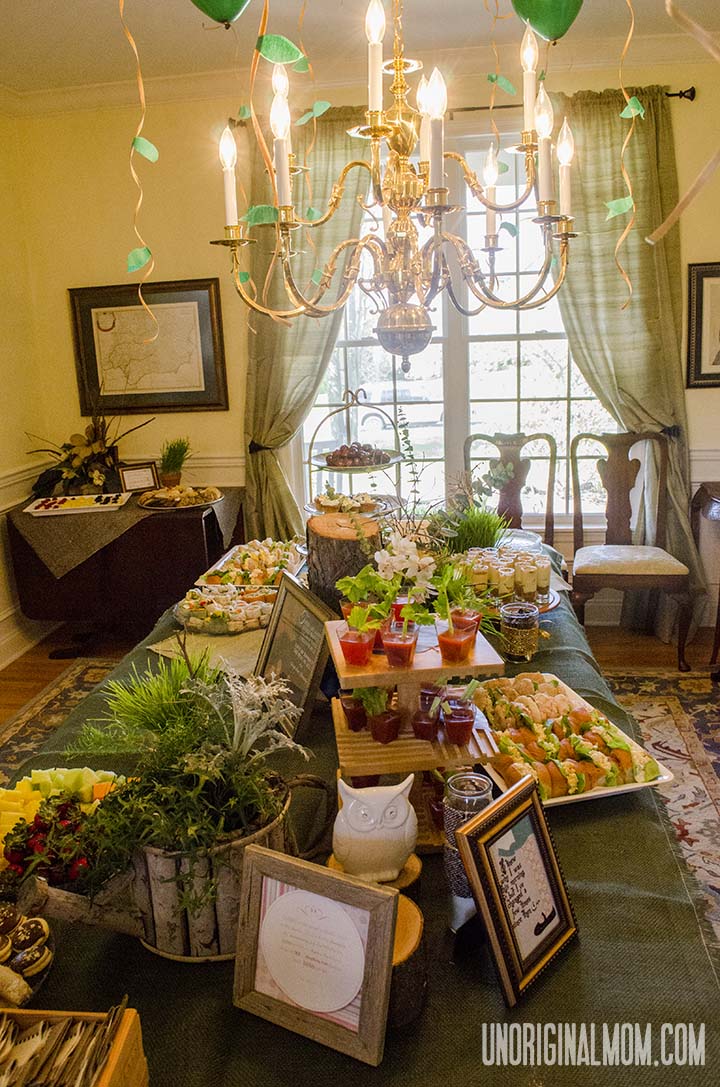 My contribution to the shower was creating and/or finding children's book quotes, printing them, and putting them in frames to place around the tables.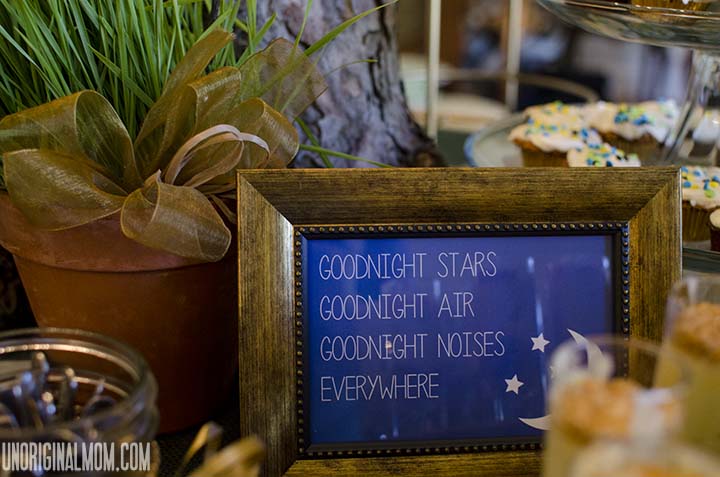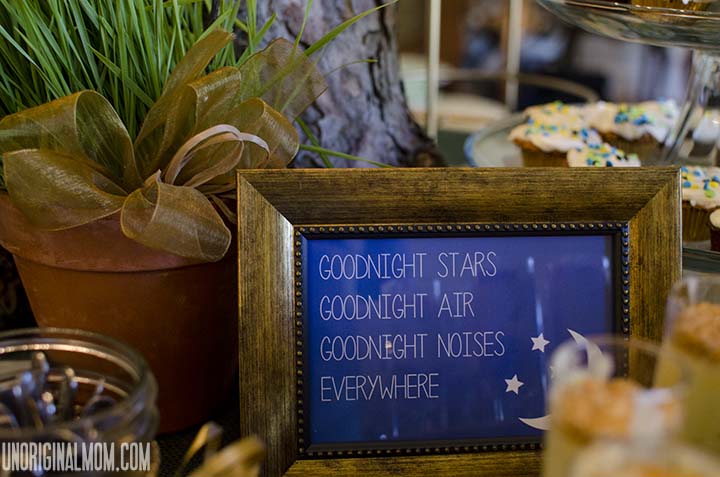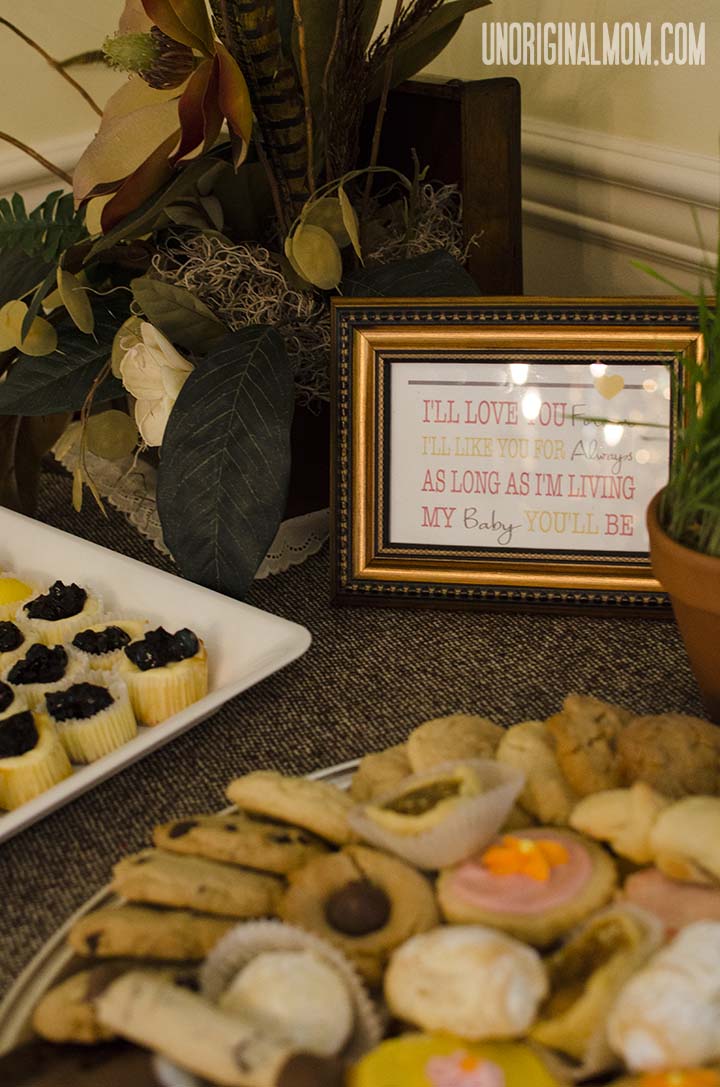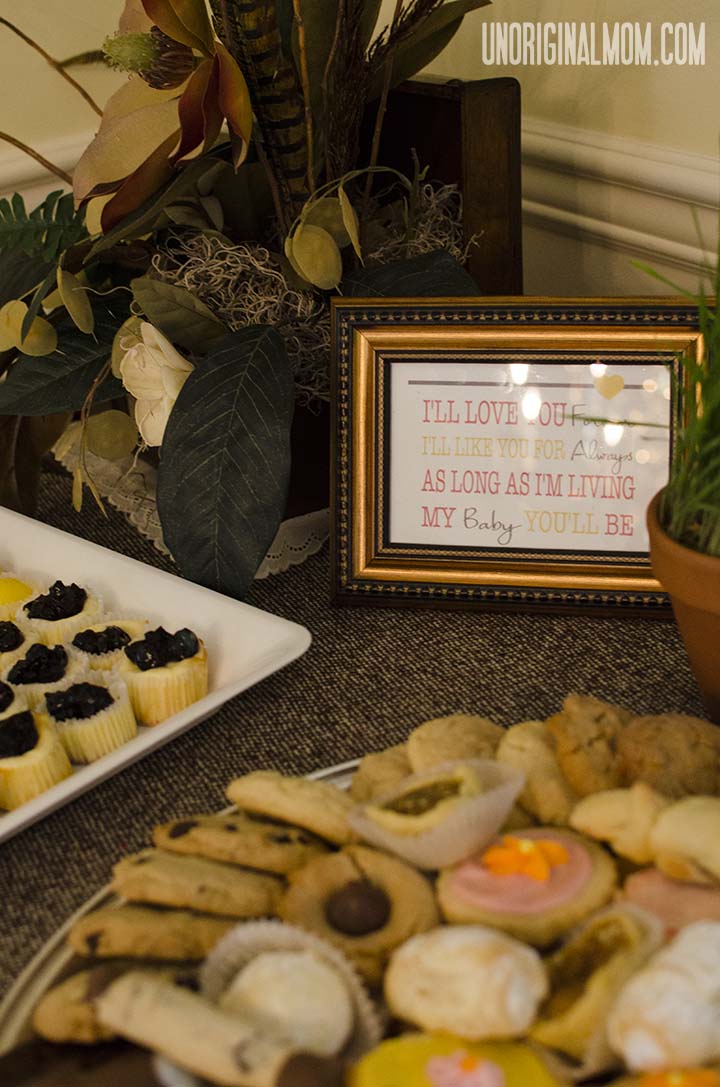 Book quotes were also hung on this rustic frame to be displayed.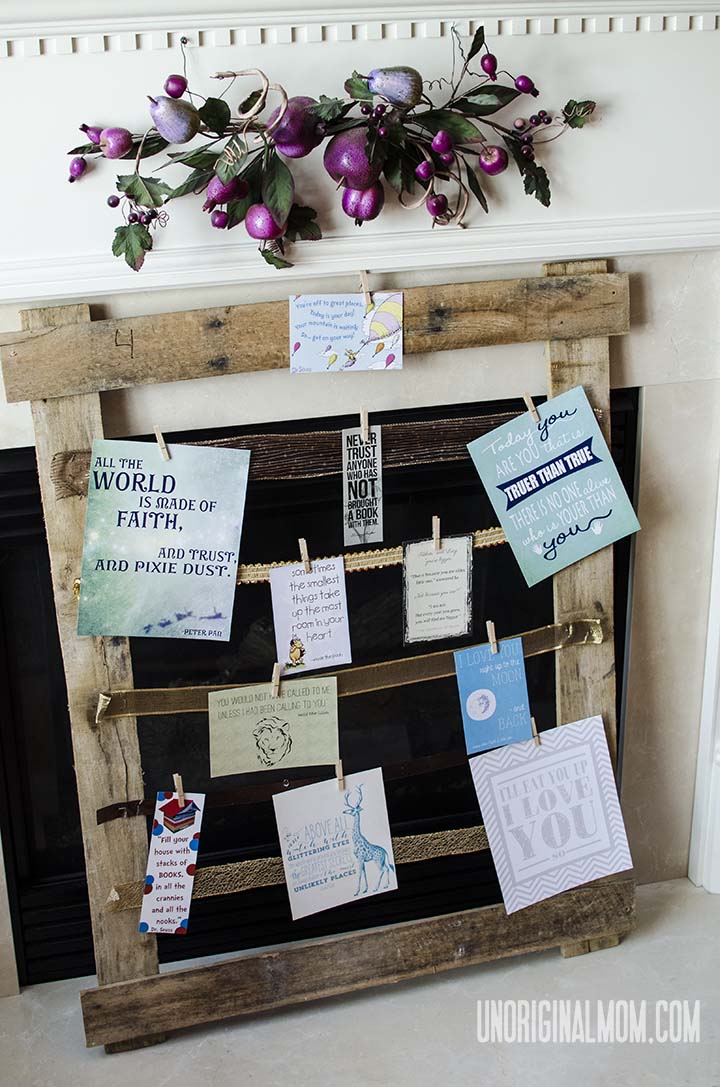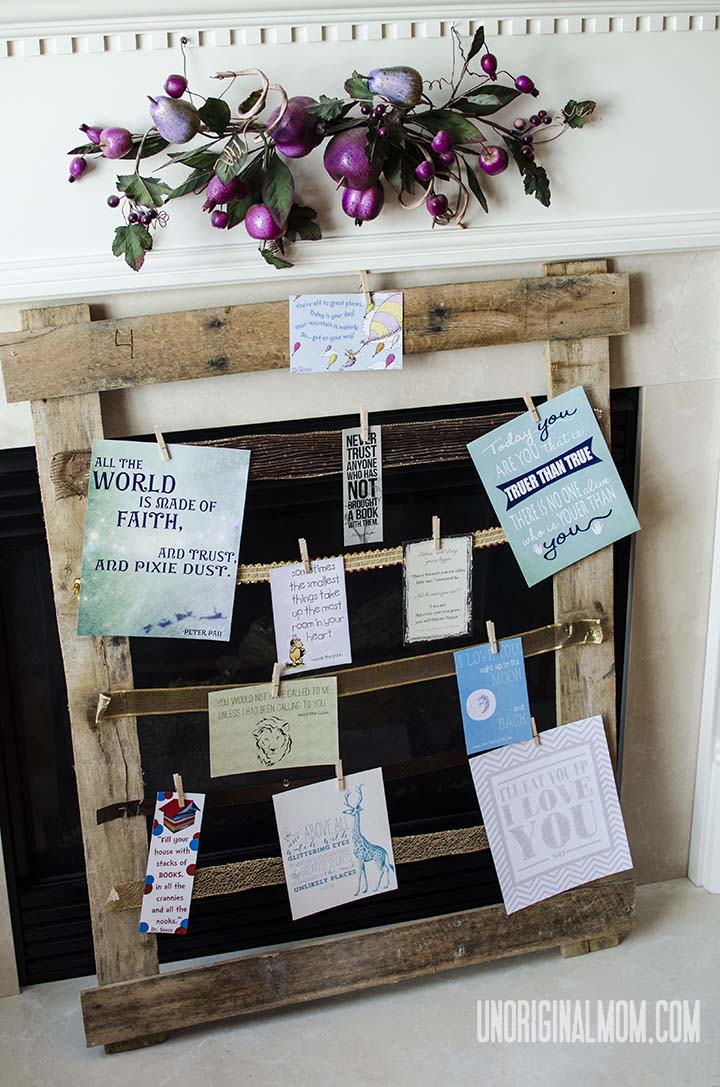 There was a onesie-making station set up…only instead of using the difficult and annoying bubble paint, there was iron-on fabric with stencils and fabric scissors, along with an iron and ironing board nearby for guests to complete their projects.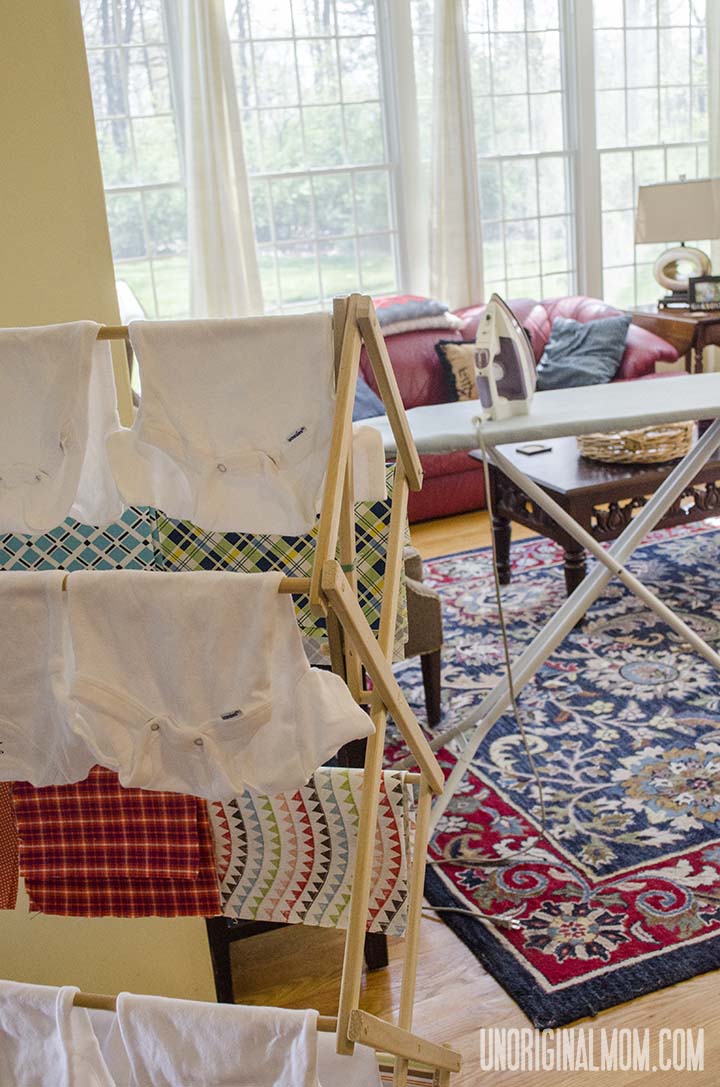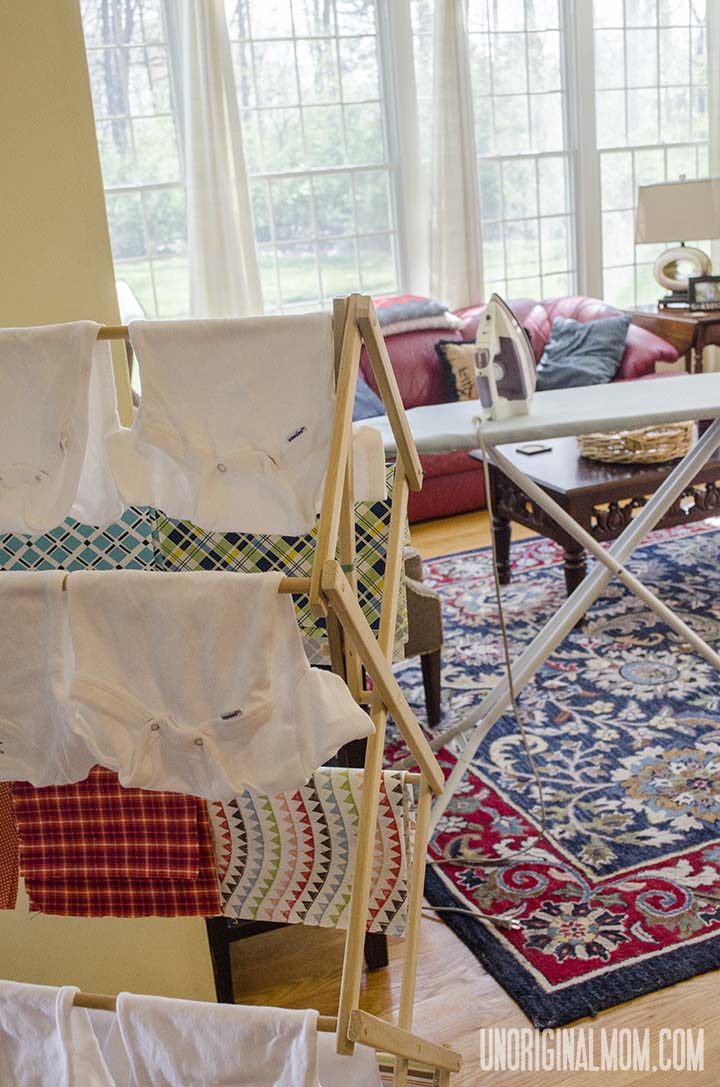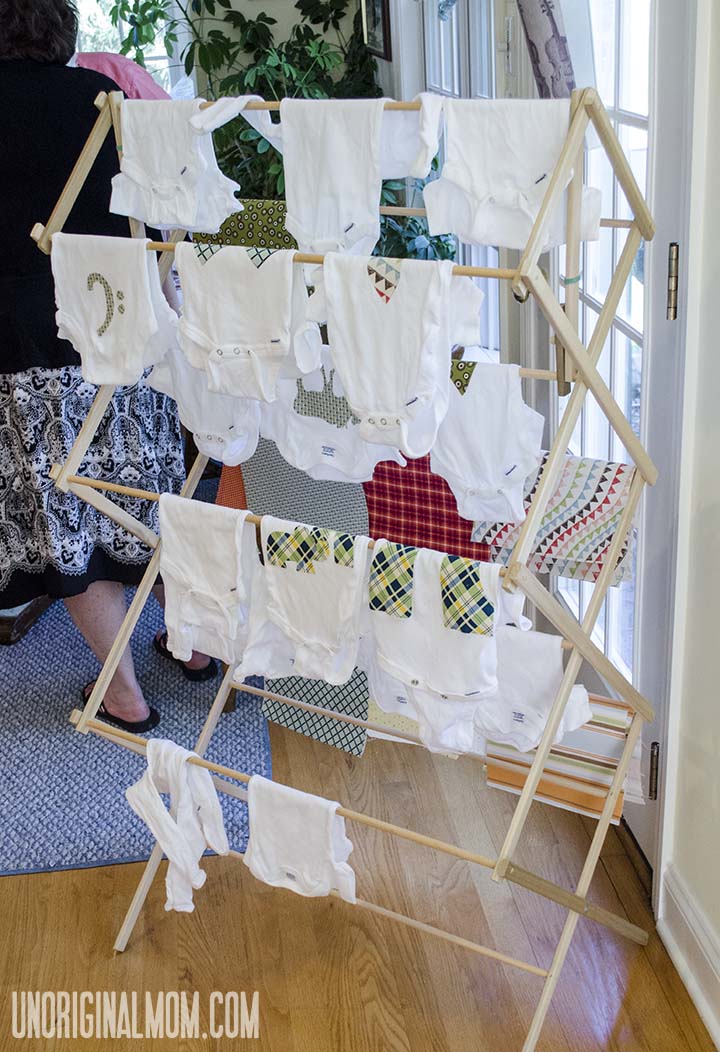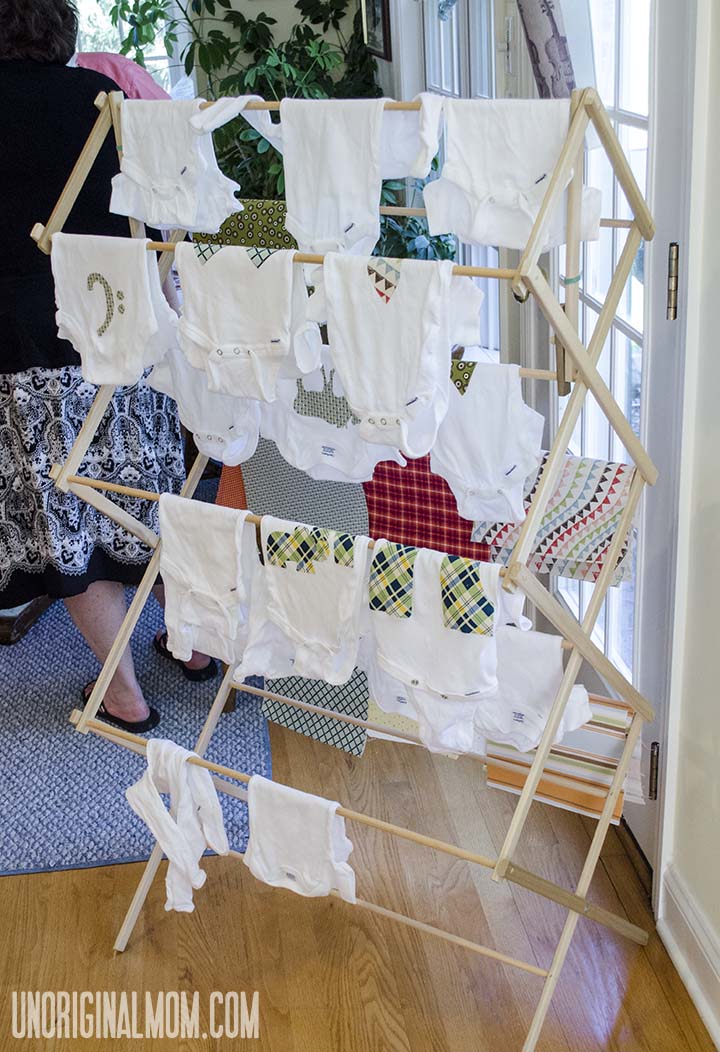 And, of course, some sweets!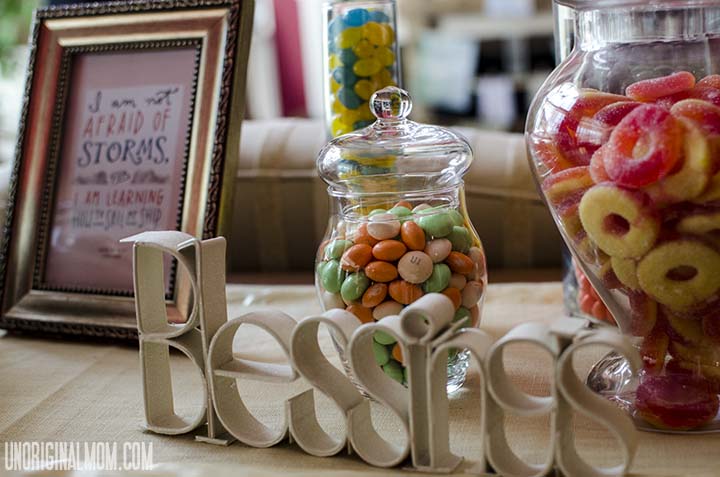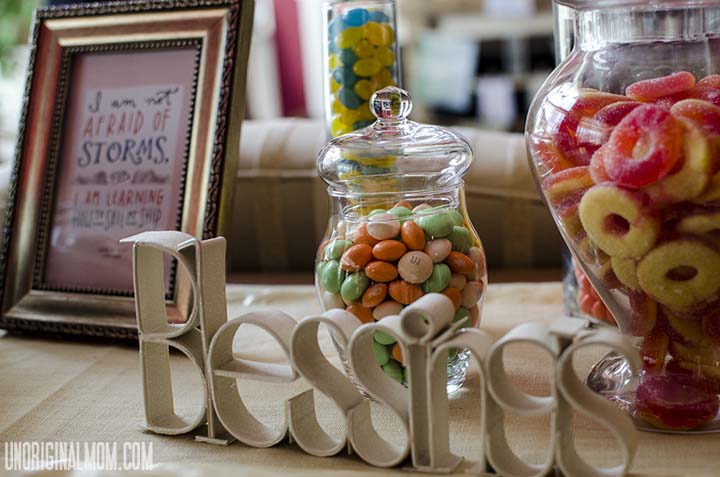 It was such a beautiful shower, don't you think?
Like what you see?  Or planning a baby shower for someone?  Check out the free printable children's book quotes I designed for the shower, along with a fun children's book themed baby shower game and free printable bookmark favor!
ARE YOU PLANNING A BABY SHOWER?
Sure, you can find lots of ideas on Pinterest…but how great would it be to have everything you need in one place? The Baby Shower Book is a comprehensive and easy to read Baby Shower planning handbook, plus it includes a printable toolkit, organizing tips, and lots of crafty inspiration. You'll also find TWENTY printable baby shower games in a beautiful, trendy, gender neutral design! If you are planning a baby shower, you simply must check out The Baby Shower Book, your all-in-one guide to hosting the perfect baby shower!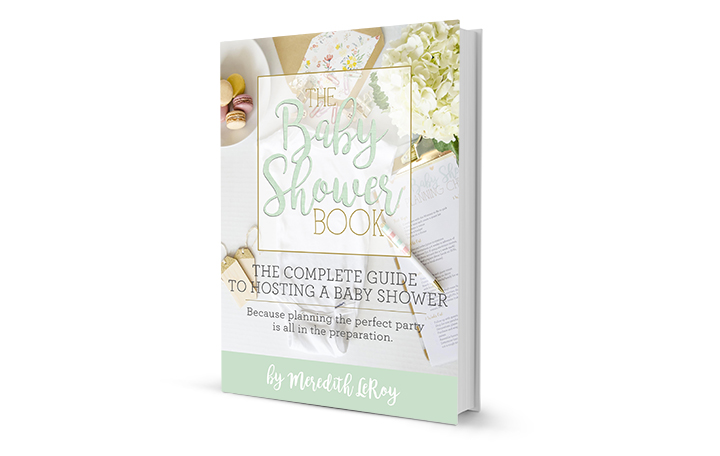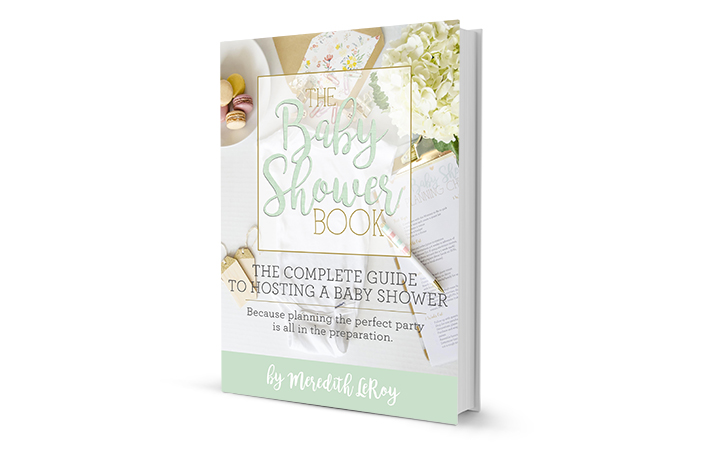 I hope you'll stop over to take a look at all the amazing printables that are included along with the eBook. I promise it will make your planning much smoother – and your end result simply wonderful!


GRAB YOUR FREE BABY SHOWER PLANNING CHECKLIST!
The perfect party is all in the preparation. This complete baby shower planning checklist will help you with every step along the way!