This is a sponsored post written by me on behalf of Cracker Barrel. All opinions are 100% mine.
I LOVE going out to eat. I know, who doesn't?  But really, it's one of my absolute favorite things to do. Good food, good company, and I don't have to cook it or clean it up! But with a 3 year old and a 6 month old, restaurant eating is not quite as simple as it used to be. We still go out as a family once or twice a month, but there is much more strategic thinking involved! Not to mention a much shorter list of non-fast-food restaurants (my mom used to call them "sit-down-no-run-around-restaurants" when I was little!) that are truly family friendly. You know the ones – short wait for a table (or something to do while you're waiting), high chairs and booster seats available, not too quiet or too loud of an atmosphere, good service, kids menu with relatively healthy choices, adult menu with something for everyone, quick to prepare your food, and affordable. That's not too much to ask, is it???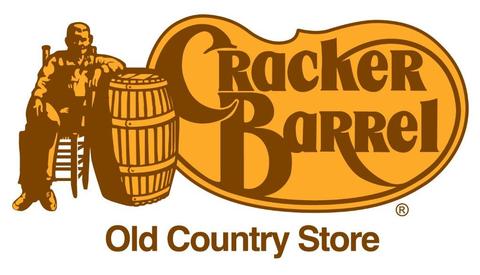 Well thankfully, we have a restaurant that fits that wish list about 5 minutes from our house – Cracker Barrel. Growing up, it was always a rare treat to stop at a Cracker Barrel when we were traveling, until they opened one in our town just a few years ago – now we can go whenever we want!  And we do go there pretty frequently.  In fact, we were just there on a "family date" for our 5-year anniversary last month, and again just last week for our 3-year-old's birthday (she requested a restaurant with macaroni and cheese).  Cracker Barrel is a restaurant I can feel good about taking my family to instead of feeling guilty about (you know those guilt and/or stress-inducing types of restaurants I'm taking about).  They have terrific fresh made options for everyone and of course, yummy breakfast food at any time of day if that's what you're craving!  (Psst – if you want to enjoy some yummy Cracker Barrel food at home, did you know you can buy Cracker Barrel products in local grocery stores?)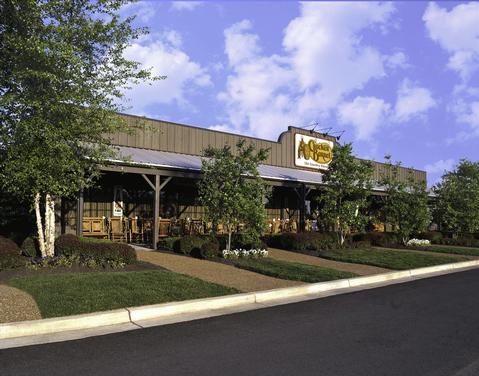 Another thing we love about Cracker Barrel is the Old Country Store.  When I was a kid and we stopped at Cracker Barrel on vacation, I always headed straight for the big candy section to buy some lemon drops!  But now that I'm a grown-up, I could honestly spend an hour browsing through all the fun stuff they have.  I love their home decor (especially once they get Christmas stuff in stock!) but I do go a bit weak-in-the-knees for their adorable baby clothes.  And my daughter always heads straight to the doll section when my husband goes to pay the bill.  You can virtually browse the store from home, too, via Cracker Barrel's Retail Store!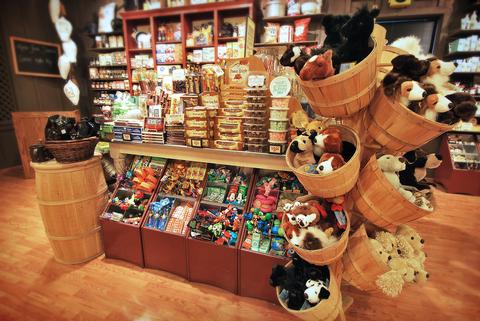 Well, no matter how great a restaurant is, there is going to be a bit of waiting involved – which can be torture with young kids if you don't have some tricks up your sleeve.  Unless you have a very focused artist on your hands, there's only so long that crayons and a kids menu will entertain them.  So I've put together a list of 5 restaurant waiting games for preschoolers that require no advance planning or materials – you just need a few items that you'll have at your table.  File these away in your mom brain for the next time you've got a whiney, hungry, squirmy kiddo waiting for the food!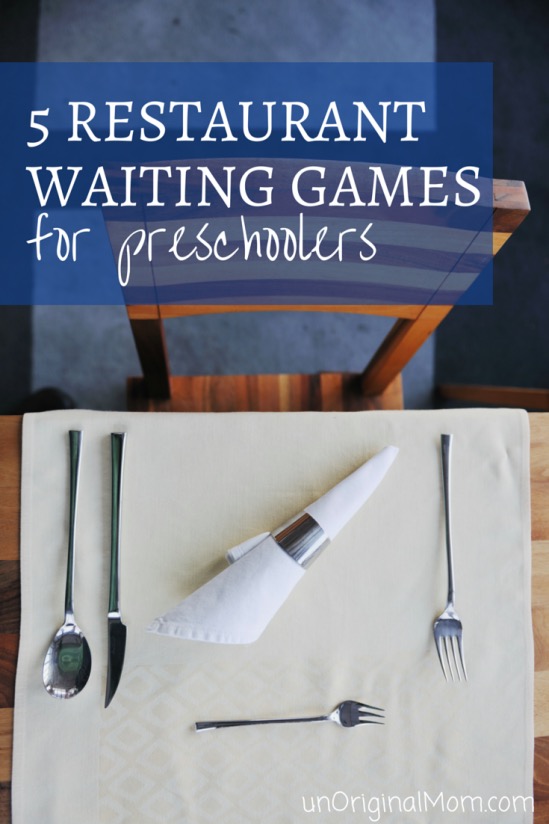 1.  Build-a-Shape Challenge:  using only things at the table (the golf tees from the Cracker Barrel IQ test game would be great for this), challenge your kiddo to build a shape – or build one yourself and have them identify it.
2.  Sugar Packet Tic Tac Toe:  This is a great idea that's been all over Pinterest.  Use drink stirrers to make a tic tac toe grid, or just draw one on your napkin.  Then, instead of Xs & Os use different colored sweetener packets!
3.  Object Take-away: Put 3-5 different objects on the table – have everyone close their eyes while you remove one object. Everyone opens their eyes at the same time, and the first person to identify what you took away wins that round.
4.  I-Spy:  The classic waiting game!  If you need to, make it easier for your child by setting boundaries or qualifications (i.e. only things on the tabletop, etc).
5.  Letter find:  Use the kids menu, adult menu, etc. and challenge your child to find a letter A, then a letter B, etc. until you've worked your way through the alphabet.  If you have an older child, make it harder by having them do the alphabet backwards on their own!
What is your favorite family friendly restaurant to go for a "family date?"  Do you have any tried-and-true tricks for keeping the kids entertained?


Get your copy of my FREE meal planning binder!
Sign up to get a free copy of my meal planning system - an 11 page printable meal planning binder, complete with a pantry inventory, shopping list, and more to help get on top of your menu each week!