I absolutely LOVE all of the spring yarn wreaths that have been popping up on Pinterest.  They are all so beautiful!  Here are some of my favorites: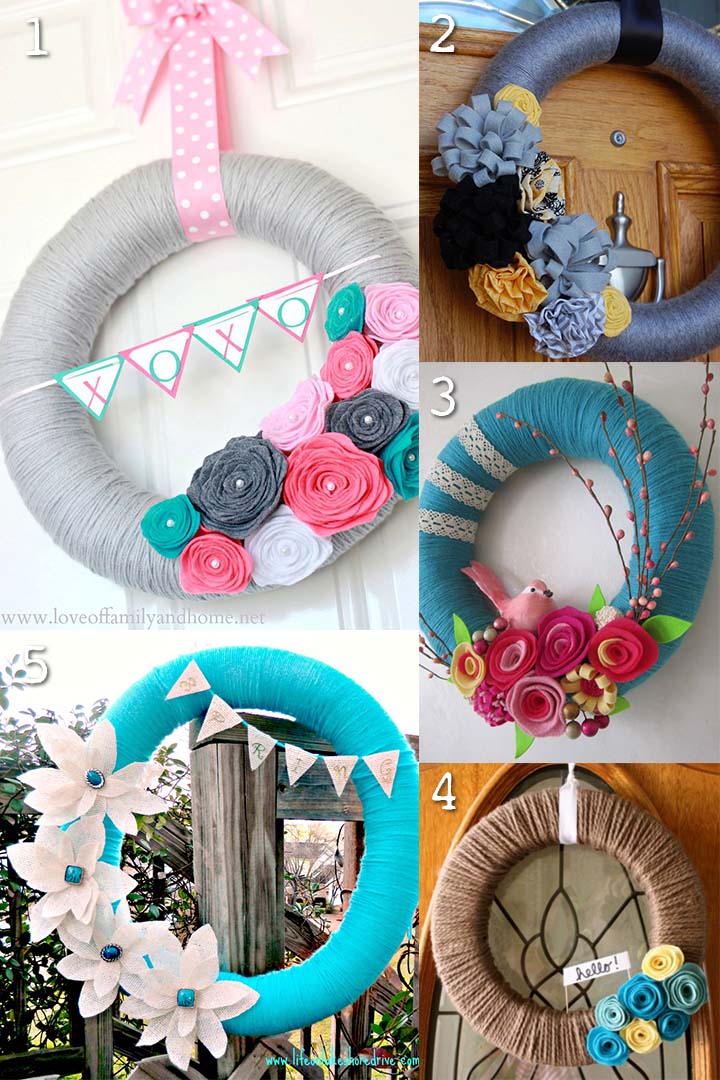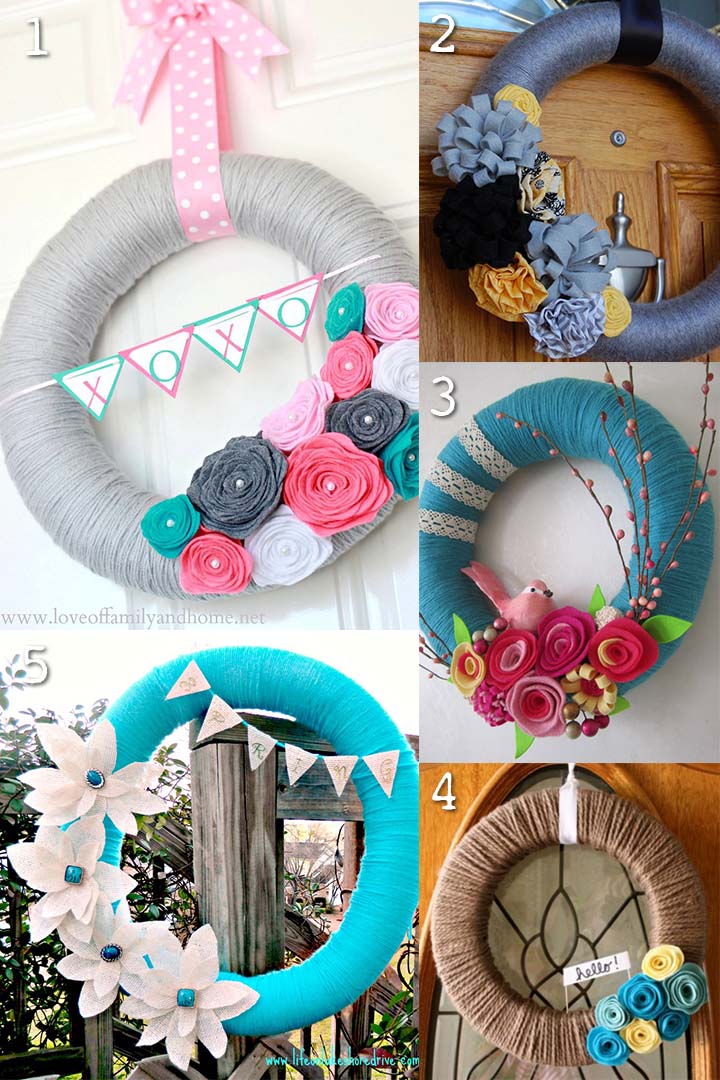 They are all so welcoming and cheery, I decided I wanted one for my front door, too!  At first I wasn't sure what colors to go with, or what kind of flowers I'd make…so I bought gray yarn and various colors felt, came home, and started wrapping the wreath.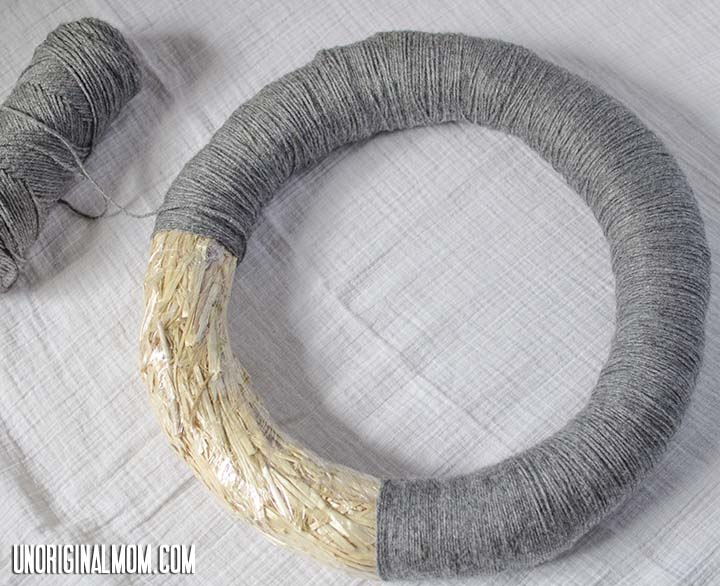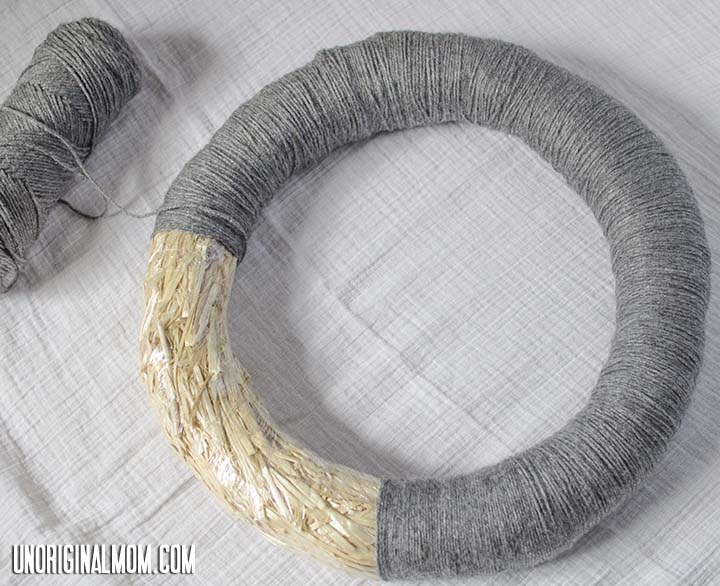 This was by far the most tedious and least fun part of the project!  My method was to wrap the yarn loosely around the wreath about 10 times, then go back and pull it tight, putting about 2 layers of yarn over the wreath so none of the straw showed through.  This took an hour or two, spaced out over two evenings while wrapping and half-watching TV.
If I had to do it again, I'd spend the extra few bucks for a Styrofoam wreath, just because it would be easier to wrap.  But I do like the texture the straw wreath has now that it's covered.
Next was making the flowers.  I found some felt flower tutorials and started making some of those…but then I found some scraps of flannel fabric from my half-finished baby rag quilt (someday I will finish it and post about it!), and thought those colors would look great on the wreath.  So I improvised a little bit and tried to use up my scraps.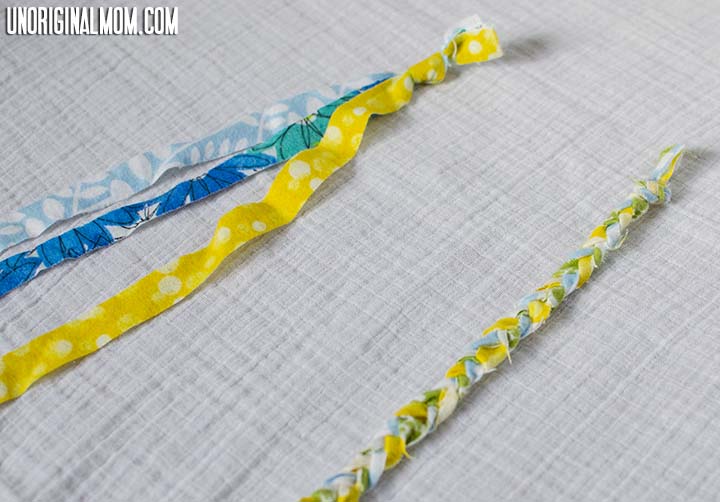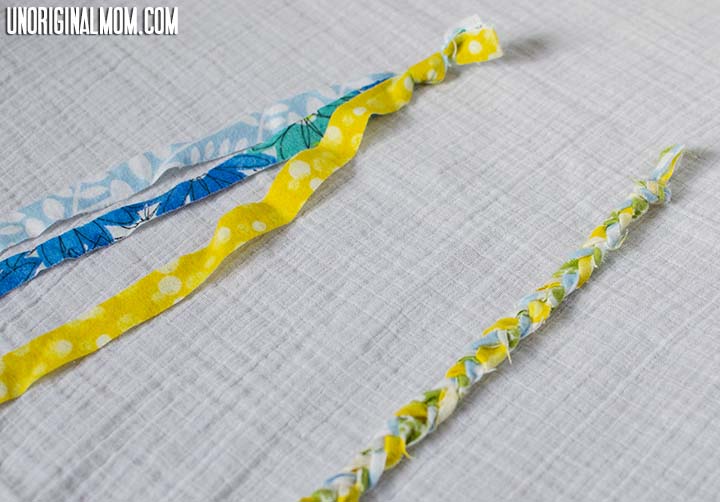 I had a bunch of long, skinny strips of fabric, and had the idea to braid them together and see what kind of "flowers" they would make.
It couldn't have been any easier.  All I did was braid them together (being careful to turn the scraps so the right side of the fabric was always facing up, so the finished braid had a "right" and "wrong" side).  Then I rolled up the braid with the right side out, hot gluing as I rolled.  I think they worked out really well!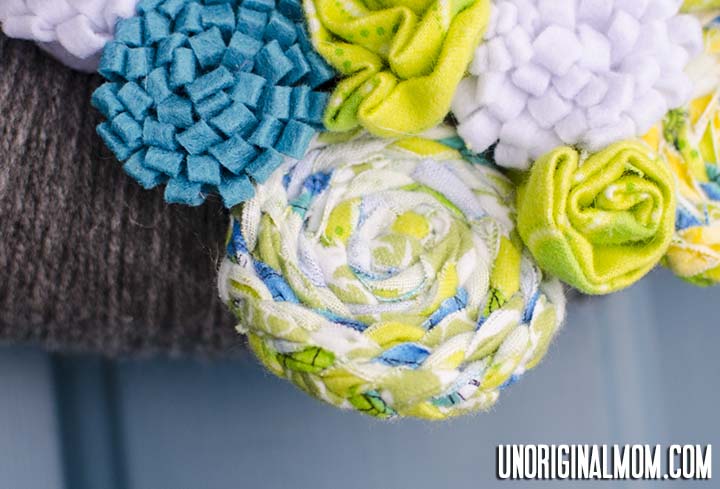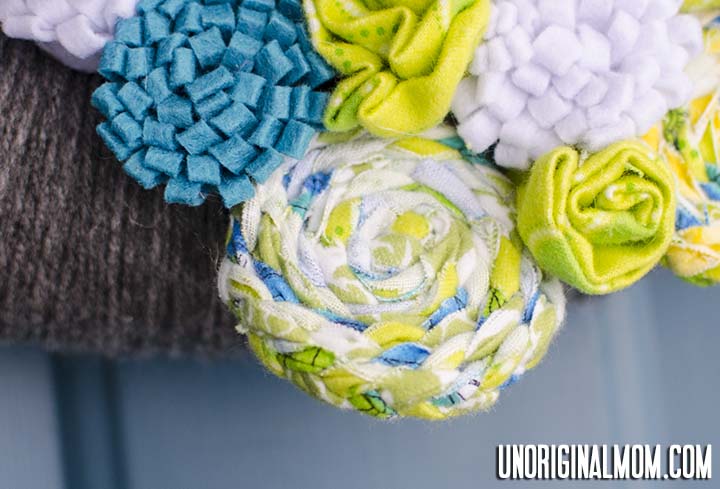 I also had some wider scraps of fabric, ranging from about 4 to 6″ wide.  I found this fabric flower tutorial from Pinkie for Pink to make these flowers!  I did ruffle them a lot more than I think I was supposed too…but I like how they turned out.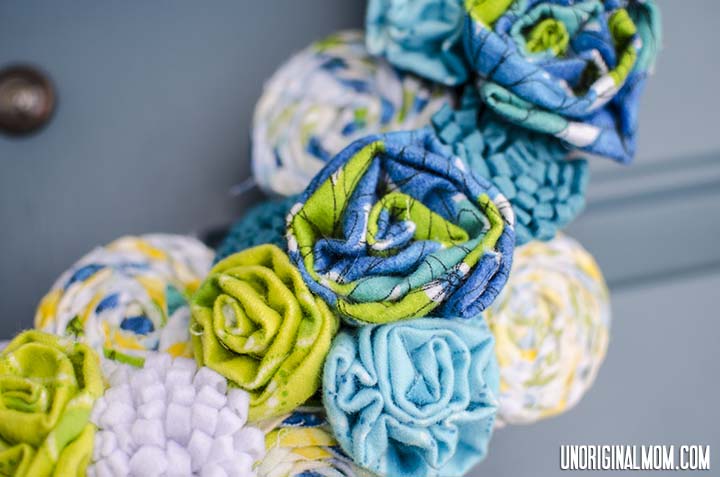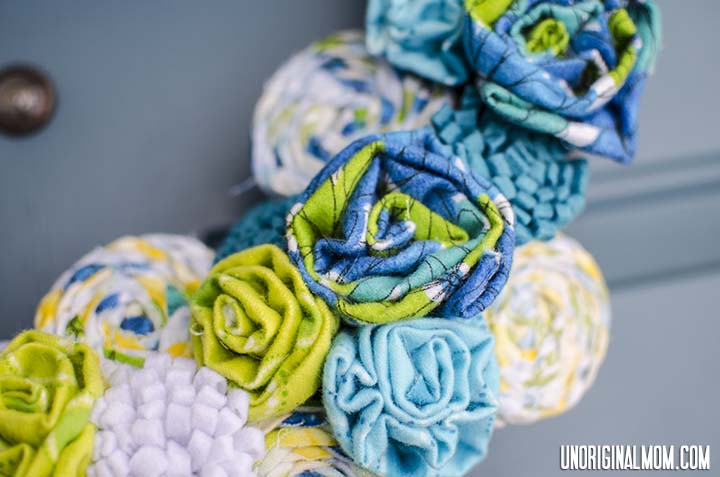 The white and teal felt flowers were on clearance at Michael's, 2 for 99 cents.  But here's a tutorial (also from Pinkie for Pink) on how to make similar felt flowers.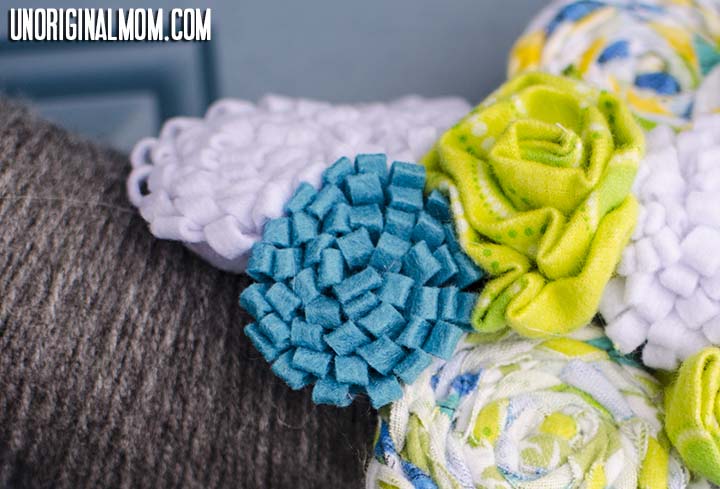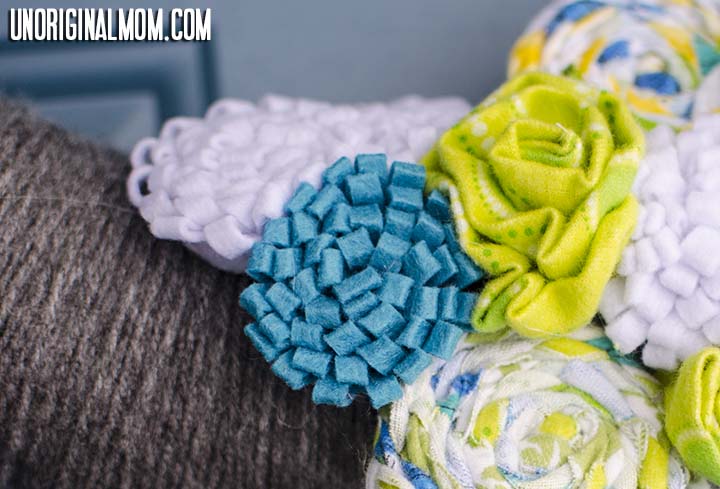 The hardest part was arranging the flowers together on the wreath…there were so many possibilities, it was like fitting together a jigsaw puzzle with no right or wrong way to do it!  I used straight pins to hold the flowers on the wreath as I was arranging so I could move them around, then when I was happy with it, I hot glued them on.
I added some colored lace for a little something extra, found some fun ribbon to hang it with, and voila!  A cheery, fun, spring wreath for our door!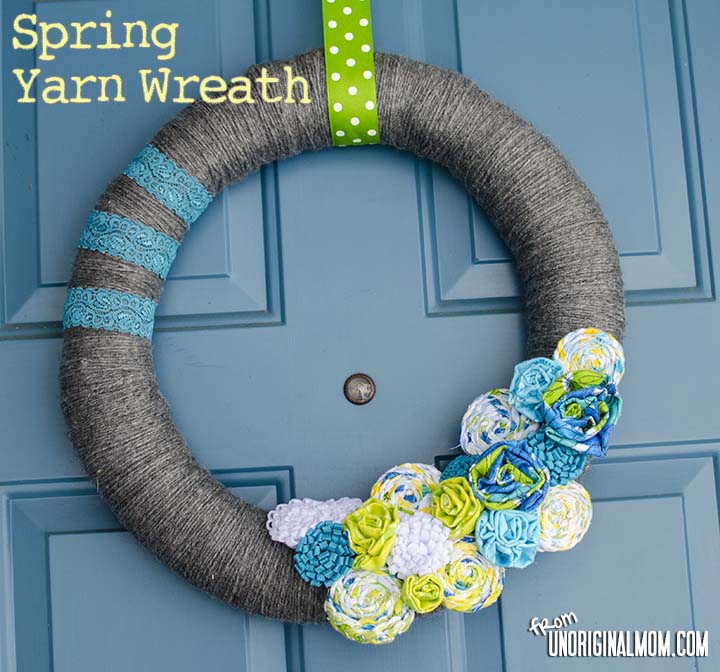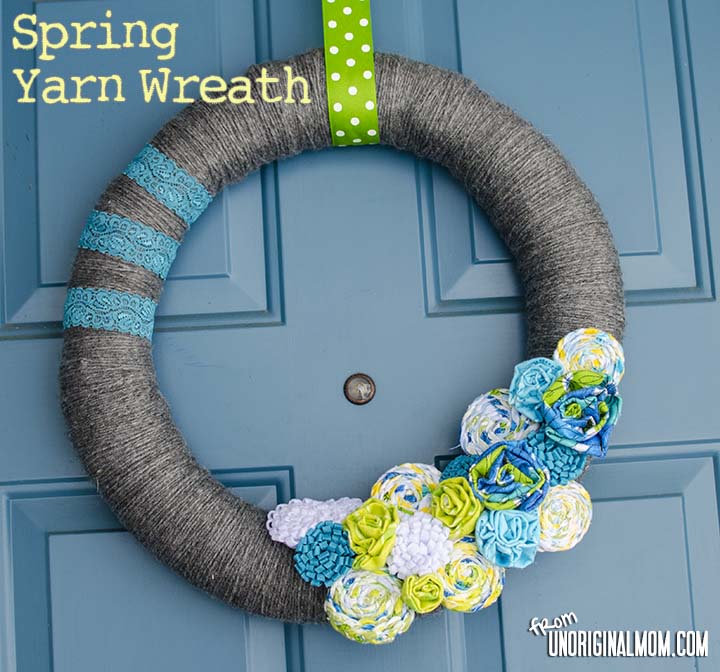 Now if someone could only remind the central PA weather that it is supposed to be spring…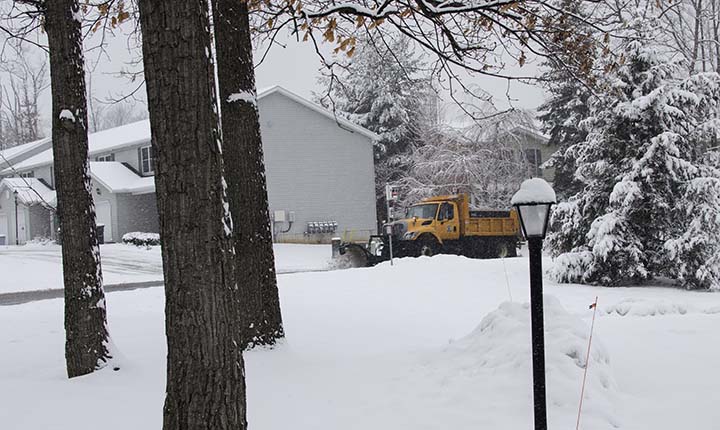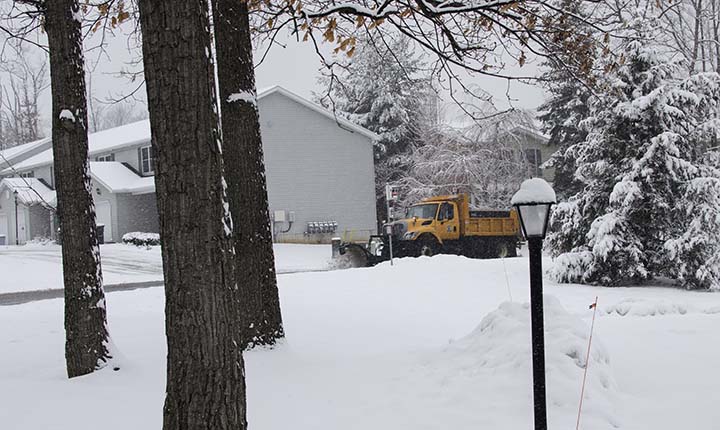 (that's the view from our front porch as I was taking pictures of the wreath.  *sigh.*)


**Take a look at other winning ideas and reviews in the Winner's Circle**
Go check out all these fantastic link parties where you'll see this post linked up!


Get your copy of my FREE meal planning binder!
Sign up to get a free copy of my meal planning system - an 11 page printable meal planning binder, complete with a pantry inventory, shopping list, and more to help get on top of your menu each week!