Free Bathroom Sign SVGs: this free So Fresh and So Clean SVG is a modern vintage design that's perfect to use for a DIY bathroom sign with your Cricut or Silhouette! Plus browse around 14 other free bathroom sign SVGs from other bloggers.
SO FRESH AND SO CLEAN SVG
Well, it's been over 9 months since we finished our big house renovation (and yes, I know I still haven't gotten the "after" photos up here for you…maybe someday?) and our new little half bathroom is just begging for some decor. It's painted and has curtains and a nice light fixture and all that, but it's still pretty "blah." We also recently redid the upstairs kid's bathroom and it's the same story there. We've got the basics done – fixtures, paint, shower curtain, etc – but nothing on the walls and no personality. So when I heard this month's SVG blog hop theme was free bathroom sign SVGs, I was selfishly excited to be able to create something for myself and also be able to share it with you!
The next question was what bathroom-appropriate-phrase to make into a design. If you browse Pinterest or Etsy, there are lots of options…cutesy, edgy, practical, funny…I decided I wanted to go a little bit more classic with a side of cute. So I went with the ever popular "so fresh and so clean" phrase. It's a throwback to a song that was popular when I was a teenager. Not that it was a favorite song of mine, but the phrase has become pretty iconic and it's just too perfect for a bathroom! For the design, I went with a trendy retro serif font. I love how it turned out!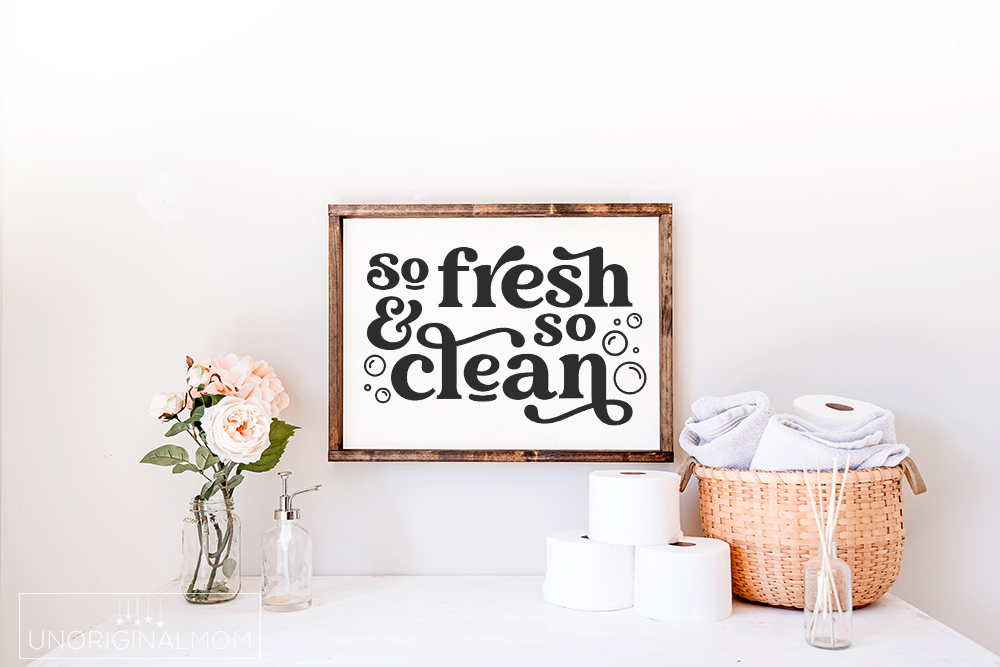 I haven't actually had a chance to make the sign for our bathroom yet (this is a mockup photo), but I'm excited to get working on it. I love the modern-vintage look of the black and white sign, but if I end up making it for the kid's bathroom I think it would be fun to use some bright colors! I'll let you know what I end up doing. This design would be perfect for a laundry room, too!
SO FRESH AND SO CLEAN SVG: FREE DOWNLOAD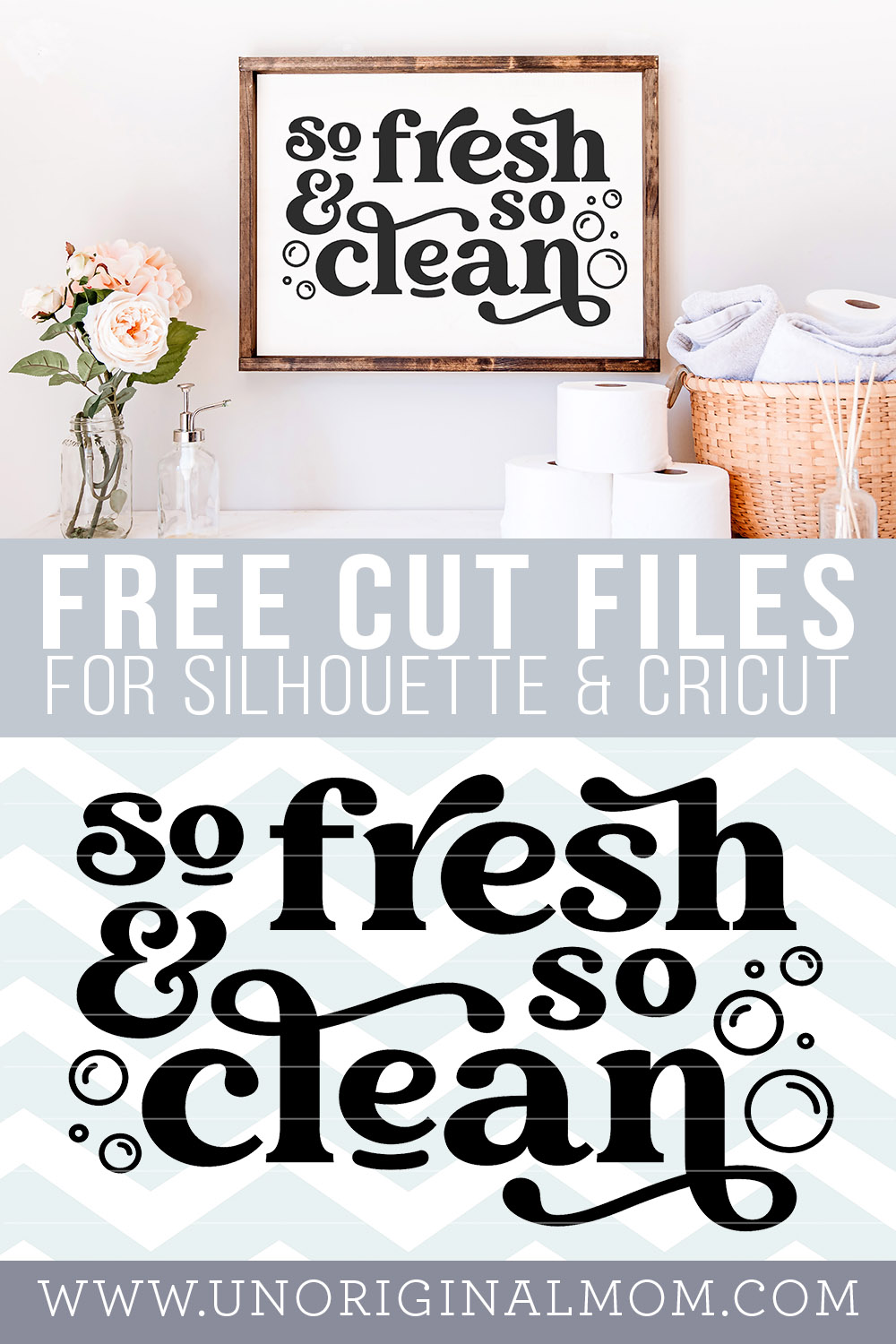 So Fresh and So Clean SVG: download SVG & .studio files here
FREE BATHROOM SIGN SVGS
If you have 15 different bathrooms in your house, you're in luck…because I have a list of 14 more fun free bathroom sign SVGs from 14 other bloggers! I mean, if you don't have that many bathrooms, I guess you *could* just choose one or two favorites, but that's not nearly as fun.  In any case, browse around the links below to head to each different blog and download all the free bathroom sign SVGs you want!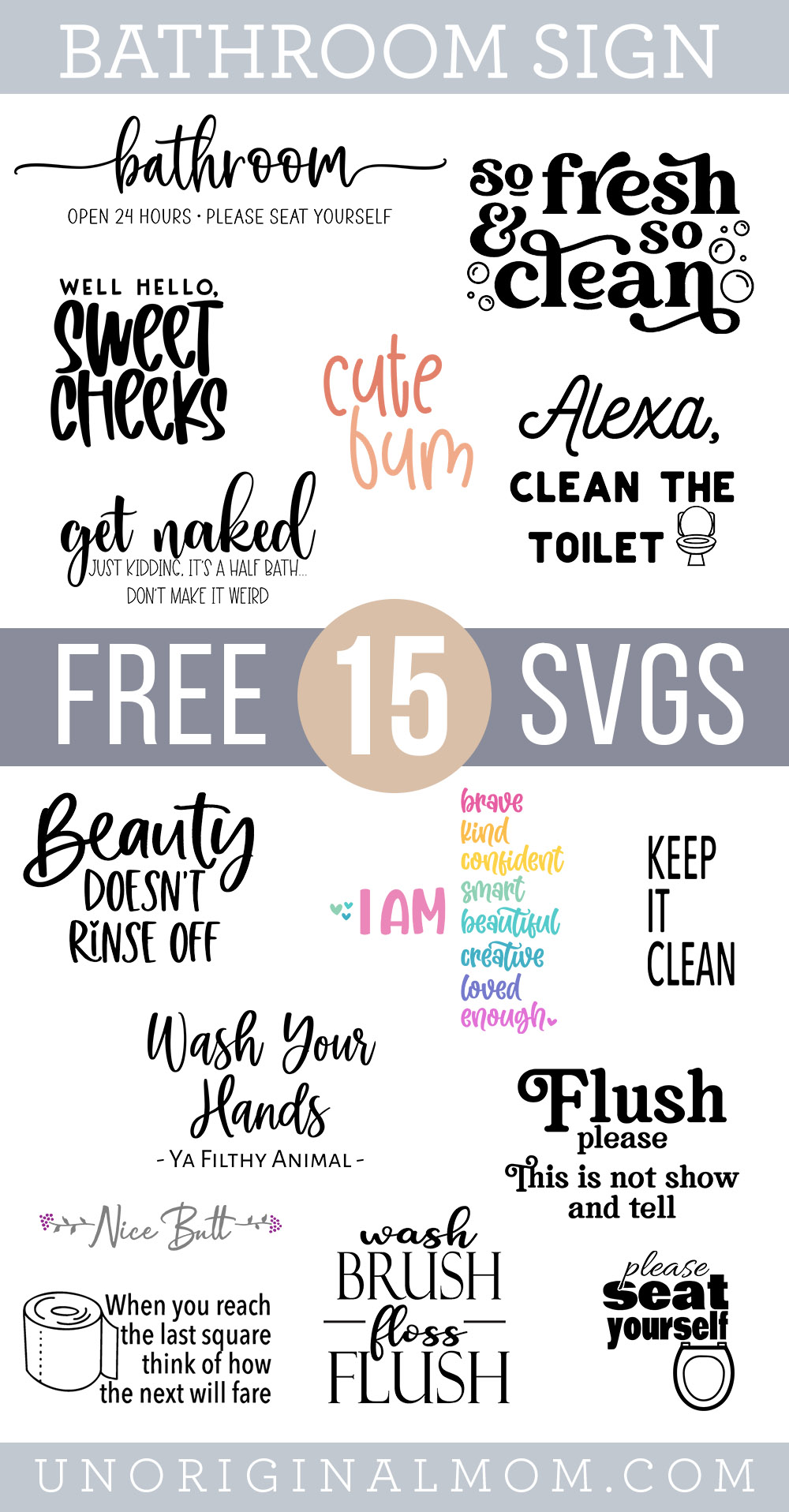 Flush This Is Not Show and Tell
Last Square of Toilet Paper
Nice Butt
Wash Your Hands, Ya Filthy Animal
Bathroom Mirror Affirmations
Alexa, Clean the Toilet
Wash Brush Floss Flush
Cute Bum
Please Seat Yourself
Get Naked…Don't Make It Weird
Beauty Doesn't Rinse Off
Hello Sweet Cheeks
Keep It Clean
So Fresh & So Clean (you're here! download above.)
Bathroom Open 24 Hours Please Seat Yourself



Subscribe to unOriginal Mom via email and get instant access to my library of FREE Silhouette Studio & SVG cut files - exclusively for email subscribers. Plus there's a new file added every month!