Oh my gosh. Christmas decor shopping this year is CRAZY!! It seems like everything is overpriced AND it's still going out of stock really quickly. The whole scarcity-mindset is majorly at work here. So much for waiting for after-Christmas sales to stock up on things…we'll be lucky if there's anything left on the shelves by December 1! In any case, I'm trying to resist the urge to buy too much in the way of Christmas decor this year (because I guess I don't really *need* it anyway)…but that doesn't mean I can't MAKE some new decor instead! Besides, all the signs you buy at Target or the craft store are mass produced and pretty mediocre quality. Wouldn't you rather have something handmade that's a little bit more, er, original? Ha, the irony. In any case, I put together a simple hand lettered Merry and Bright SVG design to help you do just that.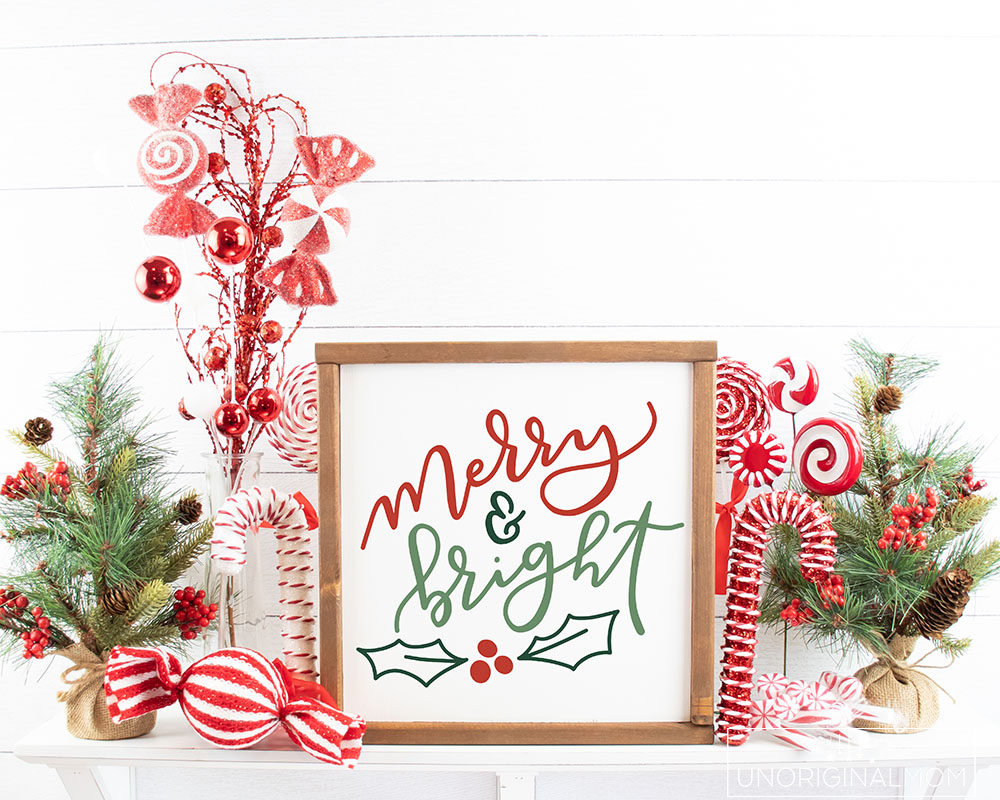 Even though I mocked it up on a sign here, this design would actually be really great on Christmas cards, too! You could offset it and do a print-and-cut to add a pretty sentiment on your photo Christmas cards, like I did a few years ago to jazz up these inexpensive cards. Or whip up a festive t-shirt. Or maybe put it on a tea towel, as a handmade gift? Lots of possibilities!
HAND LETTERED MERRY & BRIGHT SVG – FREE DOWNLOAD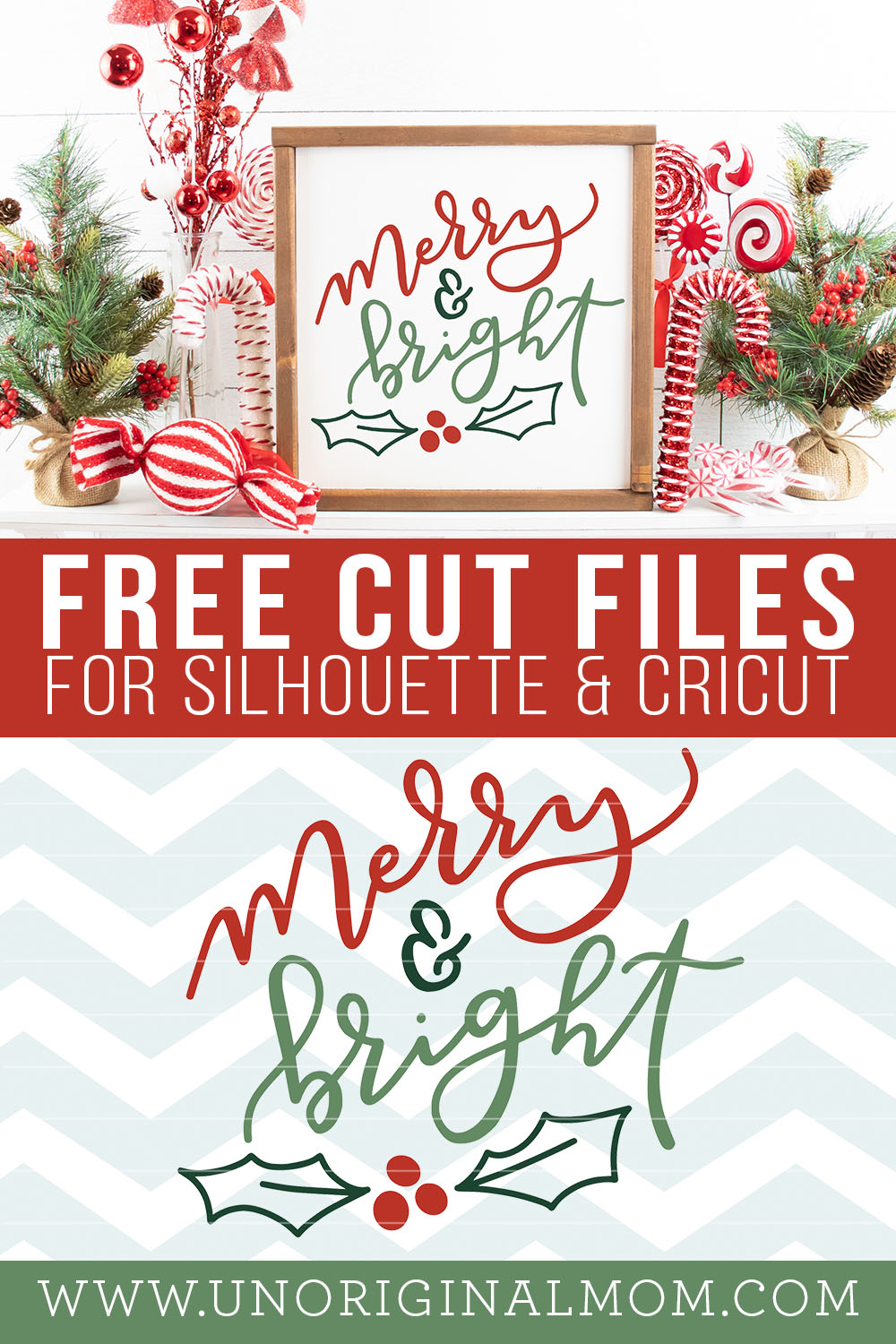 Download the "Merry & Bright" .studio & SVG cut files here!
MORE FREE CHRISTMAS SVGS
These Christmas sayings would all be terrific on handmade signs and holiday decor! Browse around the links below to download your favorites from each blogger's website.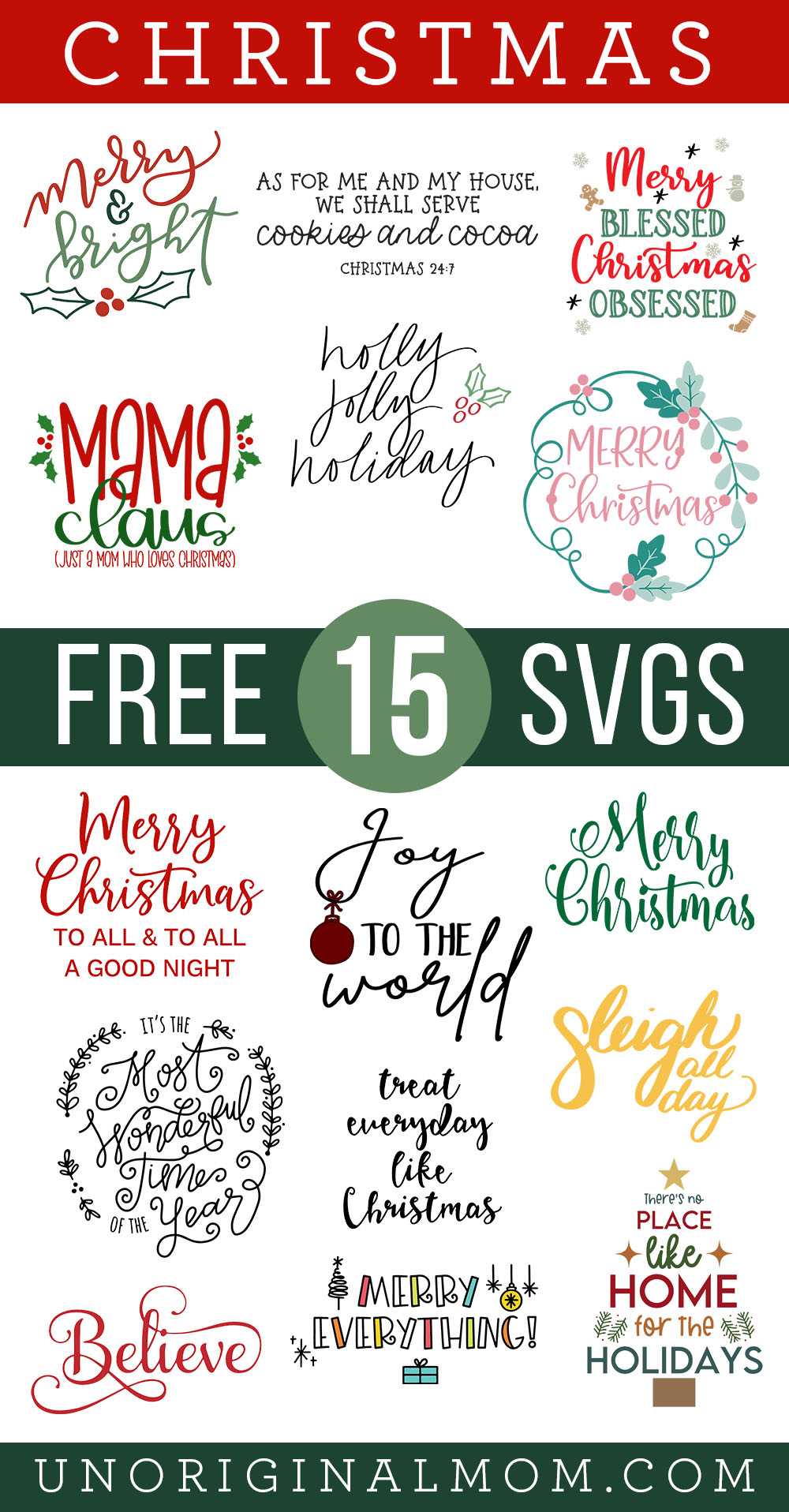 Merry Everything! – That's What Che Said
Merry Christmas Wreath – We Can Make That
Merry Blessed Christmas Obsessed – Leap of Faith Crafting
Merry & Bright – unOriginal Mom
Believe – Try it, Like it, Create it
Mama Claus – Hello Creative Family
Merry Christmas to All and To All a Good Night – Kara Creates
Merry Christmas – Everyday Party Magazine
Christmas 24:7 – Artsy Fartsy Mama
There's No Place Like Home for the Holidays – This Girl Creative
Holly Jolly Holiday – Liz on Call
Joy to the World – Life Sew Savory
Treat Everday Like Christmas – Homemade Heather
It's the Most Wonderful Time of The Year – Weekend Craft
Sleigh All Day – 30 Minute Crafts



Subscribe to unOriginal Mom via email and get instant access to my library of FREE Silhouette Studio & SVG cut files - exclusively for email subscribers. Plus there's a new file added every month!