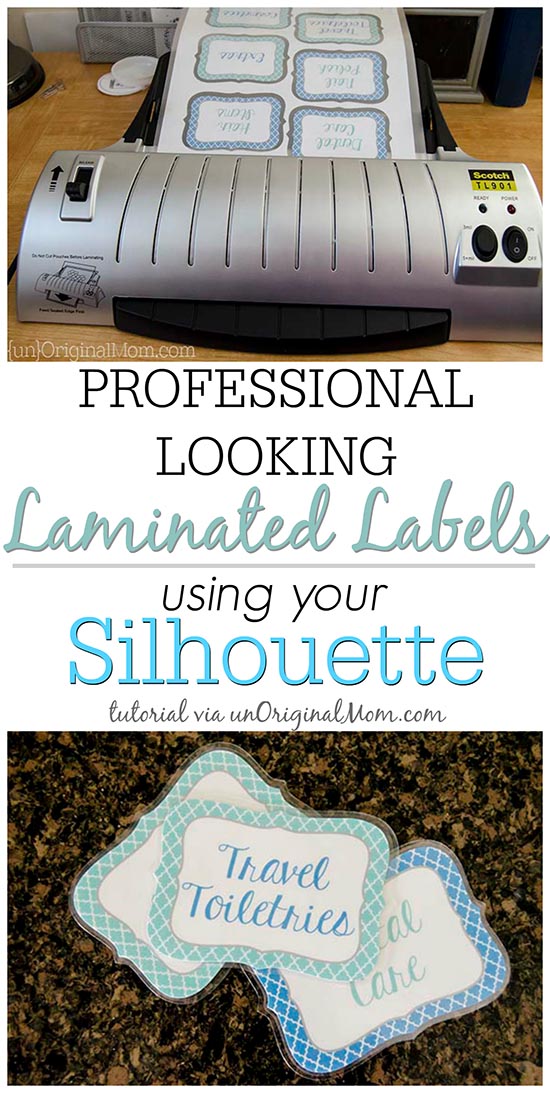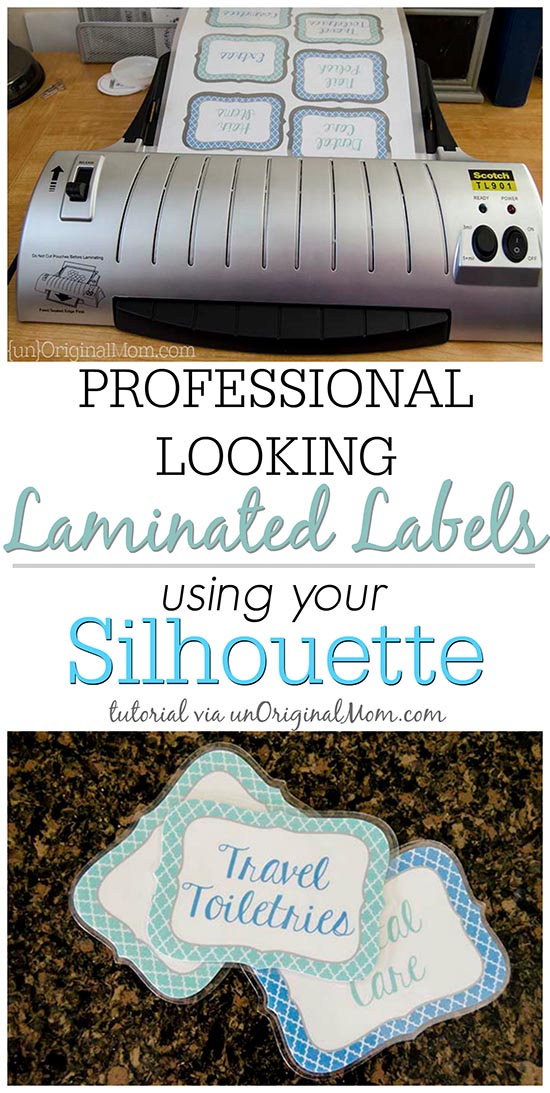 This post contains affiliate links – click here to read my full disclosure.
Did you know that you can use your Silhouette to cut laminated labels and other shapes?!?  I wasn't quite sure how or even if it would work, but I got this laminator for Christmas (yay for new toys!) and experimented a bit to find a method to create perfectly cut laminated shapes using my Silhouette.  Want to know how?  It's a multi-step process, but stick with me and I'll walk you through it!
The first step is to create your labels (or other shape) in Silhouette Studio.  I created mine using a label in this shape set from the Silhouette Design Store and filling the outer shape with a free quatrefoil pattern from Mel Stampz.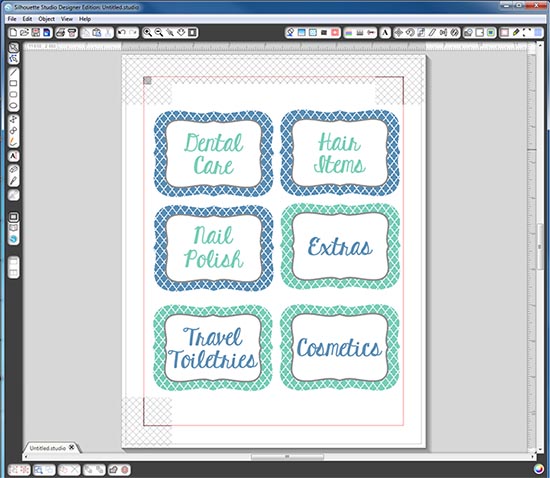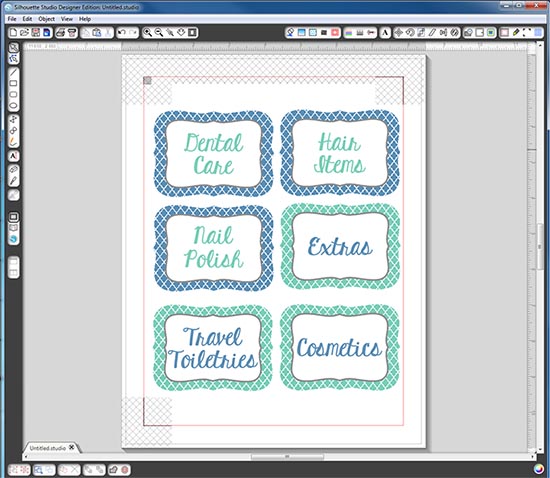 Once you're happy with your labels, you need to create THREE cut lines using the offset tool.  #1 – CUT EDGE.  Use the internal offset tool to create a cut line just *slightly* inside of your shape – that creates a "full bleed" image and allows for the machine to be off by a tiny bit when cutting and still have your design go all the way to the edge.  #2 – OUTER BORDER.  Use the external offset tool to create a cut line about 1/4″ outside of your cut edge.  #3 – MIDDLE LINE.  This is for your final cut once you've laminated your labels – it should be between your cut edge and outer border, but a bit closer to the outer border (like shown in the image below).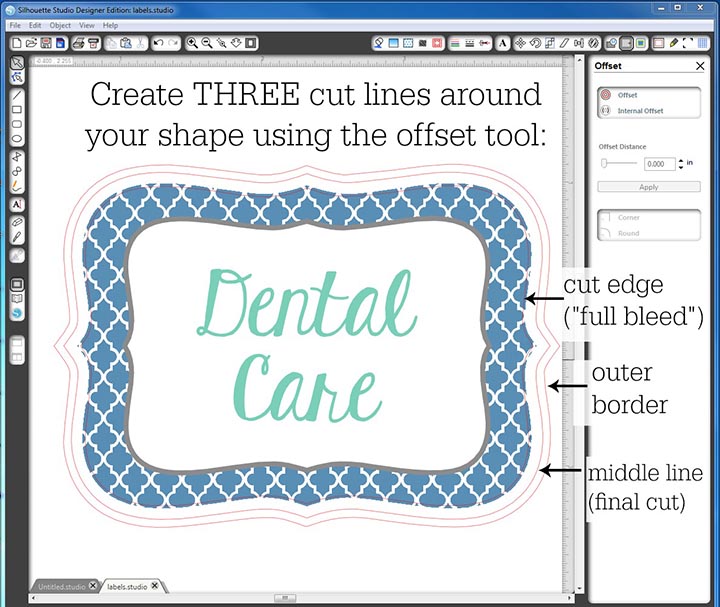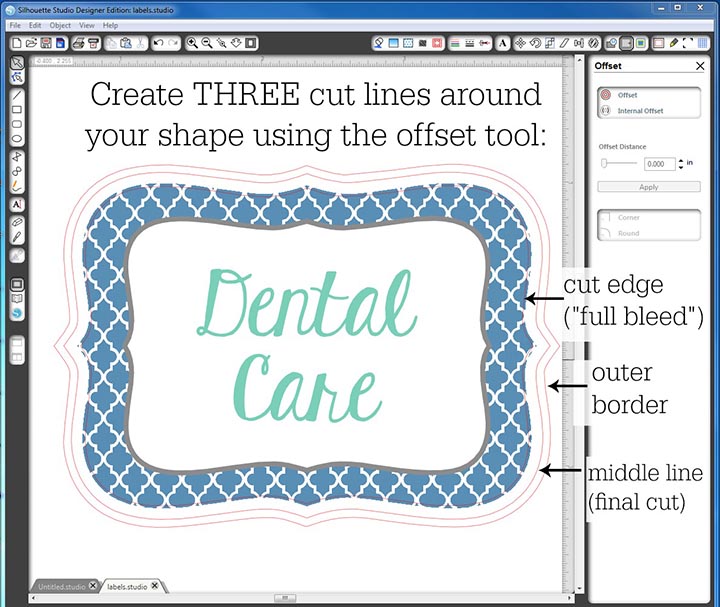 Now, select ONLY your CUT EDGE and your OUTER EDGE to cut.  Nothing else should be selected to cut.  (I'm still running version 2, so this will look a bit different in version 3 of Silhouette Studio, but the concept is the same.)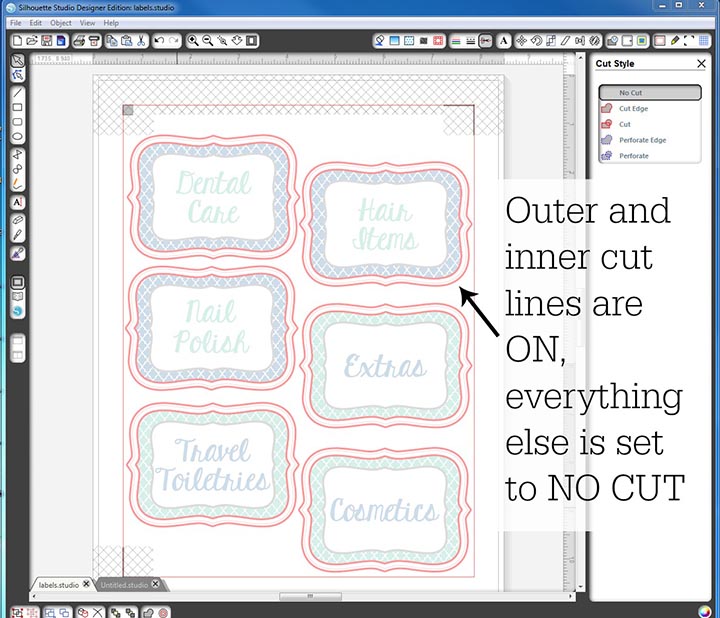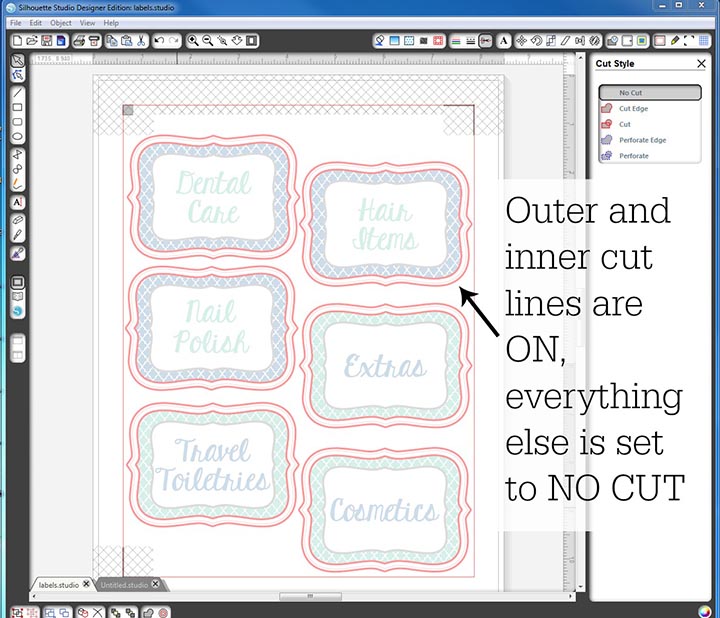 Go ahead and proceed with your print and cut!  If you're new to the print and cut world, the first step is to add registration marks to your file before printing.  Then print your design – be sure that all of your design elements that you want to be printed have weight and/or fill color.  Take your printed design with registration marks, stick it onto your mat, and load it into your Silhouette.  Follow the prompts in the software to read the registration marks and cut your design – remember you should have TWO cut lines selected to cut and nothing else.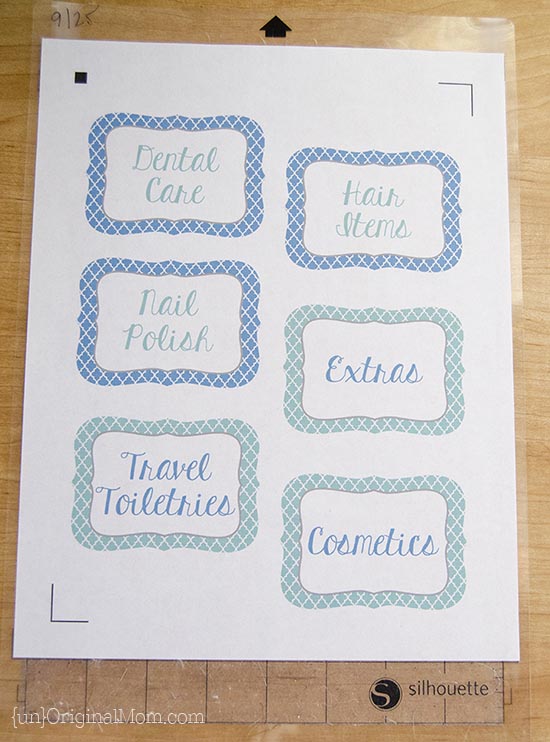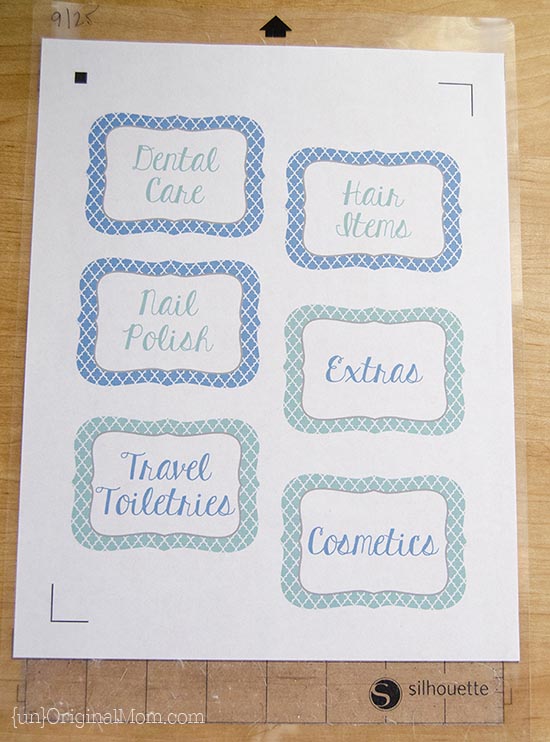 Here's where it gets a bit different – the only paper that you are discarding now is the ~1/4″ border around your labels – keep the labels AND the outer paper with the registration marks!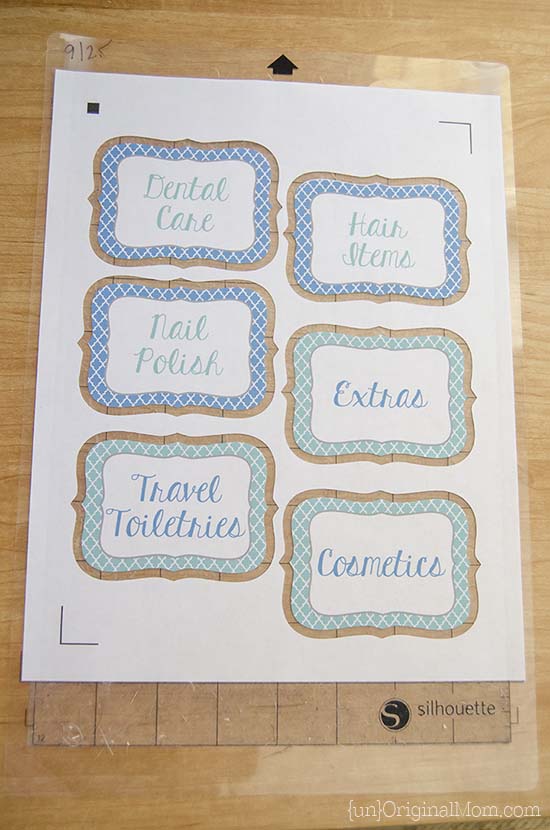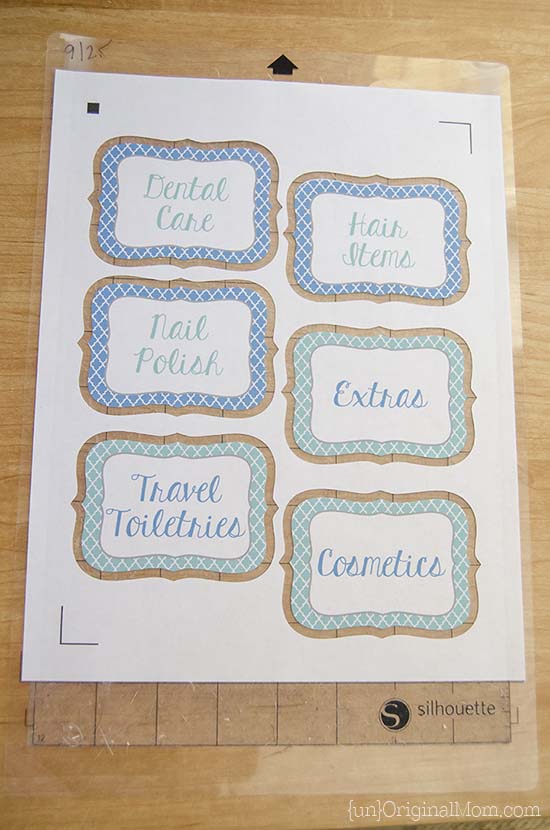 And here's why – you're going to take your laminating pouch (I used THESE) and place the outer paper into it, like this: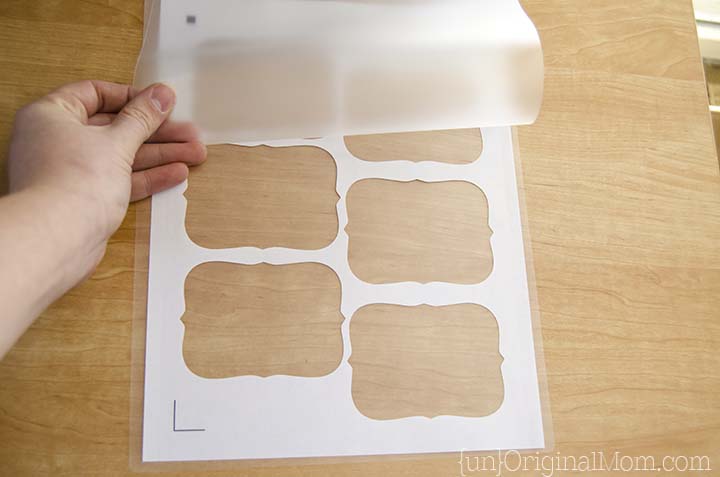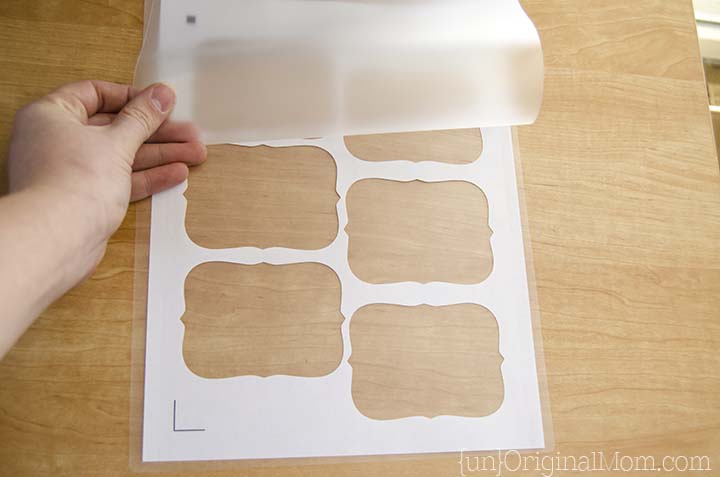 And then center your labels in the holes, like this: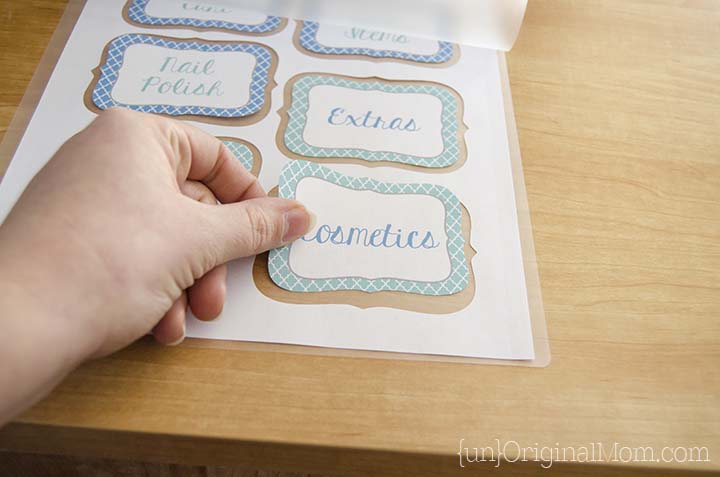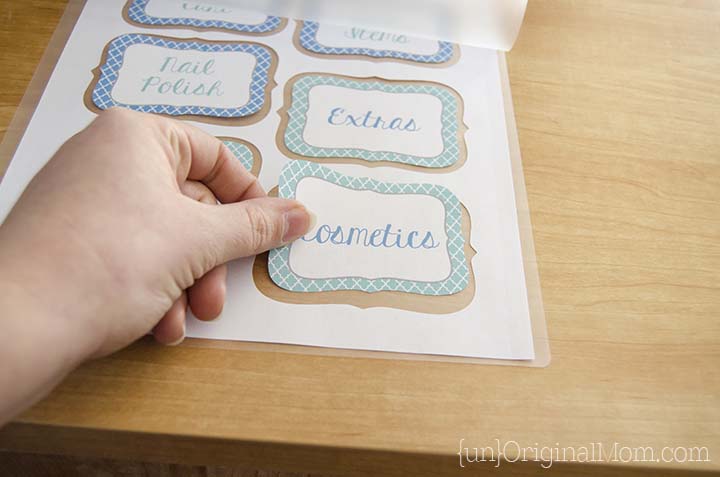 If you want, use a small piece of double-sided tape on the back of each label to make sure they stay centered in the holes.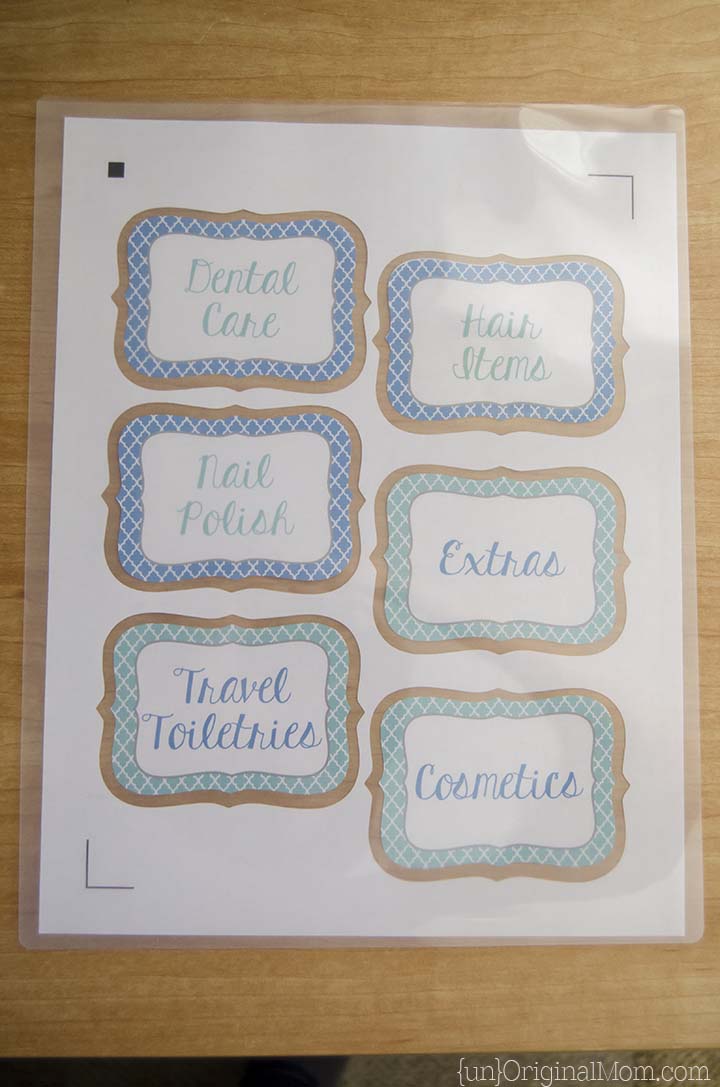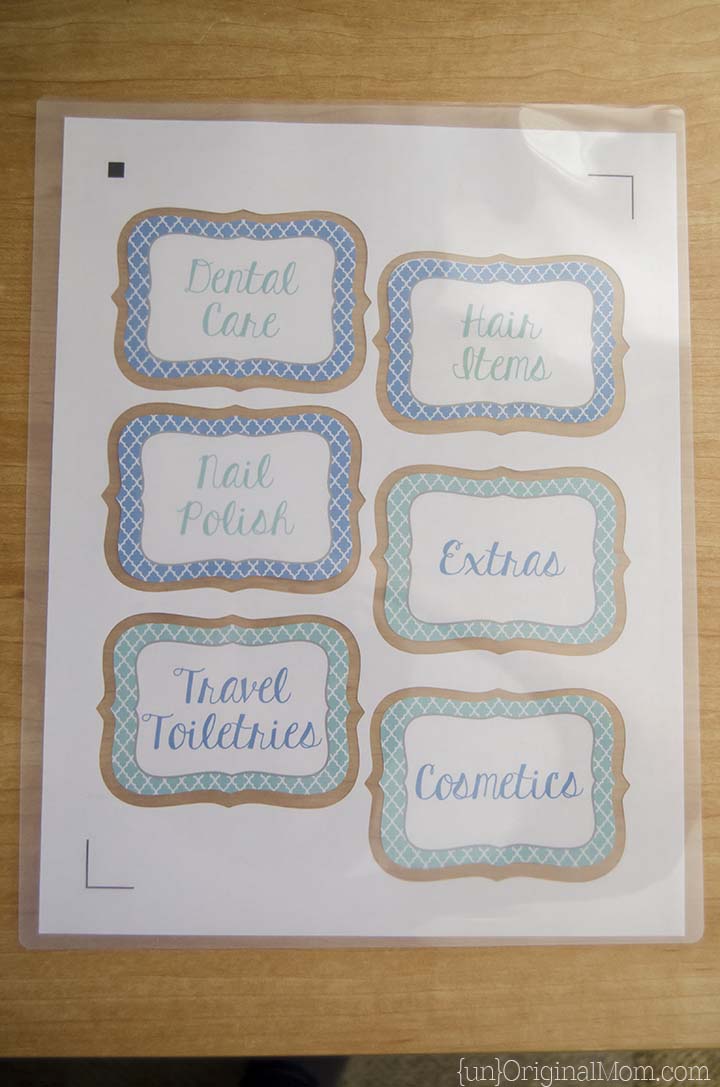 Now, run it through the laminator!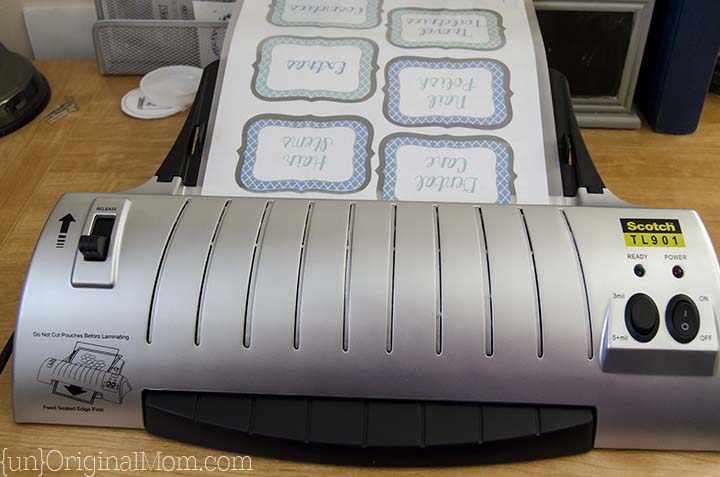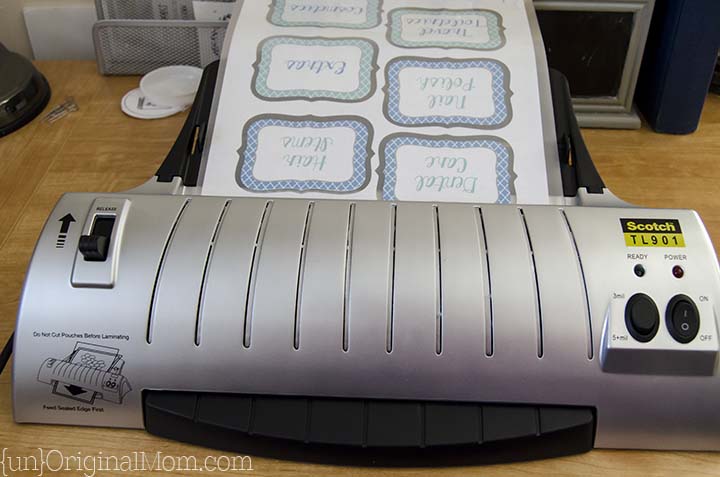 Now, remember that middle cut line I had you create?  The final step is to go back to your file and select only the MIDDLE LINE to cut – that means you'll have to deselect the other two lines.  Stick your laminated sheet onto your mat, have your machine detect the registration marks again, and cut!  I used these cut settings:  blade 3, thickness 33, speed 2, double cut.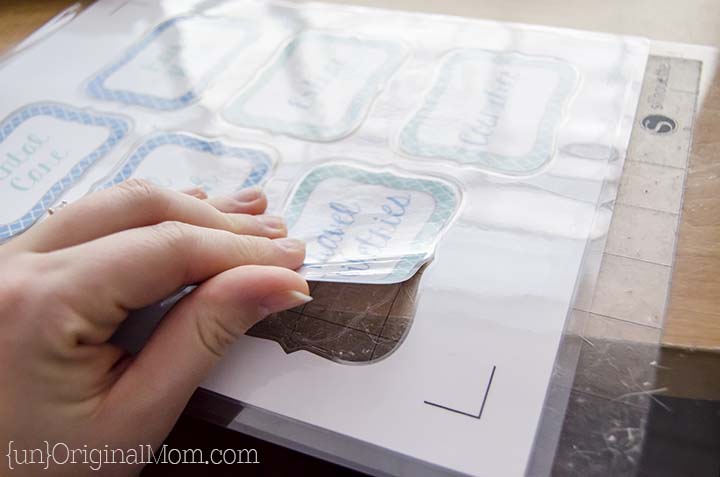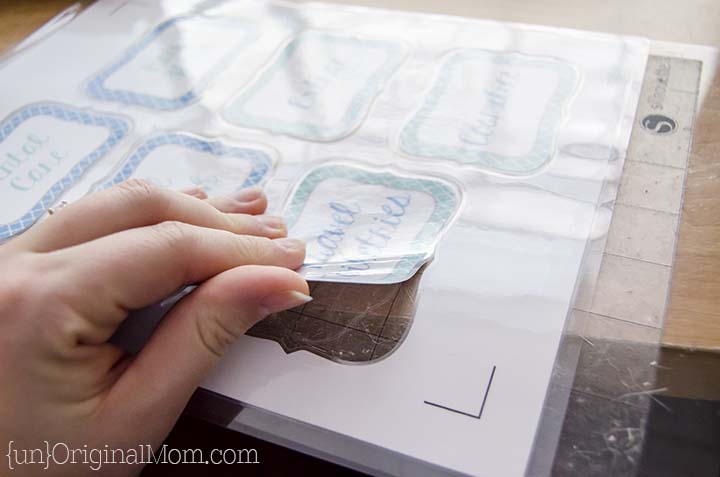 You will have perfect, professional looking, laminated labels!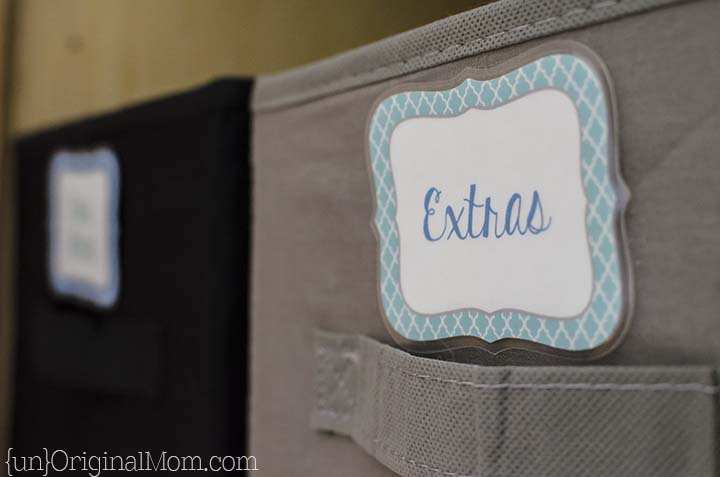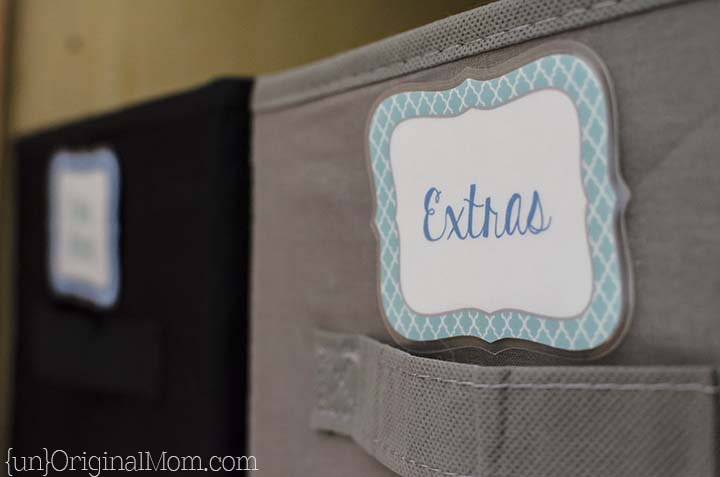 I used them to stick onto some fabric bins I'd picked up at Big Lots a while ago – they are terrific for containing miscellaneous clutter in our bathroom closet!  Inside each bin is a bit of an organized mess, but it's super easy to just toss things into the correct bin now that each one has a specific purpose.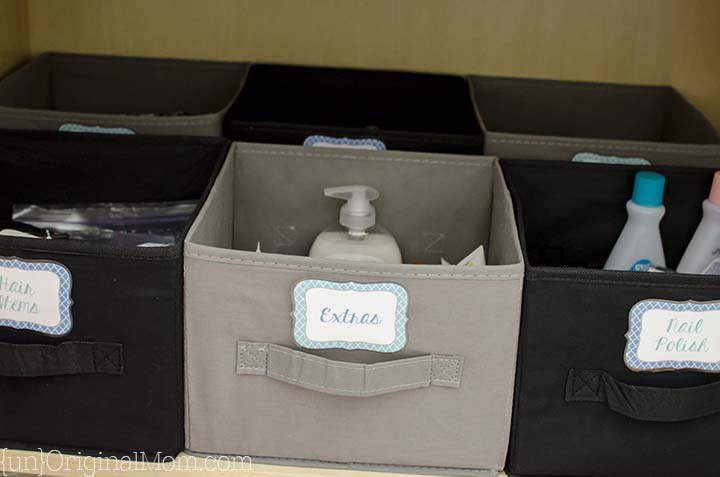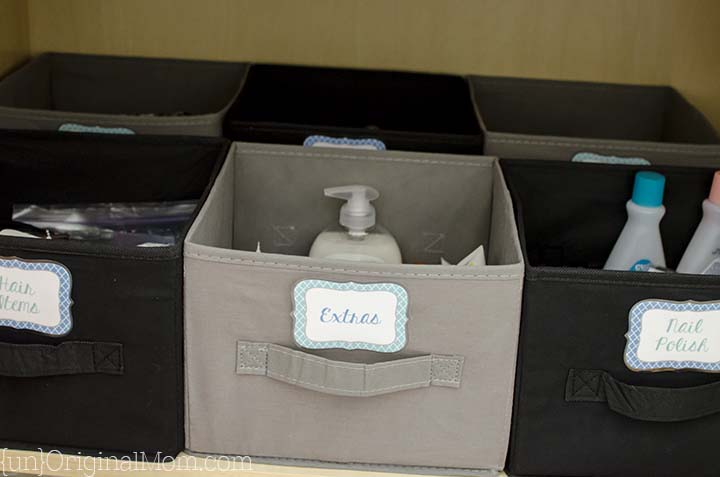 Even though I had to put them two deep so you can't see all the labels on the front of the bins, it's easy to take a peek and see which one is which.  Eventually we're going to add one more shelf on top so that the bins can all be seen…but one step at a time :-)   I really wish I'd thought to take a "before" picture of the hodge podge of containers and clutter we had on this shelf before…you'll just have to trust me when I tell you this is a BIG improvement!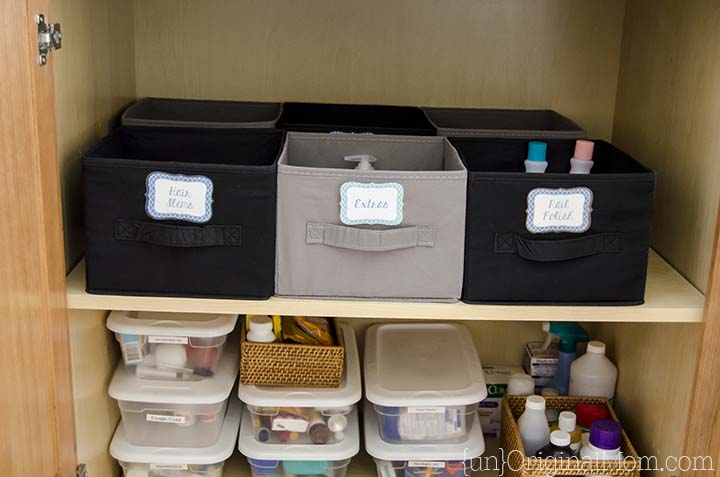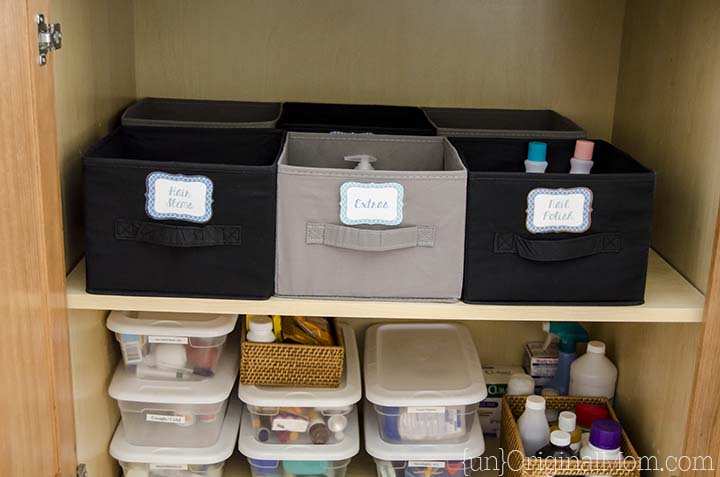 NOTE:  Some of you more advanced Silhouette users may be wondering why I didn't use the PixScan mat to cut my laminated labels…I actually tried and it probably would have been successful, but because I'm not running the updated version of Silhouette Studio on my desktop computer yet (though I do have it on my laptop) it just got too darn complicated sending files back and forth.  Essentially, by re-using the outer paper with the printed registration marks I was just creating my own little PixScan mat.  If you do own the Silhouette PixScan mat, though, you could easily use it to make laminated labels like these.  (If you give it a try, let me know how it turns out!)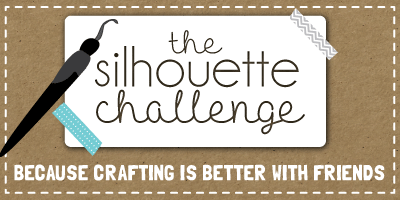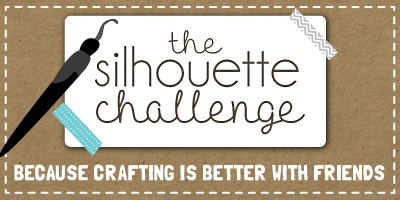 It's a new year, which means lots of folks – including me! – are trying to start off 2015 on the right foot by getting things a little bit more organized around the house.  Lucky for us, the Silhouette Challenge theme this month was all about organization…so click through the great projects below to be inspired with 32 more ways to get organized using your Silhouette machine!
1. Please Excuse My Craftermath… // 2. Simply Kelly Designs // 3. Daily Dwelling // 4. Ginger Snap Crafts // 5. Our Southern Home // 6. Sowdering About // 7. The Moberg Family // 8. Decor Adventures // 9. Pineapples and Pinecones // 10. Patina Paradise // 11. The Thinking Closet // 12. It Happens in a Blink // 13. Adventures in All Things Food // 14. From Wine to Whine // 15. Practically Functional // 16. Dragonfly & Lily Pads // 17. unOriginal Mom // 18. One Dog Woof // 19. Creative Ramblings // 20. My Favorite Finds // 21. Create it. Go! // 22. A Prudent Life // 23. Where The Smiles Have Been // 24. Barb's Life // 25. Everyday Paper // 26. Pitter and Glink // 27. Peanut Life Adventures // 28. Feto Soap Blog // 29. Our Rosey Life // 30. Two Purple Couches // 31. My Paper Craze // 32. TitiCrafty // 33. Lil Mrs Tori
Happy organizing…and label making! :-)
This post contains affiliate links – click here to read my full disclosure.


Get your copy of my FREE meal planning binder!
Sign up to get a free copy of my meal planning system - an 11 page printable meal planning binder, complete with a pantry inventory, shopping list, and more to help get on top of your menu each week!