Need a quick, easy, and inexpensive DIY gift idea? Lora from Craftivity Designs is here with a great solution – make a big batch of peppermint sugar scrub and package it up with these free printable labels. These adorable little jars would be great for teacher gifts, neighbor gifts, stocking stuffers, or even as part of a gift basket with some other pampering products!
***************
A few weekends ago, several friends and I gathered together for a craft night. My favorite of the four crafts was a peppermint sugar scrub that we completed in minutes (seriously, about 5 minutes per batch!). In order to turn this into an easy last-minute Christmas gift, I added a set of coordinating peppermint sugar scrub labels to package it beautifully!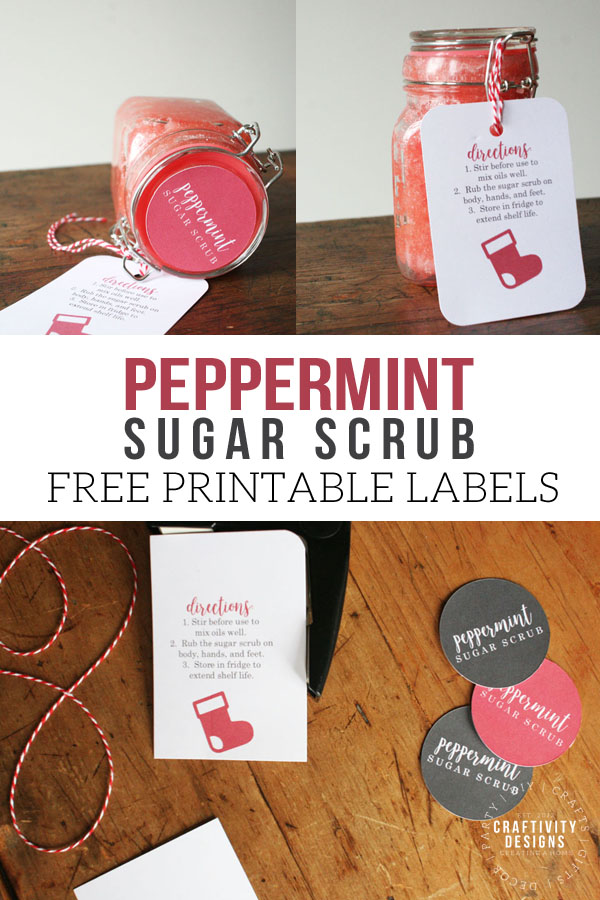 I'm Lora from Craftivity Designs and I love giving (and receiving!) homemade gifts at Christmas. You can see some of my favorites in this list of 25+ handmade gift ideas… and, now, this peppermint sugar scrub will need to be added to the list!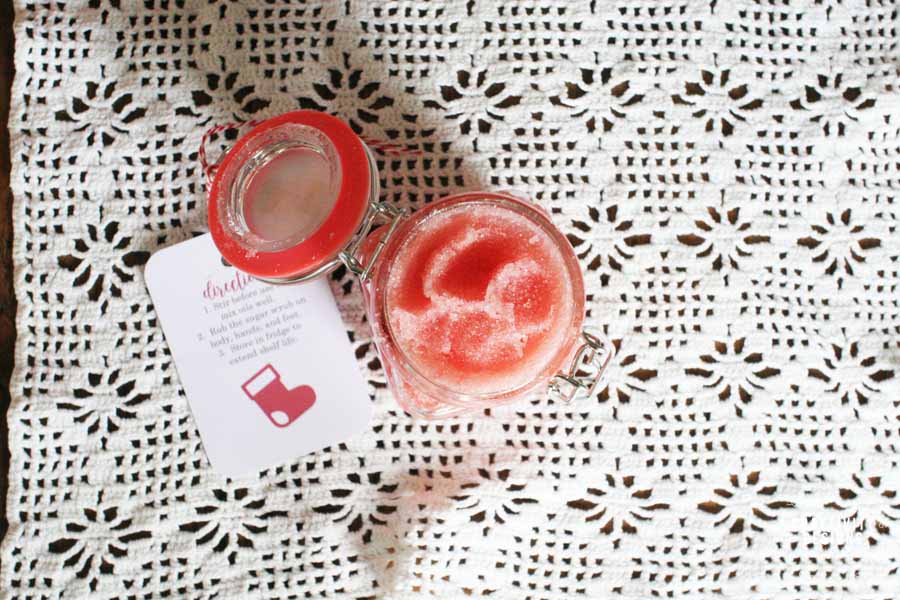 Supplies: Peppermint Sugar Scrub Labels
Printer and Ink
White card stock
2″ Circle Punch
Adhesive Mounting Squares
Glass Jars with Lids
12″ Paper Cutter
Round Corner Punch
Hole Punch
Red and White Twine
Instructions: Peppermint Sugar Scrub Labels
1. First, download and print the Peppermint Sugar Scrub Labels onto white cardstock.
2. Use a 2″ circle punch to cut out each round sugar scrub label.
3. Apply several adhesive mounting squares to the back of the label and attach to the top of the glass jars.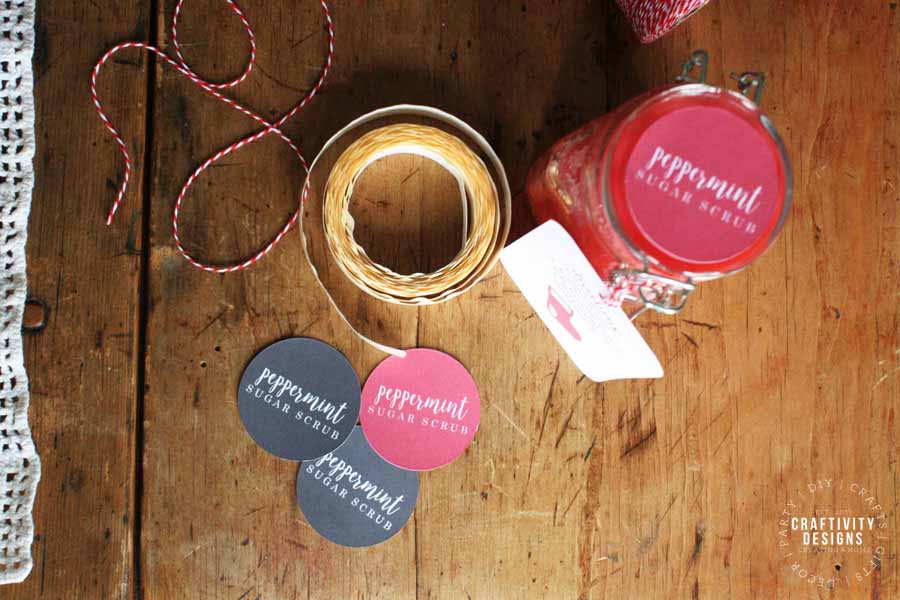 4. Use 12″ paper cutter (or scissors) to cut out the tags with directions for using the sugar scrub.
5. Round the corners of each tag with a corner punch.
6. Punch a hole in the center of the tag and string red and white twine (like a peppermint!) through the hole.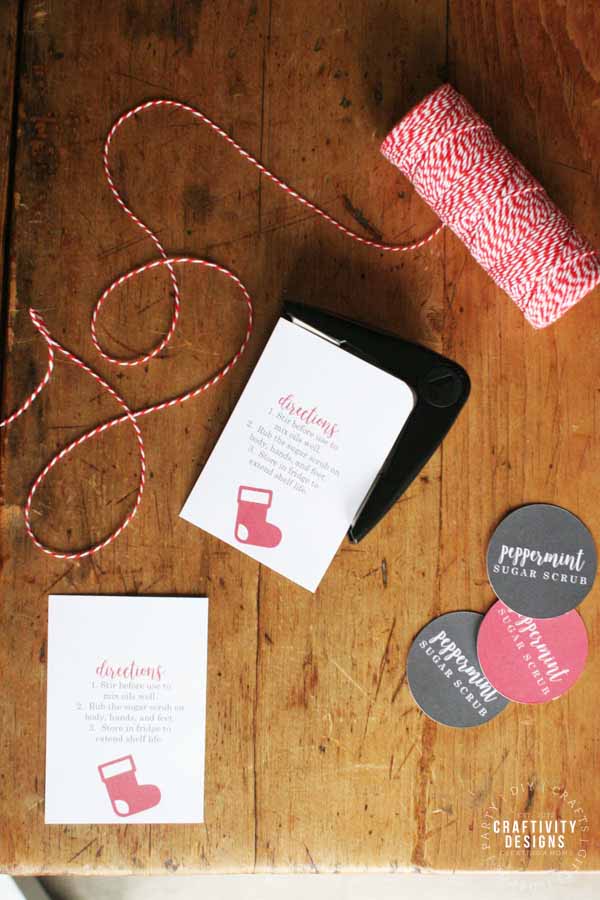 7. Attach the hanging tag to the glass jars.
8. Finally, fill each jar with Peppermint Body Scrub using this simple recipe.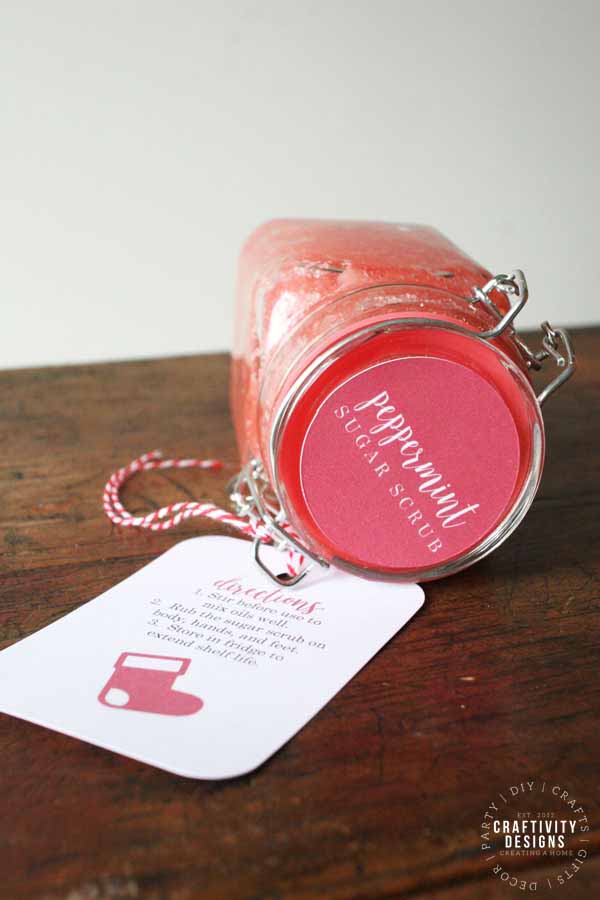 So pretty, right?! It's an affordable gift that is practical, too. Nearly everyone deals with dry hands through the winter, so a jar of peppermint sugar scrub is great as a stocking stuffer or as part of a gift set.
Need more gift ideas? Check out this list of 25+ handmade gift ideas, or stop by my shop for last-minute printable gifts.
***************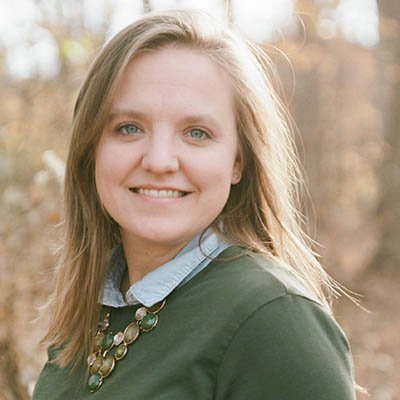 Lora is the Owner and Creative Director of Craftivity Designs, where she seeks to Create a Home that is simple, functional, and beautiful. With an eye for practical solutions, she designs multi-purpose rooms which pack a storage punch. As a busy mom of 2, she shares crafts that are quick and easy, without sacrificing style. For fun, she loves to go on a homemade scavenger hunt and plan trips to Disney.
Go follow Lora for more crafty inspiration!
Facebook | Instagram | Pinterest


Get your copy of my FREE meal planning binder!
Sign up to get a free copy of my meal planning system - an 11 page printable meal planning binder, complete with a pantry inventory, shopping list, and more to help get on top of your menu each week!