This is a sponsored post written by me on behalf of Diaper Genie® Elite and Babies R Us. All opinions are 100% mine.
This Diaper Genie® makeover is a great way to brighten up your own nursery, or a neat idea for a fun and useful baby shower gift!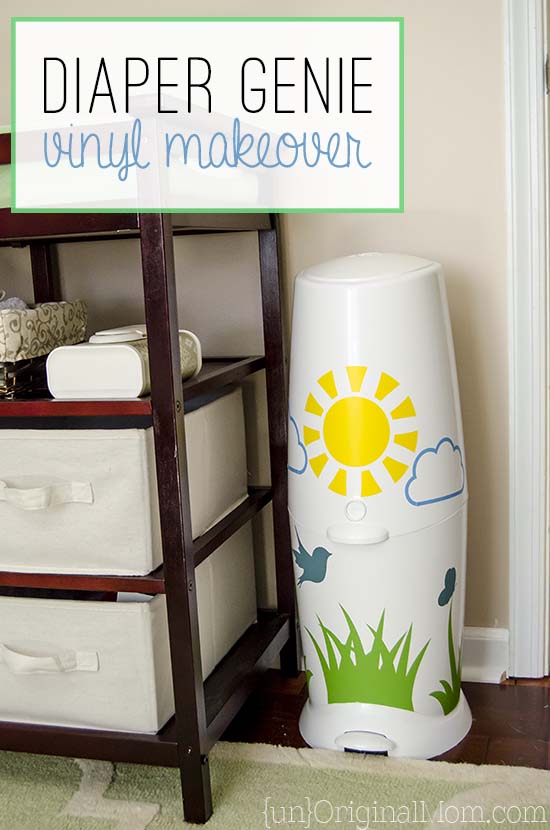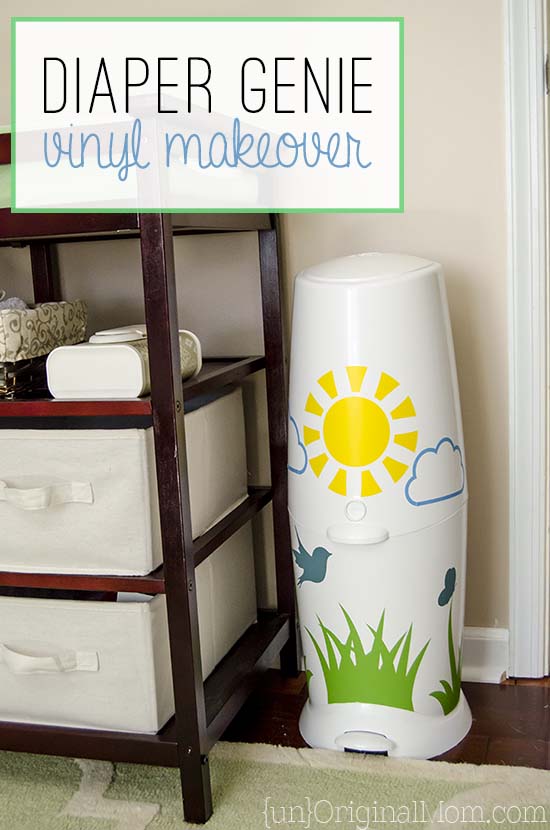 Let's face it, moms – the baby nursery is really all about us.  Sure, when we're pouring money and time into creating the perfect room for our little one, we might be saying it's all for them…but really, all they see is black and white blurs.  We're the ones that stare at and memorize every corner, shelf, knob, nook, and cranny as we rock an overtired baby at nap time, feed him at 4 am, fold and put away little clothes for the 3rd time this week, and change the thousandth diaper.  Don't let us fool you, husbands – that beautiful baby nursery is really all for us.  As it should be.   So when I decided to decorate the Diaper Genie®, I *could* tell you that it was all for my baby boy – but really, I thought it would be a cheerful addition to the room that I spend so much time in.  Isn't it cute?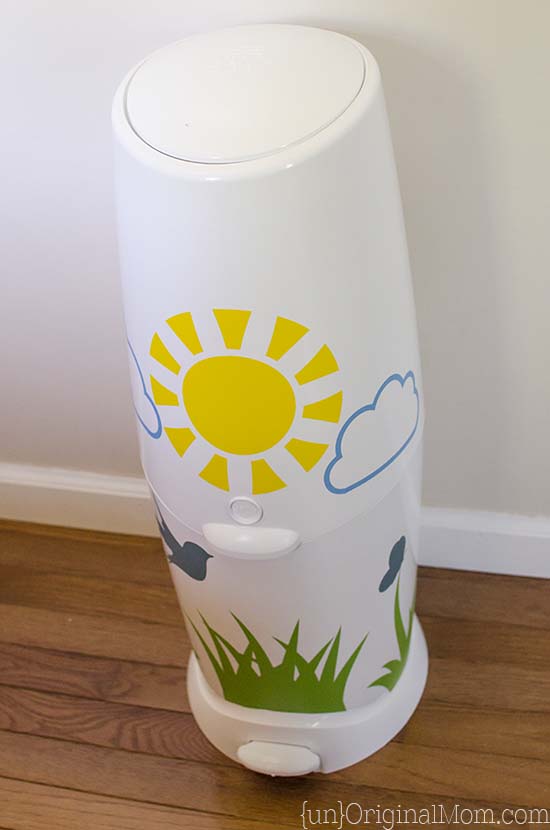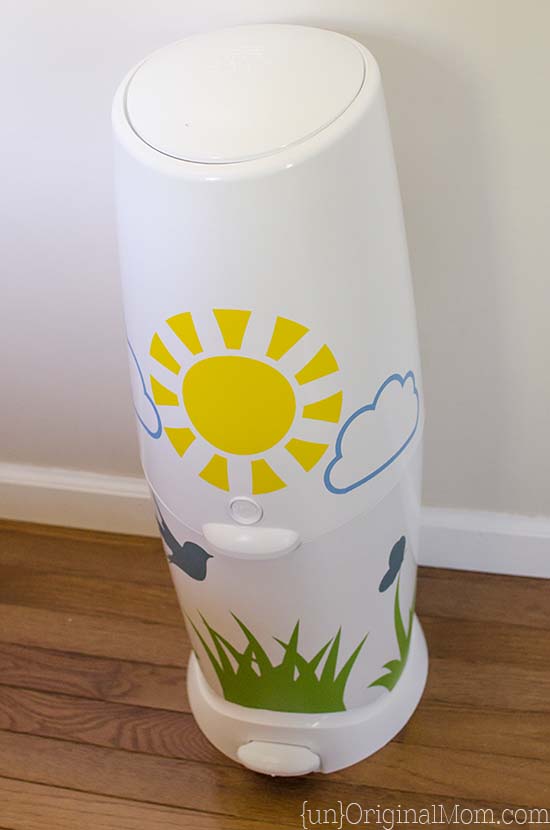 I used my Silhouette to cut out some vinyl shapes and adhered them to the Diaper Genie.  We have a gender neutral nursery that isn't really "themed" per say, but does have lots of greens and blues (I haven't done a post on the nursery in our new house, but it's the same colors and fabrics as our old house, which I posted about here).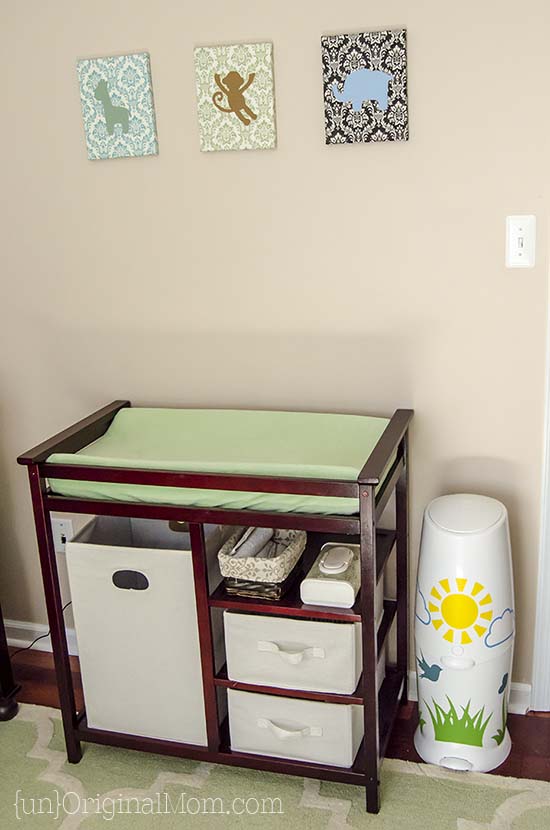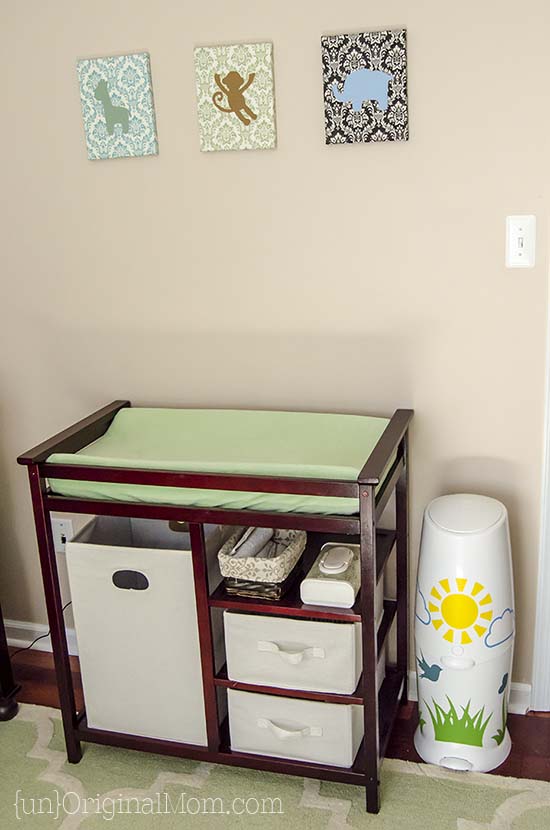 I love me some vinyl.  #vinylallthethings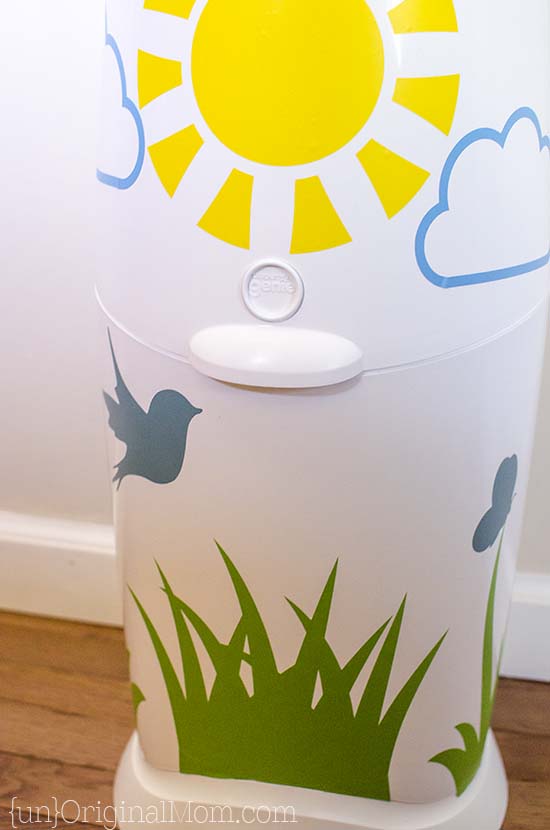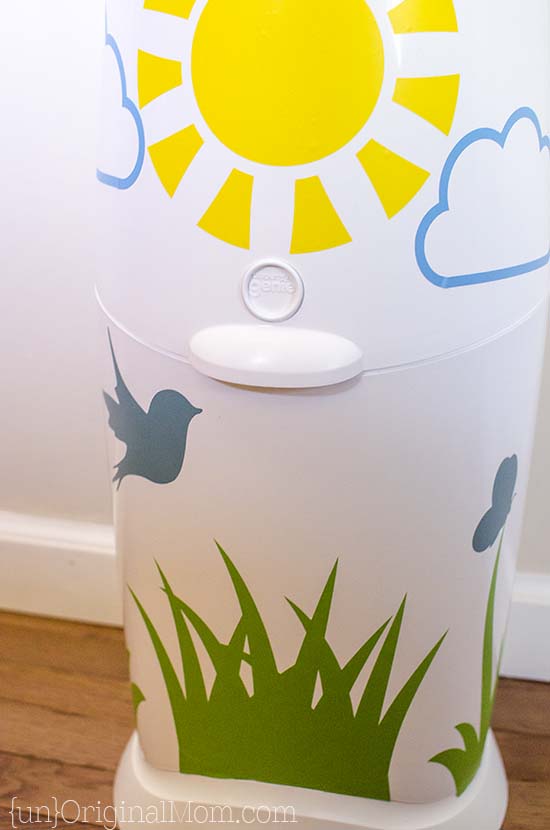 This would make a great gift for a baby shower, too!  Especially if you knew the nursery theme ahead of time and could make it matchy matchy :-)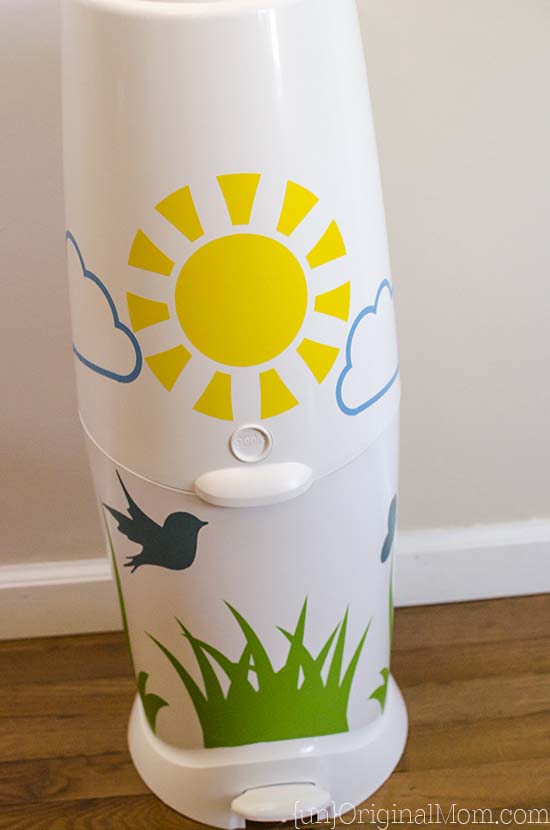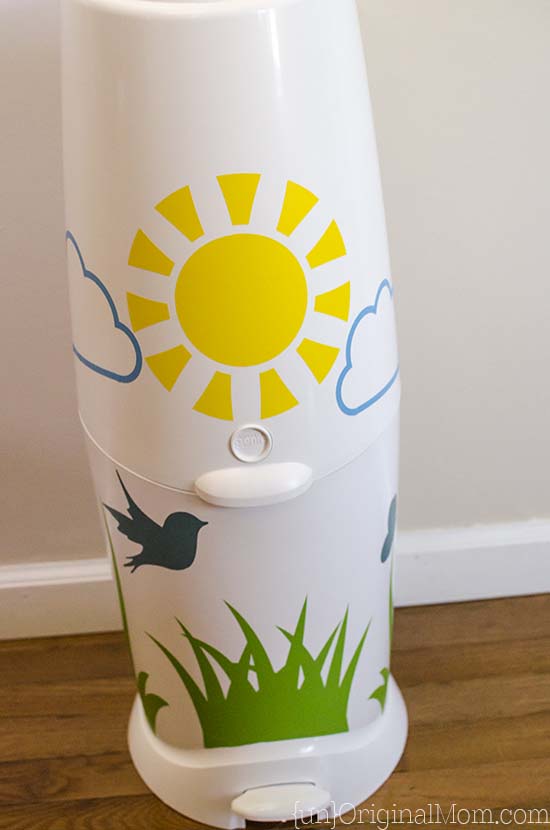 And while everyone wants a sweet looking nursery, we all really want a sweet smelling nursery too!  If you don't have a Diaper Genie® in your baby's nursery, it's a terrific addition.  It's actually new to ours – we had a regular lidded trash can for a while, but now that baby boy is starting solid foods those diapers are getting waaay smelly, so I picked up a Diaper Genie® Elite, which has a carbon filter in the lid for extra odor protection!  The Diaper Genie® Elite at Babies R Us is an award-winning product and the #1 selling diaper pail system.  I love how easy it is to just toss in a diaper, and the 7-Layer Refill Technology guarantees odor lock protection.  They also now make a Diaper Genie® 8-pack refill that meets all refill requirements for year one of baby's life – meaning less trips to the store (or at least less things to remember), which is always a win in my book.   
An added plus of a better smelling nursery is rewards for Mommy!  (Because that's who the nursery is all about anyway, right?) It's a win-win!  Every time you purchase or register for Diaper Genie® products, you can earn points towards eGift Cards for your favorite products and services through the Mommy Time Rewards program.  We do so much for our babies – this is the Diaper Genie® way of letting you earn something special for ourselves!  The hardest part is deciding what I'm going to spend my points on…
Do you have any secretly-just-for-mom projects in your house?


Get your copy of my FREE meal planning binder!
Sign up to get a free copy of my meal planning system - an 11 page printable meal planning binder, complete with a pantry inventory, shopping list, and more to help get on top of your menu each week!