This is a sponsored post written by me on behalf of Seattle's Best Coffee®. All opinions are 100% mine. This post may also contain affiliate links.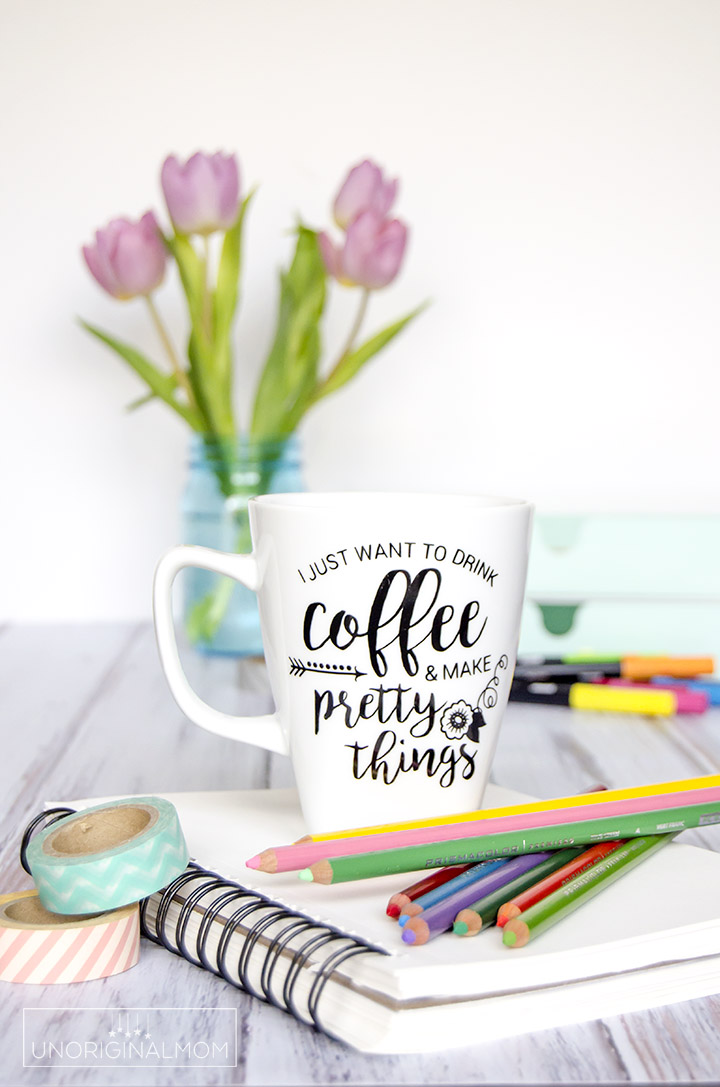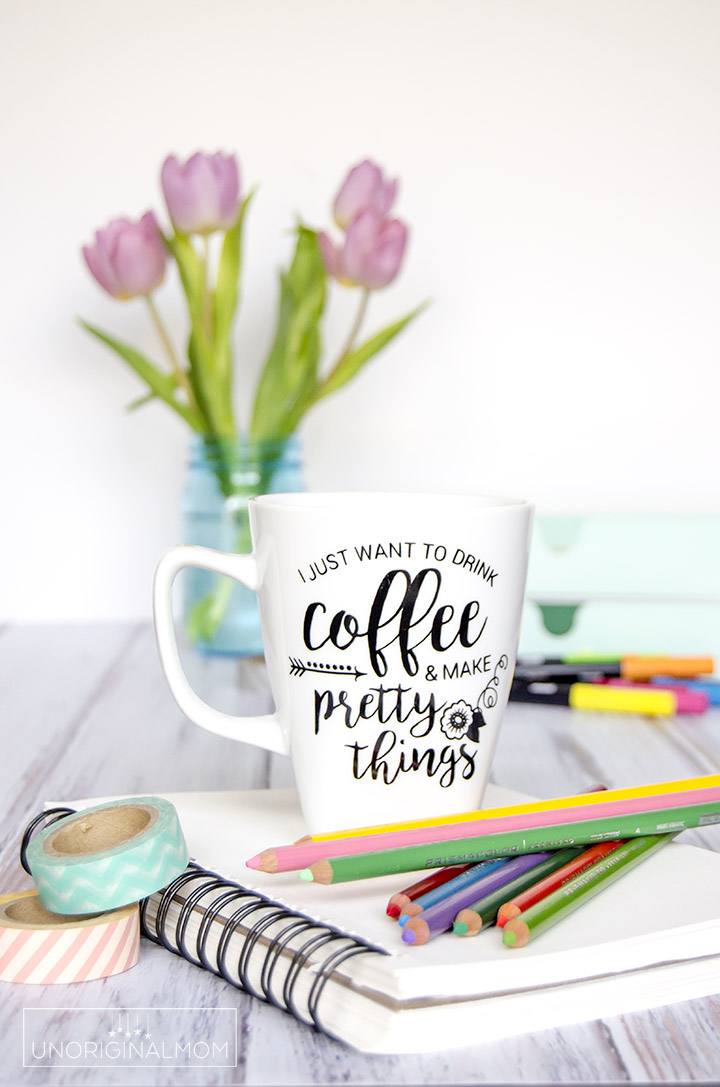 It's funny…I didn't become "addicted" to coffee until I became a stay at home mom. I've been drinking it since college, but I never had a solid enough morning routine that included a cup of coffee to really become reliant on it. But now that I'm home with my kiddos every day…give me ALL the coffee. ;-)   Of course, as a crafter, it goes without saying that I need a cute/witty/personalized/handmade mug to drink out of. Mugs are pretty much a crafting staple, aren't they? Well, I'm slightly embarrassed to say that up until recently not only was I drinking my coffee out of generic plain white coffee mugs, I had never even made a coffee mug. GASP. What kind of crafter am I, anyway? So I whipped up this beauty – an "I just want to drink coffee and make pretty things" mug.  What an upgrade, huh?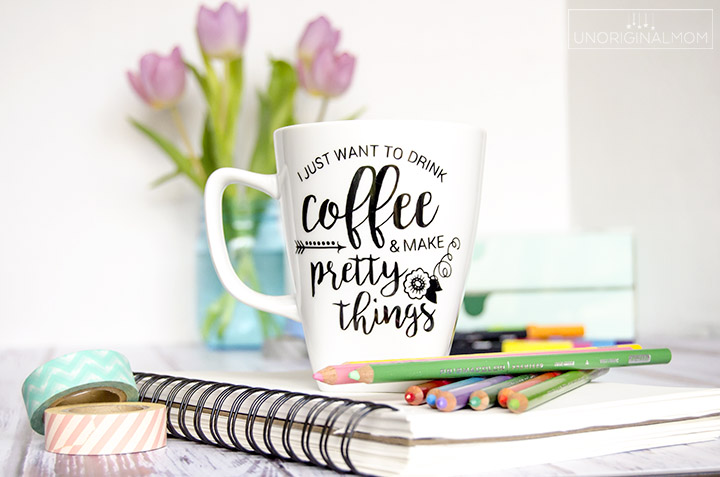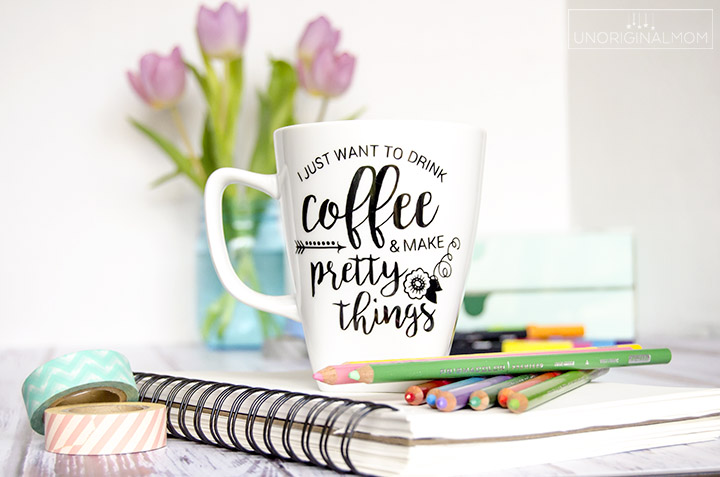 Now, I am no coffee connoisseur. In fact, I'm usually a "store brand" kind of person…but I've tried store brand coffee, and even I know that's not very good. So I've been searching for budget friendly K-Cups that are tasty but don't break the bank. For a while I'd settled on a pretty middle-of-the-road brand until I recently stopped by the coffee aisle in Walmart to pick up some Seattle's Best Coffee® K-Cups. (Hooray for everyday low prices!)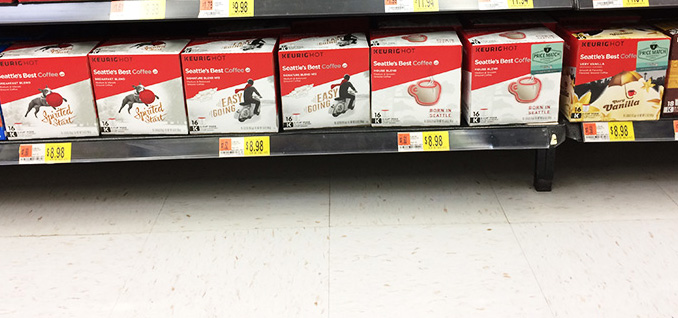 I decided on their "Born in Seattle" medium house blend, but they had lots of variety to choose from. I was pleasantly surprised that the price was right along with the other mid-priced coffees…and even more pleasantly surprised with the quality when I tried the first cup! It's smooth and delicious, made with premium beans, and really a great value for the quality – exactly what a budget-savvy shopper is looking for. It's kind of like a free upgrade, in that for the same price that I was paying for my other brand, I'm getting better coffee! And who doesn't like a free upgrade?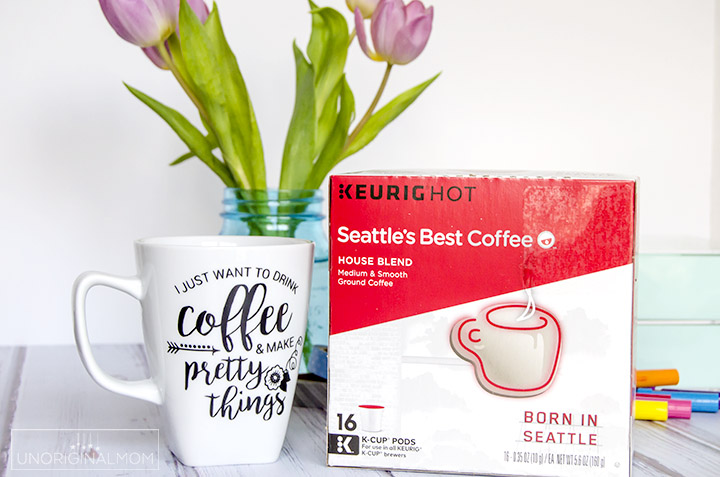 Speaking of free upgrade, now is a great time to give Seattle's Best Coffee® a try because they're running a "Price Match Guarantee" – when you upload your receipt, they'll give you $2 back just for trying their coffee!  Click here to Discover Seattle's Best Coffee at Walmart!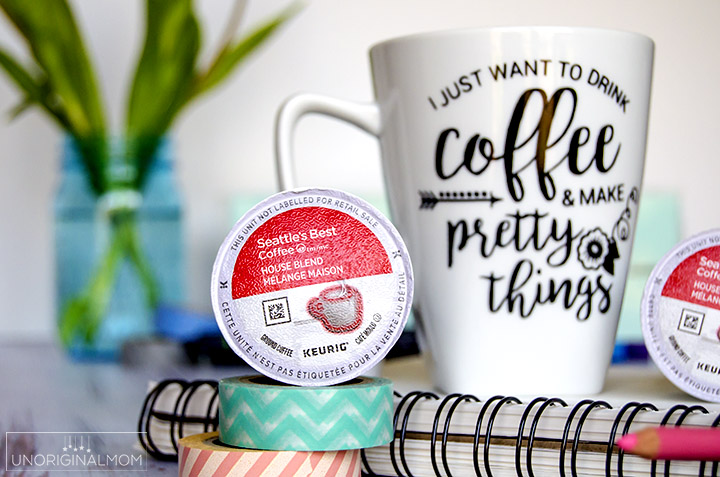 Now, about this mug…it was really pretty simple! I picked up a plain white mug at Walmart, and just used black vinyl (outdoor, which is more permanent) from Expressions Vinyl for the design.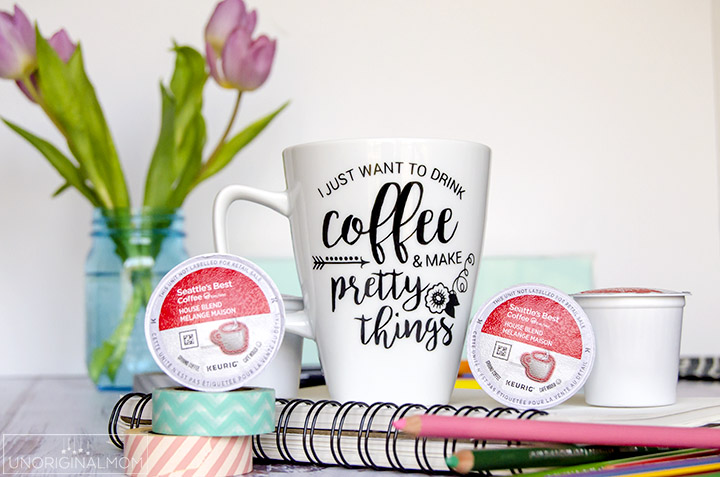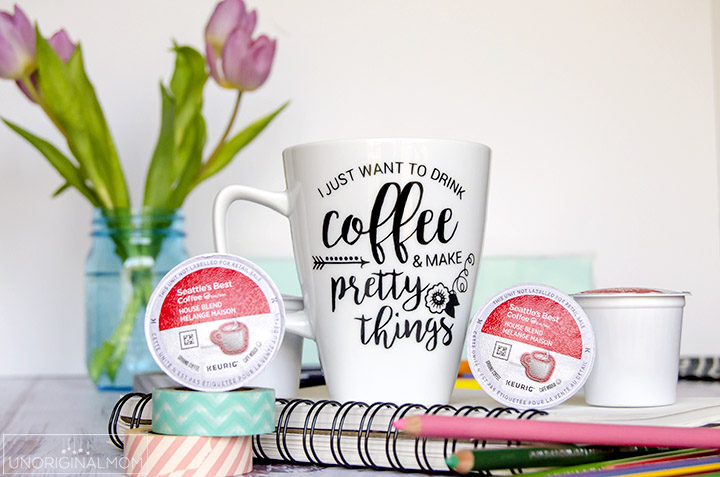 After I finished my design, I cut the vinyl with my Silhouette and used transfer tape to transfer the vinyl onto the mug. Voila! Now I have a cute crafter's coffee mug! I've added this design to my Silhouette Cut File Library, so if you want to  make an upgraded mug to hold your upgraded Seattle's Best coffee, sign up below to get this cut file (and dozens more) for free!
Don't forget to pin this post to save it for later: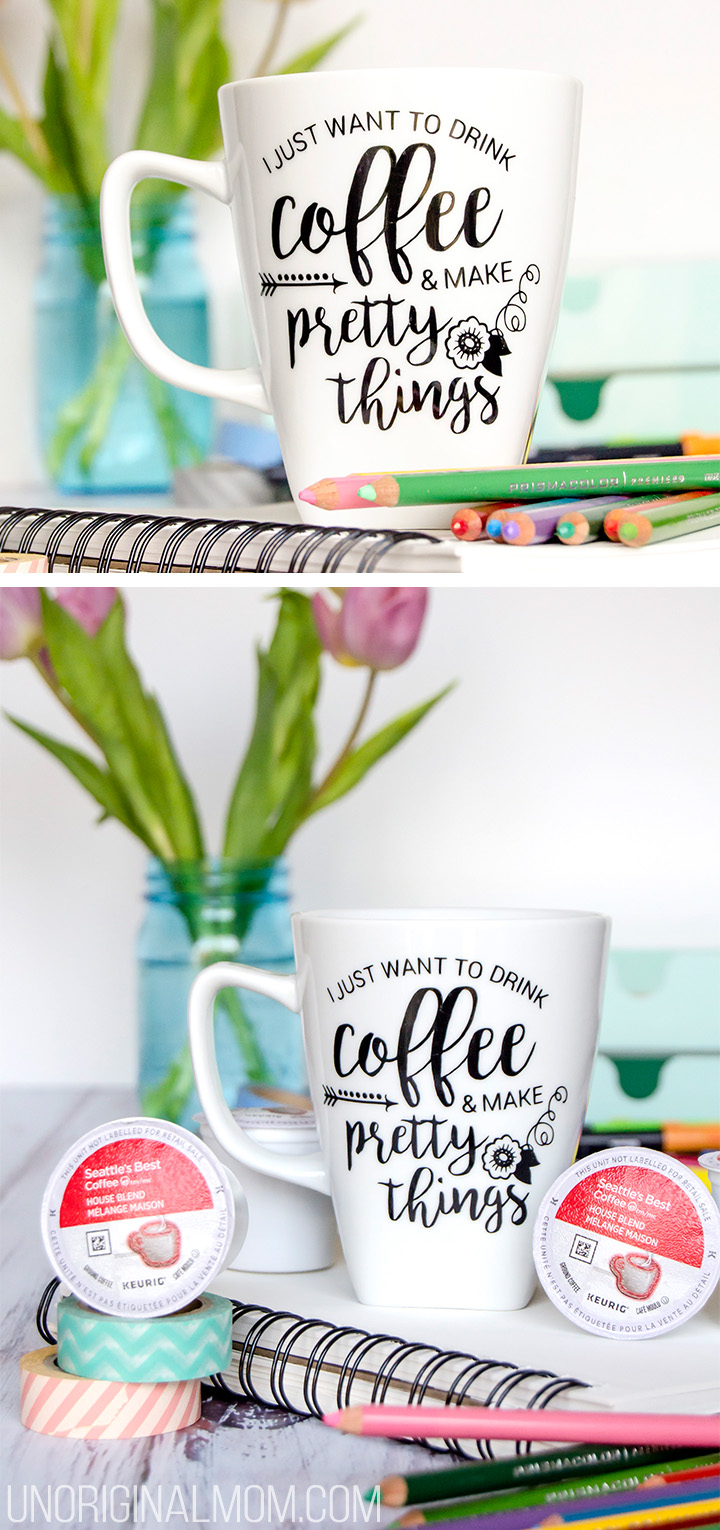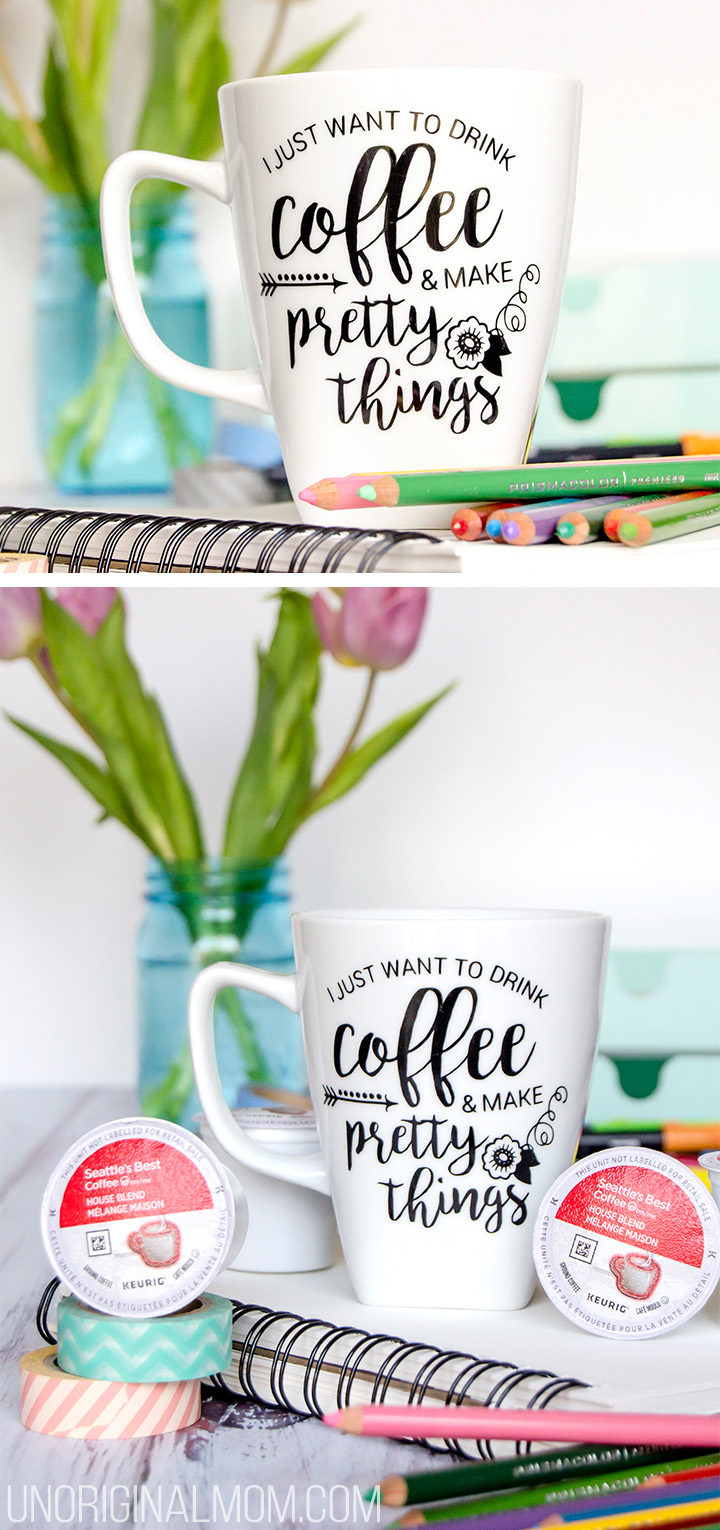 Subscribe to unOriginal Mom via email and get instant access to my library of FREE Silhouette cut files - exclusively for email subscribers. Plus there's a new file added every month!