I am a member of the Collective Bias® Social Fabric® Community. This shop has been compensated as part of a social shopper amplification for #CollectiveBias and its advertiser. #EatMoreBites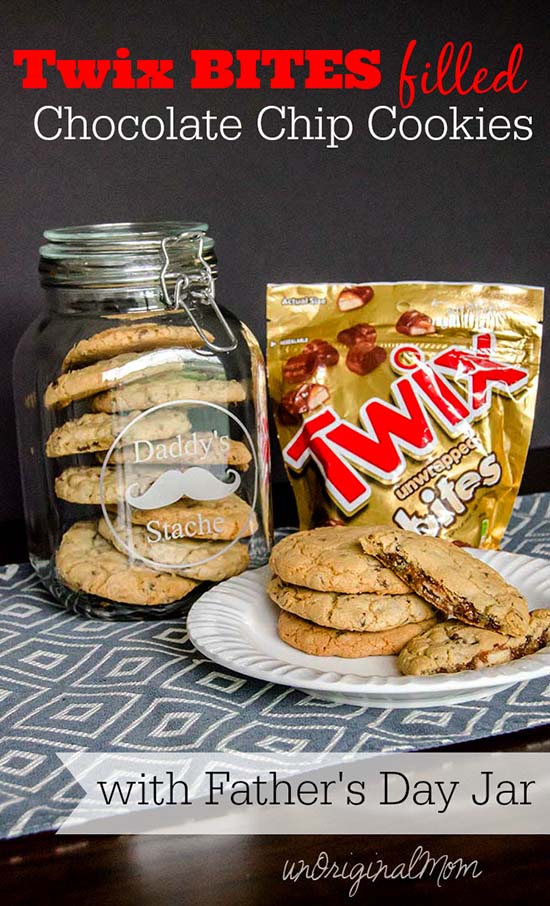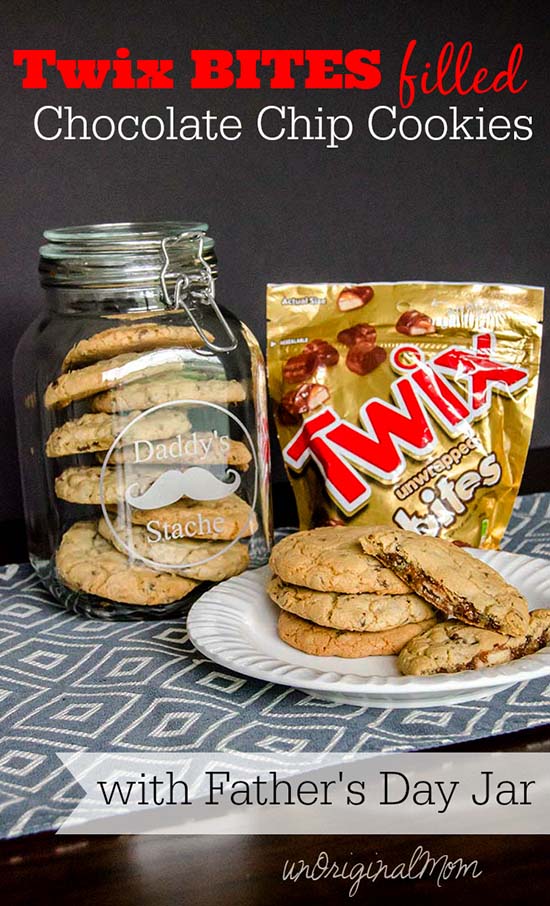 I tried Simply Caramel Bites a few months ago and mixed them into Rice Krispie Treats, boy were they divine…so I decided to give TWIX Bites a try, and – Oh. My. Gosh.  These TWIX Bites filled Chocolate Chip Cookies were SO good.  WARNING – graphic chocolatey caramel photo: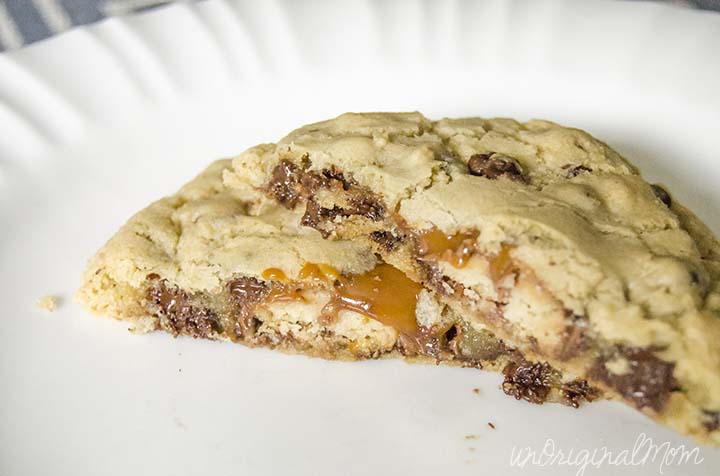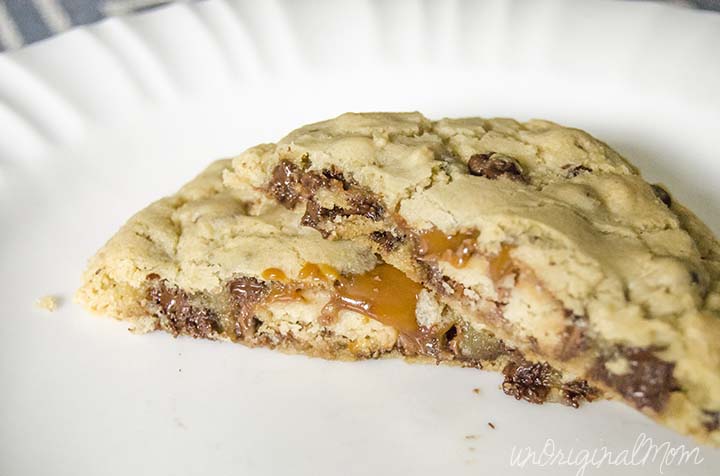 I literally stopped after the first bite and said "wow" out loud.  They are THAT good.   I made them as an early Father's Day treat for my hubby, meaning to fill up a jar for him and send them to work, but I almost didn't want to part with them.  Ah well, I'll just have to make more…
First I got to work mixing up the cookie dough.  When you're laying the dough out on the cookie sheet – 1) make a little indent for the TWIX Bite to sit, 2) press it down, 3) Add a little more dough on top, and 4) press the dough all together so it looks like a uniform mound.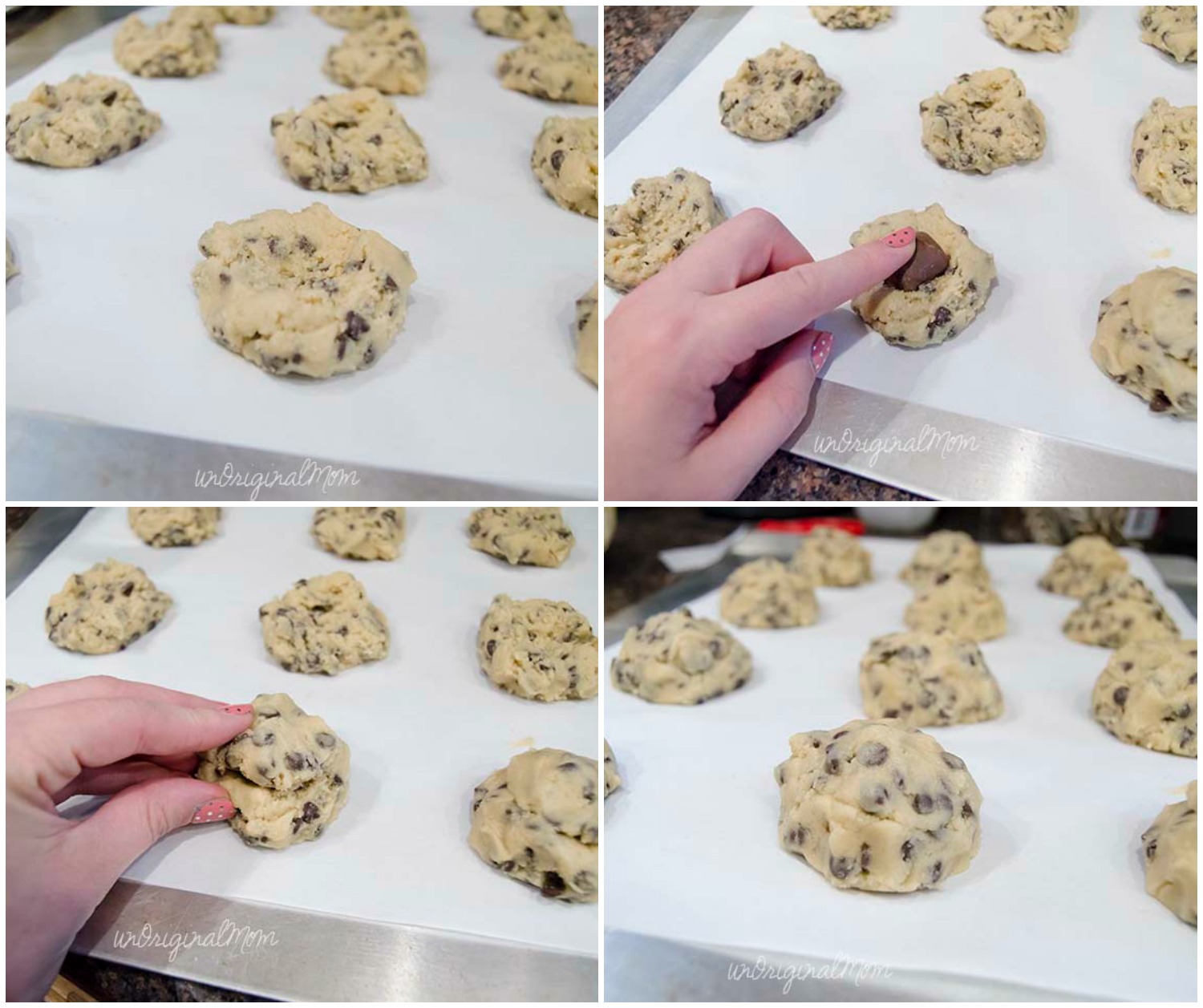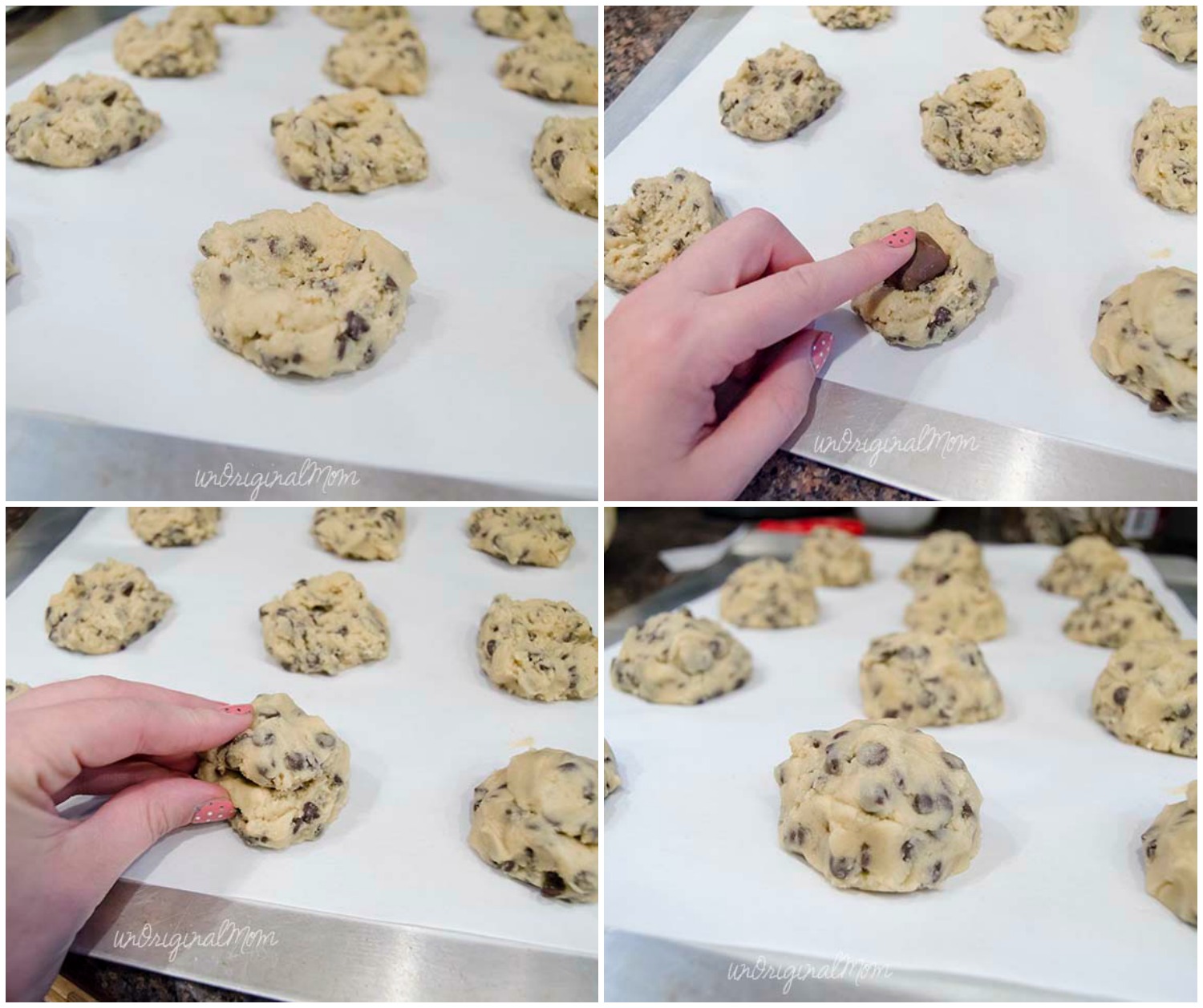 This recipe calls for less butter than most chocolate chip cookie recipes, which makes the cookie flatten out evenly but stay thick…so at first glance you can't really tell it's different than any other chocolate chip cookie, even though it's hiding delicious cookie caramel goodness inside.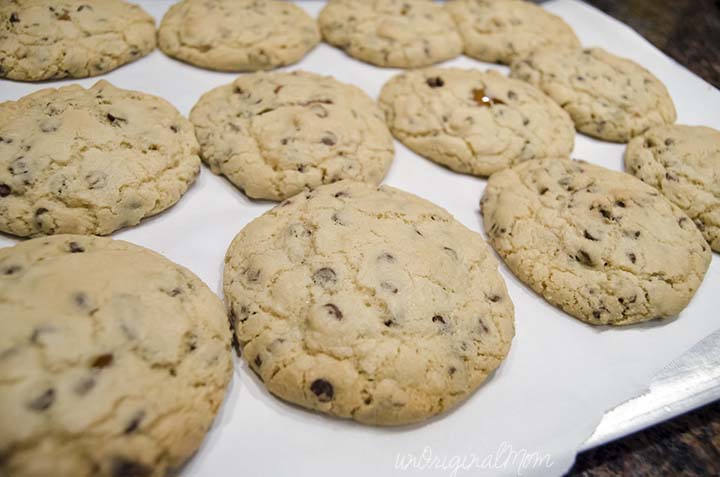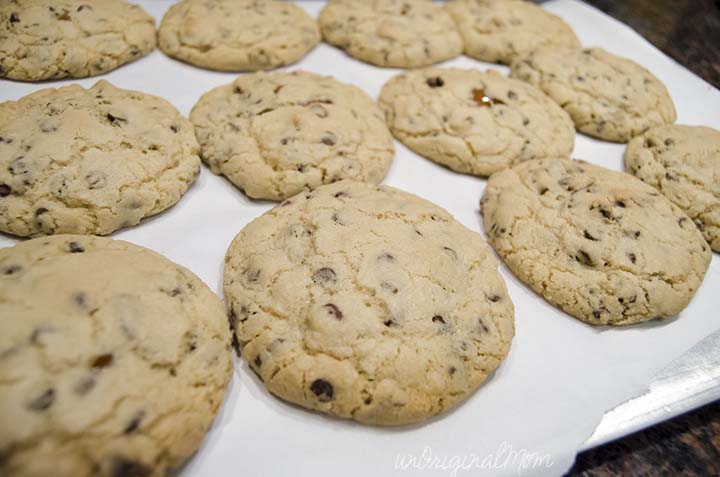 Then, as a fun Father's Day gift, I decided to make a cookie jar to send to work with my husband.  I used my Silhouette to cut a "Daddy's Stache" design out of vinyl – isn't it cute?  I'll periodically send cookies or candy with him to refill it – it's up to him whether or not he'll share!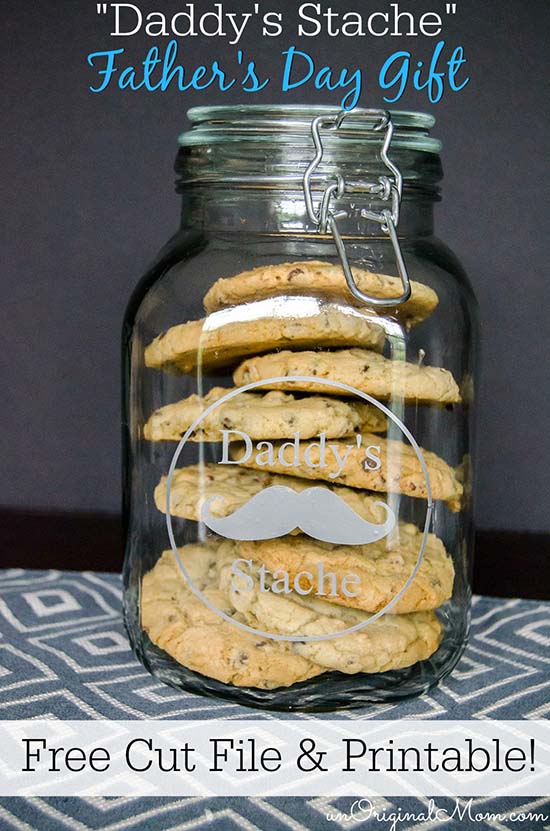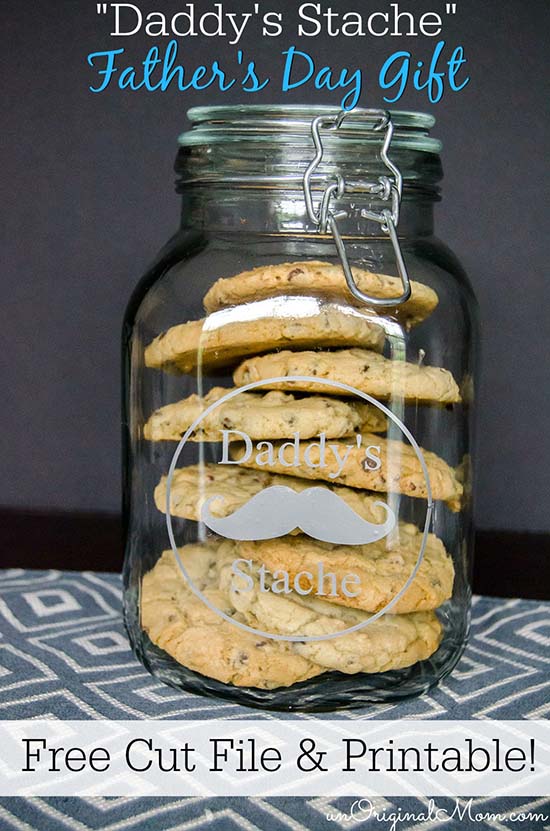 The cut file is available in my library of FREE Silhouette cut files – get instant access via the form below!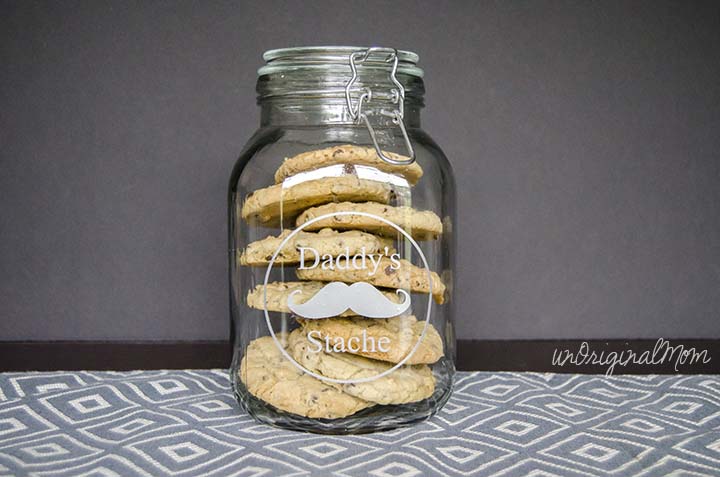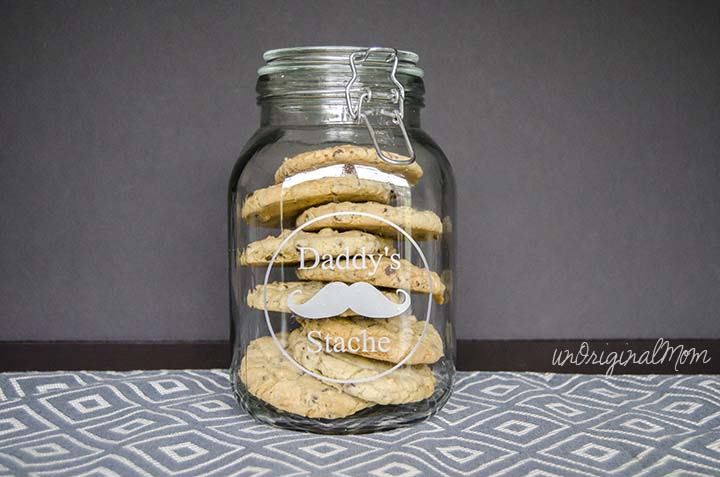 Check out that gooey chocolatey yumminess again…you have GOT to make these cookies!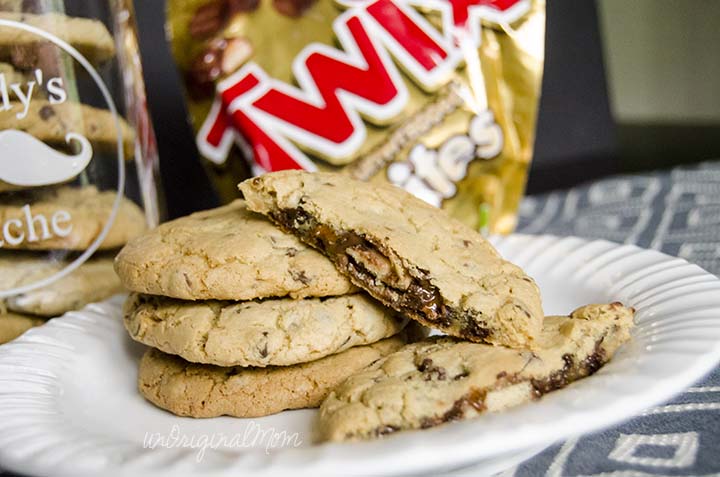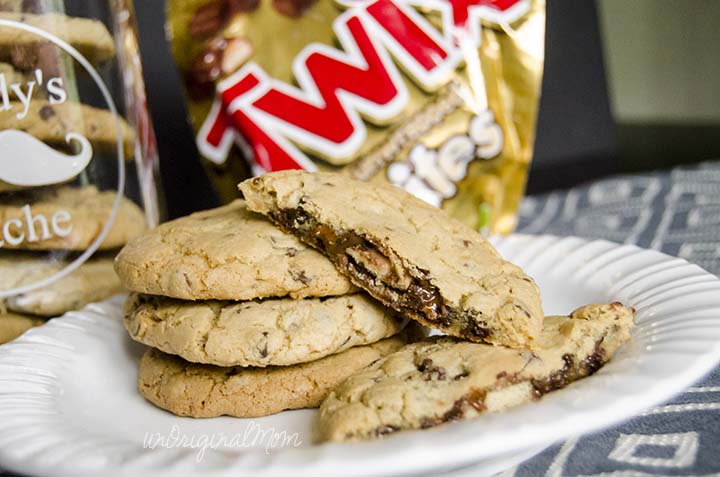 TWIX Bites filled Chocolate Chip Cookies
Ingredients
2¼ cups of all purpose flour
1 tsp baking soda
½ tsp salt
½ cup of butter, softened
¾ cup of packed brown sugar
¾ cup of granulated sugar
1½ tsp vanilla
2 eggs
1.5 cups of mini semi-sweet chocolate chips
1 7.0 oz pkg TWIX Bites
Instructions
Preheat oven to 350 degrees.
Cream together the butter and sugar. Add in the eggs and vanilla and mix thoroughly. Beat in the flour, baking soda and salt.
Fold in the chocolate chips by hand.
Place one spoonful of dough onto a parchment paper lined cookie sheet. Press a TWIX Bite into the center of the dough. Add more dough on top and pinch the sides together until you have a uniform dome shape, with no TWIX showing. Repeat for each cookie.
Bake at 350 degrees for 15-17 minutes, until golden brown on the top and bottom.
https://www.unoriginalmom.com/twix-cookies-fathers-day-gift/
What do you think – will you be making a yummy treat for the dads in your life this Father's Day?