This salad is seriously delicious.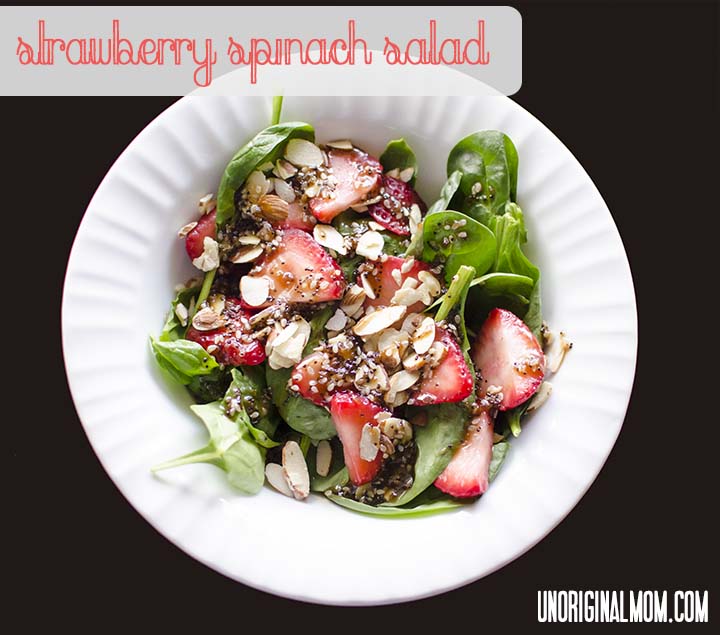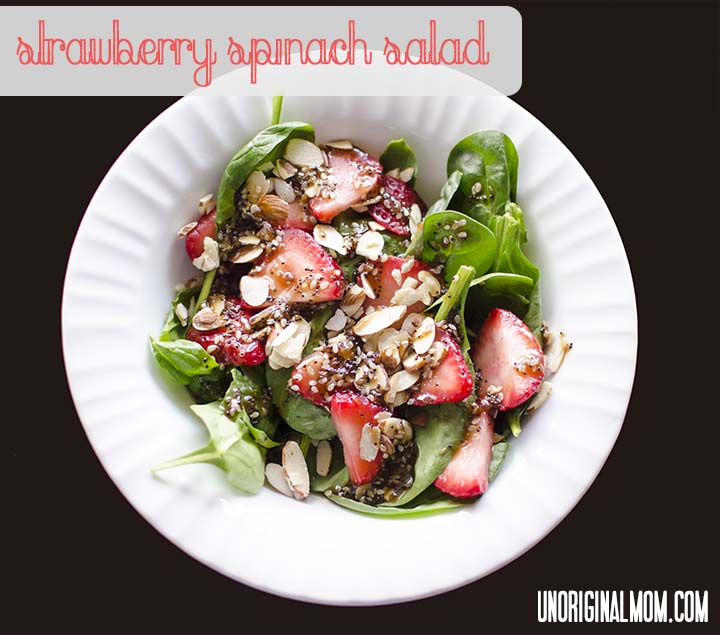 It is so simple…strawberries, spinach, and almonds with a sweet and tangy balsamic poppy seed dressing.  Adjust the amount of sugar in your dressing to taste – I like it very sweet!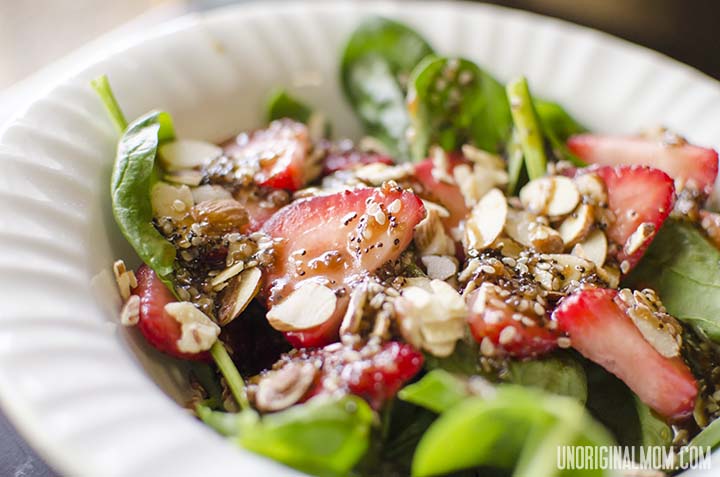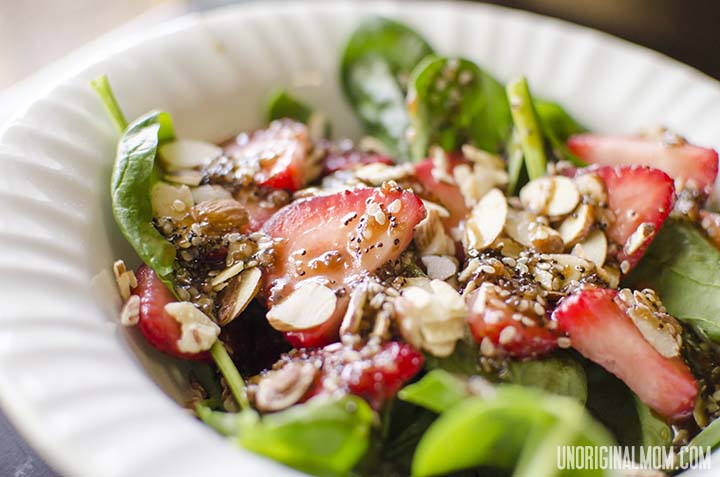 Especially this time of year, when strawberries are in season, it's not an expensive salad to make, either!  It's great to take to potlucks or dinner parties.  You'll always come home with an empty bowl!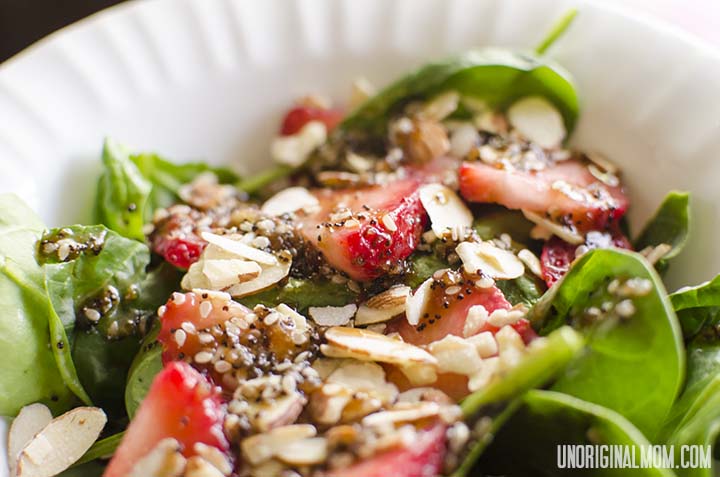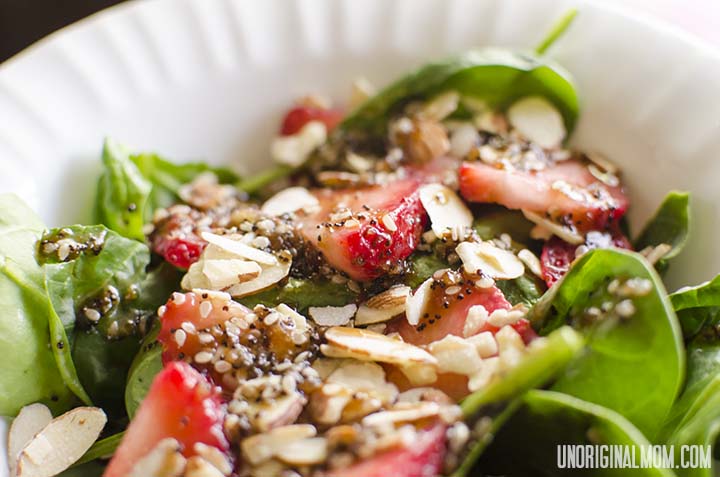 Make the dressing ahead of time.  I put it all together in the food processor to chop up the onions really finely.  I am NOT a fan of raw onions…but I LOVE this dressing!  Definitely don't omit the onions.  Also, don't dress the salad until right before you're ready to serve it, so the spinach doesn't get soggy and wilted.
Extra dressing can be kept in the fridge – it keeps well!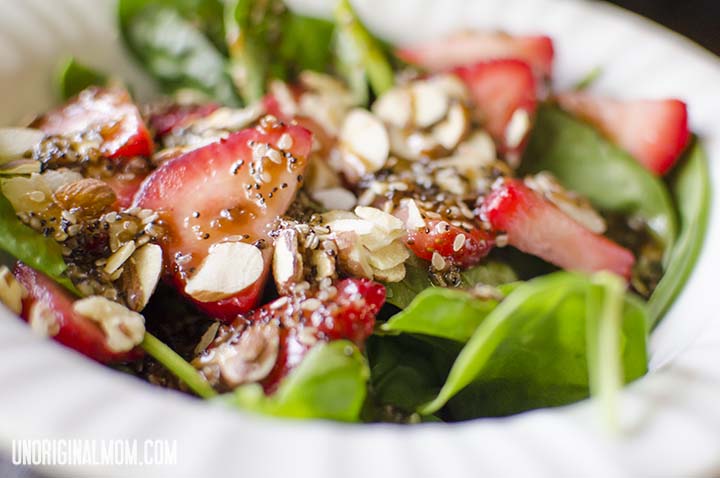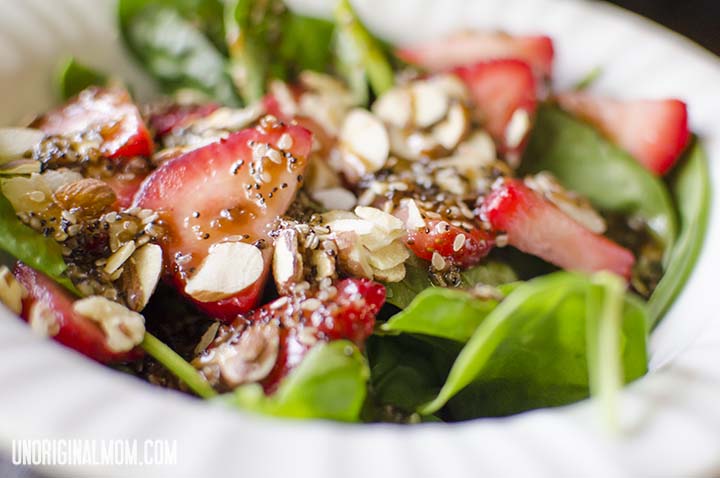 I love to make the dressing ahead of time, keep the ingredients in the fridge separately, and toss them all together in a single serving for a quick and yummy lunch.
Be creative with the toppings.  You could use crumbled walnuts in place of almonds, add some feta or gorganzola cheese…whatever you like!
This recipe is adapted from the AllRecipes.com recipe here.
Ingredients
2 T sesame seeds
1 T poppy seeds
1/4-1/2 c. sugar (to taste)
1/2 c. olive oil
1/4 c. balsamic vinegar
1/4 t Worcestershire sauce
1/2 small onion
10 oz. fresh baby spinach
1 qt strawberries - hulled & sliced
1/4 c. sliced or slivered almonds
Instructions
Combine olive oil, vinegar, onion, and Worcestershire sauce in blender or food processor. Combine until onion is minced and dressing is well mixed.
Whisk in the sesame and poppy seeds.
Cover and chill for at least 1 hr or until ready to serve.
In a large bowl, combine the spinach, strawberries, and almonds.
Pour dressing over the salad and toss.
Serve immediately.
https://www.unoriginalmom.com/strawberry-spinach-salad/


Take a peek at these great link parties where you might find this post linked up!
Also at Homestories A to Z


Get your copy of my FREE meal planning binder!
Sign up to get a free copy of my meal planning system - an 11 page printable meal planning binder, complete with a pantry inventory, shopping list, and more to help get on top of your menu each week!