This post is sponsored by Coupons.com.
As always, all thoughts and opinions are completely my own!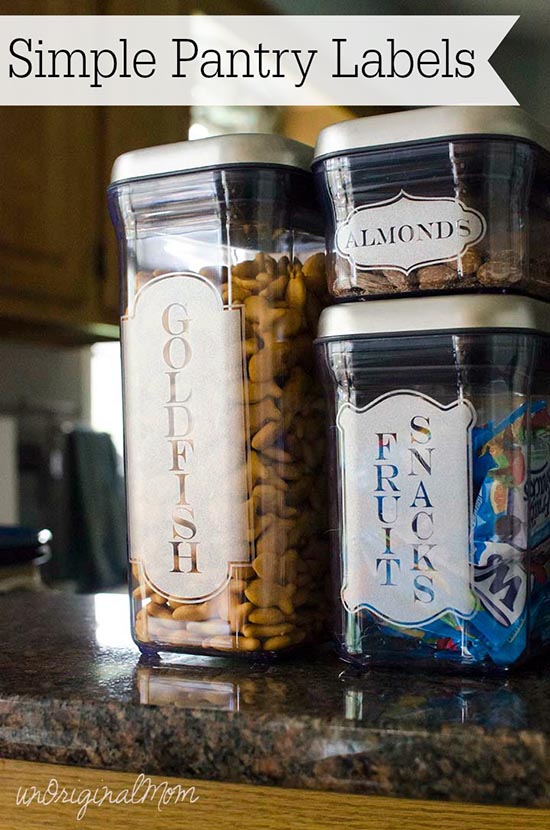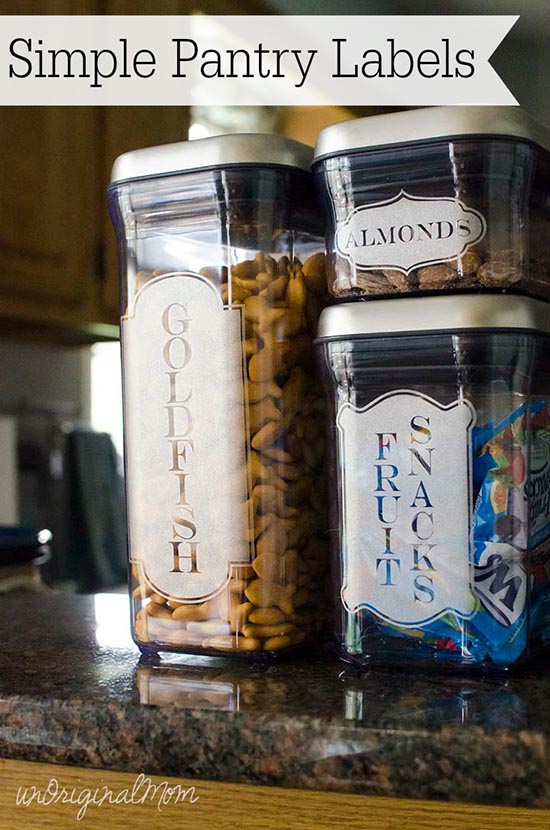 Do you ever feel like you make things much more complicated than they need to be?  I am guilty of that.  Like a lot.  I see a great idea on Pinterest, but decide I need to get creative and change it up a little bit…hours later, I'm kicking myself and looking back at my earlier-that-day-self and thinking, "why couldn't you have just kept it simple?!?" Well, I've got a quick, easy, and SIMPLE project to share with you today!  (And – psst – there's a great giveaway coming, too!!)
My pantry is horrendously awfully embarrassingly messy.  Like, I'm not even brave enough to share a picture of it with you today.  I'll save it for when I can put a sparkling "after" picture next to it as a distraction.  But I took my first step towards organization today with some SIMPLE pantry labels!  I am someone that is much more likely to keep things organized if they're pretty.  Case in point.  So if that's you, create a few of these labels in less than an hour, and you'll be on your way to simplifying your clutter into pretty organized label-ness!
First you need some pretty things to label.  When I decided to get rid of our counter top canisters and just store our sugar and flour in the pantry, I got some large clear plastic containers for them.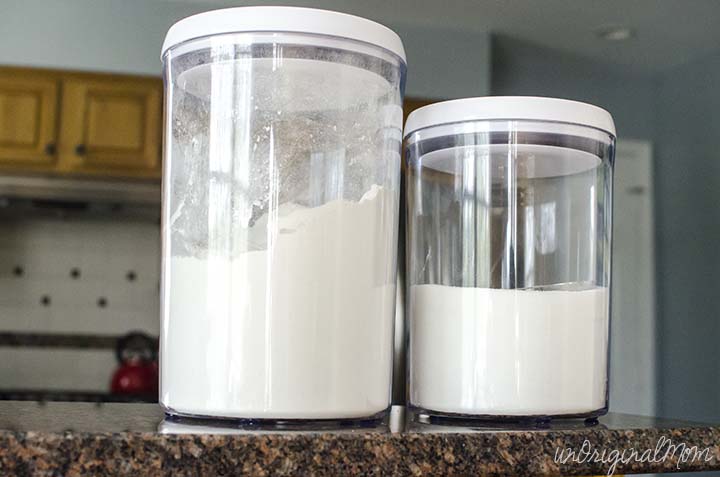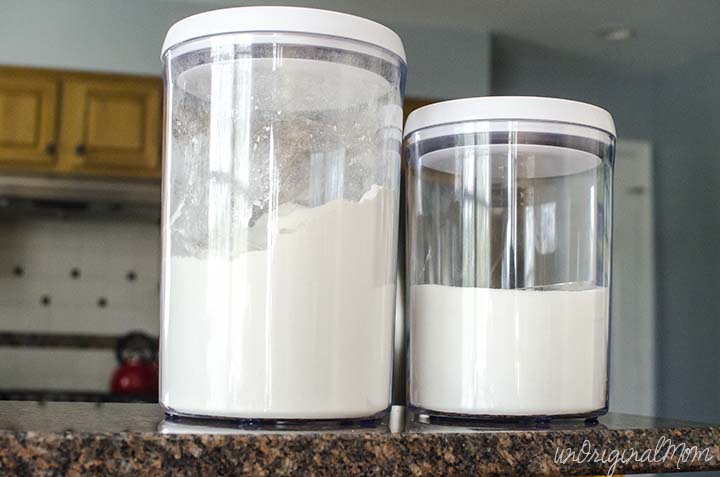 I also snagged these lovely stainless steel topped containers a while ago, and they've been sitting – empty – in my cluttered pantry for months.  (Doh!)  Time to do something about that!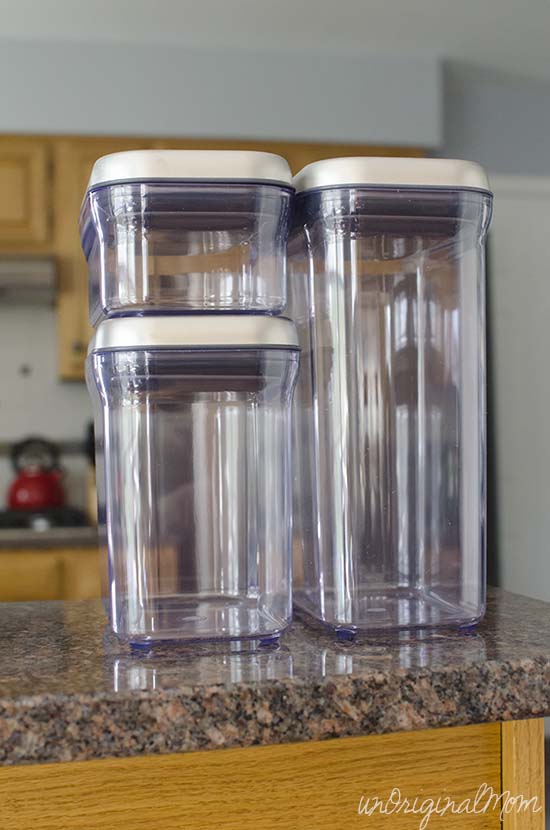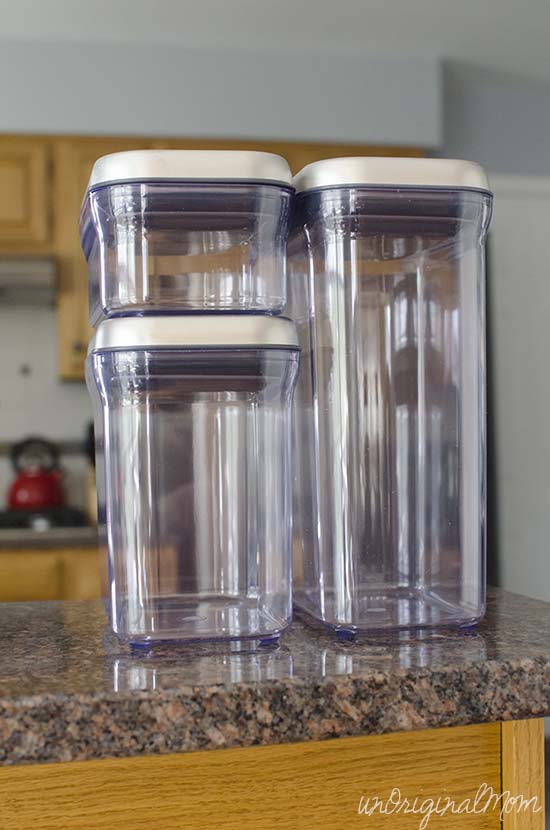 One way that I kept these labels simple was by not trying to re-invent the wheel…my friend Lauren over at The Thinking Closet had made these snazzy Sugar & Flour Jar Labels a while ago, and she even shared a free cut file!  (Be sure to hop over there for a full tutorial on how to make your own vinyl labels.) So I snagged her file, used it for my sugar and flour canisters, and created some similar ones to go on the other containers.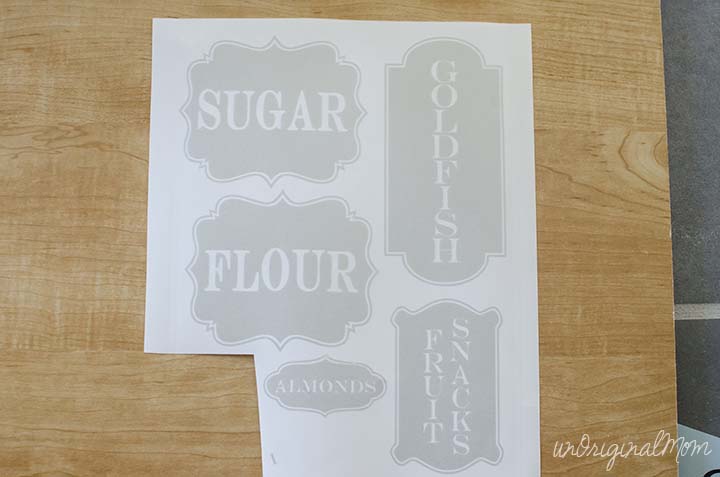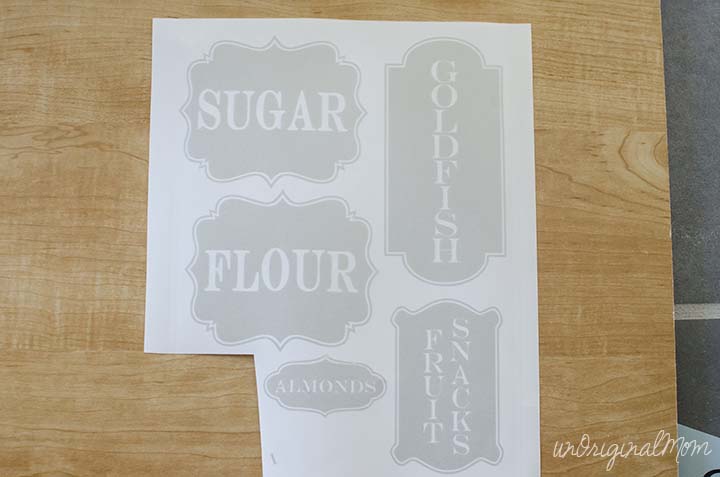 I used some frosted vinyl and LOVE how it looks – so classy!  And SO simple!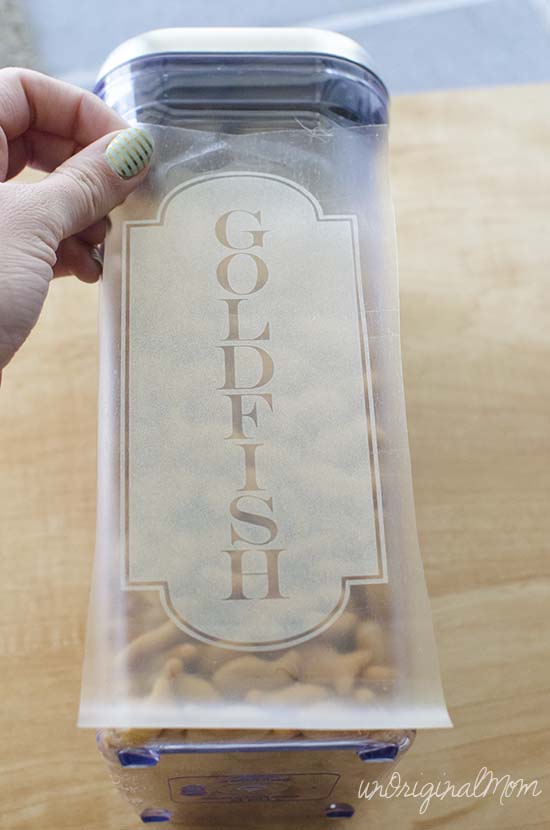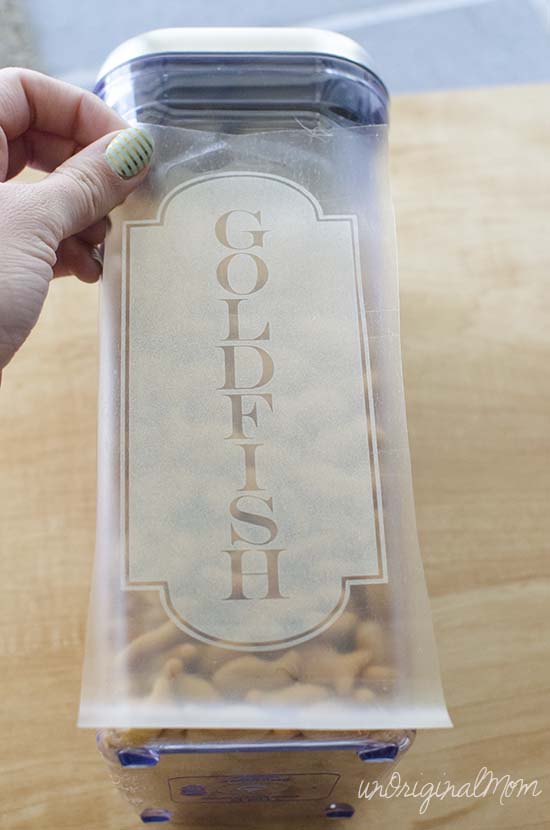 Ta-da!  I kept it simple, and they still look great.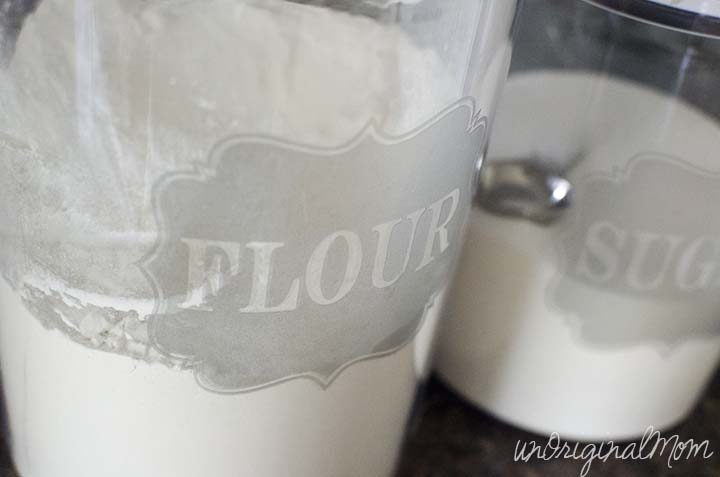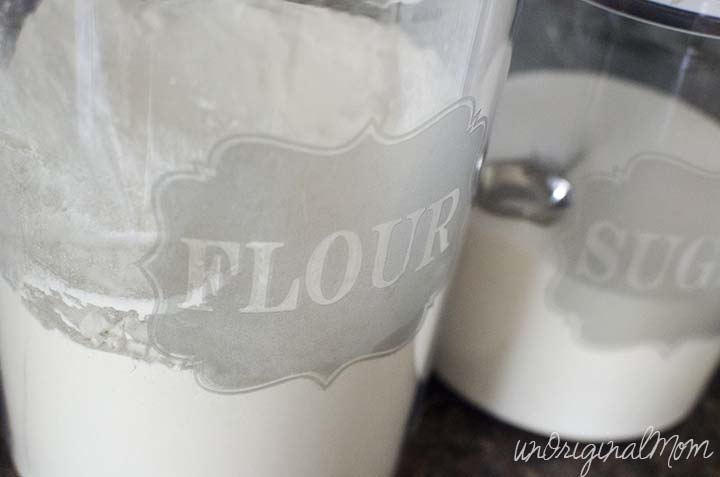 The photos don't quite do the frosted vinyl justice…you'll just have to believe me when I tell you they look even better in person!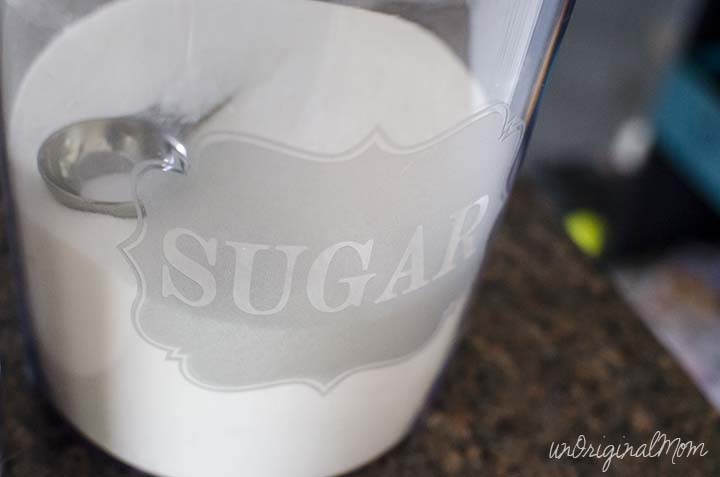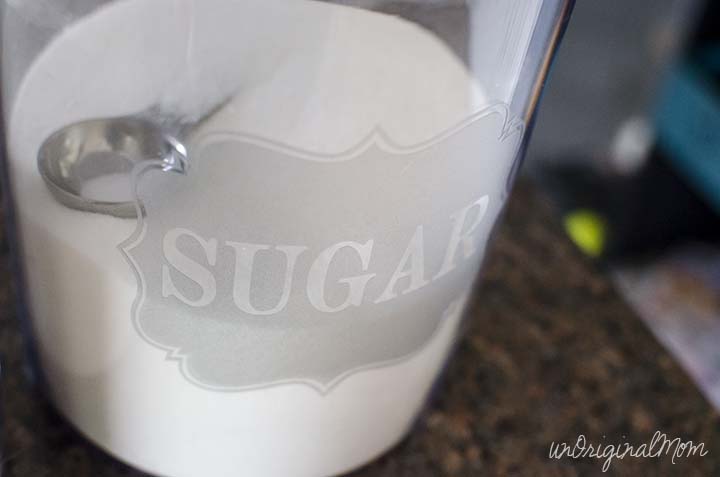 Simplifying your home via labels, organizing, decorating, and all that is really great…but it can get expensive!  I don't know about you, but I don't have the budget to run out and buy beautiful containers to organize my entire home right now.  But did you know that Coupons.com is a great way to save money at stores you love?  So, on the heels of Mother's Day, Coupons.com is showcasing some special Mother's Day coupon codes!  Who doesn't love saving money??
Aaaand…who doesn't love winning stuff?  Coupons.com is running a Mother's Day Sweepstakes to win a Vitamix, Sephora Gift Card, Roomba, or $500 cash!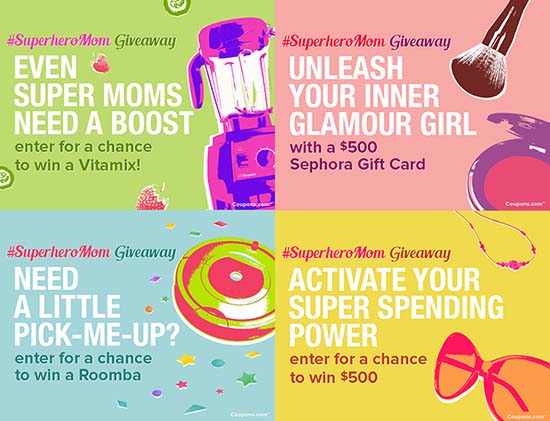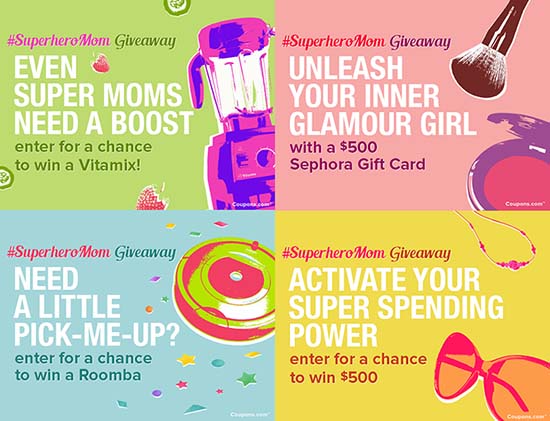 Coupons.com is also sponsoring a $200 Gift Card Giveaway for you lovely readers to your choice of Target, West Elm, or Home Depot!!  (That could go a long way towards some great "simplifying" projects, don't you think?)  So, what are you waiting for?  Enter via the Rafflecopter widget below for your chance to win!
There are 11 other bloggers posting ways to simplify your home today!  Hop around for some more inspiration: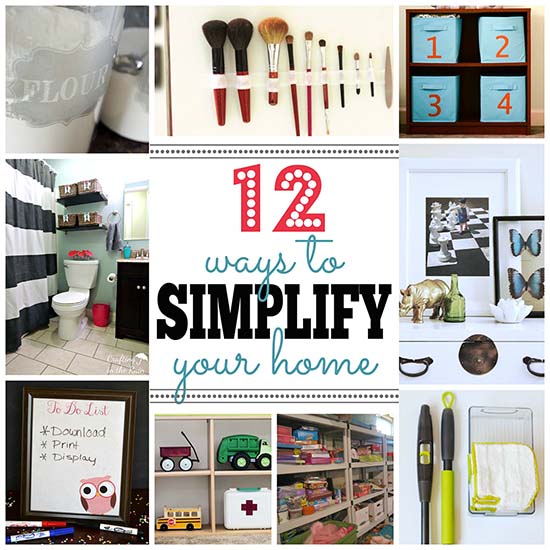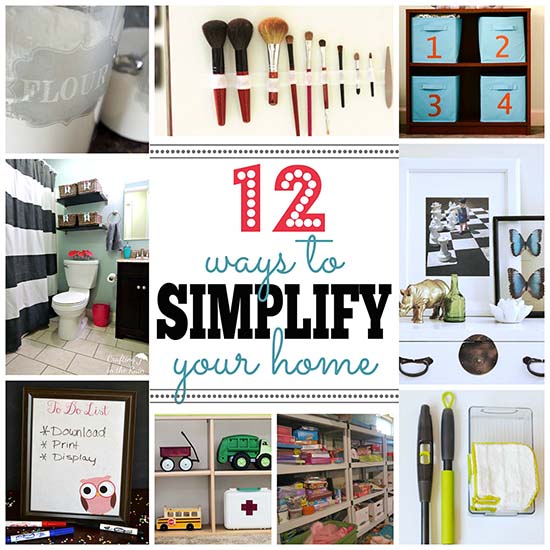 Brave New Home | Crafting in the Rain | Dukes and Duchesses | Girl in the Garage | Glued to My Crafts | Happy Go Lucky | It Happens in a Blink | Mom Home Guide | The Pinning Mama | The Thrifty Groove | Up to Date Interiors
How are you simplifying your home this spring?  Are you someone like me that always makes things more complicated than they need to be?


Get your copy of my FREE meal planning binder!
Sign up to get a free copy of my meal planning system - an 11 page printable meal planning binder, complete with a pantry inventory, shopping list, and more to help get on top of your menu each week!