Looking for some FREE St. Patrick's Day SVGs? I've got you covered! I'm sharing a retro typography "Lucky" Rainbow graphic tee – perfect for layering and adding a pop of color to your green shirts this St. Patrick's Day. Or you could put it on a tote, a mug, a tumbler, or even use it to print-and-cut stickers. Keep browsing to find over a dozen new free St. Patrick's Day SVGs from a bunch of other bloggers.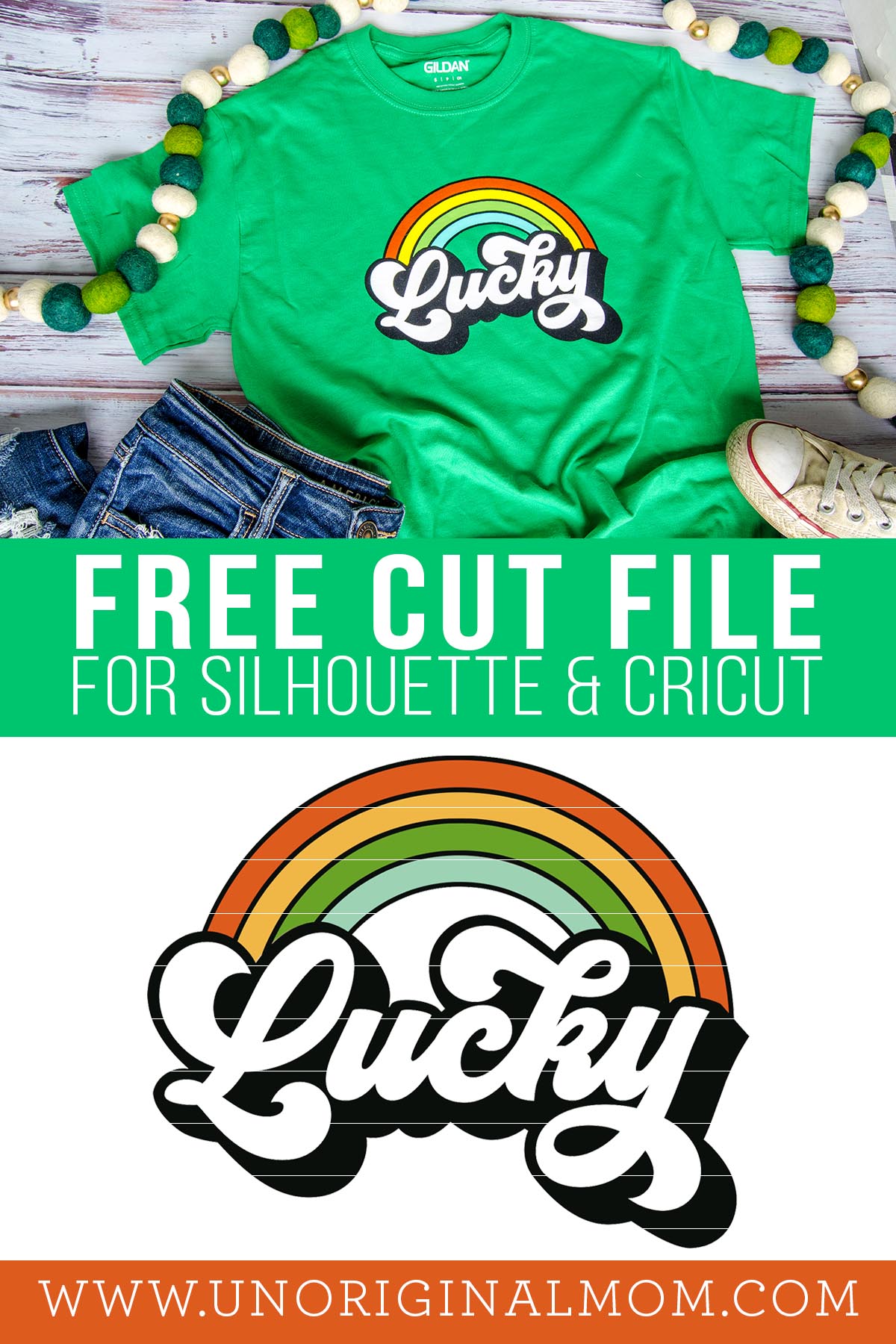 I have some EXCITING news, friends!! I'm partnering up with some super-talented bloggers to bring you a monthly collection of 100% FREE SVGs! On the third Thursday of each month, we'll all be posting a brand new cut file design based around a particular theme. We'll include the links to each other's blog posts so you can hop around and download your favorites – all for FREE!  It will be a great way for you to snag some terrific freebies, but also to hopefully introduce you to some different fun and crafty bloggers. I don't know about you, but I feel like I'm using the "unfollow" button more than the "follow" one lately…I could definitely use some more authentic and worthwhile inspiration in my social media feeds.
FREE ST. PATRICK'S DAY SVGS – RETRO LUCKY RAINBOW GRAPHIC TEE
Remember that "love" shirt and SVG I shared with you last week? I loved the look of the retro typography so much that I decided to do something similar for a St. Patrick's Day shirt, too. It makes for a trendy-looking graphic tee, but you could certainly use it for anything you want – a mug, tote, tumbler, sign, stickers, etc!  Even though I don't actually believe in "luck," persay, it's still a fun design for the season.
You have some choices in how to put this together on a shirt, if you want. The black lettering/rainbow outlines in this design are all one shape, so you can leave it as is and just let the shirt show through (solid white HTV on a green shirt would be neat!), or you can add different colors of HTV behind it like I did. You'll find in my SVG file that I included the rainbow arches and the "lucky" lettering as slightly larger than the black outlines, so those can layer behind the black. If you're using this to paint a sign or don't want to layer vinyl, you won't need to use those offset shapes.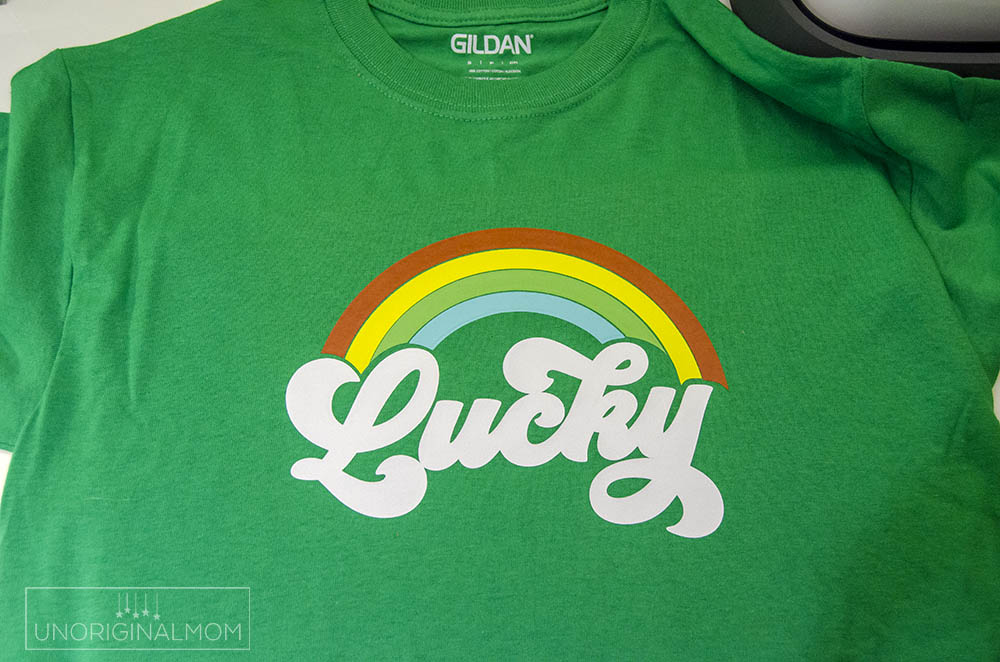 For my shirt, I cut each arch out of a different color of smooth HTV and used smooth white HTV for the "lucky" lettering. Then, I decided to use flocked black heat transfer vinyl to give it a little bit of dimension.  It was a little bit tricky to line up the white and colored heat transfer vinyl underneath, but I love how it turned out! To make it a little easier, I cut the black outline shape out of card stock to lay over the colored HTV while I was putting it on the shirt. That helped me to make sure I was placing each layer where it needed to be so that the black lines would cover the edges.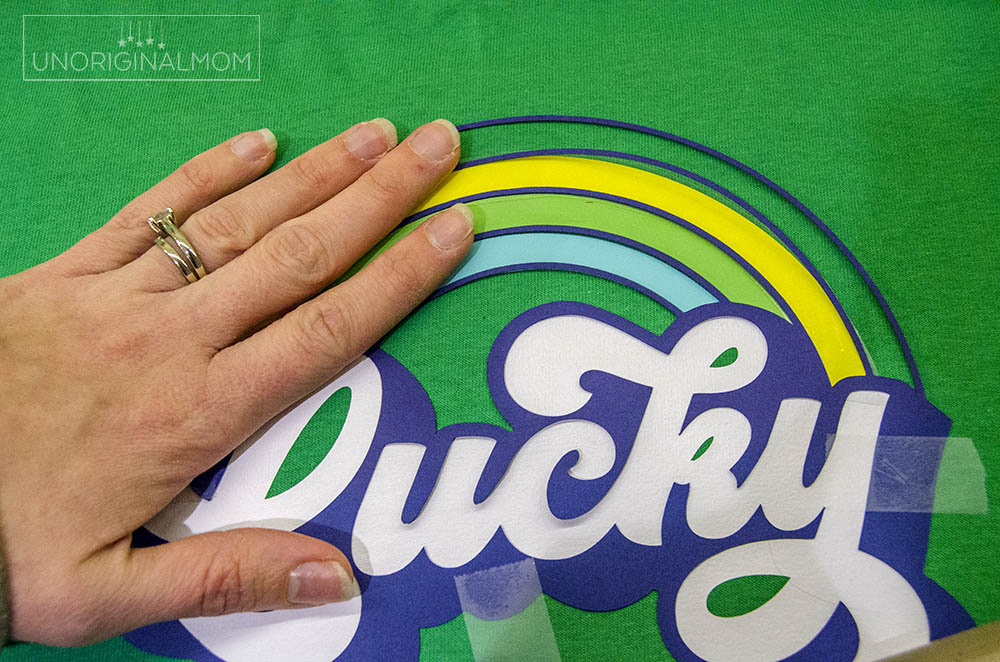 Once I ironed on those layers, I added the flocked HTV on top.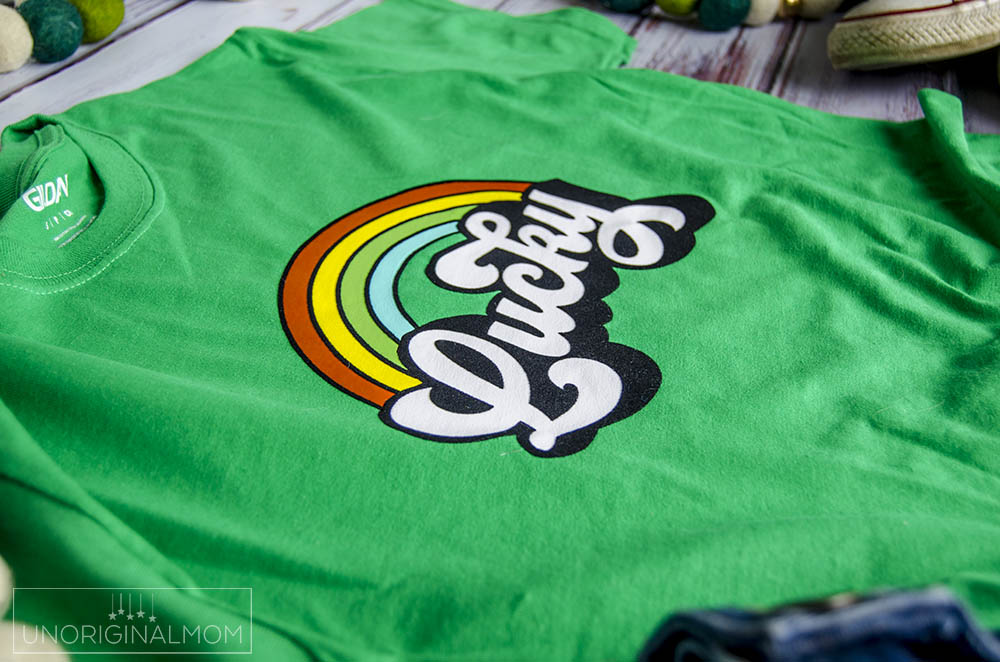 Isn't this a fun graphic tee for St. Patrick's Day? You'll be pinch-proof for sure!
FREE ST. PATRICK'S DAY SVGS – RETRO LUCKY RAINBOW GRAPHIC TEE SUPPLIES
Here's a list of the supplies I used to make my St. Patrick's Day Graphic Tee:
(Affiliate links included below. Please click here to read my full disclosure.)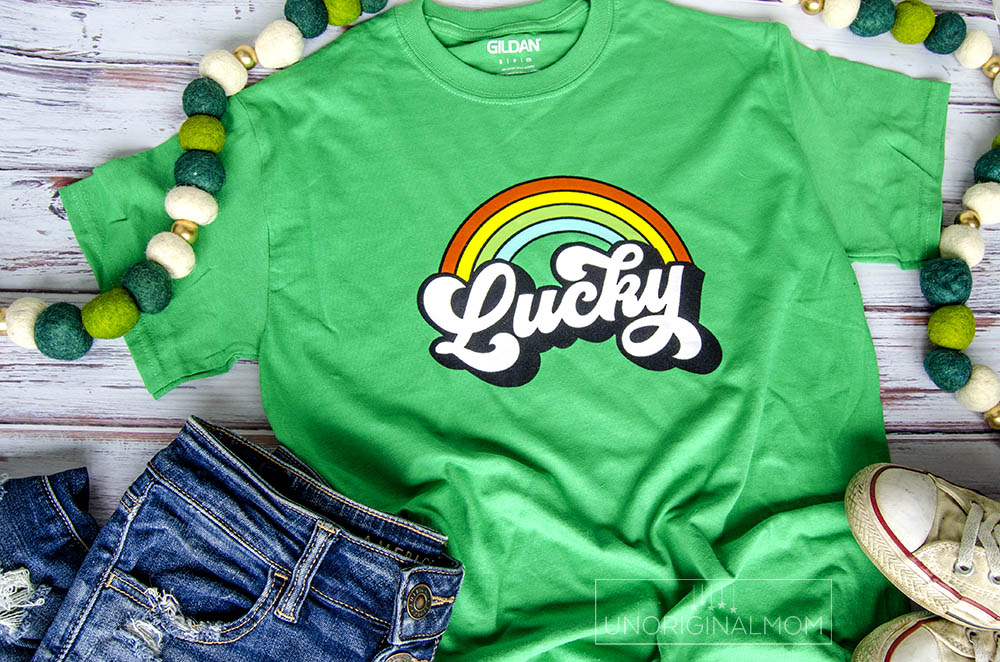 DOWNLOAD THE RETRO LUCKY RAINBOW CUT FILE
You'll find this cut file (available as SVG and .studio) along with dozens more of my SVG designs inside my Silhouette Library! Sign up for access in the box below, and you'll be emailed the link and password within a few minutes. It's completely free, and you can unsubscribe anytime.
Not a big fan of the whole "lucky" sentiment? I hear you. I actually made a "Not Lucky, just Blessed" hand lettered design for a t-shirt last year. You can go snag that one (and read more about my "unlucky" philosophy) in this blog post!
FREE ST. PATRICK'S DAY SVGS – MORE FREE CUT FILES!
You've found the MOTHERLODE of free St. Patrick's Day SVGs! Here's a terrific collection of brand new designs from a bunch of other amazing bloggers. Click around to each of the blog posts to download the files that you want. Don't forget to leave a comment, subscribe via email, and/or follow along with each blogger on your preferred method social media as a way to say "thanks" for the freebie! (That's also a great way to fill up your inbox and social media feeds with positive and fun crafty inspiration!)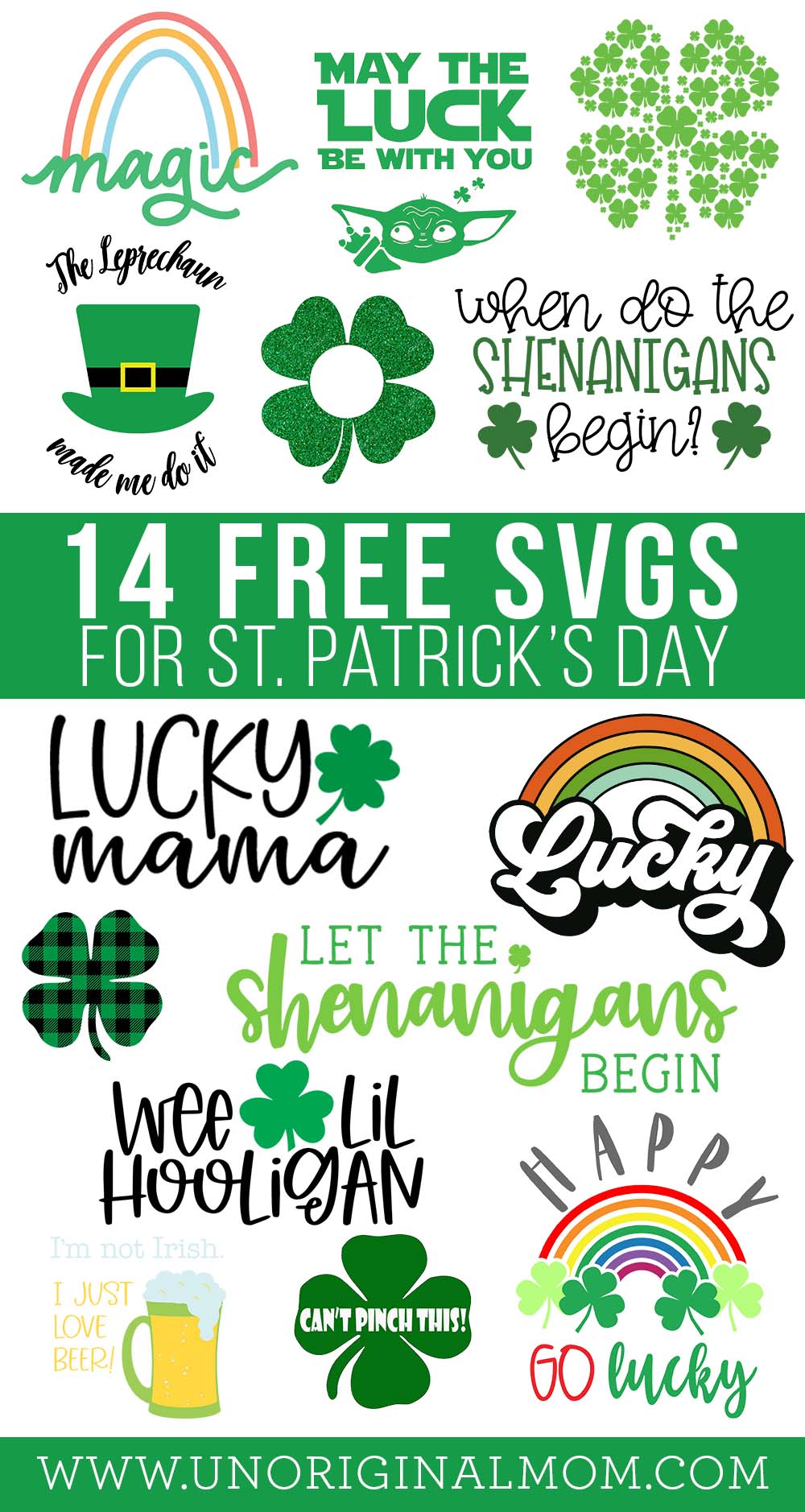 Buffalo Plaid Shamrock by Brooklyn Berry Designs
Let the Shenanigans Begin by Pineapple Paper Co.
I'm Not Irish, I Just Love Beer by We Can Make That
Lucky Mama by That's What Che Said
Happy Go Lucky by The Girl Creative
Rainbow Magic by Liz on Call
Can't Pinch This by Life Sew Savory
Shamrock Cluster by Everyday Party Magazine
Lucky Clover Monogram by Happy Go Lucky
When Do The Shenanigans Begin by Kelly Leigh Creates
Wee Lil Hooligan by Artsy-Fartsy Mama
May the Luck Be With You by A Home to Grow Old In
The Leprechaun Made Me Do It by Mom of 5 Trying to Survive



Subscribe to unOriginal Mom via email and get instant access to my library of FREE Silhouette Studio & SVG cut files - exclusively for email subscribers. Plus there's a new file added every month!