Looking for some cute first day of school picture ideas? Here's a list of some clever ones, ranging from super quick and simple to more detailed and elaborate.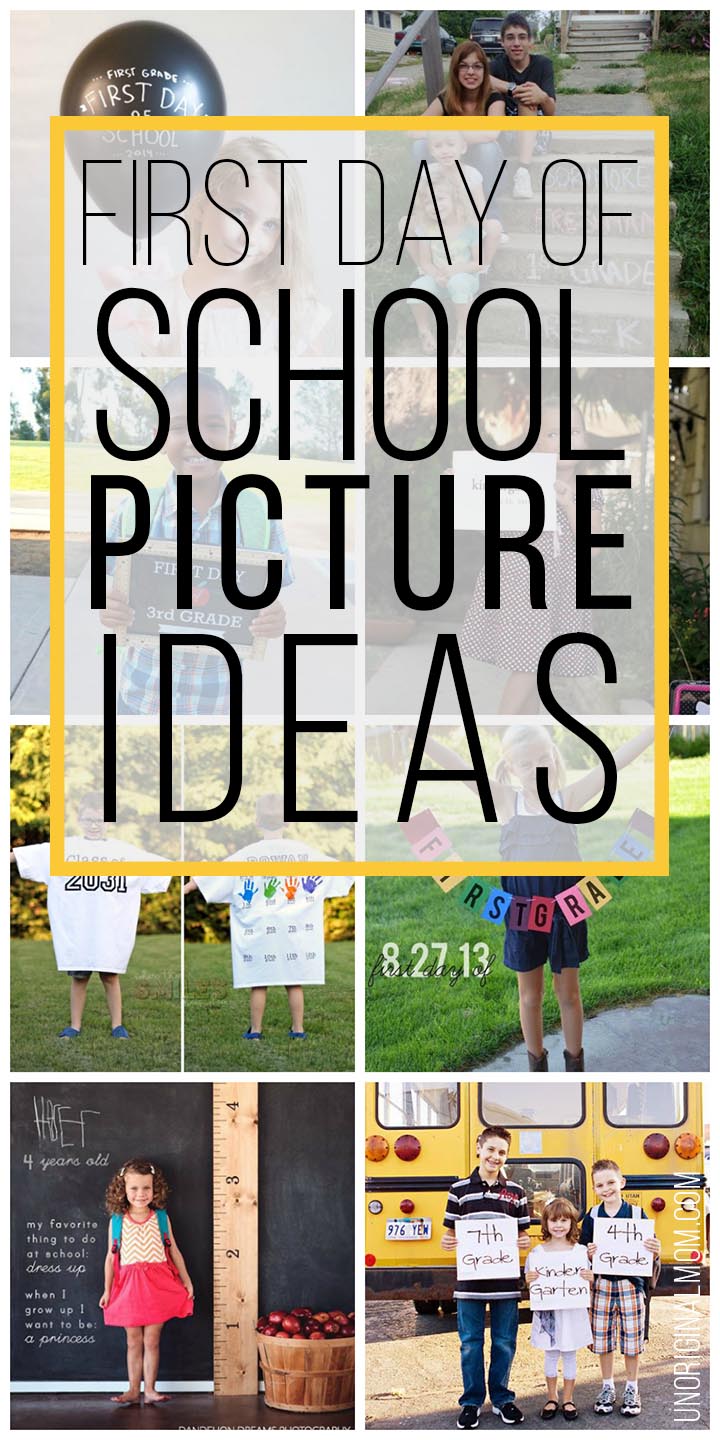 Well, back-to-school season is well upon us…even though school around here doesn't start until the last week of August, I've been seeing first day of school pictures on Facebook from my friends across the country for a few weeks now! I can't say I'm excited for the end of summer, but I am ready to send my kids back to school ;-) I'll have a 1st grader and a preschooler this year, which means I'll get about a month of peace, quiet, and alone time on preschool mornings before #3 makes his or her arrival in October!
I don't have any historical research to back this up, but if I had to guess, I'd say the first day of school picture is just about as old as the personal camera itself. We all suffered through them as children, and I've even seen photo evidence of my parents' school years. I'm sure people have been getting creative with their first day of school pictures for a long time, but with the dawning of Pinterest those clever ideas are much more easily shared and imitated. While the classic photo-in-front-of-the-front-door is never a bad idea, there are lots more first day of school picture ideas out there you could be trying, ranging from simple and quick to elaborate and detailed.
I've rounded up a few first day of school picture ideas to inspire you for your photo taking this year. Some are as easy as holding up some fingers or printing out a sign, while others require a bit more advance planning or crafting.  Whether your oldest is just starting Kindergarten or you have older kids who have been at this school thing for a while now, hopefully you'll find some picture ideas that you'd like to try out this year!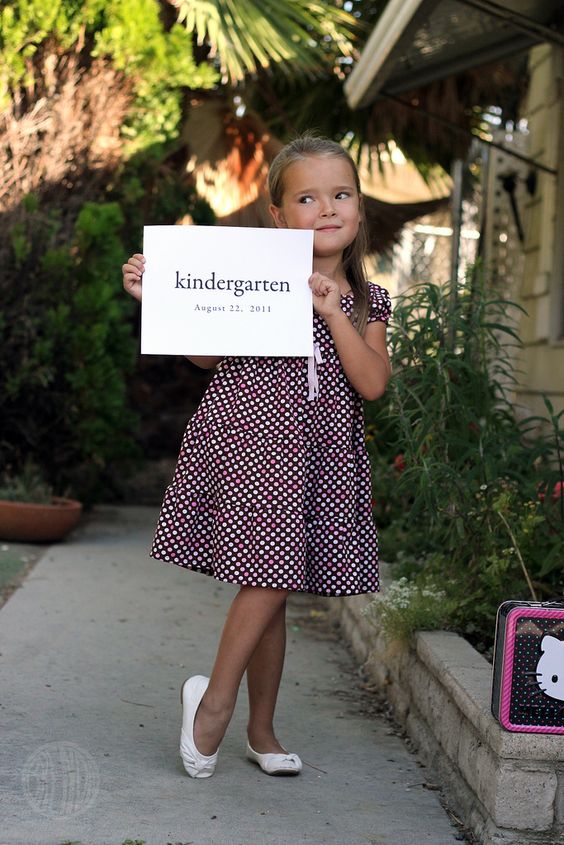 No need to get fancy – just print a simple sign with the grade and date to document the day! Original source unknown.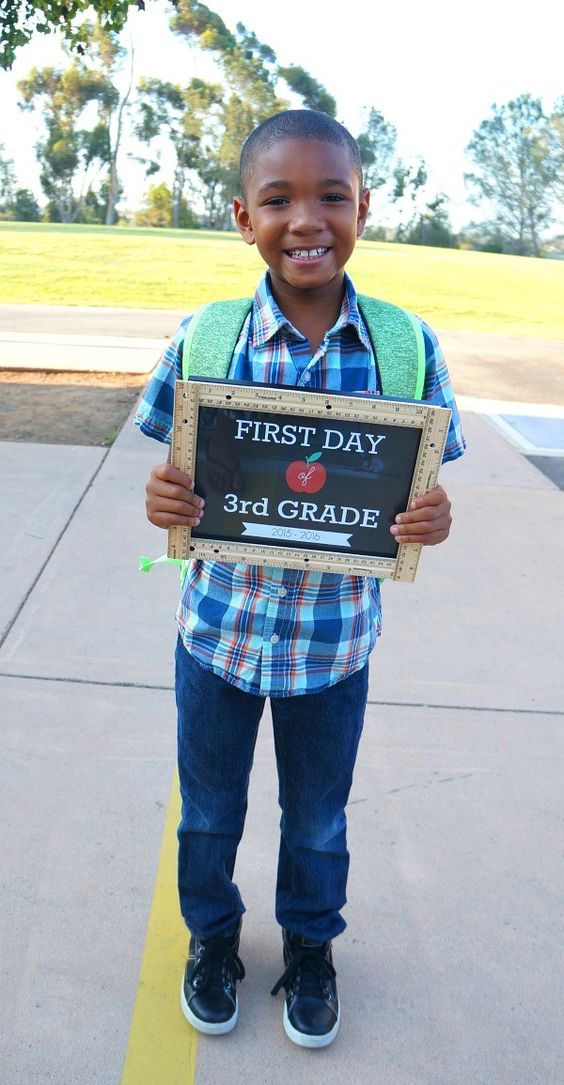 There are SO many free printable first day of school signs out there – just search on Pinterest, pick what you like best, print, and you're good to go! If you want to take it a step further, make a neat frame out of rulers. See the simple tutorial at Honey and Lime.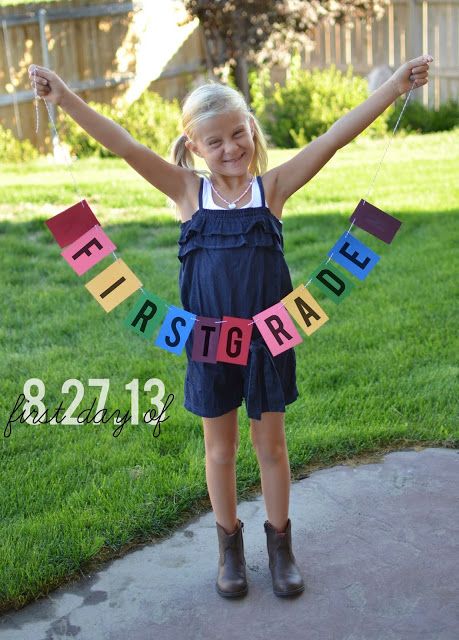 How cute and fun is this colorful banner? Reuse the "GRADE" letters each year or from kid to kid, too. Source: Make it My Own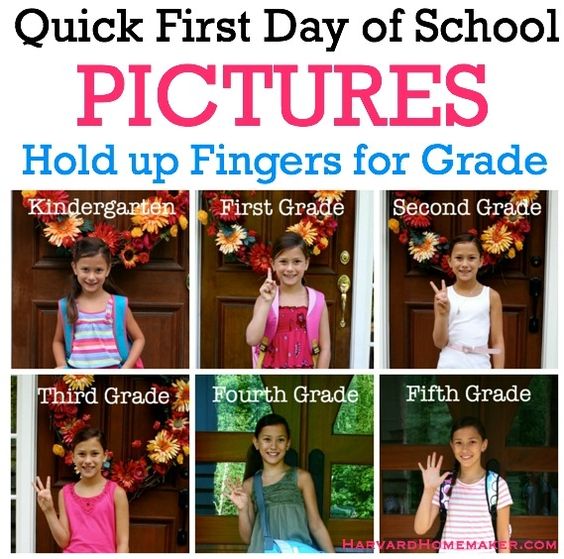 This is such a simple idea, but it makes for a really adorable photo collage doesn't it? Just have your kids hold up the number of fingers of their grade on the first day of school each year. Source: Harvard Homemaker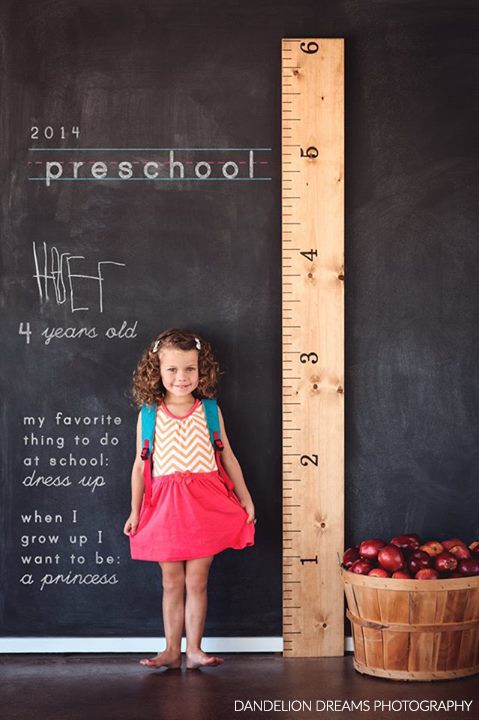 There are a few different first day of school picture ideas in this one…if you have a chalkboard wall and/or one of those giant rulers to mark your kiddo's height on, that would be a great spot for pictures! Another idea is to take a picture in front of some kind of blank wall and then go in with a photo editing program afterwards and add text like this. Such a cute photo and a great keepsake! Source: Dandelion Dreams Photography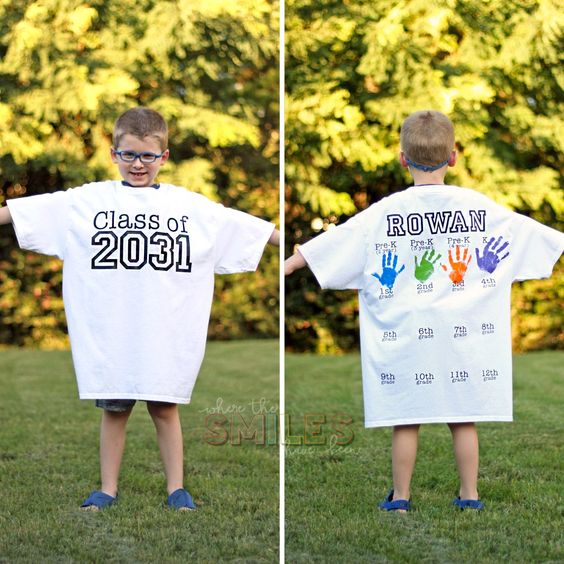 My friend Christine over at Where the Smiles Have Been made this handprint tee for her little boy several years ago, and it's been so fun to see her update the photos each year! See more details and how to make a shirt like this yourself on her blog.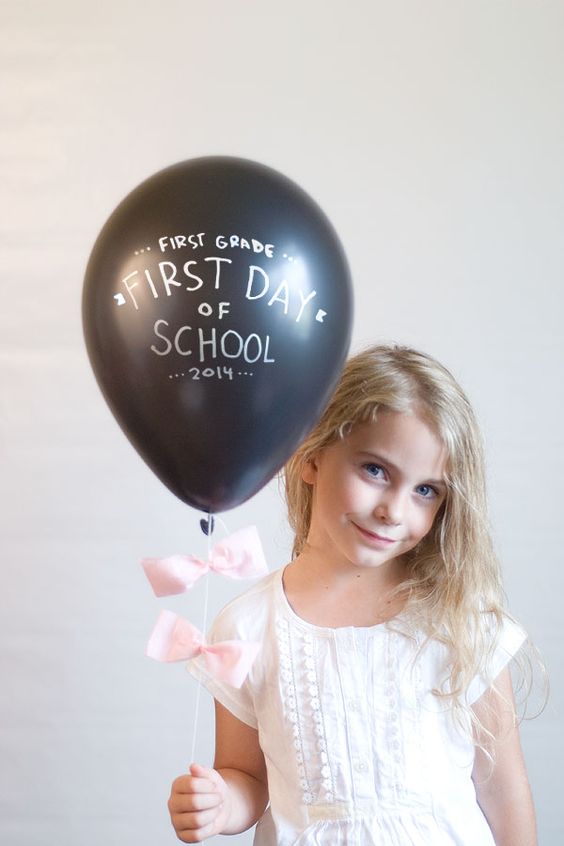 Here's another creative alternative to a printable sign – write the first-day details on a balloon! Source: Confetti Sunshine (no longer active)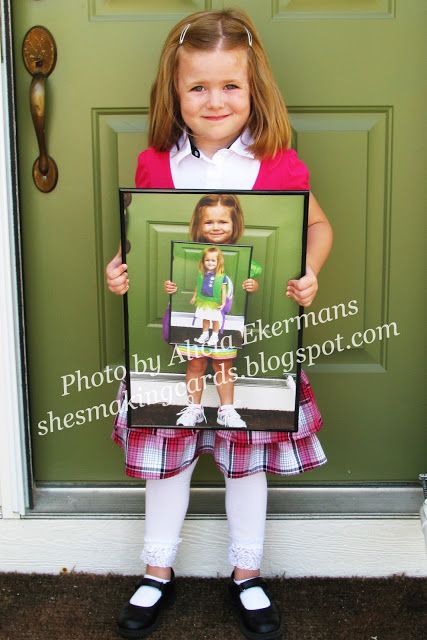 Print and frame last year's photo for your child to hold…then repeat, and repeat, and repeat! (I wonder what it will look like in 12th grade??) Source: She's Making Cards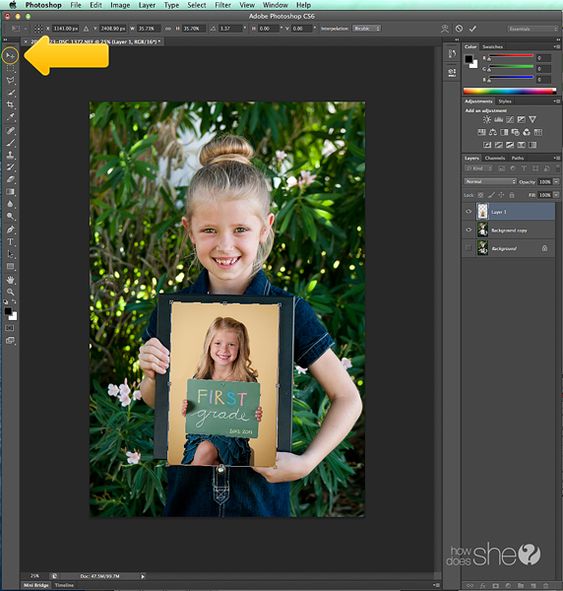 Here's an alternative to the picture-in-picture idea –  rather than actually having to print and frame last year's picture (that requires advance thought and planning!), just have your kiddo hold and empty frame and photoshop the picture in afterwards. How Does She has the full tutorial for you!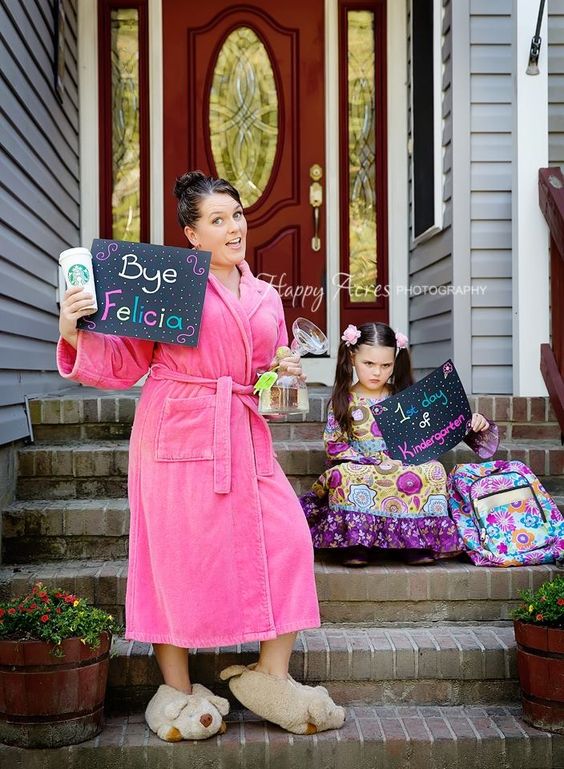 Hop in the photo yourself and document the excitement of the first day of school with a fun staged photo like this hilarious one from Happy Acres Photography.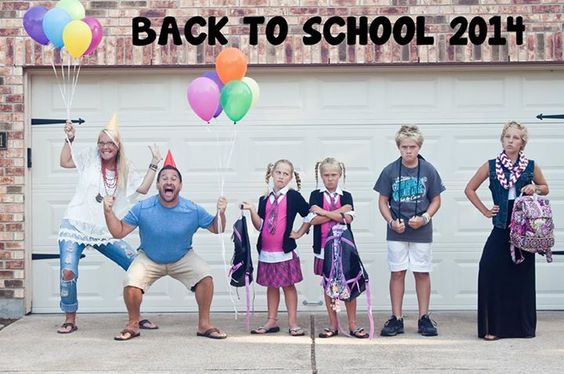 How fun is this shot? Get out the tripod or hand the camera to a neighbor to get mom and dad both in on the photo action. Dramatic poses encouraged. Original Source Unknown.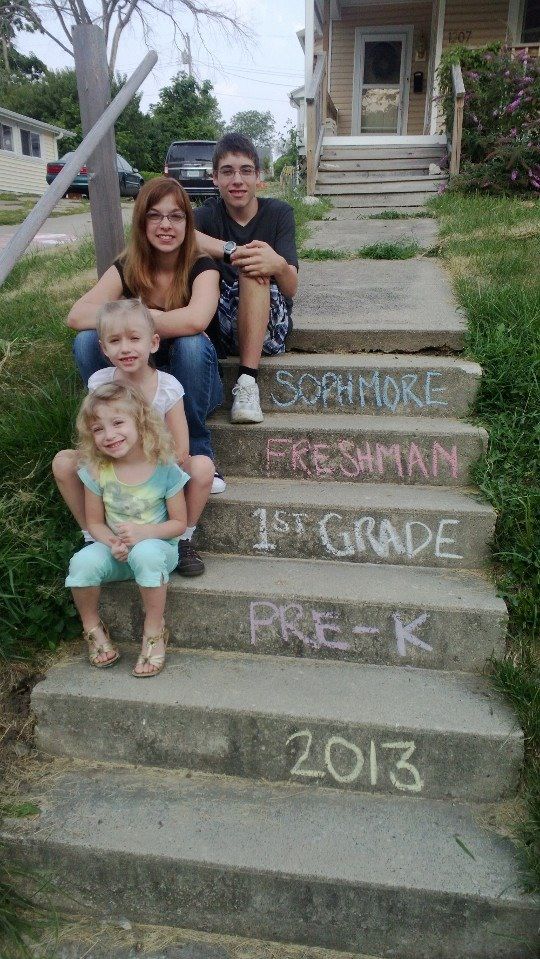 If you have concrete steps on your front porch or sidewalk, this photo is a must! I love how easy it is to recreate year after year. Original source unknown.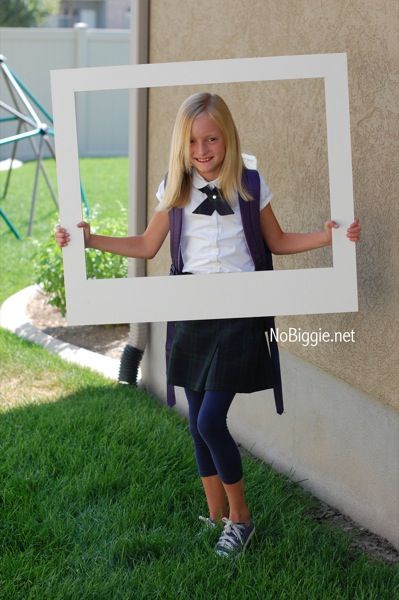 How about a giant DIY Polaroid frame? (Though you may have to explain to your children what exactly a Polaroid *is* first.) You could write on the date and grade on the bottom of the frame – or, type it in later with a Photo Editing tool, so you can reuse the blank frame year after year! See all the details on how to make your own at No Biggie.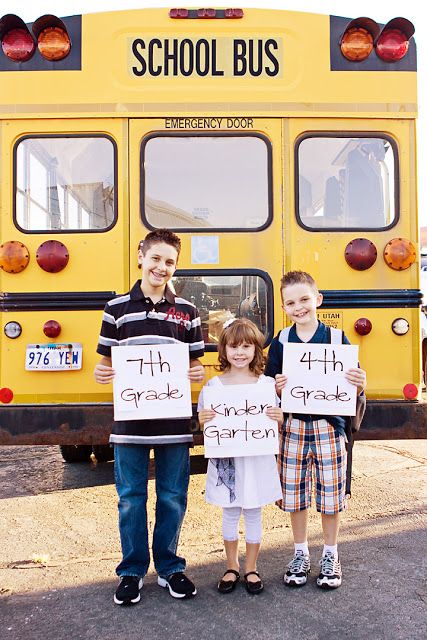 Last but not least, what says "back to school" more than a big yellow school bus? Taking your photo in front of a school bus each year makes a great backdrop. Source: Priceless Impressions
Happy back-to-school season, everyone!


Get your copy of my FREE meal planning binder!
Sign up to get a free copy of my meal planning system - an 11 page printable meal planning binder, complete with a pantry inventory, shopping list, and more to help get on top of your menu each week!