Since it still looks and feels like winter around here, Easter has really snuck up on me this year!  It's hard to believe that it's just a few days away.
There are loads of Easter crafts and recipes out there in the Pinterest and Blog World, and I decided I'd be remiss if I didn't attempt at least one of them.  I found this recipe for Chocolate Peanut Butter Nests on Pinterest, and decided it looked easy, delicious, and quick – and worth a try!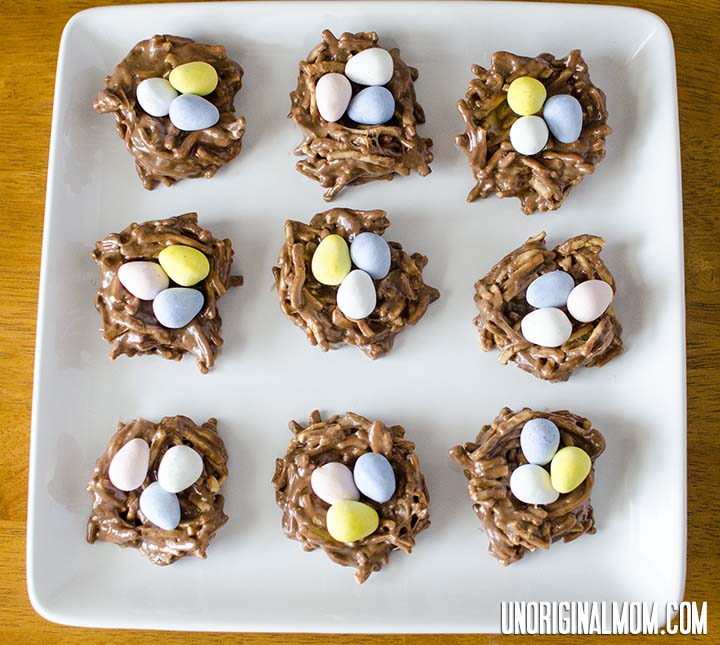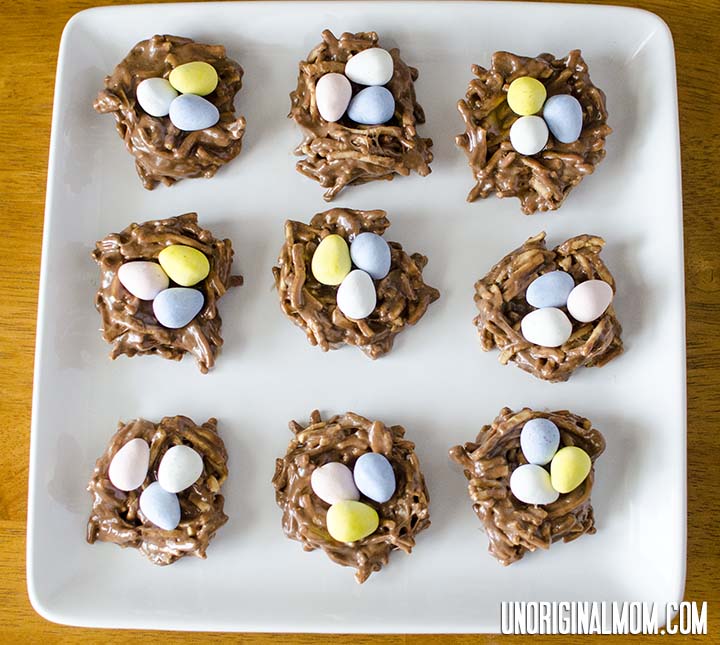 You'll need:
1 bag of mini marshmallows

1/4 cup butter
1/2 c. chocolate chips
1/4 c. peanut butter
4 c. Chow Mein noodles
something to put in your "nests" (I used mini Cadbury chocolate eggs, but you could use m&ms, jelly beans, really anything you want)
First, melt the butter and marshmallows over medium heat.  Then, stir in the choclate chips and peanut butter until you've got a uniformly mixed pot of goop.  Remove it from the heat, and stir in the Chow Mein noodles.
It WILL be sticky.  The noodles WILL be really hard to mix in.  It WON'T look appetizing at first.  Don't worry – it WILL turn out okay! :-)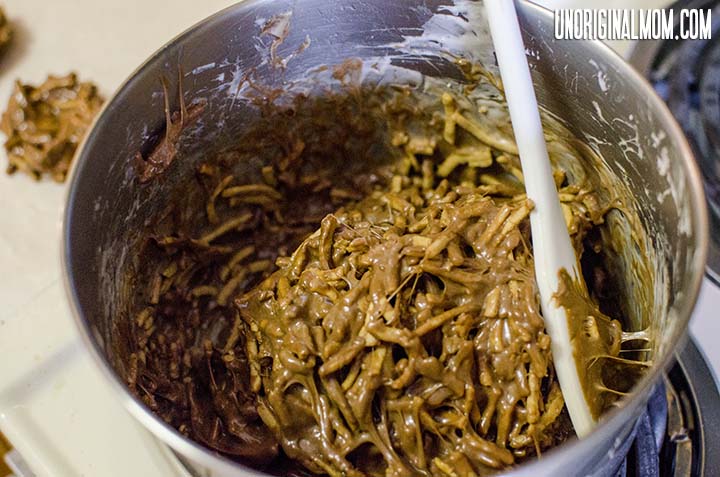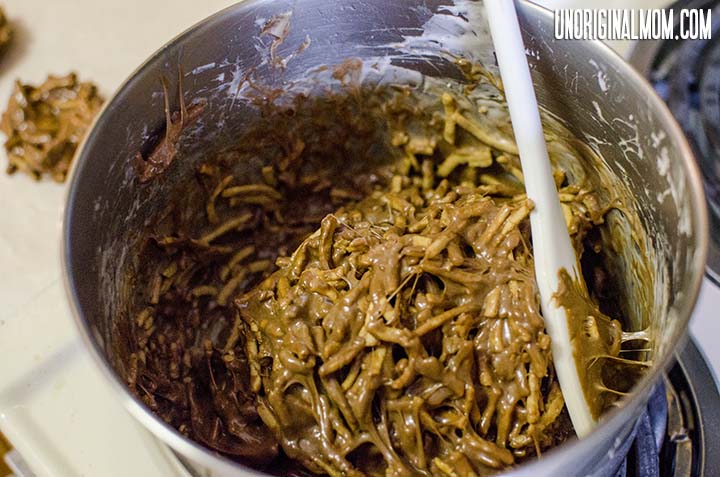 Now, get in there and make little nests!  Make them as big or small as you want.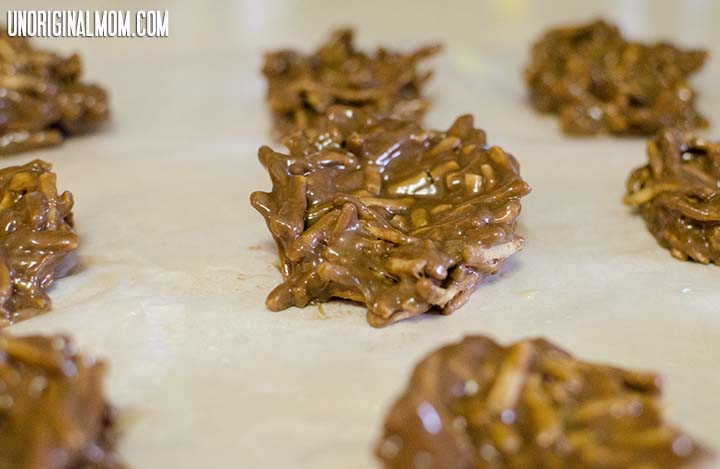 Your life saver will be a bowl of cold water to dip your fingers in.  Otherwise the sticky blob will be impossible to handle.  I was surprised how well it worked!  Just keep dipping your fingers into the water between each nest.
Fill with your little nests, and voila!  A super cute, super tasty Easter treat that is sure to impress!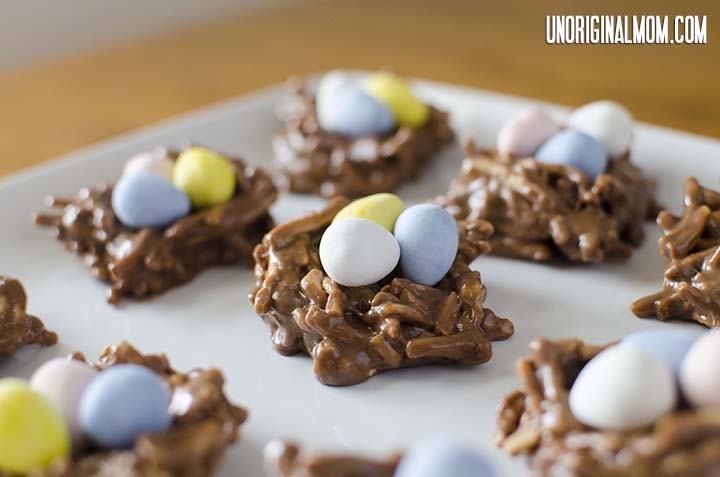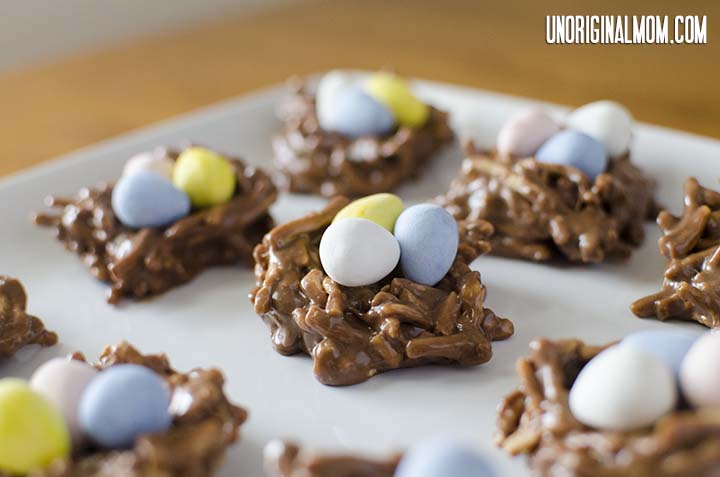 Happy Easter, everybody!


Chocolate Peanut Butter Nests
Ingredients
1/4 cup butter
4 1/2 cups mini marshmallows
1/4 cup peanut butter
1/2 cup semisweet chocolate chips
4 cups chow mein noodles
candy eggs (or other treats to fill the nests)
Instructions
Melt butter in a saucepan over medium heat. Add marshmallows and stir until smooth.
Stir in peanut butter and chocolate chips until melted.
Remove pan from heat, stir in chow mein noodles. It will be VERY sticky!
Spread out wax paper and form 18-24 nests. HINT: Have a bowl of cold water nearby to dip your fingers in as you work - it will help prevent the mixture from sticking to your fingers.
Fill your nests with candies as desired!
Cool and store in airtight container.
https://www.unoriginalmom.com/chocolate-peanut-butter-nest/




Get your copy of my FREE meal planning binder!
Sign up to get a free copy of my meal planning system - an 11 page printable meal planning binder, complete with a pantry inventory, shopping list, and more to help get on top of your menu each week!