Yahoooo….it's here!!! Seriously, this is my favorite crafty sale of the YEAR, and I'm always so darn excited to share my Silhouette Black Friday Sale review with you.
The best part is…there's something for EVERYONE in this sale. Whether you are looking to buy your very first digital craft cutting machine, you already own a Silhouette, or even if you already own a Cricut…there are deals here that you will definitely want to take advantage of. I've organized this post into several different categories based on what you already own and what you're shopping for, and shared my "picks and passes" for what I think are the best deals. If you have any questions at all, leave a comment or shoot me an email. But act fast…in years past, the hottest items have sold out quickly, so you'll want to snag your favorites ASAP!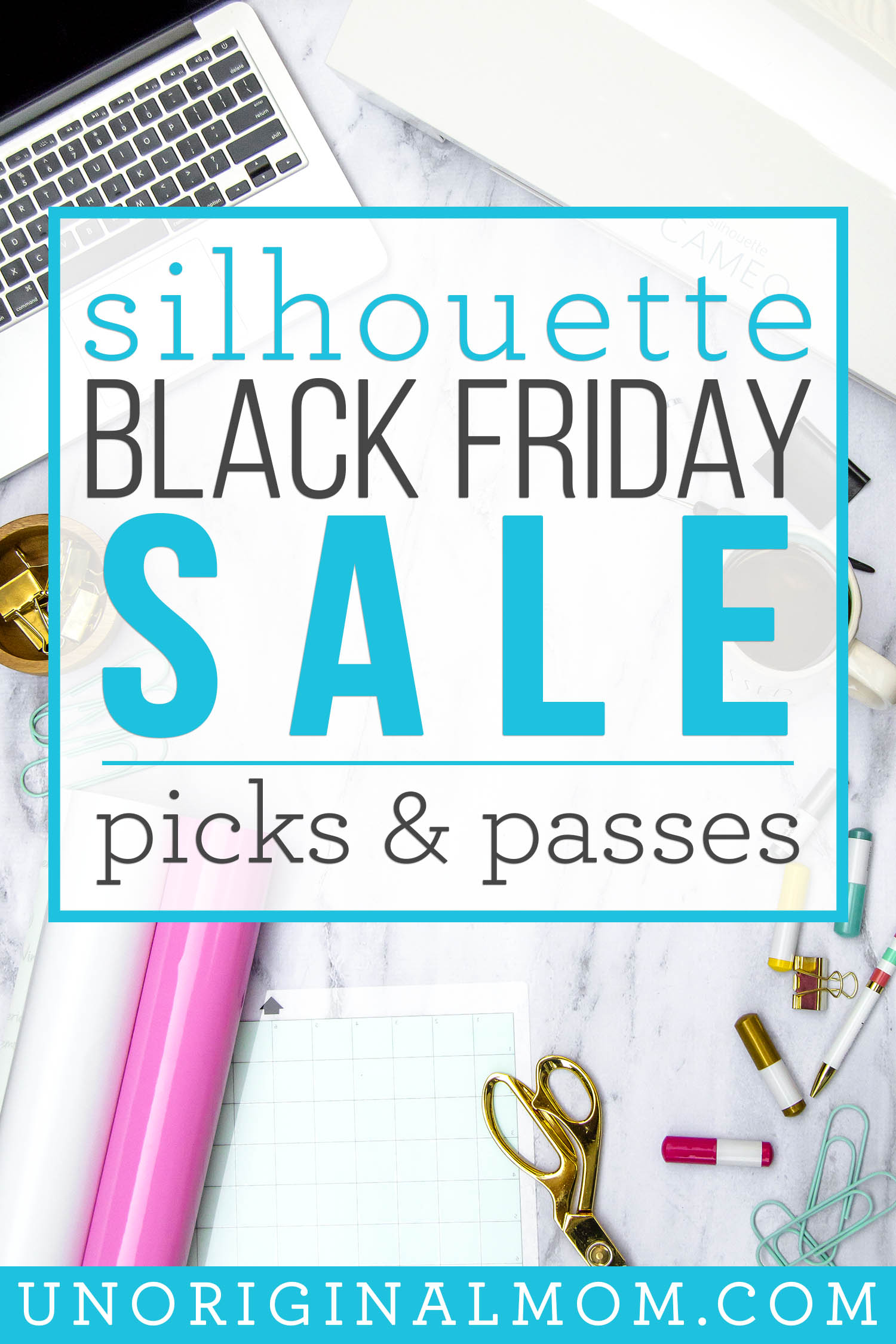 This post contains affiliate links – click here to read my full disclosure.
SILHOUETTE BLACK FRIDAY SALE REVIEW
If you're anxious to just go check out the sale on your own right away (I don't blame you), here's the link:
You'll find 50% off ALL supplies and software, machine bundles, and more!!! Then come on back here to read more about my sale picks and recommendations.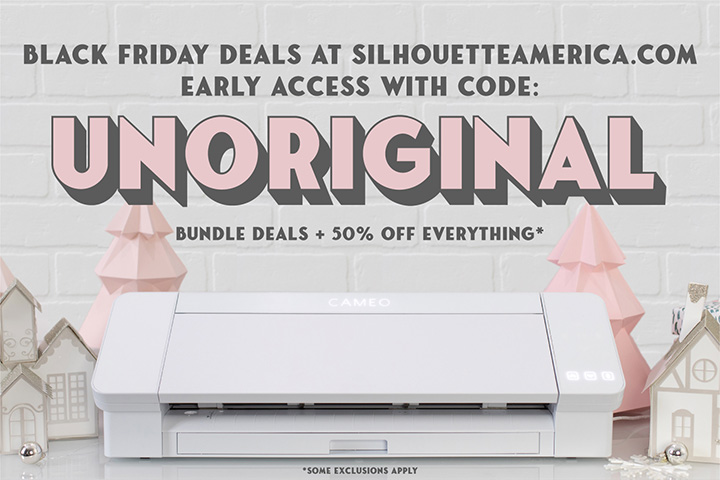 SILHOUETTE BLACK FRIDAY SALE REVIEW: NEW DIGITAL CRAFT CUTTER OR UPGRADE
Two words: CAMEO FOUR!!!! These machines are a MAJOR upgrade from the Cameo 3s.  The thing I'm most excited about is that it can cut fabric and felt!! There's wider clearance for thicker materials, and also a built-in roll feeder & cross-cutter, which is super convenient for cutting directly from a roll of vinyl or HTV. (Cutting without a mat is one of the things a Silhouette can do that a Cricut can't.) It's also a sleeker design with a sliding lid and a backlit touch panel. This will look SO good in your craft room!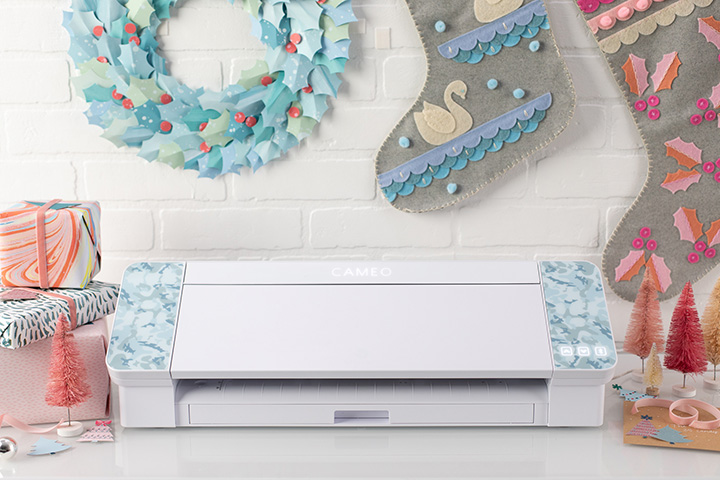 MY PICK – EXCLUSIVE PRINT CAMEO BUNDLES WITH HOLIDAY ORNAMENT KIT.  If you're in the market for a Cameo 4, this is THE bundle to get! It includes a CAMEO 4 with a fun limited edition blue or pink print (or you can choose black, white, or pink machines with a slightly different bundle), the Business Edition of Silhouette Studio (this is a GREAT upgrade!), 100 winter designs + a $25 download card to get you started in the Design Store, a tool kit, vinyl sampler pack, roll of transfer tape, and the all-new Holiday Ornament Kit! Plus free shipping. With these bundles, you're getting $585+ worth of stuff for $299.99. It's literally everything you need to start creating amazing things with your Cameo all in one box.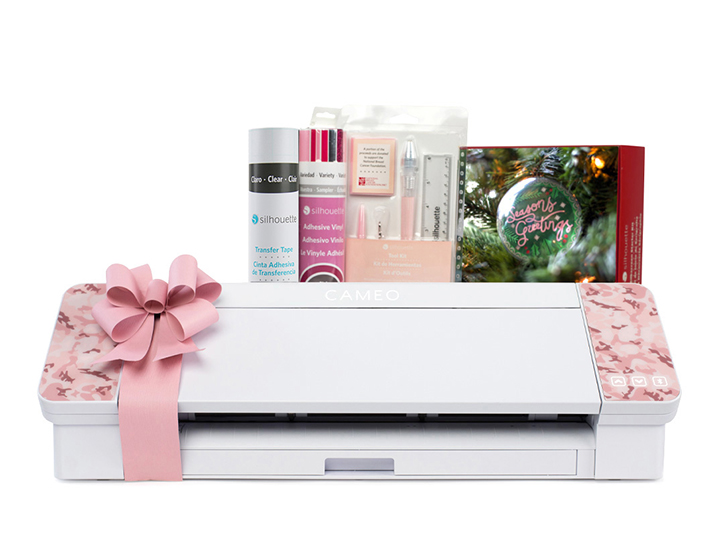 MACHINE ONLY BUNDLE – PASS – If budget is an issue, you can get the machine only for $279.99…however, for just $20 more you can get one of the bundles with all the extra supplies, which is worth a LOT more than $20. For me, the $20 savings isn't enough to go for the basic bundle.
SILHOUETTE BLACK FRIDAY SALE REVIEW: BASICS FOR EXISTING SILHOUETTE USERS
BLADE BUNDLES – Depending on how much you use your machine, stocking up on blades with one of these blade bundles is a good bang-for-your-buck. You can usually find a 3 pack of regular blades on Amazon in the $20-25 range, so this is a pretty good deal. But if you don't wear out blades super quickly, you could save your $$ on this deal and put it towards some other fun supplies. (NOTE – the Autoblade bundles are NOT compatible with the new CAMEO 4 machines, so only snag that bundle if you're using an older Cameo or Portrait.)
MATS – I go through a new mat every month or two, and this is the best price you'll find on mats all year. Time to stock up!
MY PICK – SOFTWARE UPGRADES – This is the best price you'll find on Software upgrades all year! I highly recommend upgrading to Designer Edition so you can utilize SVGs. Definitely worth it, in my opinion.
SILHOUETTE BLACK FRIDAY SALE REVIEW: SPECIALTY MEDIA & MATERIALS!!
50% OFF ALL MATERIALS – Guys, this is my absolute favorite part of this sale!! This is one place where Silhouette totally rocks over Cricut. Their specialty media is AH-MAZING. I'd recommend stocking up on your favorite materials and picking some new ones to try! And even if you own a Cricut, ALL of the materials & specialty media that Silhouette sells will work in your machine too!
MY PICK – TATTOO BUNDLE – Temporary tattoos are fun for all kinds of occasions and holidays, so it's a great crafty supply to have on hand! Also, tattoo paper isn't just for skin – you can use it on wooden signs, ornaments, candles, and I've even seen it used on faux pumpkins.  (SO many possibilities!) This is an insane deal, too…it's over 65% off regular price! I'll be grabbing one or maybe even two of these bundles for sure. (Make sure you have an ink-jet printer to use the printable tattoo papers, though – it's not compatible with laser printers.)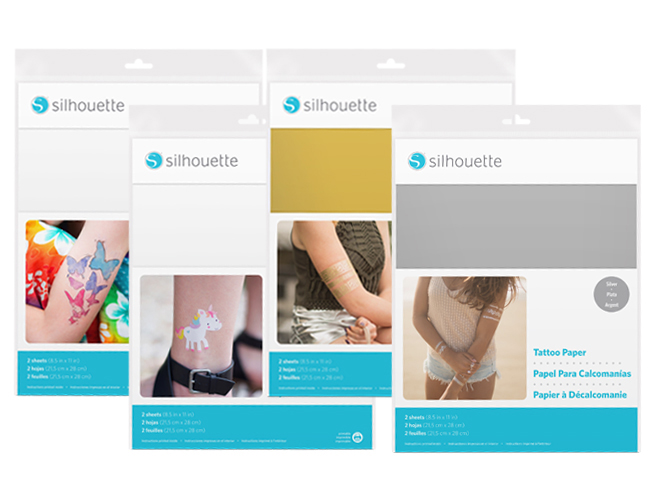 MY PICK – ADVENT CALENDAR – Back again due to popular demand, Silhouette's Advent Calendars are so fun to create! You can customize the boxes however you'd like. This is a terrific project for beginners and advanced users alike.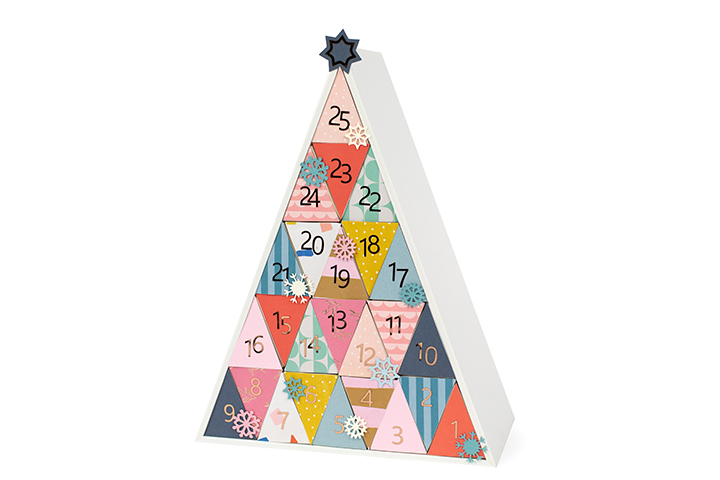 PRINTABLE MEDIA BUNDLE – PASS. This is a super fun bundle of all kinds of printable media! It's a great way to try out some new materials, and it would make a great gift. The only negative here is that the price isn't any different than if you purchase all these items separately during the sale (it's 50% off) so you could also just stock up on what you want to try individually.
STARTER KITS – PASS. For the most part, I don't love the starter kits that Silhouette has, unless you are BRAND NEW to owning your machine. (But even if you are brand new, if you're snagging one of the bundle deals you'll already have a lot of the basic tools and supplies!) It's not that I don't like the materials, it's just that you're usually going to get something you likely already have (like a scraper tool in the glass etching and vinyl kits or a hook tool in the HTV kit) or something else you might not need/use. The exceptions to this are the Jewelry Making Kit which will get you started making jewelry out of shrink plastic, and the Doming Starter Kit which has epoxy resin and other tools/supplies you need to make your own domed stickers. Assuming you've already built up a stash of basic supplies, you can do just about all the other things by buying a few separate supplies rather than buying the whole kit.
ALL CRAFTERS – OTHER MACHINE/SUPPLY DEALS
Here are some great bundles for all crafters…whether you already own a craft cutting machine or not!
MY PICK – SILHOUETTE MINT BUNDLE – If you haven't seen a demo video of the Silhouette Mint, you should look one up. It's super easy (and fun!) to design and create your own custom stamps for your business, a party theme, a wedding, and so much more. You can also stamp in multi-colored designs! This is a great bundle because it comes with a TON of ink colors and several stamp kits to get you started. It's also nice and small so it's easy to tuck it away in a drawer when you're not using it. The Silhouette Mint completely stands on its own and doesn't require you to own or know how to use a cutting machine.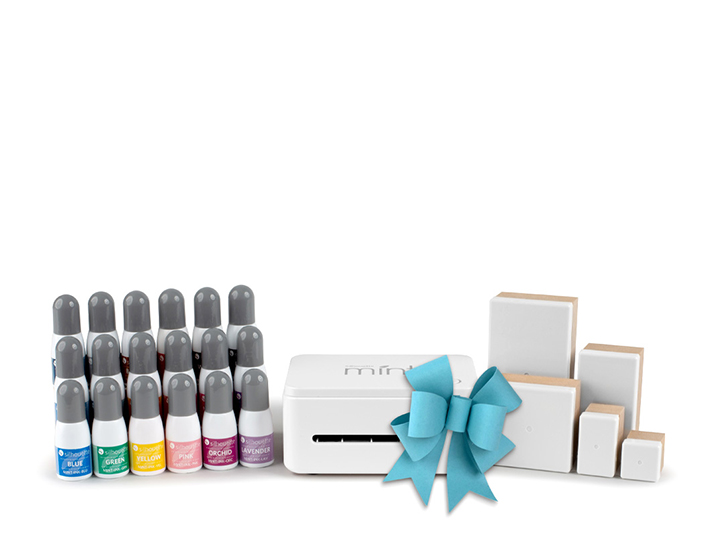 CURIO BUNDLE – PASS – Because of its platform mat, the Curio is it's own breed of cutting machine. It can cut thicker and more rigid materials than a normal craft cutting machine can cut, but it can also etch and emboss/deboss beautifully. I'll be honest, I own a Curio and I've only used it a handful of times, because most of the time, anything I want to do I can do with my Cameo. It doesn't help that I don't have the counter space to keep my Curio out, so I have to dig it out of a cabinet to use it. But if you have a craft room with more counter space than I do and you want to try your hand at etching and embossing, this is a good deal on the machine.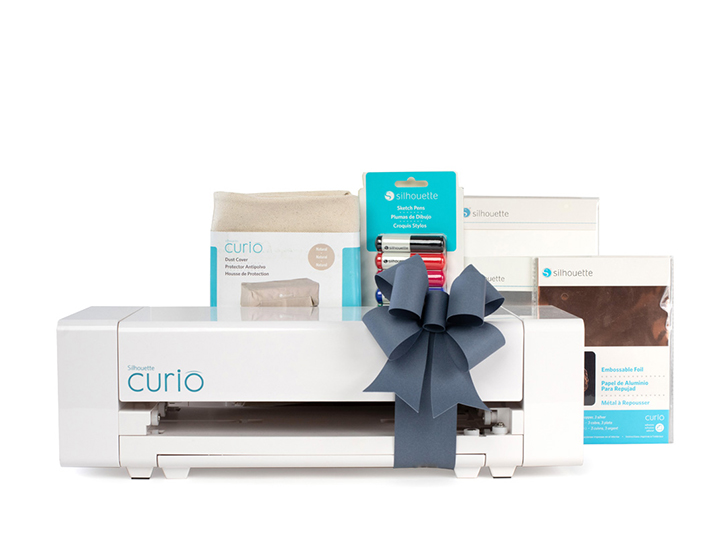 ALTA BUNDLE – PASS – It's a 3D printer. Talk about next level crafting! I've seen people make keychains, trinket boxes, cake toppers, ornaments, custom cookie cutters, monogram pendants…it's really mind blowing. There just aren't enough hours in the day (or space in my craft area) for me to try to master a new machine, so I'm passing on this one. But again, if you have the time and space for it and you've been wanting to try out 3d printing, this could totally take your crafting to the next level!
Now that you've read my Silhouette Black Friday Sale review, hurry on over and start shopping! Don't forget to use my code, UNORIGINAL, at checkout. And don't hesitate to comment or email with any questions!
ULTIMATE SILHOUETTE GIFT GUIDE & WISH LIST
If you're looking for some more ideas on exactly what to shop for, head over and read my Ultimate Silhouette Gift Guide & Wish List – it details all of my favorite supplies and goodies from Silhouette.
Happy shopping!!!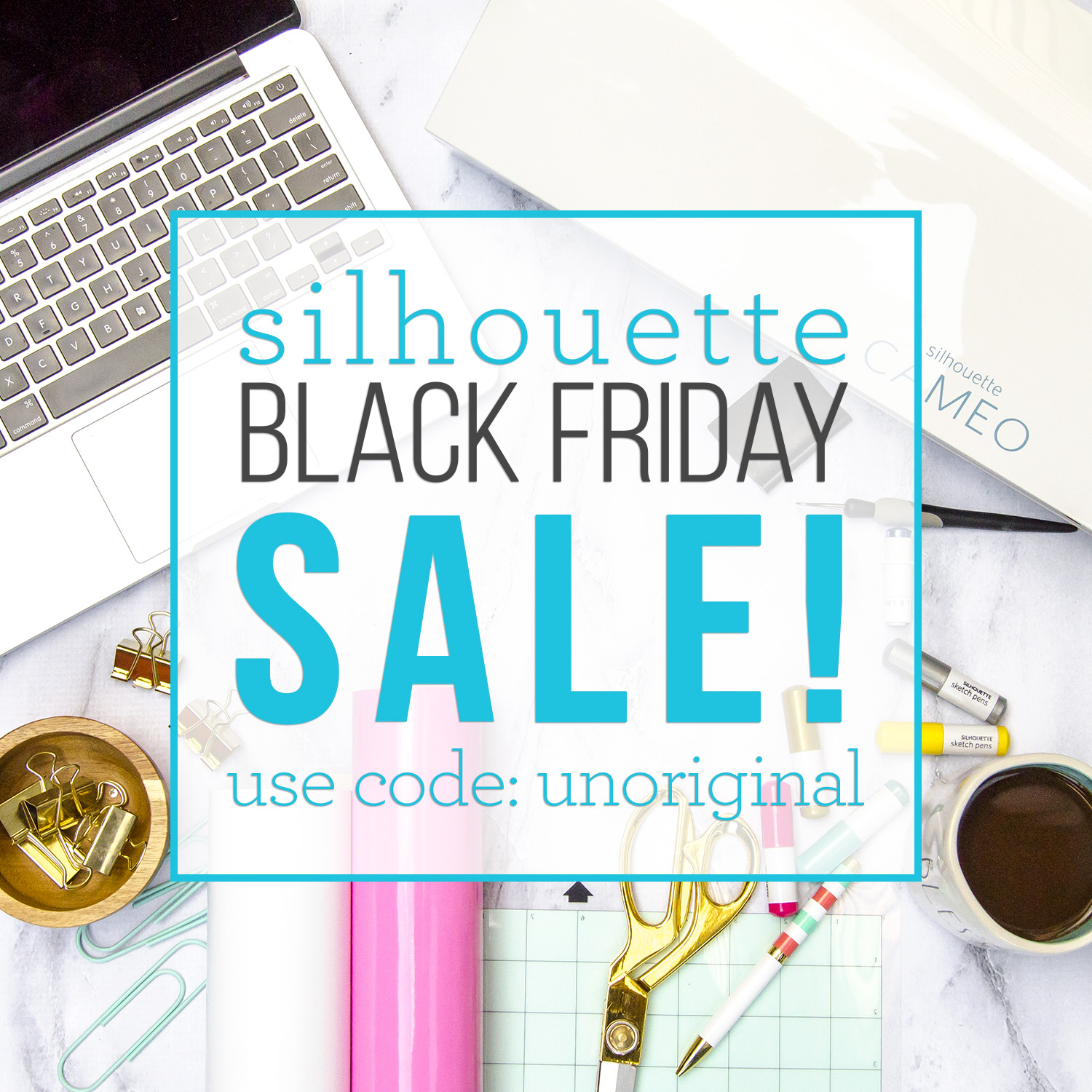 Subscribe to unOriginal Mom via email and get instant access to my library of FREE Silhouette Studio & SVG cut files - exclusively for email subscribers. Plus there's a new file added every month!