I've got a quick Pinterest review for you today!
I pinned this photo of a cake stand on the side of the sink a long time ago.  It's caption was: "Use a cake stand to hold soap and sponges, instead of leaving them on the edge of the sink."  Brilliant!  Turns out, the source of the photo – Natalme – was actually showing off a recent kitchen remodel.  But the idea is still genius!
We use a dish wand to do dishes, which tends to get especially gunky when it's set down.  It's been great to keep it up on this cake stand (which I found on clearance at Home Goods!) and off the edge of the sink.  The rest of our kitchen is really old and dated without any kind of a color scheme, so I just got the blue stand because I liked it…but someday (in the next house), I'm looking forward to actually decorating our kitchen!  And then I can find a cake stand that's a great accent to the rest of the room, like the source photo above.  But in the meantime, this is a very functional solution to keep the edge of the sink a little bit neater!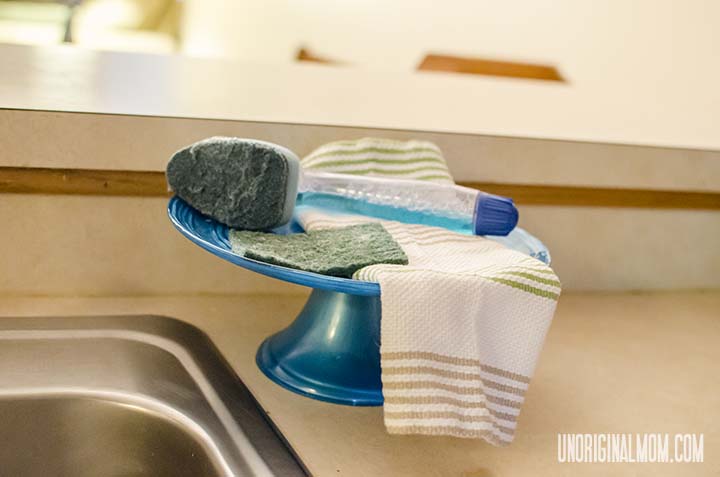 Check out other winning ideas and reviews over at the Winner's Circle!




Get your copy of my FREE meal planning binder!
Sign up to get a free copy of my meal planning system - an 11 page printable meal planning binder, complete with a pantry inventory, shopping list, and more to help get on top of your menu each week!