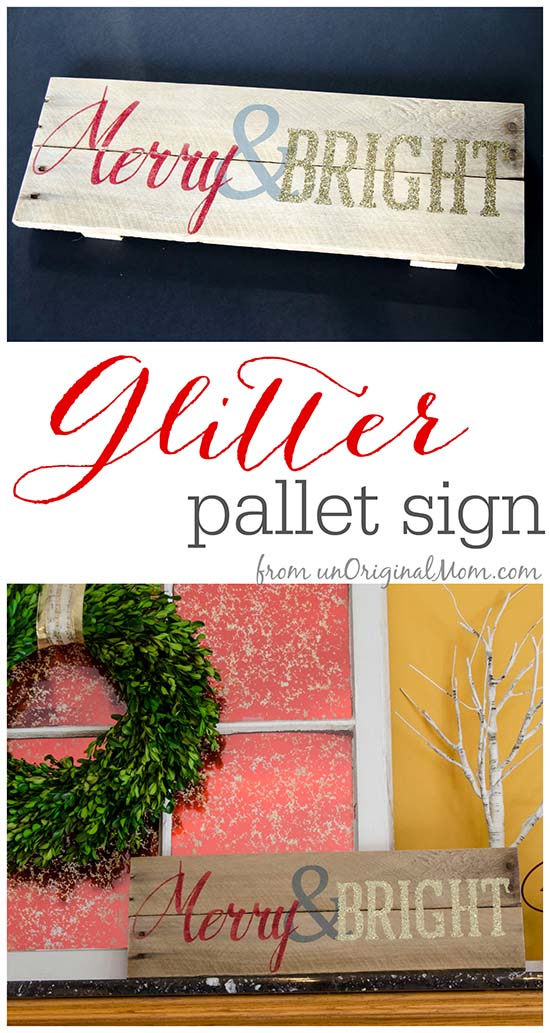 Rustic wooden signs have been around the Pinterest world for quite a while now, and it doesn't seem like they're going away anytime soon.  There is just something so classic and versatile about them – they fit with so many decor styles and seasons!  So when we were working on another pallet project, I had my hubby take a few extra pallet boards and glue them together to make a pallet wood sign, knowing I would certainly find something to do with it.  I think that sucker sat in our garage for less than a week before I snatched it up to make this #rusticglam glitter pallet sign.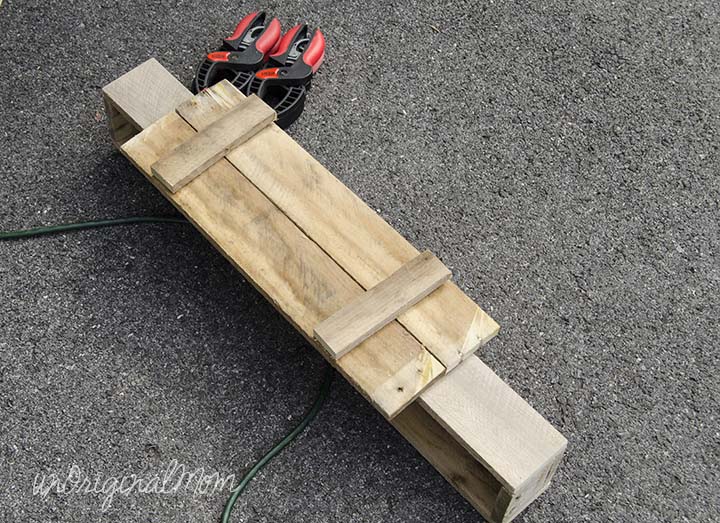 I absolutely love the contrast of the glitter with the rustic wood, don't you?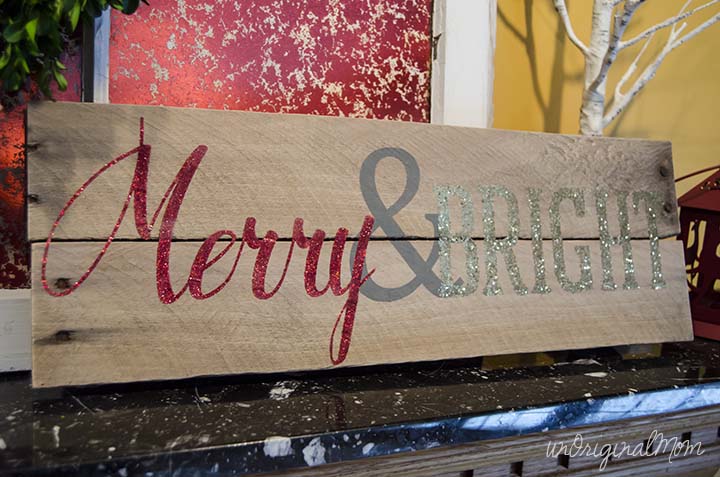 The lettering on the sign is actually made of double-sided adhesive that I designed and cut with my Silhouette, then covered with glitter.  I think the whole thing took less than 30 minutes to design, cut, and glitterify.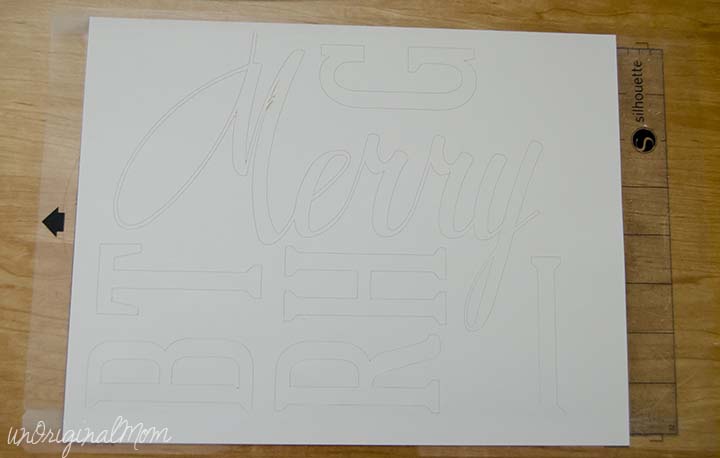 I used a vinyl stencil to paint the ampersand gray first.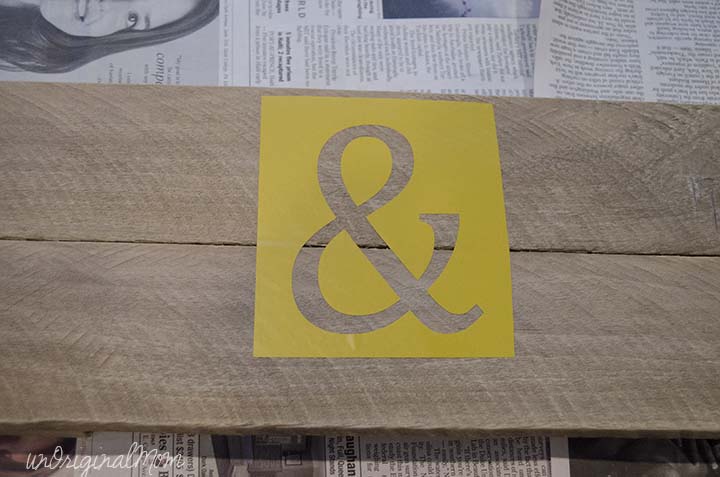 That allowed me layer the double-sided adhesive slightly on top of it on either side.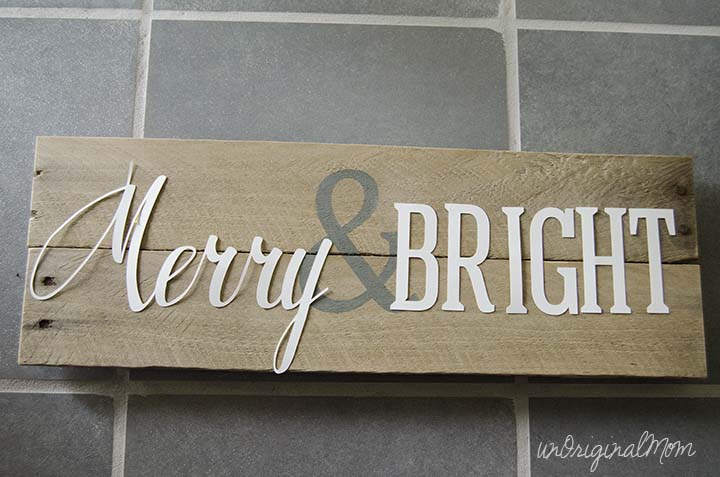 And the trick when you're doing two different colors of glitter is to only peel off the white paper on one word at a time – first I put the chunky gold glitter on the word "bright," then once that was completely covered I peeled off the paper on "merry" to apply the fine red glitter.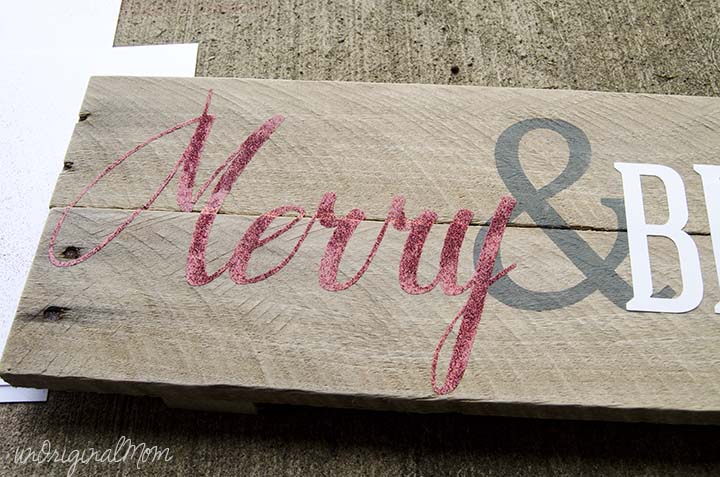 Silhouette's double-sided adhesive is such a great way to add perfect glitter lettering or shapes to any project – cards, signs, gift tags, and more!  I used it to create this glitter Rudolph for our foyer, too, and I love how it turned out.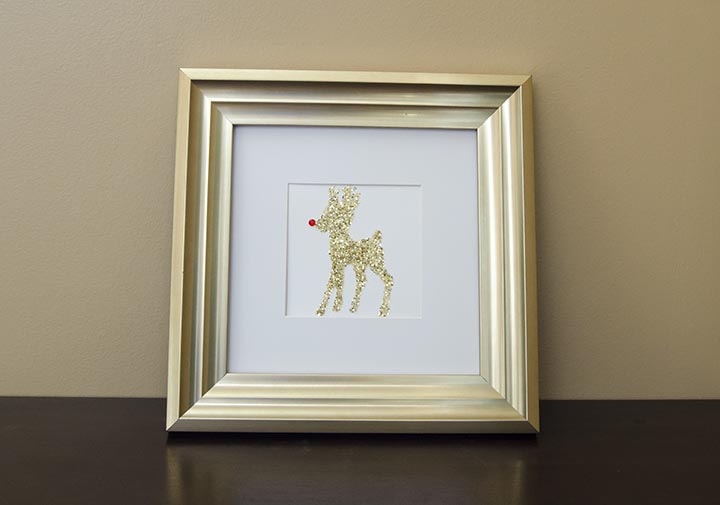 The adhesive gives you really crisp, clear lines…and if you use a stiff paintbrush to brush off the excess glitter, it won't even "shed" on you either!  Here's a more detailed, step-by-step tutorial on how to use the adhesive to apply glitter to any surface – I used it to put a monogram on a faux pumpkin!
One of the things I love about the Silhouette is how easy it is to create typography art using fonts you have installed to your computer (whether you're connected to the internet or not, unlike Cricut's online design space.)  It only took me about 5 minutes to create this design!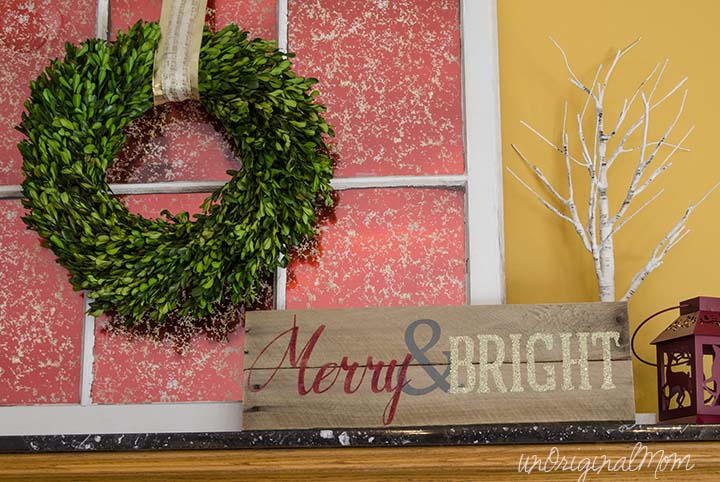 Silhouette Portrait DOUBLE Giveaway!
Whether you're a regular reader or a new visitor, you've probably figured out how much I love my Silhouette Portrait.  In addition to the 36+ Silhouette projects I've blogged about (you can see them all in the Winner's Circle project gallery), I've used my machine for countless other projects that you haven't seen.  It's an incredibly versatile machine with truly infinite possibilities.  And that's why I am THRILLED to be giving away not one, but TWO Silhouette Portraits to two lucky readers!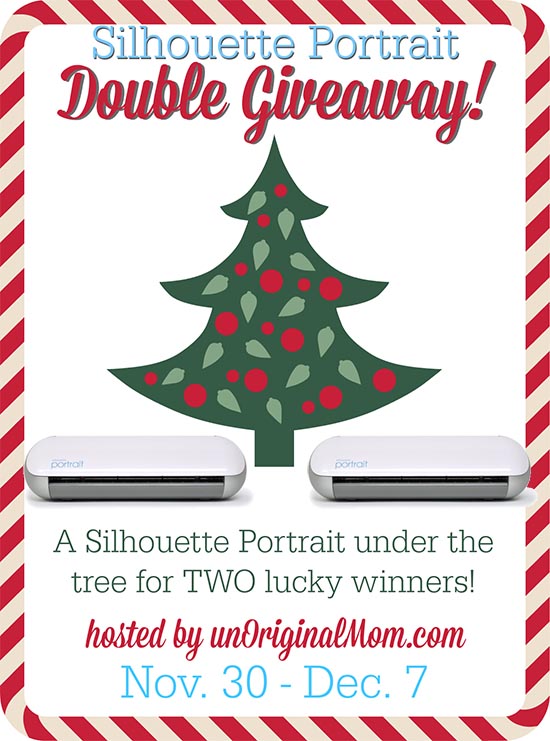 I wish I could give a machine away to each of you (how amazing would THAT be!), but unfortunately there will only be two winners…so if you're looking to purchase your own machine or stock up on supplies, Silhouette is having it's best sale of the year right now!  They've got some incredible machine bundles, 40% off all materials, and free shipping on orders over $25!!  Visit the sale page here and use the code "UNORIGINAL" to get the discount.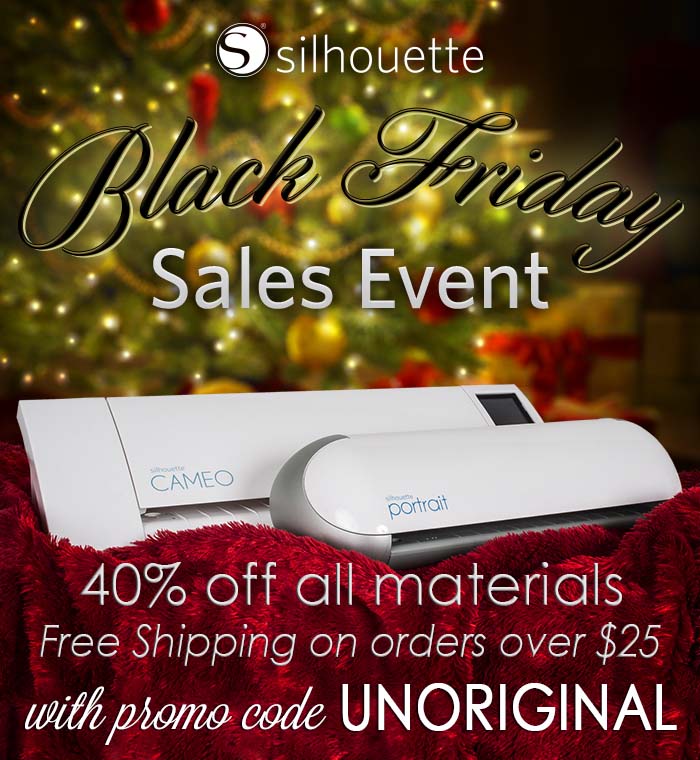 Not sure what to stock up on (or put on your wish list for Santa)?  I've got a list of recommended essentials for new Silhouette users, plus a list of my favorite tried-and-true specialty materials – check them out HERE!
If you already own a Silhouette, you know what a great gift this would be for friend…and if you don't have one yet, well, hurry up and enter to win!  Good luck to all!
Having trouble with the giveaway widget?  Visit the Rafflecopter giveaway directly to enter here.
How do you use glitter in your holiday decor?  Do you like the look of "rustic glam?"



Subscribe to unOriginal Mom via email and get instant access to my library of FREE Silhouette cut files - exclusively for email subscribers. Plus there's a new file added every month!